Prices and availability
Before choosing dates,
check the booking terms and conditions
regarding the minimum stay 2023.
Period
Min number of nights
VILLA BEACH and MOBILE HOME BRIONI BEACH
from 17/06 to 09/09
7 nights*
from 09/09 to 16/10
5 nights
5 nights
till 15/06/2024 and from 07/09/2024
5 nights
from 15/06/2024 to 07/09/2024
7 nights*
B&B ROOMS, MOBILE HOMES and HOLIDAY HOMES
from 15/07 to 26/08
from 26/08 to 09/09
3 nights
from 17/06 to 15/07
2 nights
7 nights*
5 nights
from 09/09 to 16/10
2 nights
MINIMUM STAY 2024
from 25/04 to 18/05 & 14/09 to 14/10
2 nights
from 18/05 to 15/06
3 nights
from 15/06 to 13/07 & 31/08 to 14/09
5 nights
from 13/07 to 31/08
7 nights*
What to see in the Brijuni Islands?
Find out what to see at Brijuni Islands National Park
The Brijuni Islands are a little piece of paradise in Croatia, off the coast of Istria. 14 islands scattered along a few kilometers of the sea, known for their vegetation, pristine beaches and crystal clear waters.
In 1983 they became a National Park, a fascinating attraction also open to tourists who wish to spend dreamy days in close contact with nature.
6 THINGS NOT TO MISS
What to see at Brijuni Islands National Park
Whether you are looking for an adventurous excursion or a relaxing stay surrounded by nature, the Brijuni Islands National Park will give you unique and unrepeatable emotions.
Here are six things to see at Brijuni Islands National Park:
Visiting the Safari Park
Discovering dinosaur footprints
Walking in Verige Bay
Delving into the Mediterranean garden
Taking a picture with the parrot Koki
Visiting the archaeological site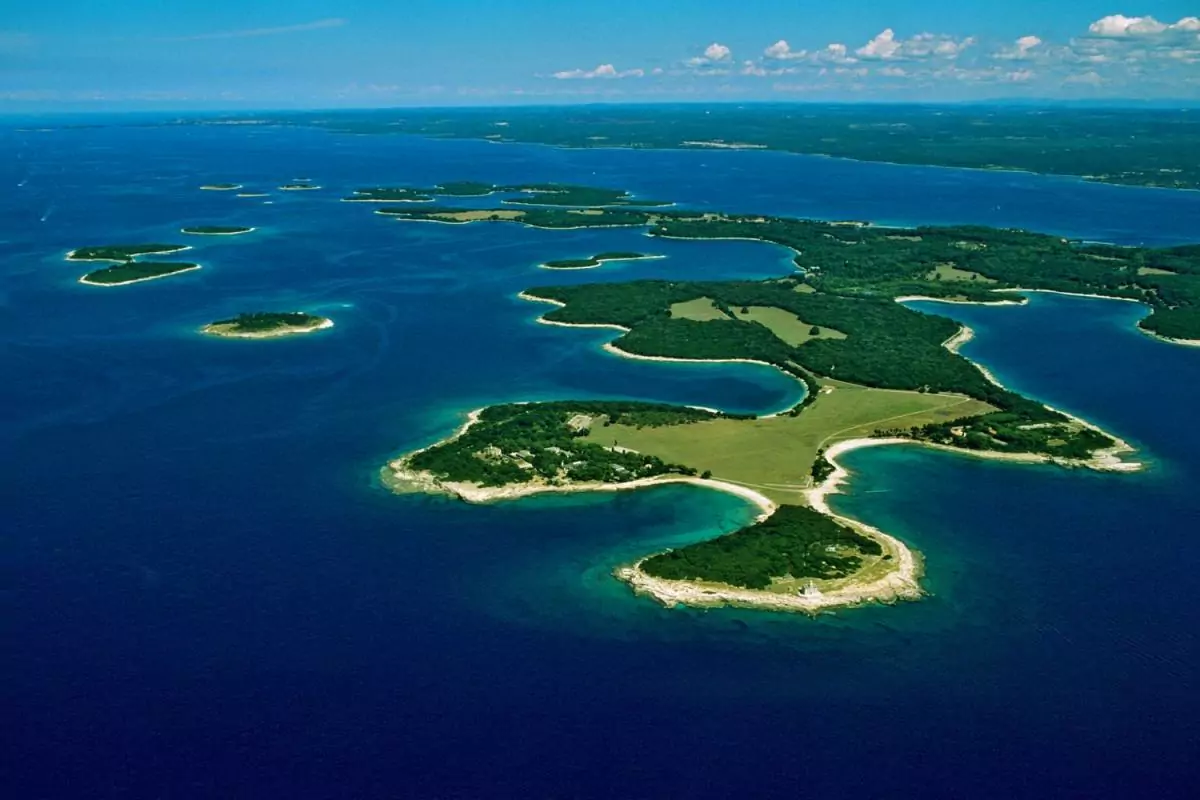 Aerial view of the Brijuni Islands
FIRST STAGE
Safari Park
The Safari Park stretches over nine hectares along the northern coast of the island of Great Brijun. A unique and spectacular mixture of flora and fauna offers an unforgettable experience for young and old alike.
Lots of exotic animals from Africa, Asia and South America such as ostriches, peacocks, zebras, elephants, sea turtles, llamas, Istrian sheep and ox, donkeys and goats. These friendly Safari Park denizens will cheer anyone up.
SECOND STAGE
Dinosaur Footprints
The Brijuni Islands can boast the presence of geopaleontological sites where more than 200 dinosaur footprints, dating from 130-110 million years ago, have been found.
At the entrance to the harbour of Veliki Brijun, imprinted in a limestone block, you can see the footprint of a theropod. Other dinosaur footprints have been found in Gallia, Vrsar and the islands of Vanga.
Sea turtle
THIRD STAGE
Verige Bay
The Verige Bay is one of the most beautiful areas of the Brijuni Islands.
With its crystal clear waters and white sandy beaches, it is easy to spend a relaxing day in this idyllic place.
Here you will find a luxurious Roman country villa, dating back to the 1st century B.C. with many outbuildings connected to each other by a fascinating system of closed and open promenades, stretching for almost a kilometer. If you are looking for a quiet place to relax and admire the natural beauty, Verige Bay is definitely worth a visit!
FOURTH STAGE
The Mediterranean Garden
The Mediterranean Garden is one of the most fascinating attractions of the Brijuni Islands National Park. A garden established in 2007 in the area of a former forest nursery, 17000 square meters long.
Today it houses 169 different species of native and exotic plants each marked with a QR code for visitors who would like more information.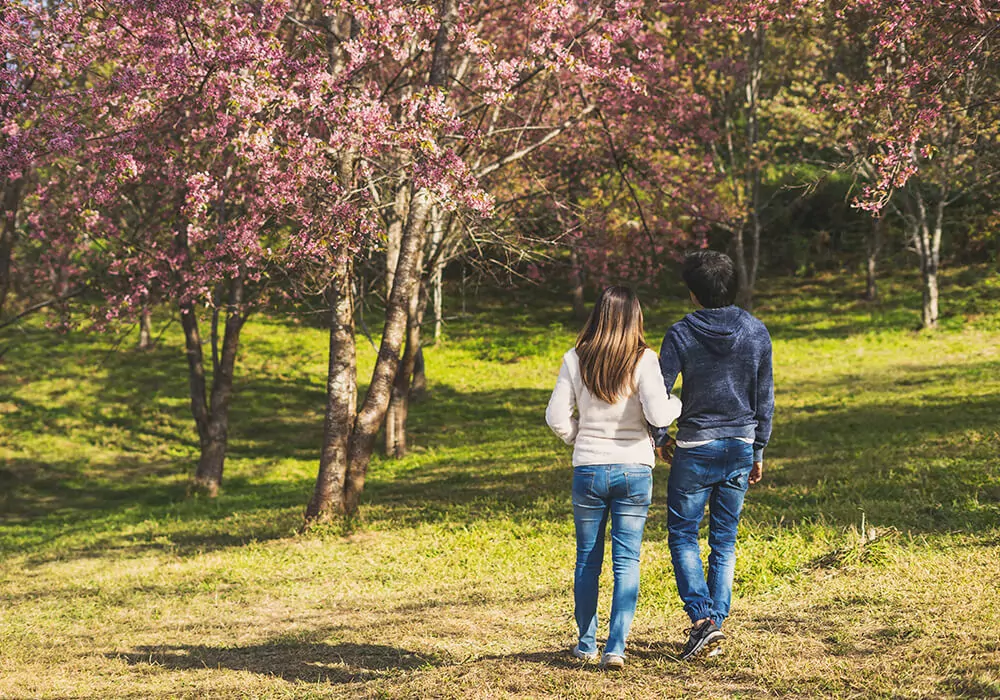 Mediterranean garden
FIFTH STAGE
The parrot Koki
The Koki parrot, also known as Tito's parrot, is a yellow tufted cockatoo specimen that is now more than 52 years old.
A large, strong-bodied, hard-billed specimen, very intelligent and sociable. One cannot leave the Brijuni Islands without a photo with Koki.
SIXTH ROUND
Bizantski kastrum
Madonna Bay is an archaeological site where you can see artifacts from Republican and Imperial Rome of late antiquity, the Eastern Goths of the Carolingian era, as well as Venetian rule.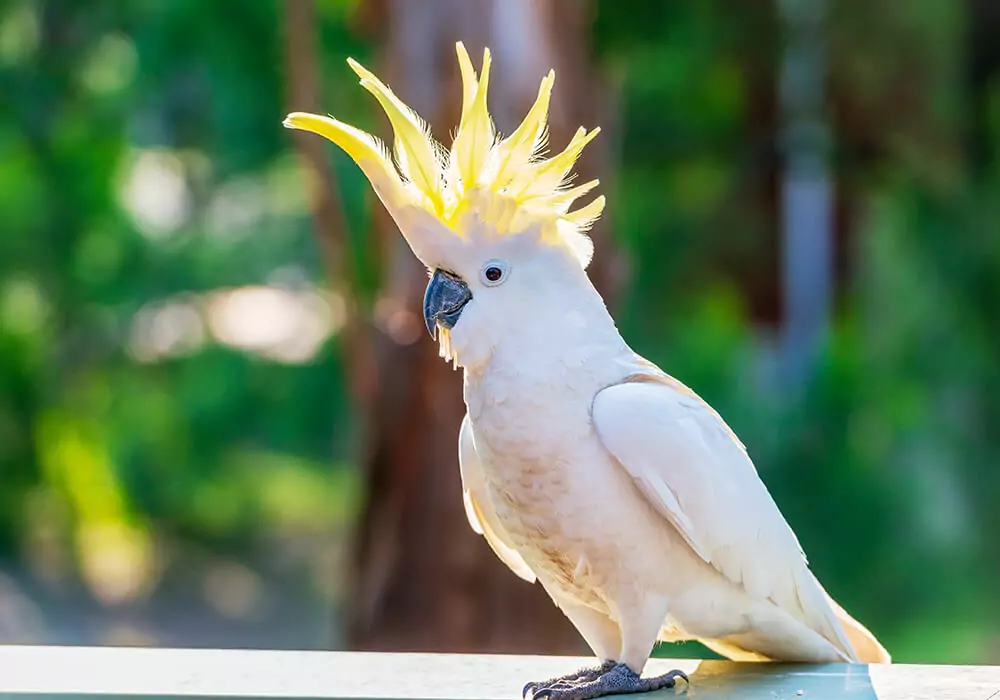 The Koki parrot of the Brijuni Islands
How to reach the Brijuni Islands?
Of the many Brijuni Islands, only one is open to visitors, the Great Island. Some, such as the Minor Island can only be visited on special occasions such as during the Ulysses Threatre performances.
The Brijuni Islands National Park can be reached by sea from Fažana, which boasts a regular daily boat service, with a travel time of about 20 minutes. Tickets can be purchased at the marina from which boats depart in Fažana or online at the park's official website.
Lots of activities such as hiking, cycling, birdwatching and swimming await you. There are also several archaeological sites on the islands, including a Roman villa and an ancient Greek settlement. Park highlights include the Roman villa on the island of Veliki Brijun and the wild peacocks that roam freely on the islands.
OFFERS AND PRICES 2023 OF BIVILLAGE IN FAŽANA
It is always the right time to book a vacation
With our Vacation Centre's offers, your stay in Fažana will be even more enjoyable.