Prices and availability
Before choosing dates,
check the booking terms and conditions
regarding the minimum stay 2023.
Period
Min number of nights
VILLA BEACH and MOBILE HOME BRIONI BEACH
from 17/06 to 09/09
7 nights*
from 09/09 to 16/10
5 nights
5 nights
till 15/06/2024 and from 07/09/2024
5 nights
from 15/06/2024 to 07/09/2024
7 nights*
B&B ROOMS, MOBILE HOMES and HOLIDAY HOMES
from 15/07 to 26/08
from 26/08 to 09/09
3 nights
from 17/06 to 15/07
2 nights
7 nights*
5 nights
from 09/09 to 16/10
2 nights
MINIMUM STAY 2024
from 25/04 to 18/05 & 14/09 to 14/10
2 nights
from 18/05 to 15/06
3 nights
from 15/06 to 13/07 & 31/08 to 14/09
5 nights
from 13/07 to 31/08
7 nights*
5 things to do in Fažana
Discovering Fažana amid nature, art and history
Fažana is a fishing village, just a few kilometres from Pula, known for its beautiful landscape and numerous historical and cultural landmarks. Fažana is an ideal place to spend a summer vacation. It is particularly suitable for families with children. But not only that, lovers of sport and active holidays will be spoilt for choice.
Are you thinking of visiting Fažana? The list of things to do in this charming town in southern Istria is endless! Where should we start? With so many options available, it is sure to be an experience worth remembering.
Walking around the old town and Fažana Square
Fažana, a small fishing village, is a stone nest set on the seashore where you can lose yourself in the maze of city streets and savour the flavours of the local cuisine. At every step, this town reveals the three-thousand-year-old beauty of its territory.
This small hamlet is well cared for in every detail, with its narrow streets, small square overlooking the sea and an ancient church dedicated to Saints Cosmas and Damian known as the 'medical saints' because they provided free aid to anyone in need. A Gothic-style church dating back to the 10th century, it is still considered a building of great historical, cultural and religious value.
Walking through the old town, one cannot fail to notice its characteristic two-storey buildings. Once built one next to the other to become a real fortress in case of attack. It is then difficult not to be surprised by a particular alley in the city: la Rondinella. The shortest and narrowest street in Fažana, so called because, according to legends of the past, it was so narrow that only swallows could cross it, hence the name (it. rondine – swallow).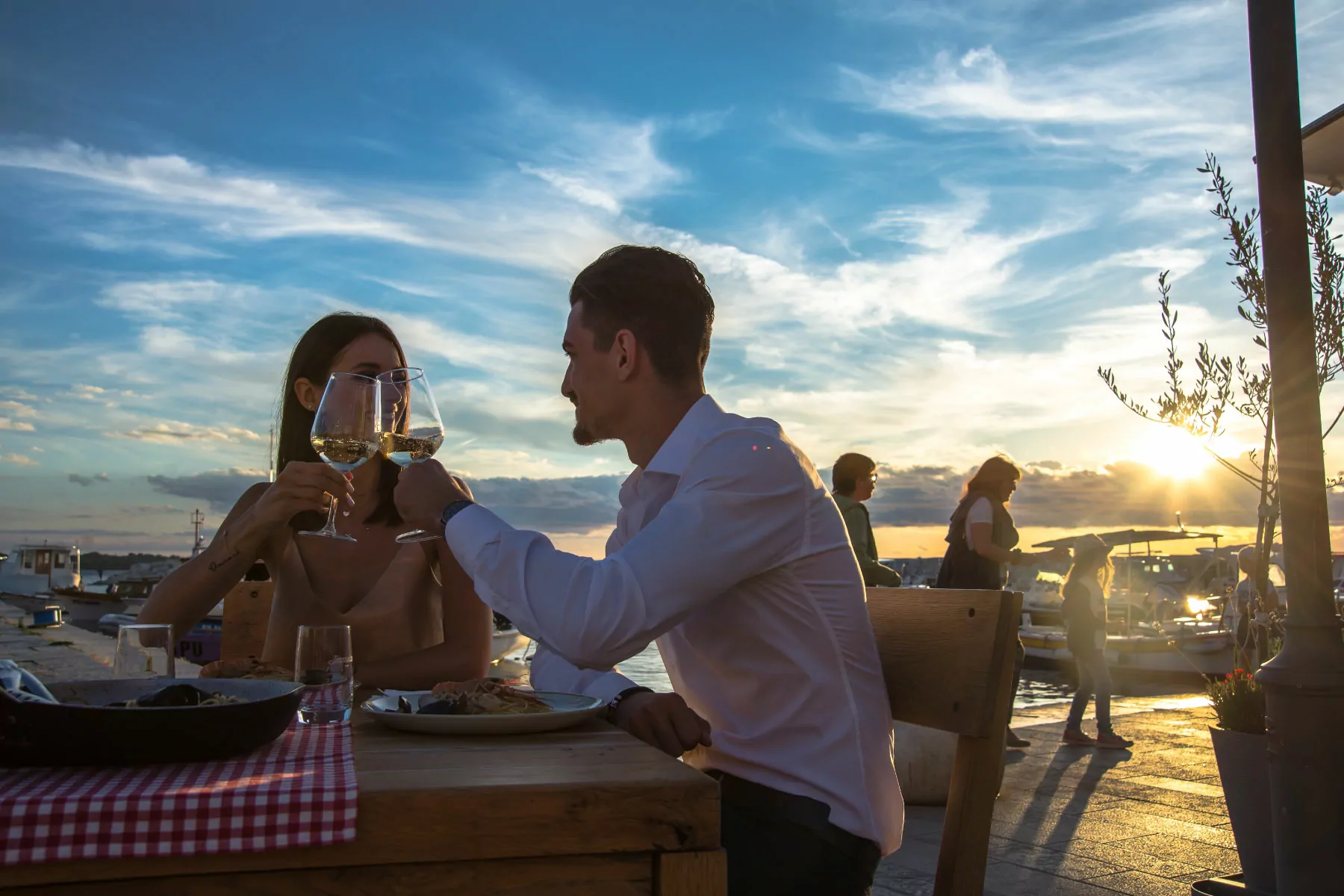 City of Fažana at sunset
The best views and sunset over the sea
The Fažana promenade is the ideal place to watch the sun set the sky ablaze.
From delicate shades of pink to bright red, every sunset in Fažana offers unique emotions that take your breath away.
Sit back, relax and watch the sun disappear over the horizon while breathing in the scent of the sea and listening to the chatter of seagulls.
Fažana, is one of the destinations on the Good Vibrations Trail. The latter is a path consisting of eight specially selected locations, three in Fažana and five on the island of Veliki Brijun, where benches, chairs and artistic swings are placed. An invitation to relax the mind and distance visitors from the stresses of everyday life.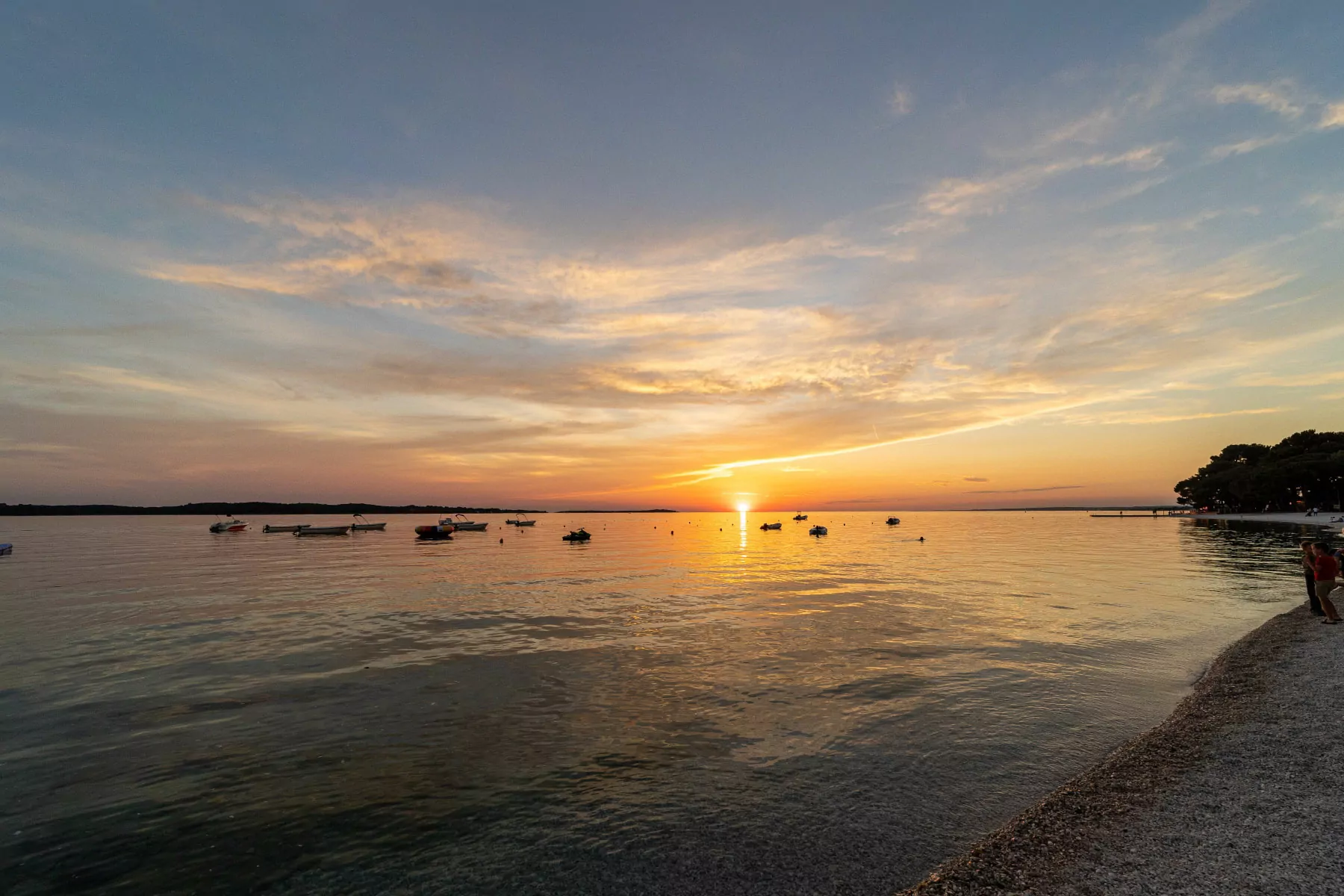 Every sunset in Fažana gives unique emotions that take your breath away
Fažana by bicycle
It is no secret that Istria is one of the regions of Croatia with the most beautiful cycling routes.
A new way of experiencing nature, being outdoors and exploring the beauty of the Istrian coast.
From Fažana, two cycling routes, 301 Vasianum and 302 St Elysium, which run along the crystal-clear Istrian sea, will take you away from the hustle and bustle of everyday life and offer you a new view of Fažana and its surroundings.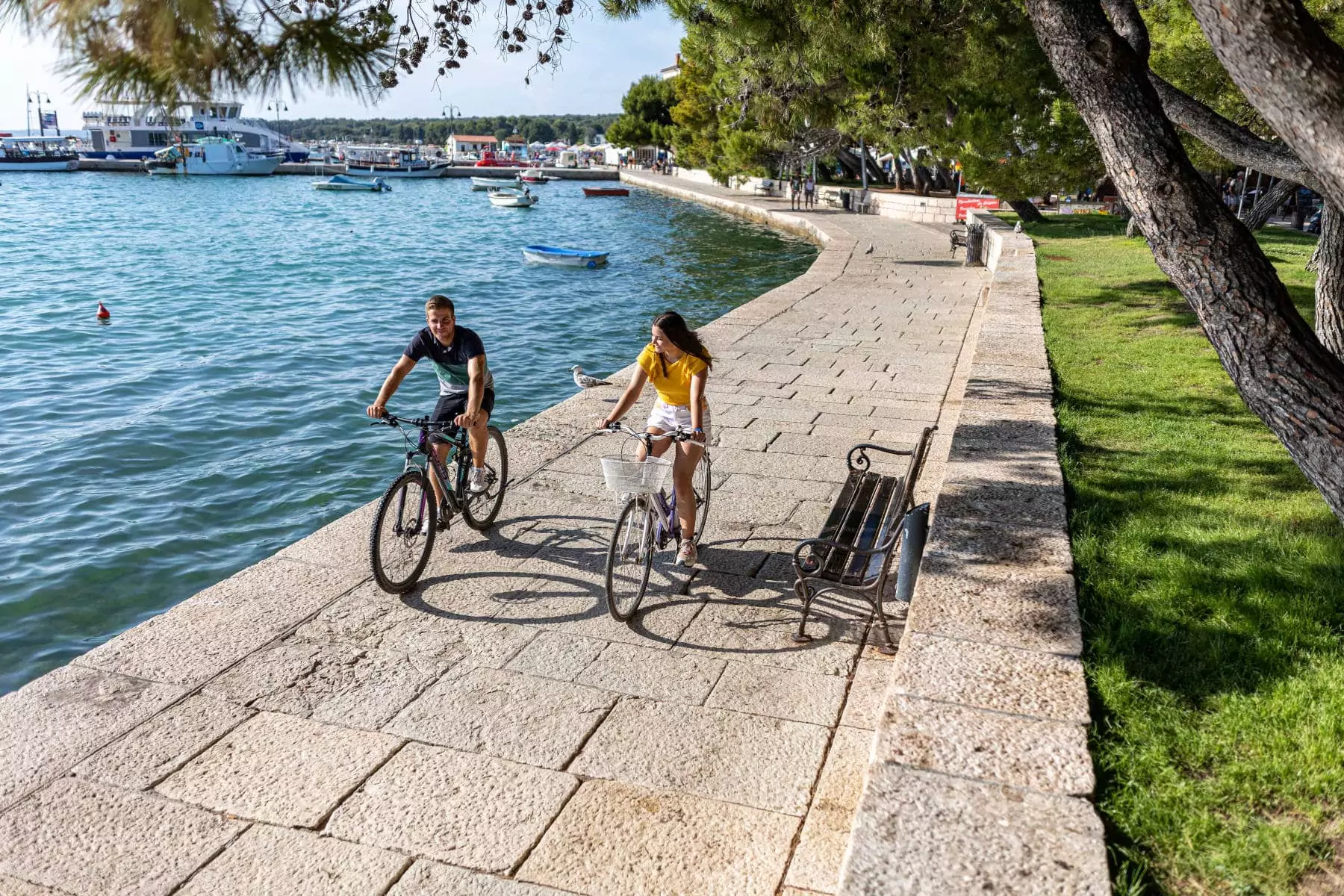 Visiting Fažana on a bicycle
A relaxing day at the beach
Would you like to spend a relaxing day at the beach?
Fažana is known for its crystal-clear waters and breathtaking views. Visitors can enjoy various activities such as swimming, sunbathing, snorkelling and windsurfing.
There are numerous restaurants and cafes in the vicinity, as well as several beach bars, making it the perfect place to relax and enjoy the day.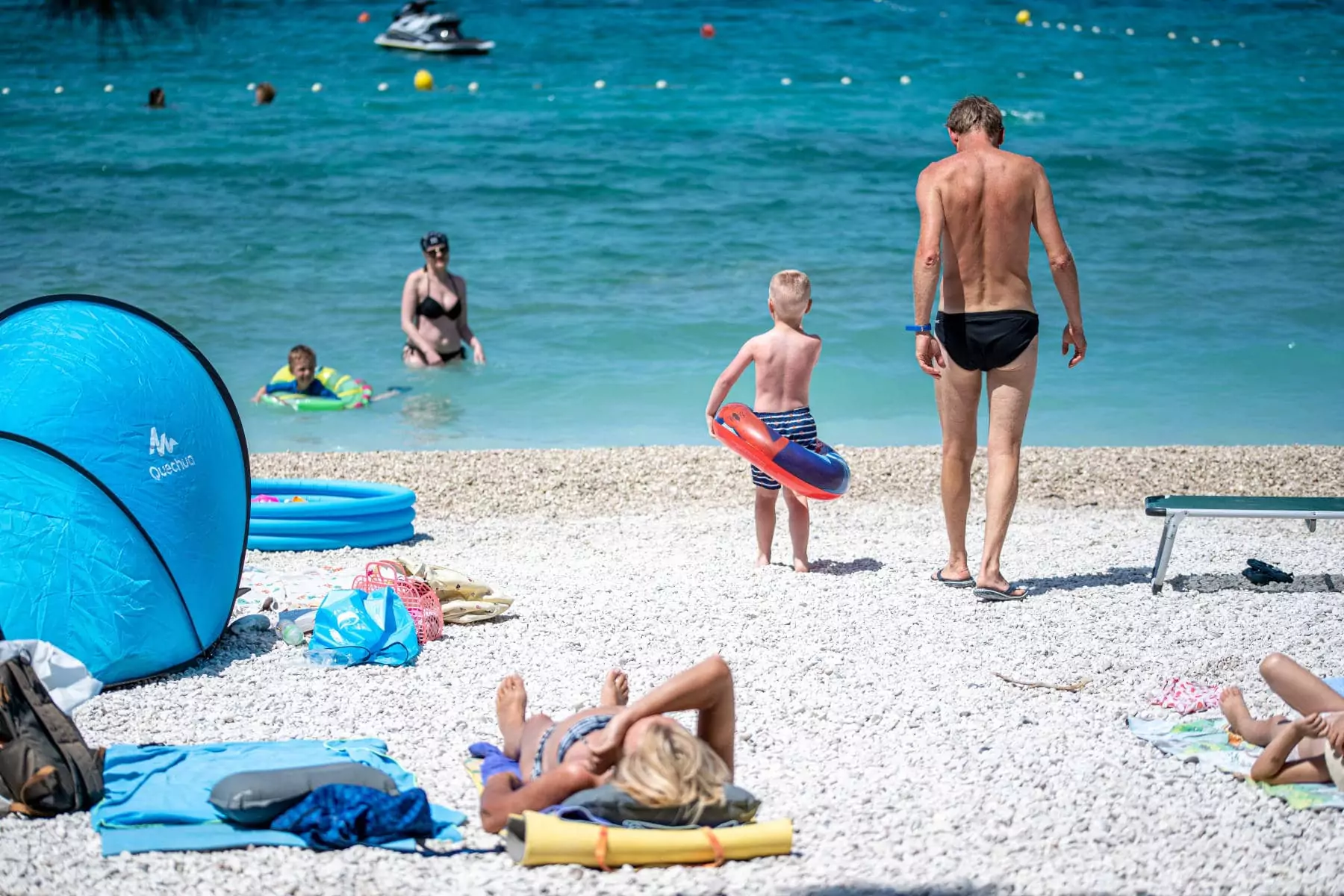 The sea of Fažana
Tasting an Istrian dish
Certainly the highlight of Fažana's cuisine are the seafood dishes.
In particular, Fažana is known for the preparation of sardines, cooked by each restaurant in 100 different ways: marinated, breaded, fried, grilled. It shouldn't be forgotten that a good fish dish can only be accompanied by a local wine such as Malvasia and Moscato.
Moreover, for those who wish to savour the flavours of the local cuisine, the fish stew brodetto or the soups with clams mustn't be skipped. Truly an explosion of aromas and flavours.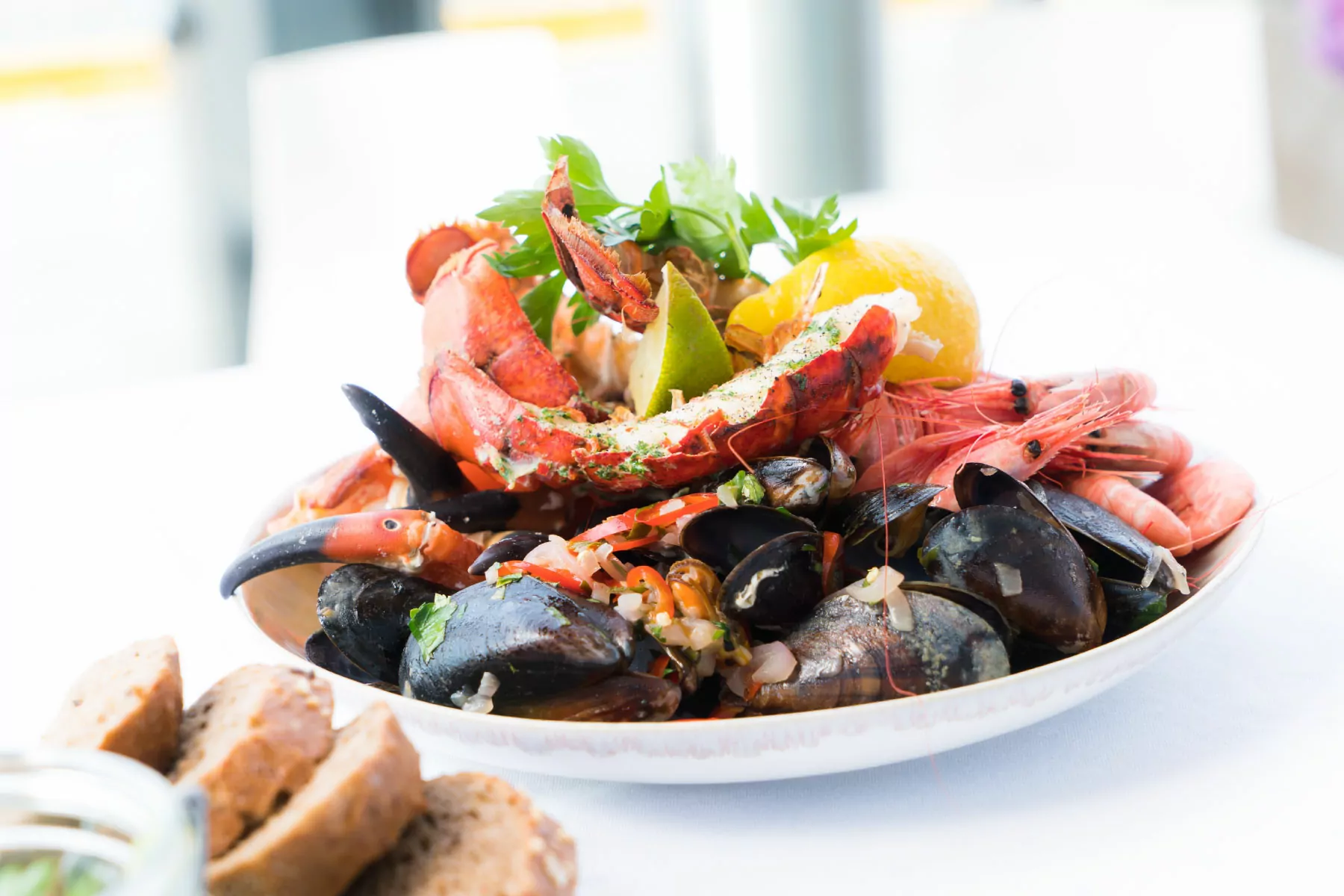 Sea dish
OFFERS AND PRICES 2023 OF BIVILLAGE IN FAŽANA
It is always the right time to book a vacation
With the offers of our Vacation Centre, your stay in Fažana will be even more enjoyable.