Prices and availability
Before choosing dates,
check the booking terms and conditions
regarding the minimum stay 2024.
Period
Min number of nights
VILLA BEACH and MOBILE HOME BRIONI BEACH
from 24/04 to 14/06/2024
5 nights
from 15/06 to 09/09/2024
7 nights*
from 09/09 to 14/10/2024
5 nights
B&B ROOMS, MOBILE HOMES and HOLIDAY HOMES
from 24/04 to 18/05/2024
2 nights
from 18/05 to 15/06/2024
3 nights
from 15/06 to 13/07/2024
5 nights
from 13/07 to 31/08/2024
7 nights*
from 31/08 to 14/09/2024
5 nights
from 14/09 to 14/10/2024
2 nights
Village Photos
Camping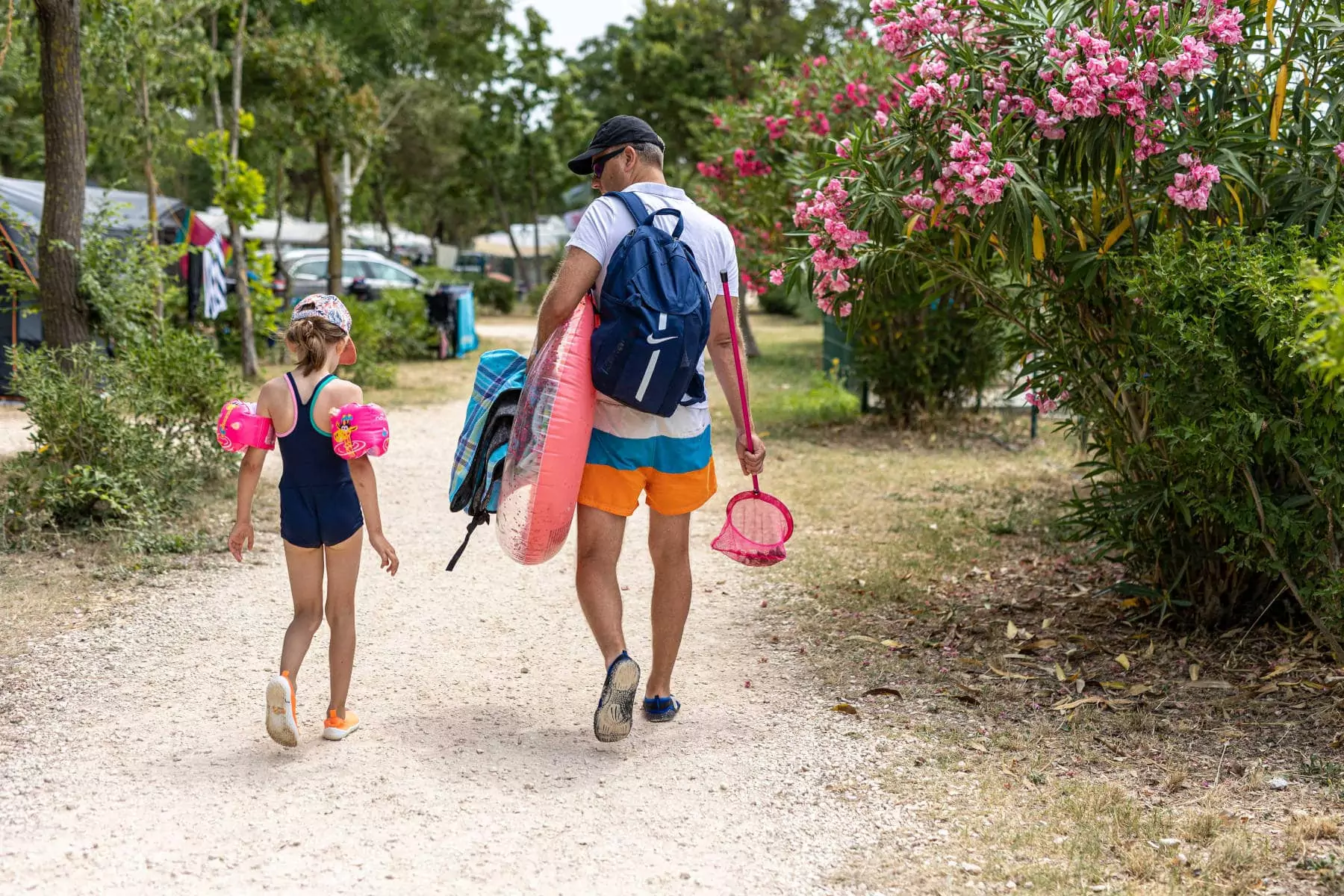 At night, the peace and quiet of the BiVillage will ensure a wonderful sleep.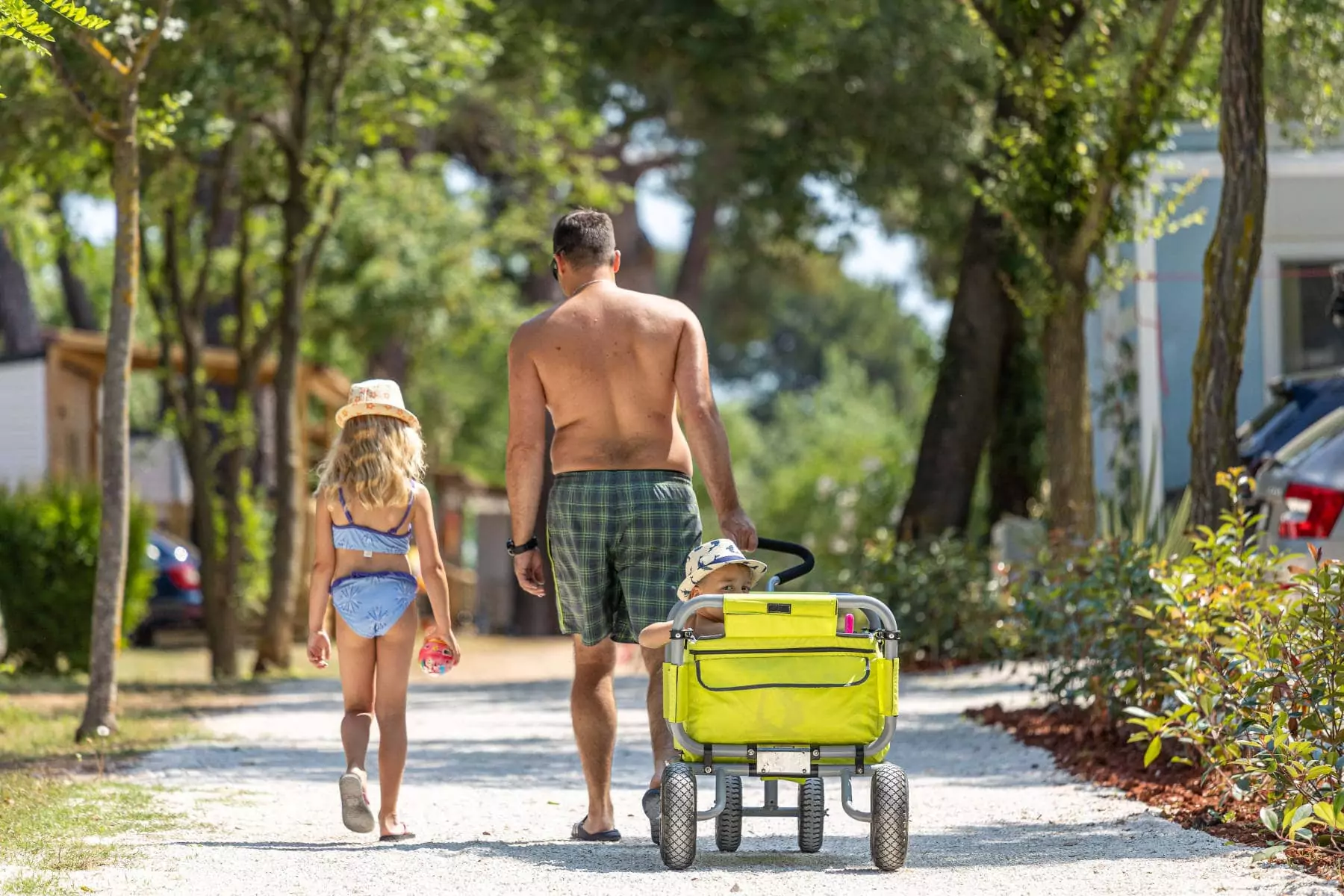 The BiVillage is surrounded by 40 hectares of Mediterranean maquis.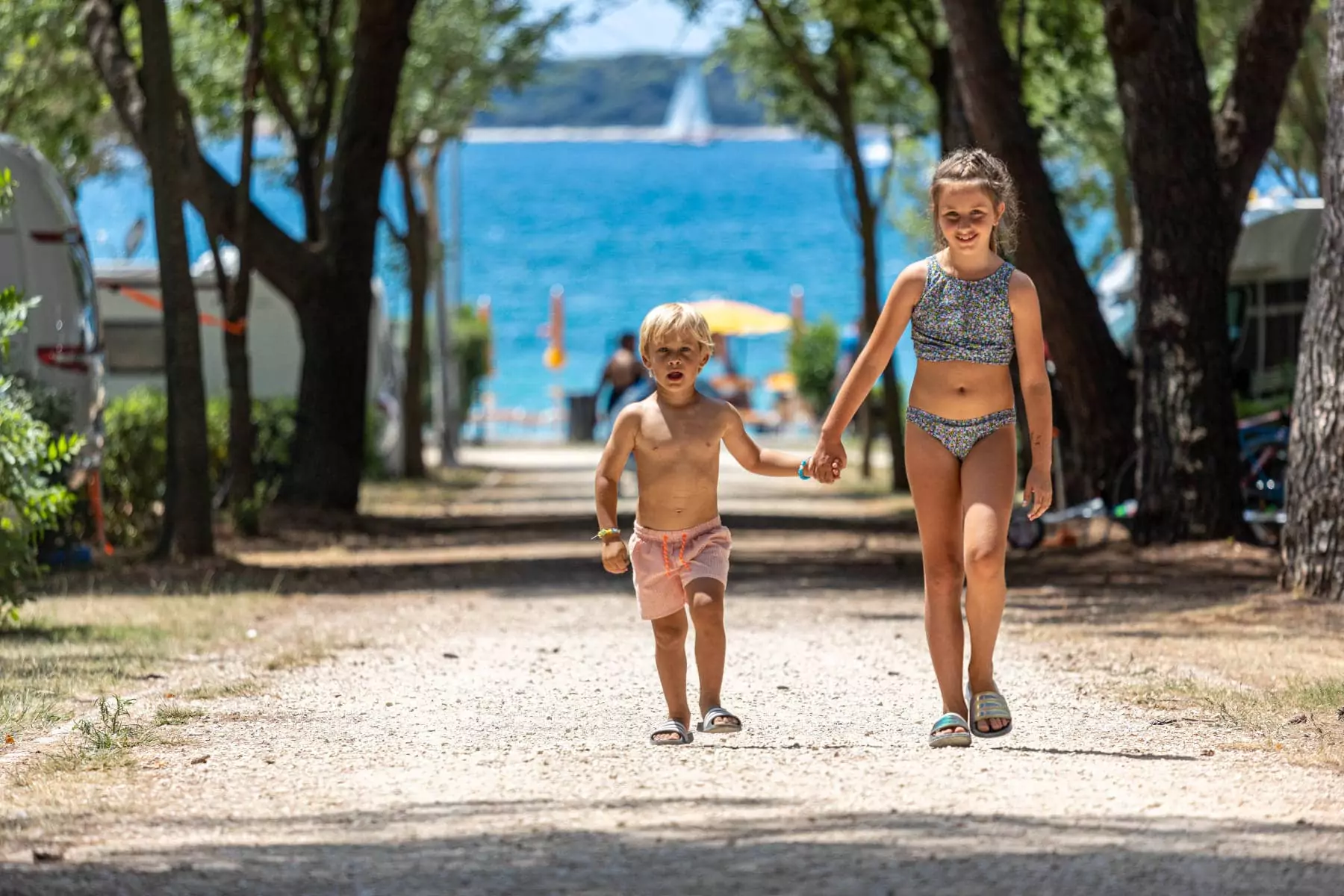 The BiVillage is located in front of the crystal-clear Istrian sea - what a sight!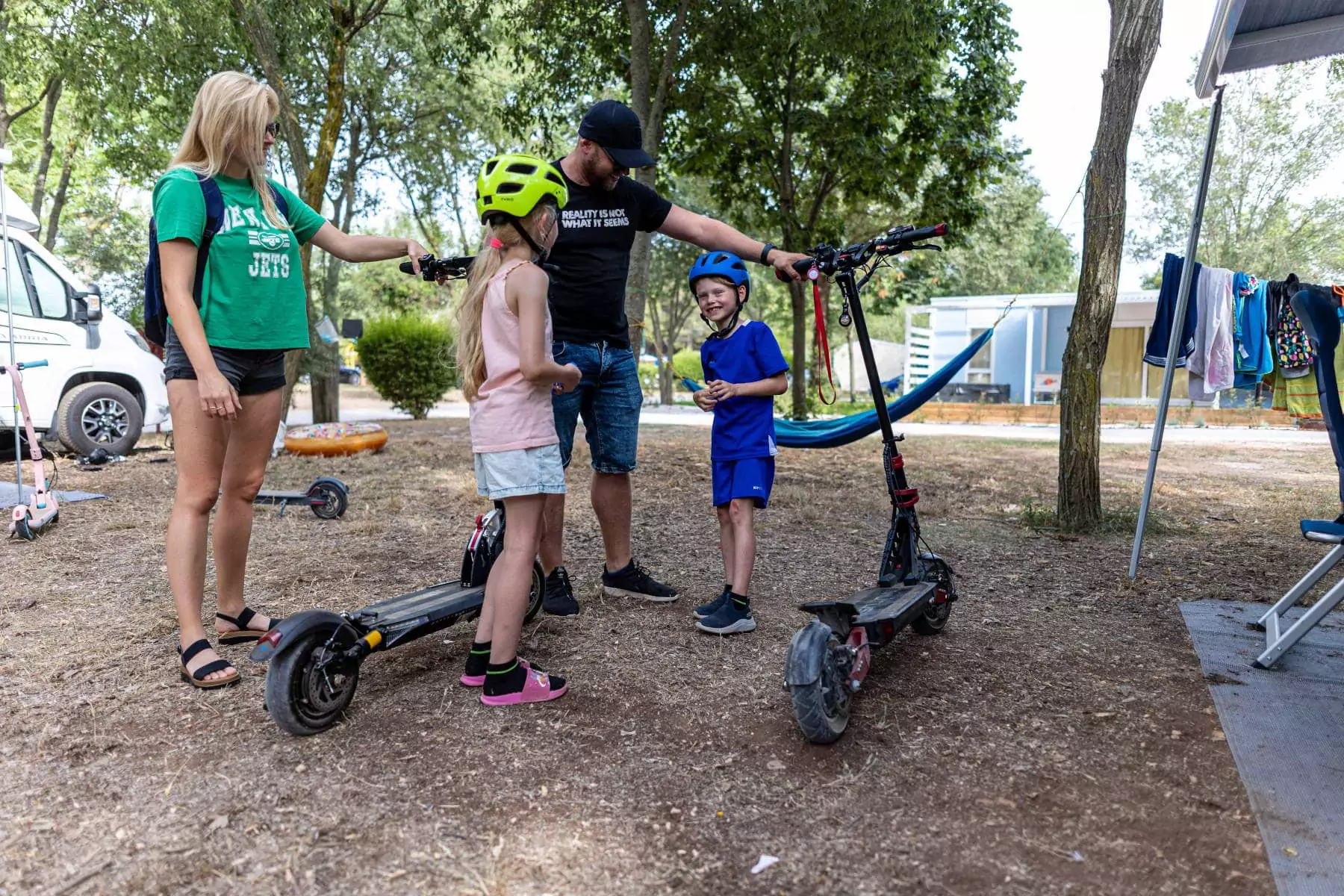 Our pitches are perfect for your family holiday!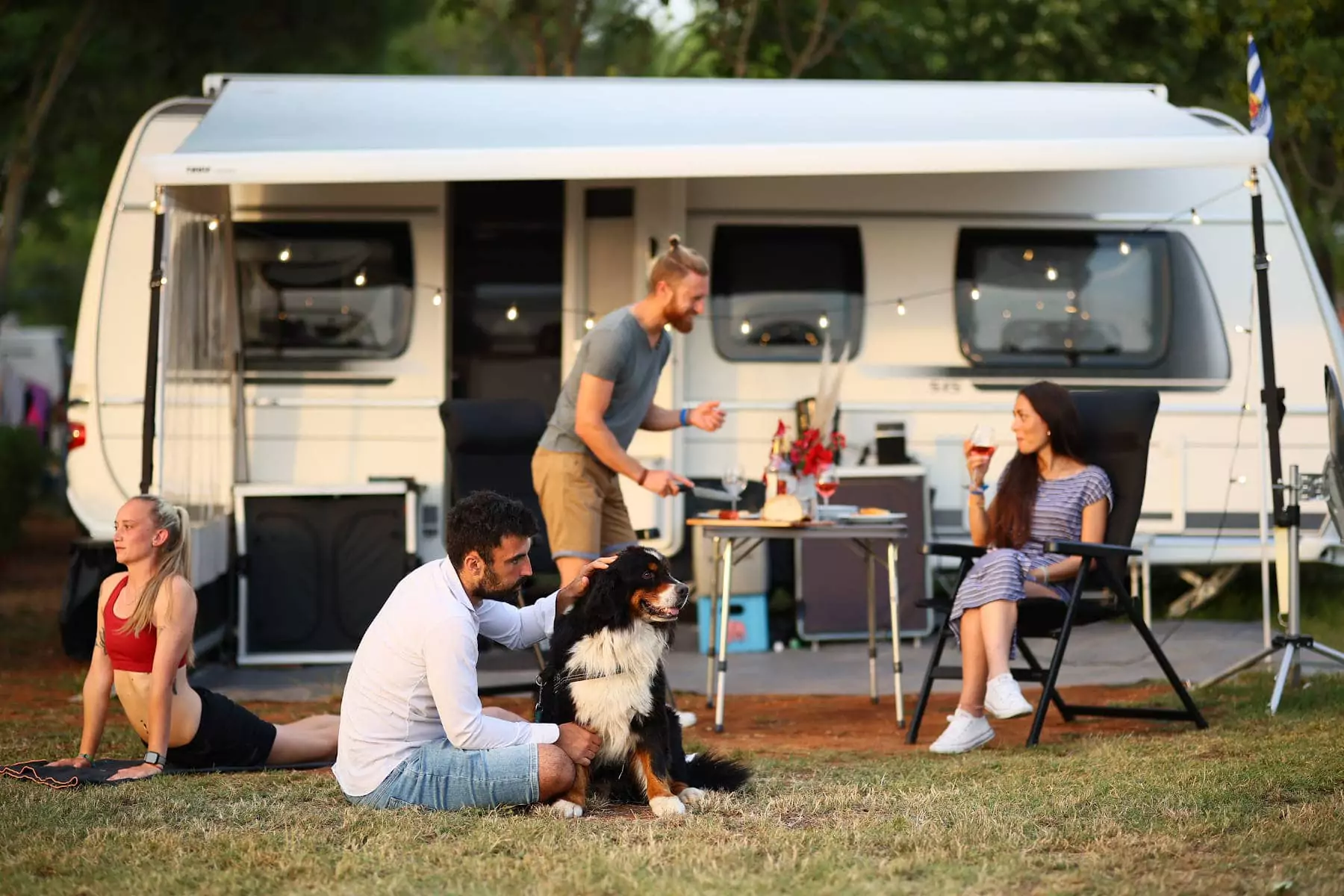 Even Fido loves the BiVillage's King Size pitches!
Wonderful evenings together under the stars await you...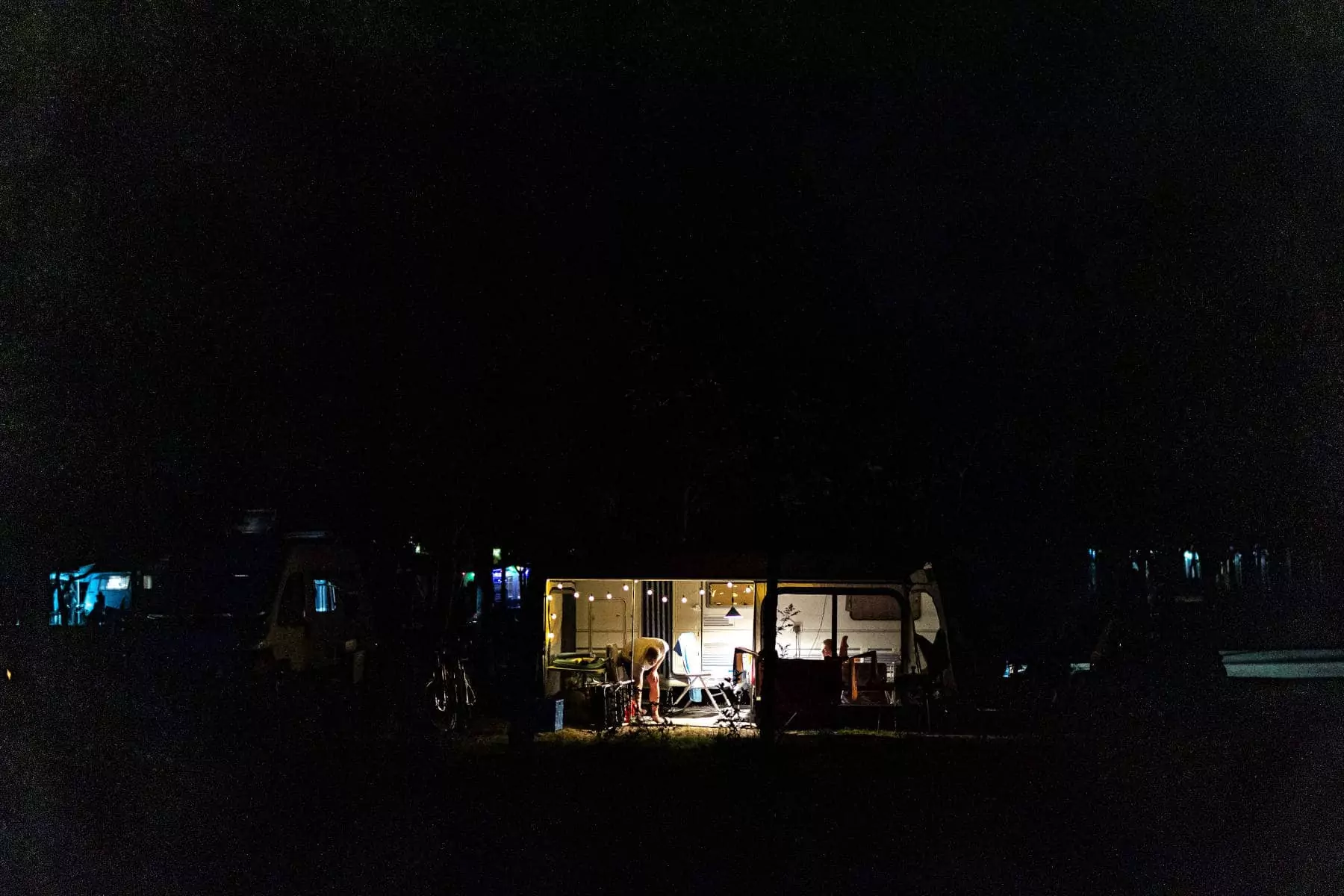 At night, the peace and quiet of the BiVillage will ensure a wonderful sleep.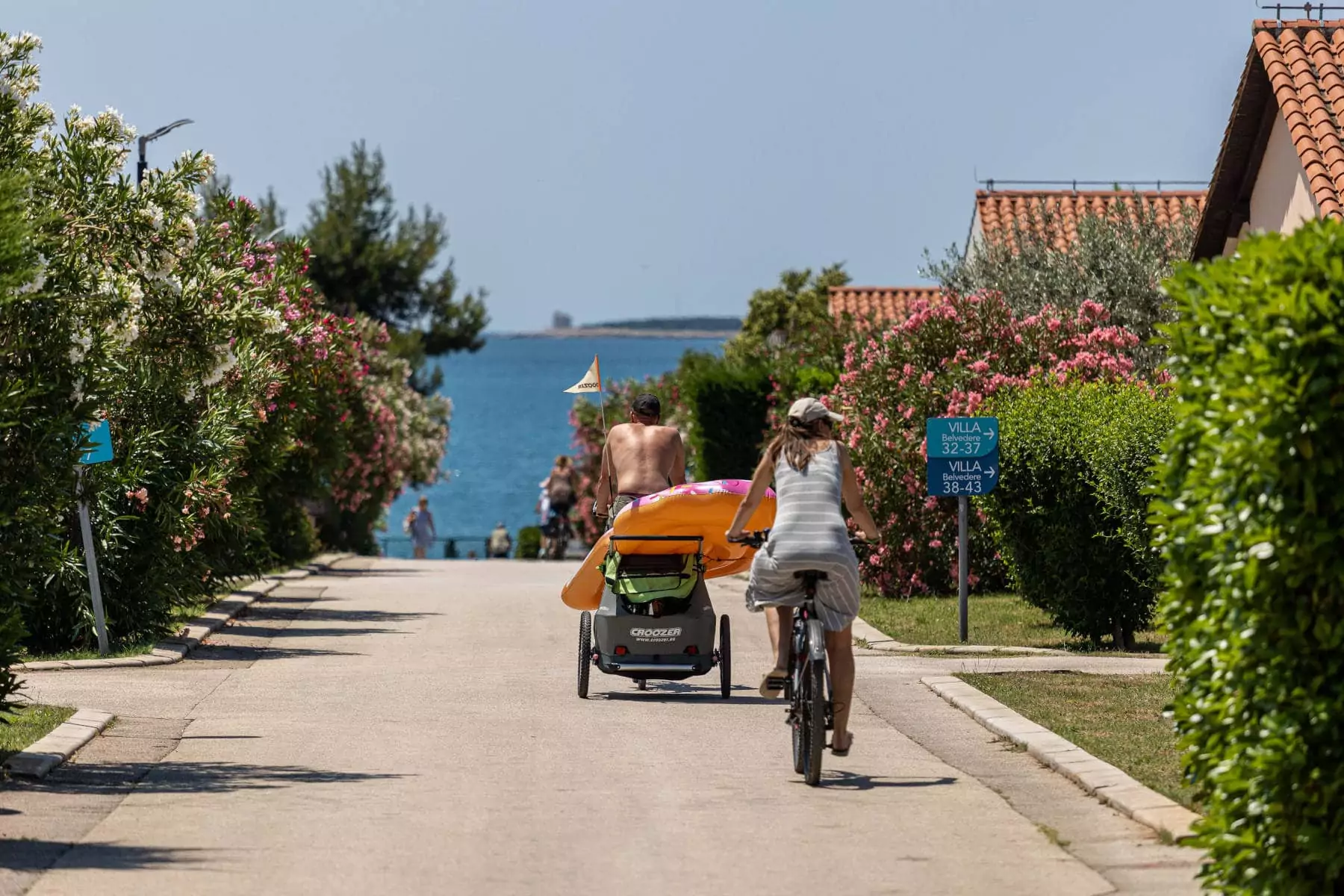 The BiVillage campsite is a bike friendly village!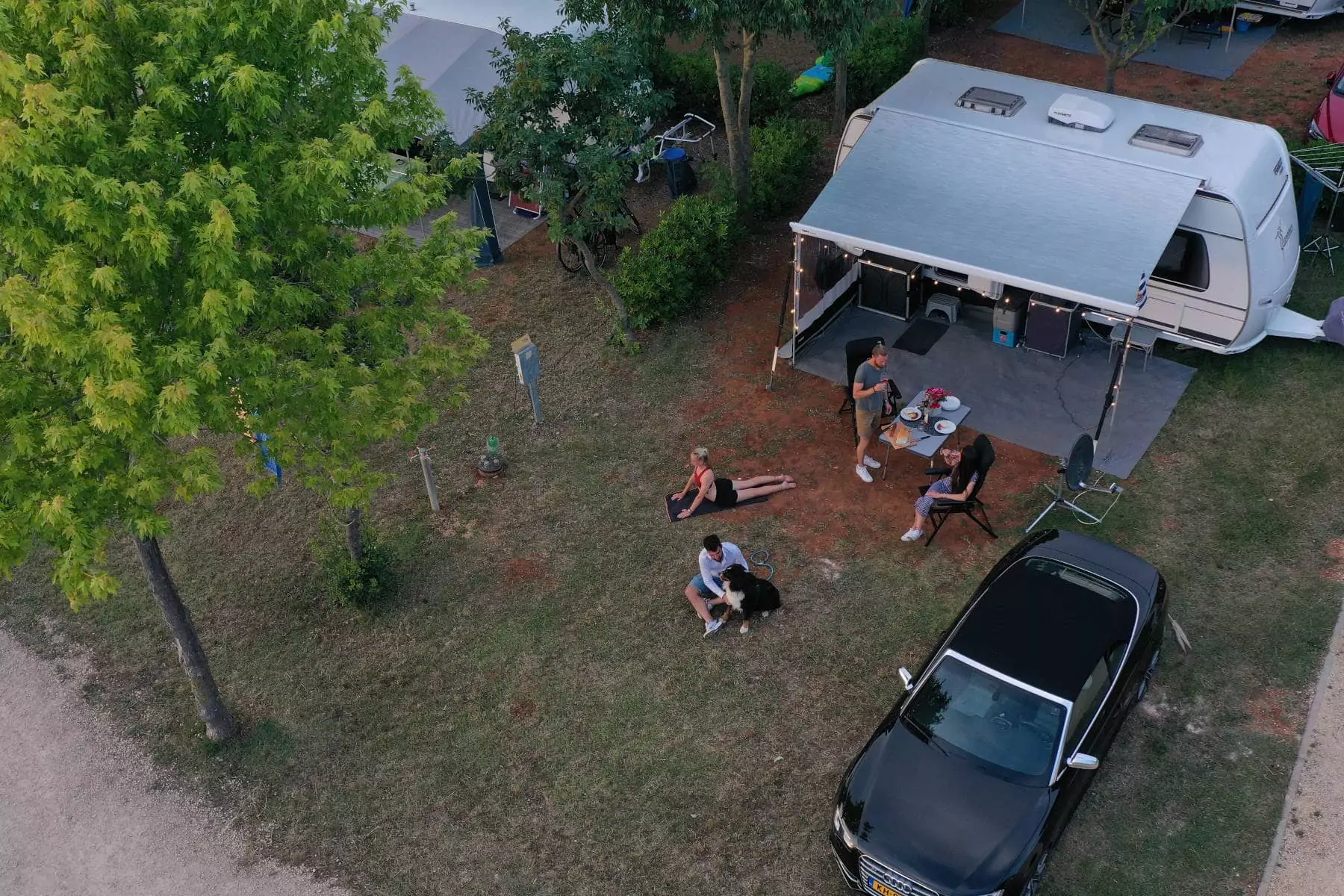 Spacious and well-kept pitches - nothing better for an outdoor holiday.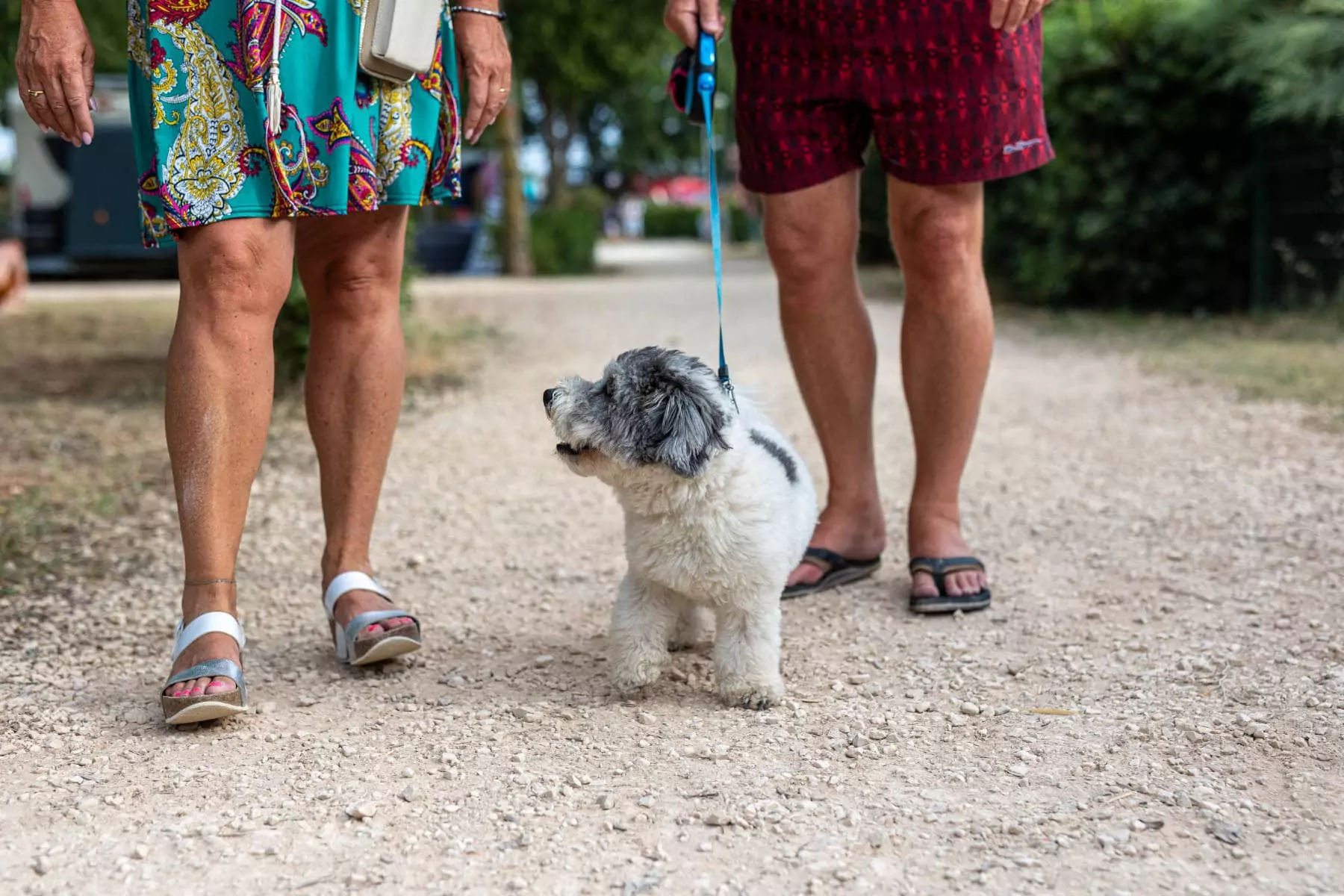 Do you have a dog? Do you like camping? The BiVillage is a dog-friendly village!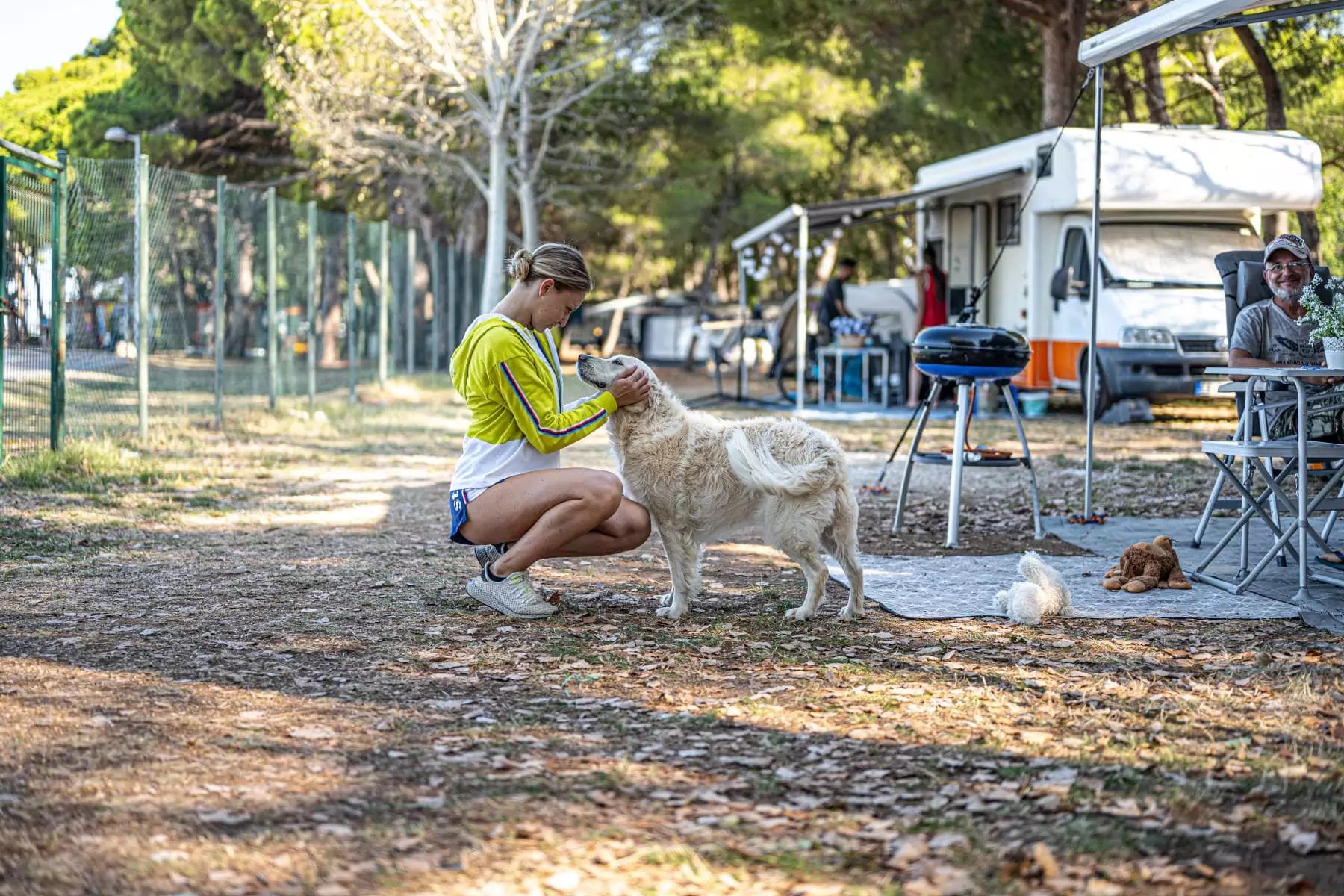 Nothing beats going on holiday with your four-legged friend.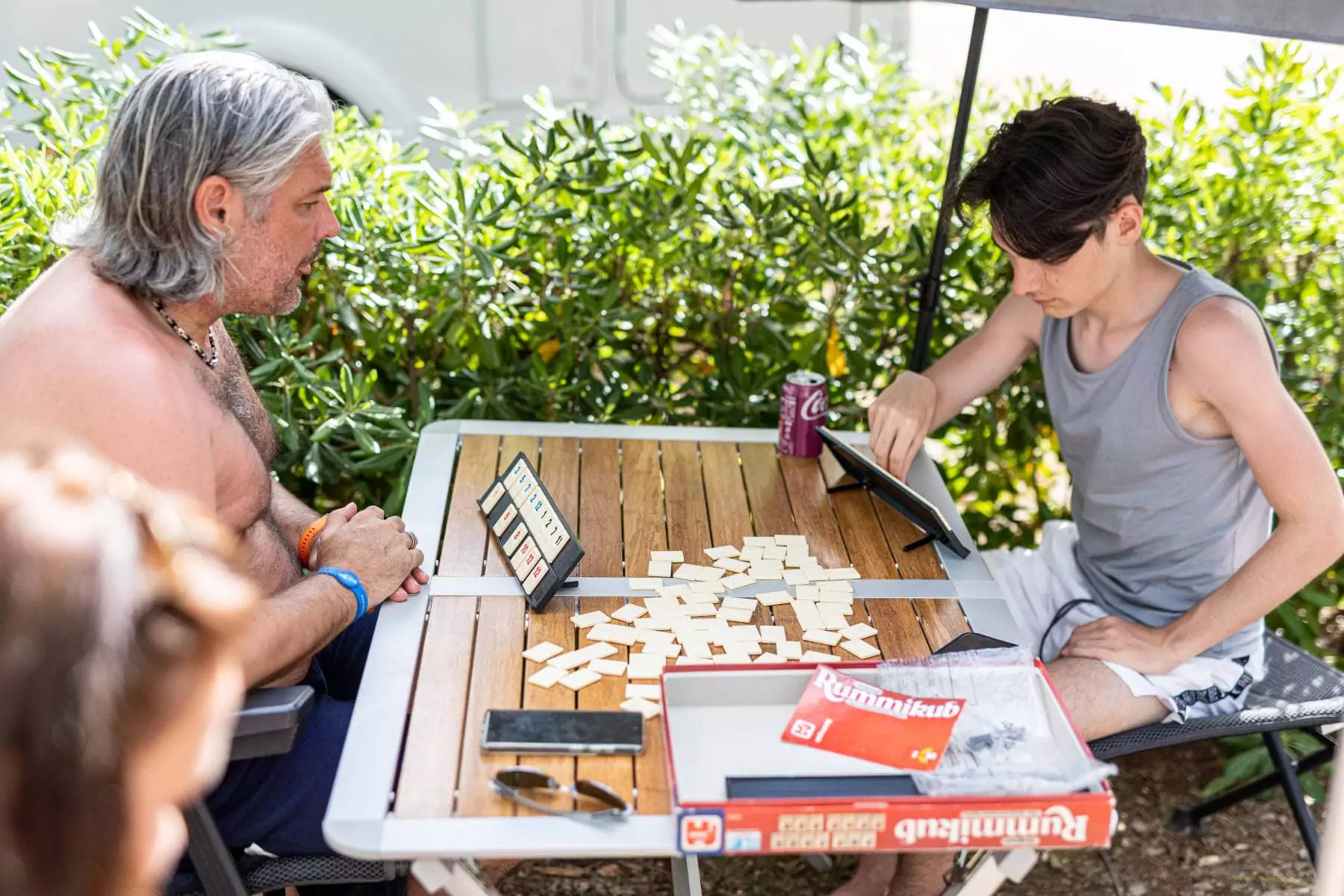 In between activities, there is also some relaxation and games with friends.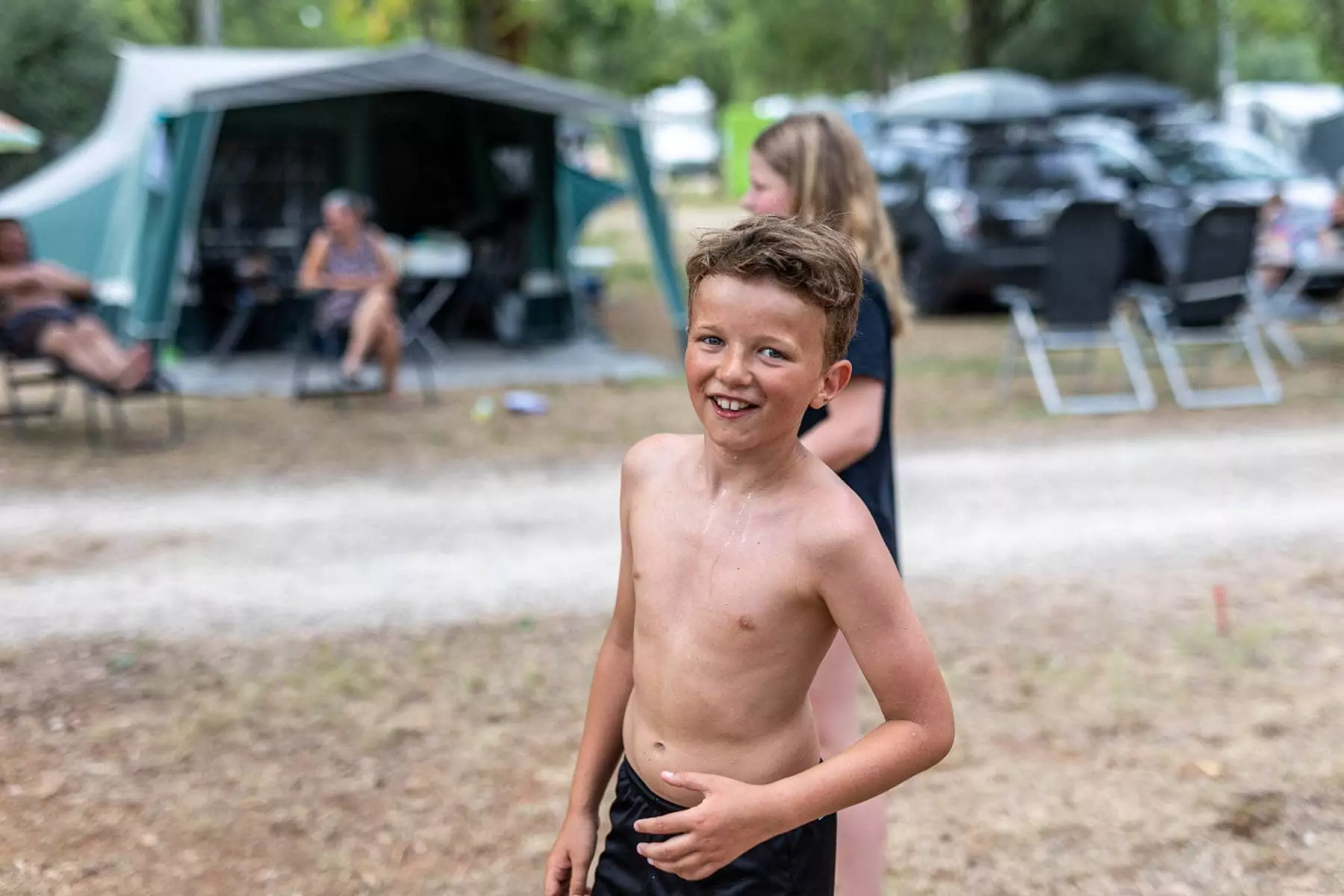 Your children will love playing in nature!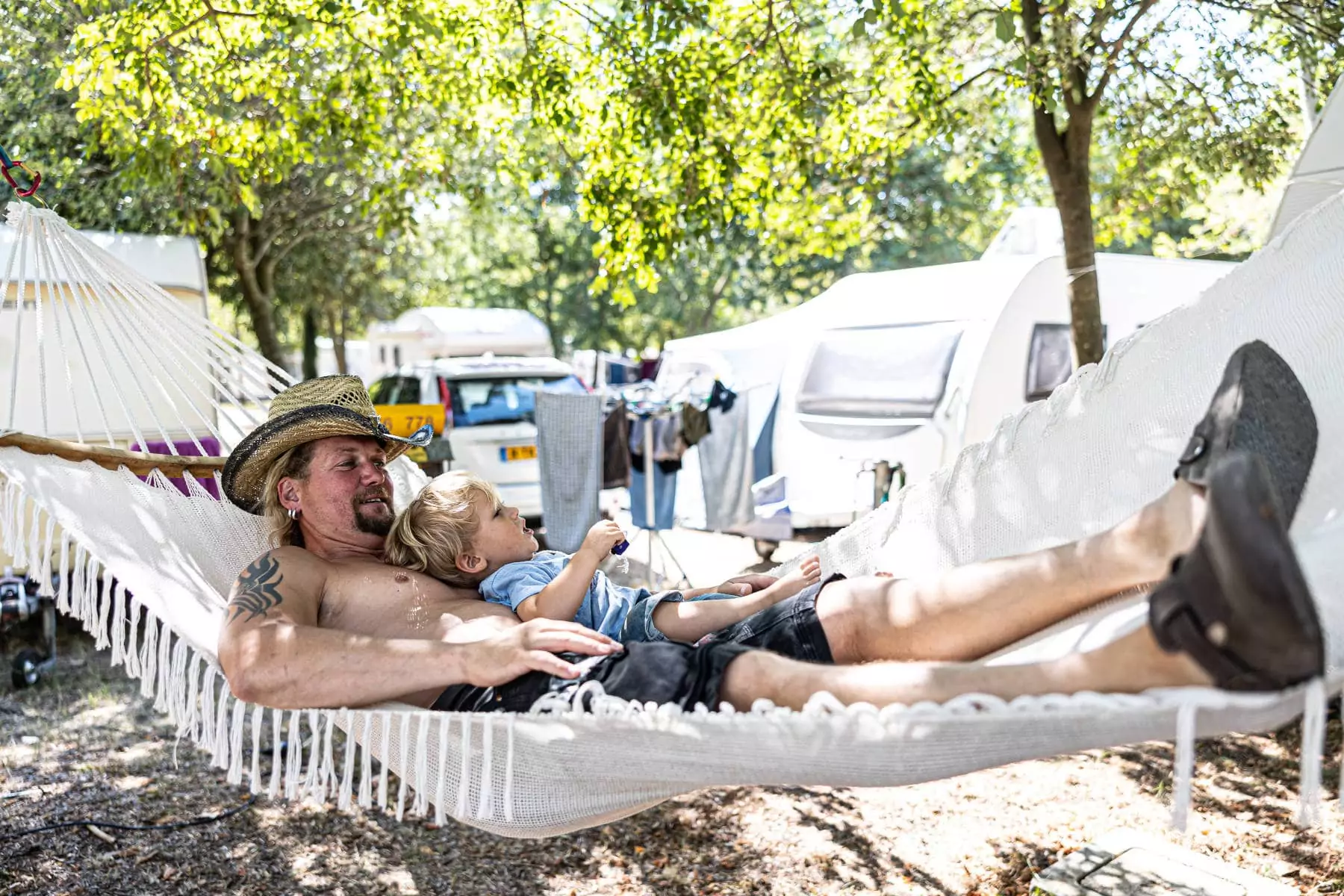 Now, a nice nap in the shade of these beautiful trees....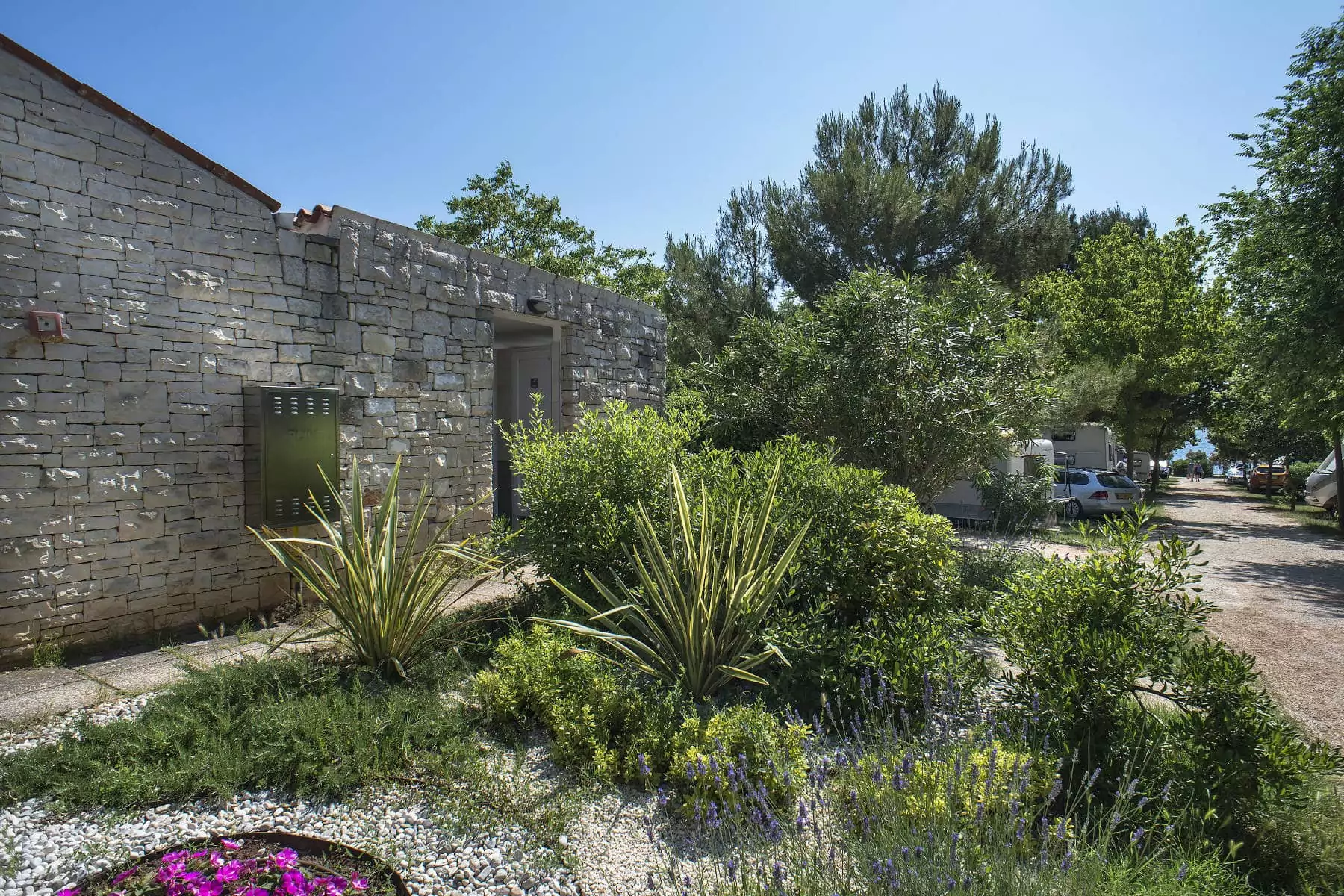 The Mediterranean maquis typical of the Istrian coast.
Accommodation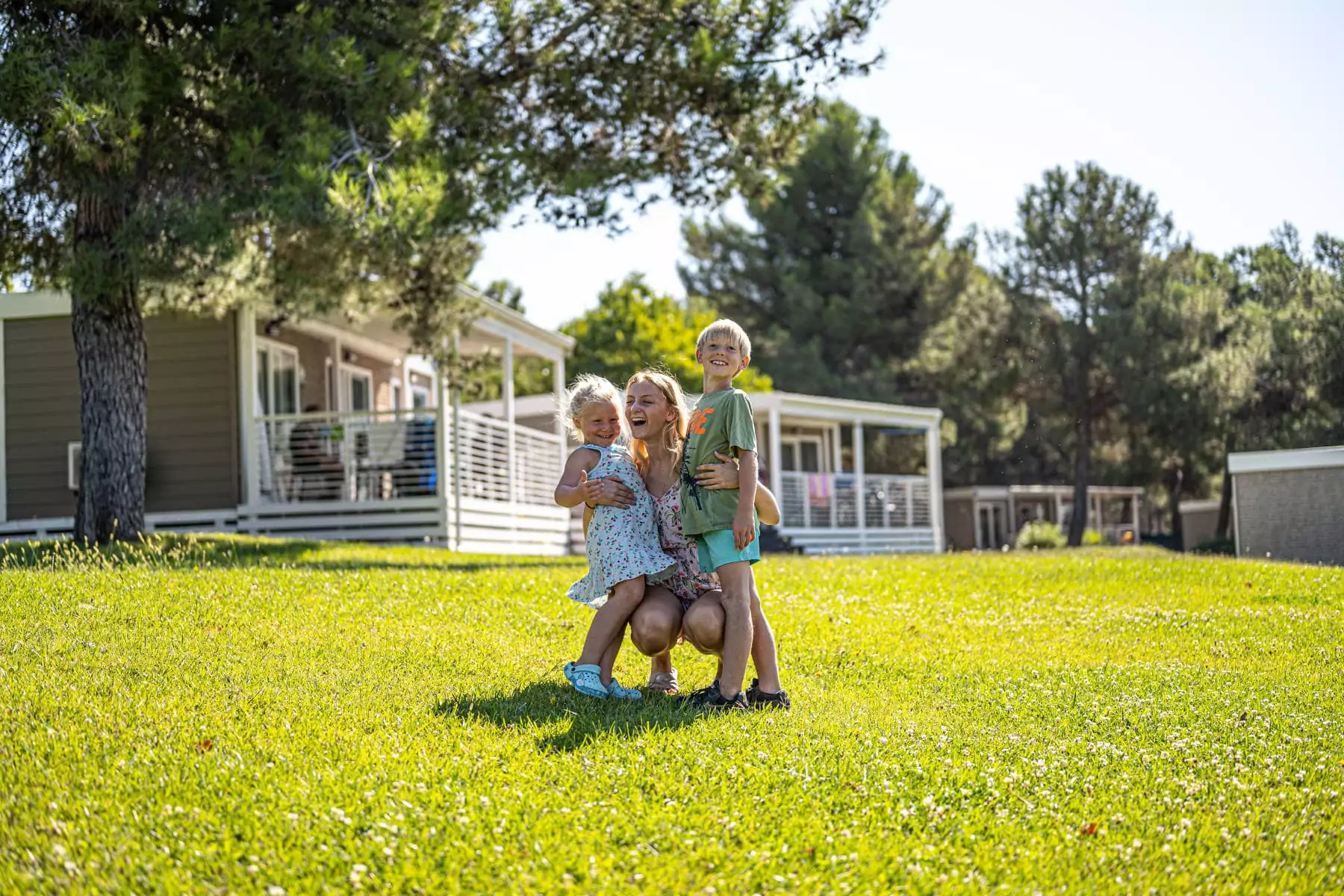 All the comforts of home even on holiday... find ideal accommodation for the whole family.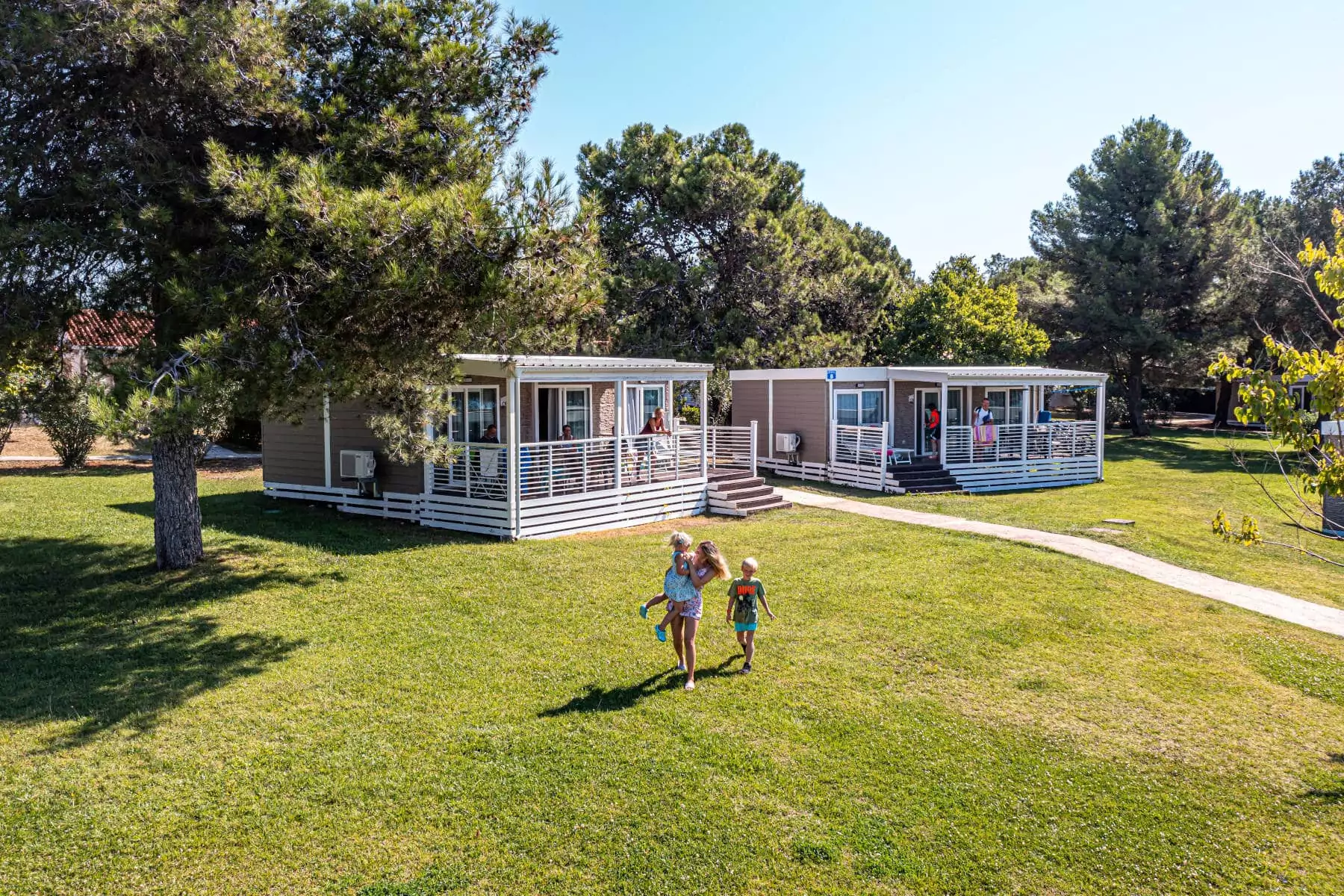 You can find our mobile homes in the best spots of the BiVillage, even by the sea!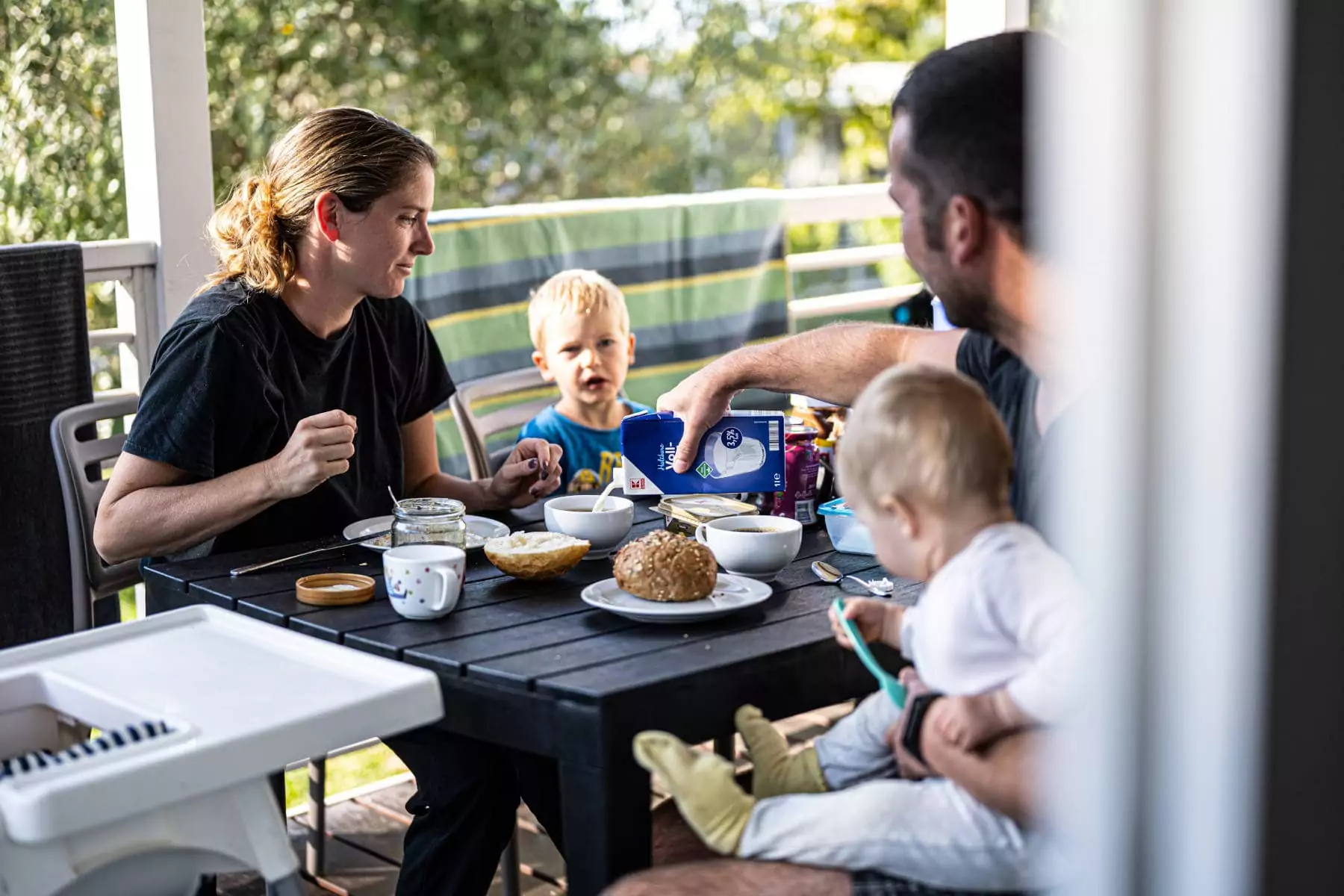 Comfortable as an apartment and fun as a caravan. Always start your day on the right foot!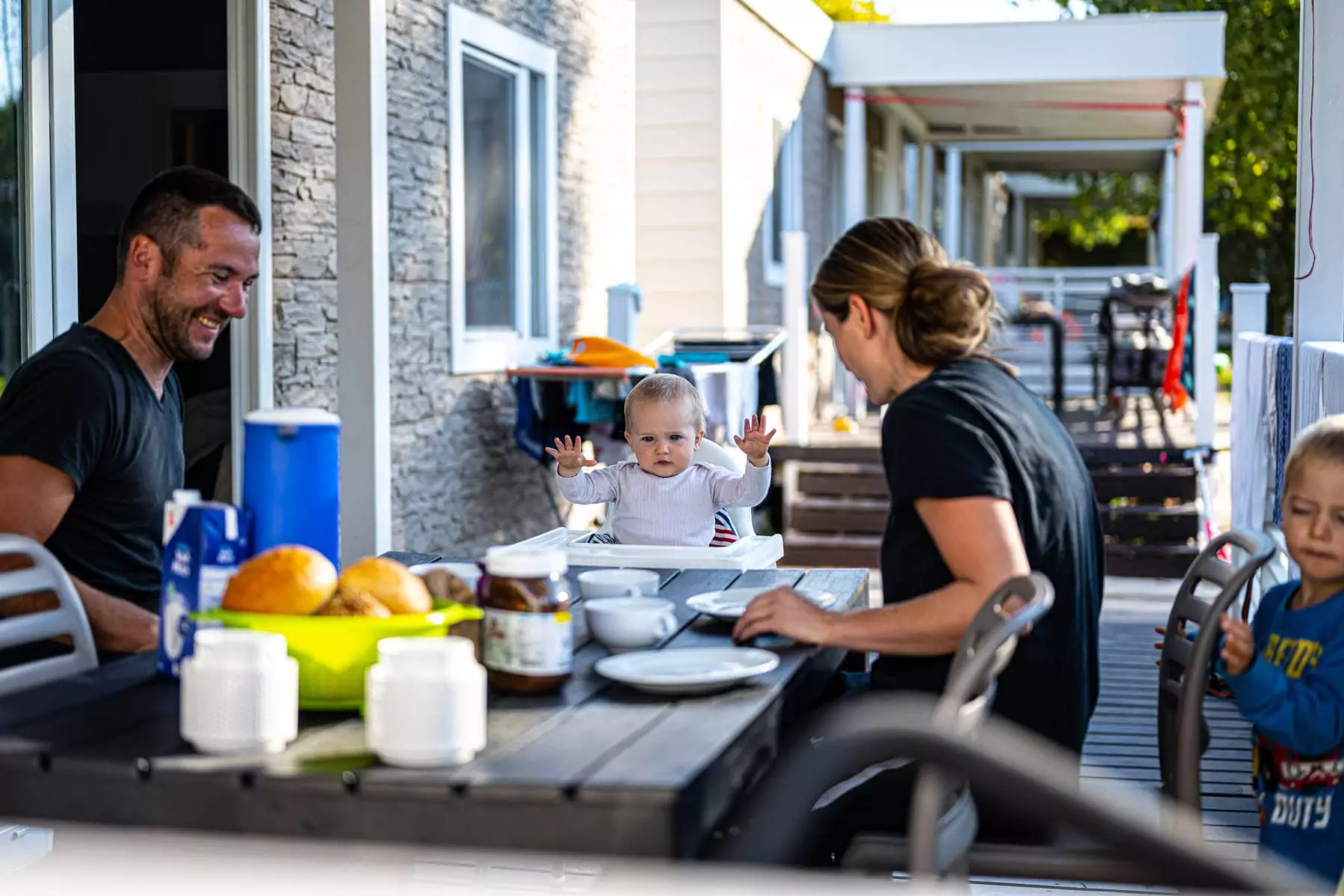 Having breakfast on the terrace during the summer is always a priceless experience... and if, as in this case, you have the sea in front of you, it is even more so!
Breakfasts, lunches and dinners on the private terrace of your accommodation... you can already picture yourself there, can't you?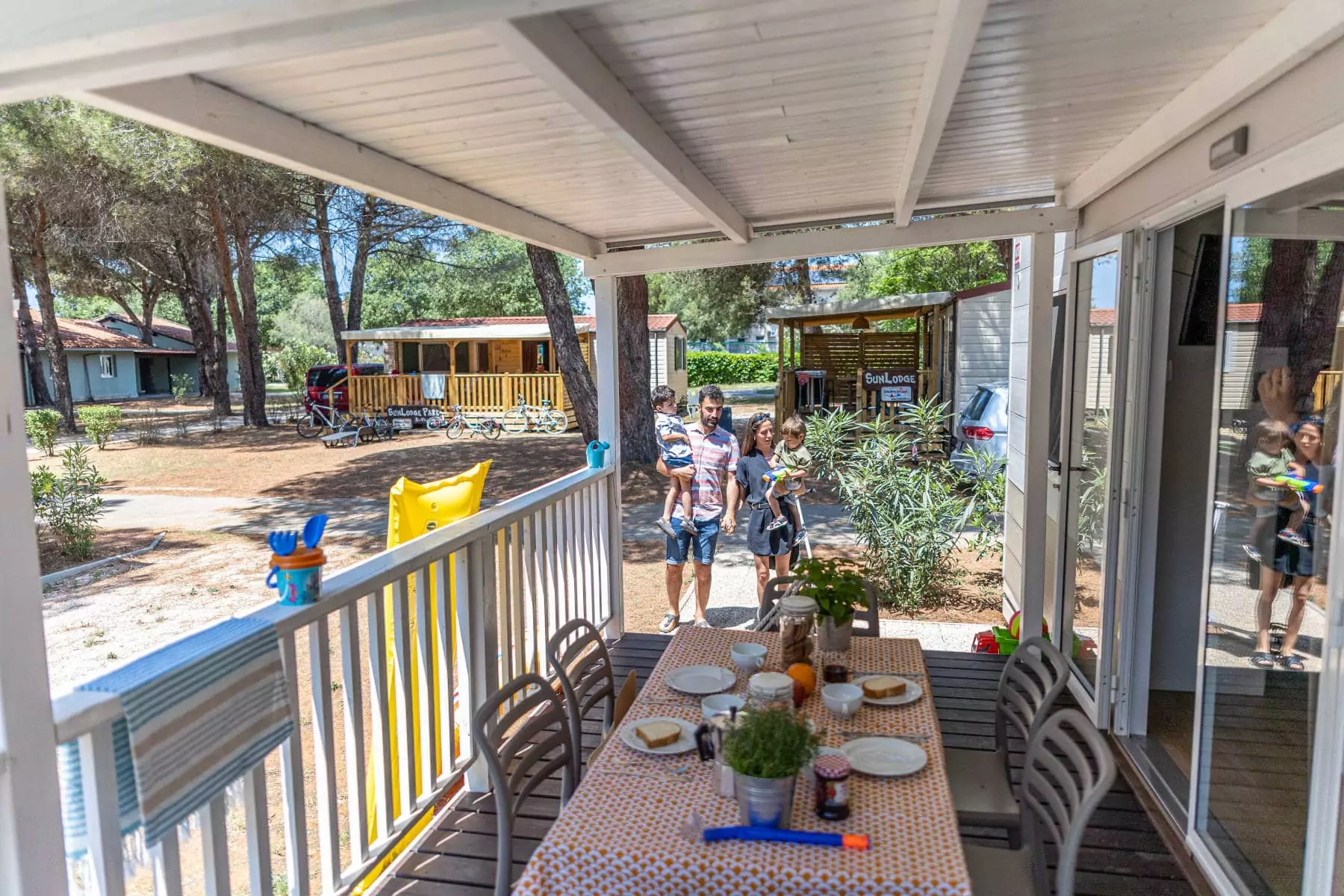 A hearty breakfast before starting a day at sea is a must! In the BiVillage accommodation you will find all the space you need.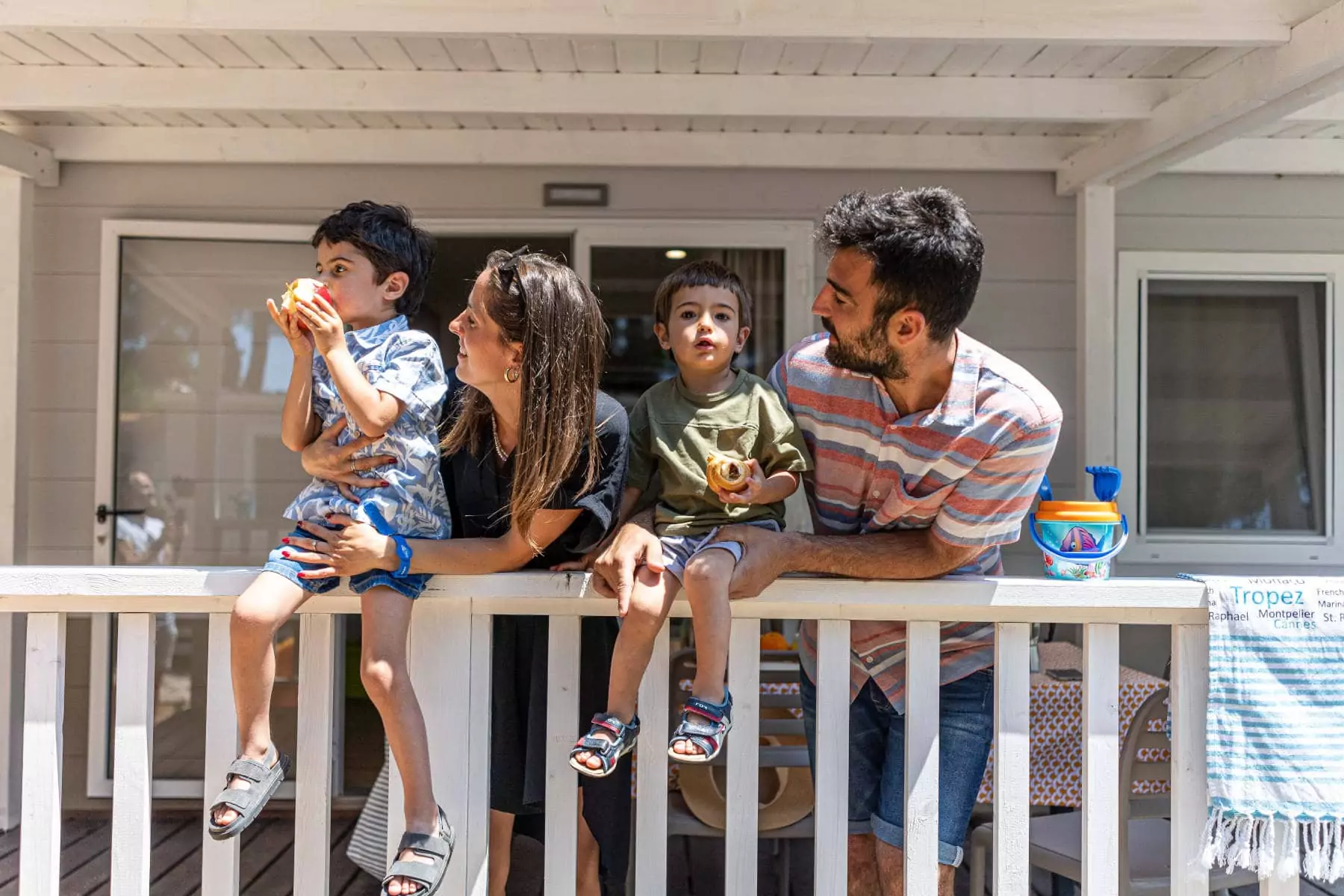 Our BiVillage resort is the perfect place for your family holiday. Many dedicated offers!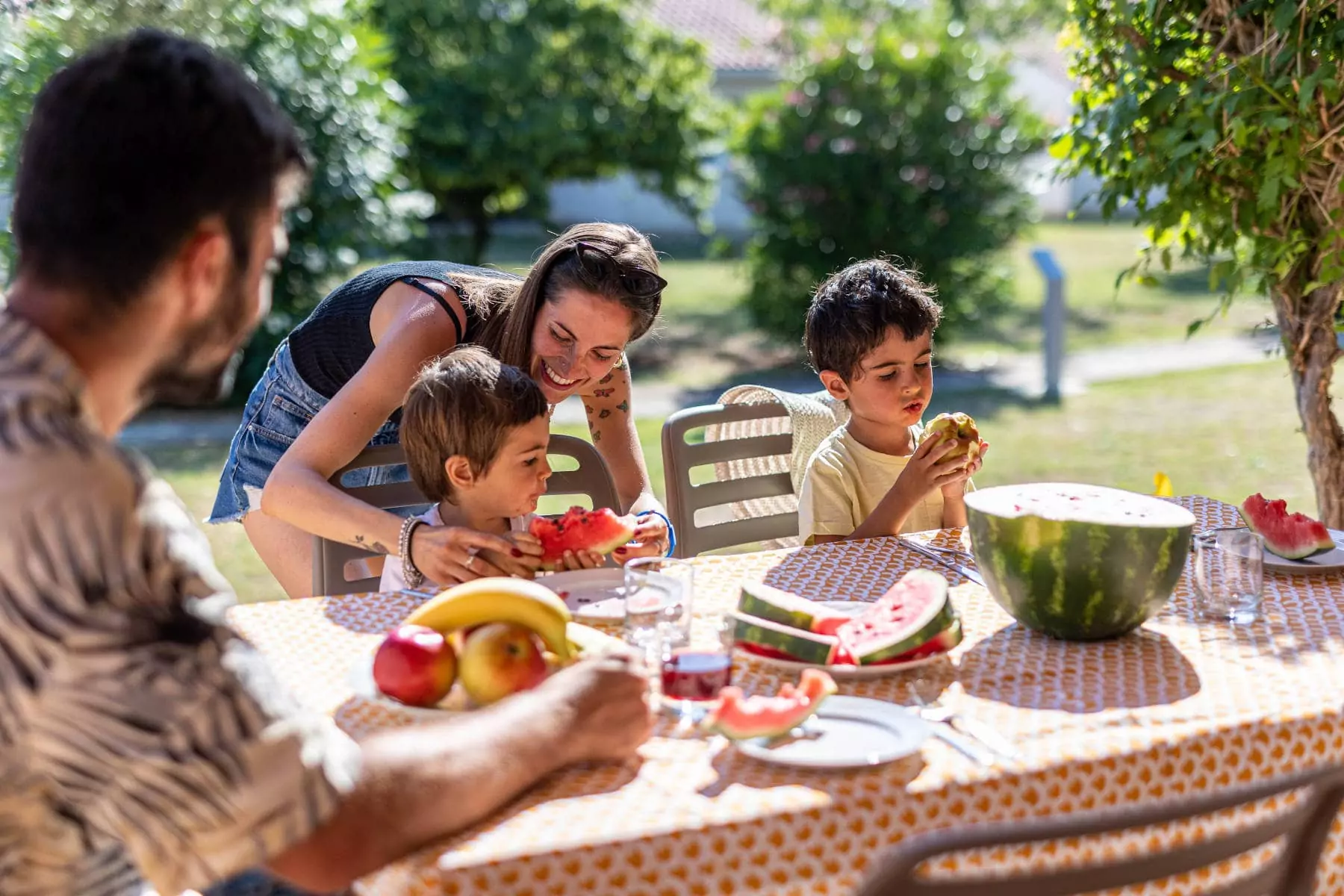 For you who love an open-air holiday without giving up the comforts of a real house, we have the brick-built accommodation at BiVillage. Check out our villas!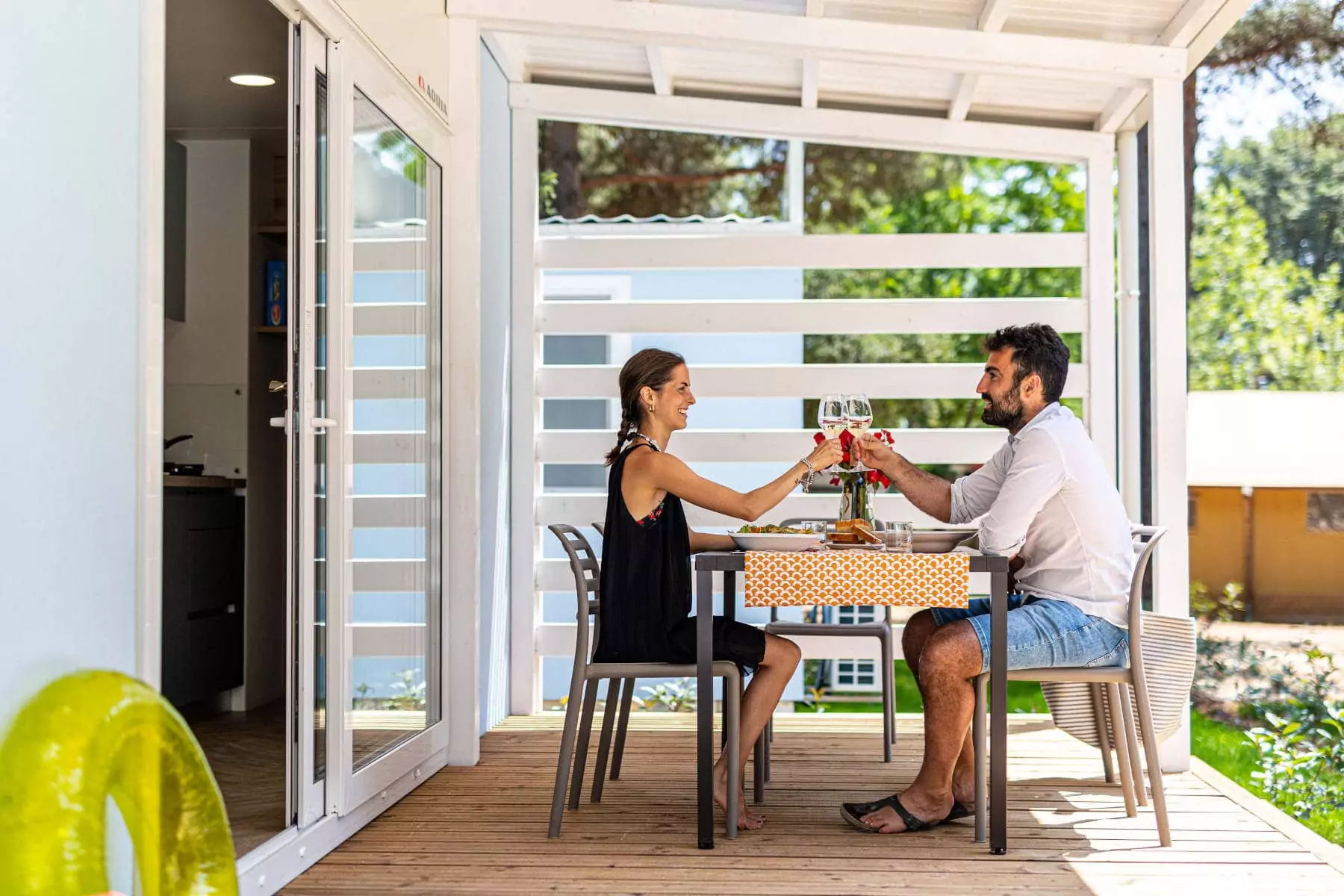 Our Premium Relax Mobile Homes are beautiful and you can find them in the heart of our village, in the Secret Garden hamlet.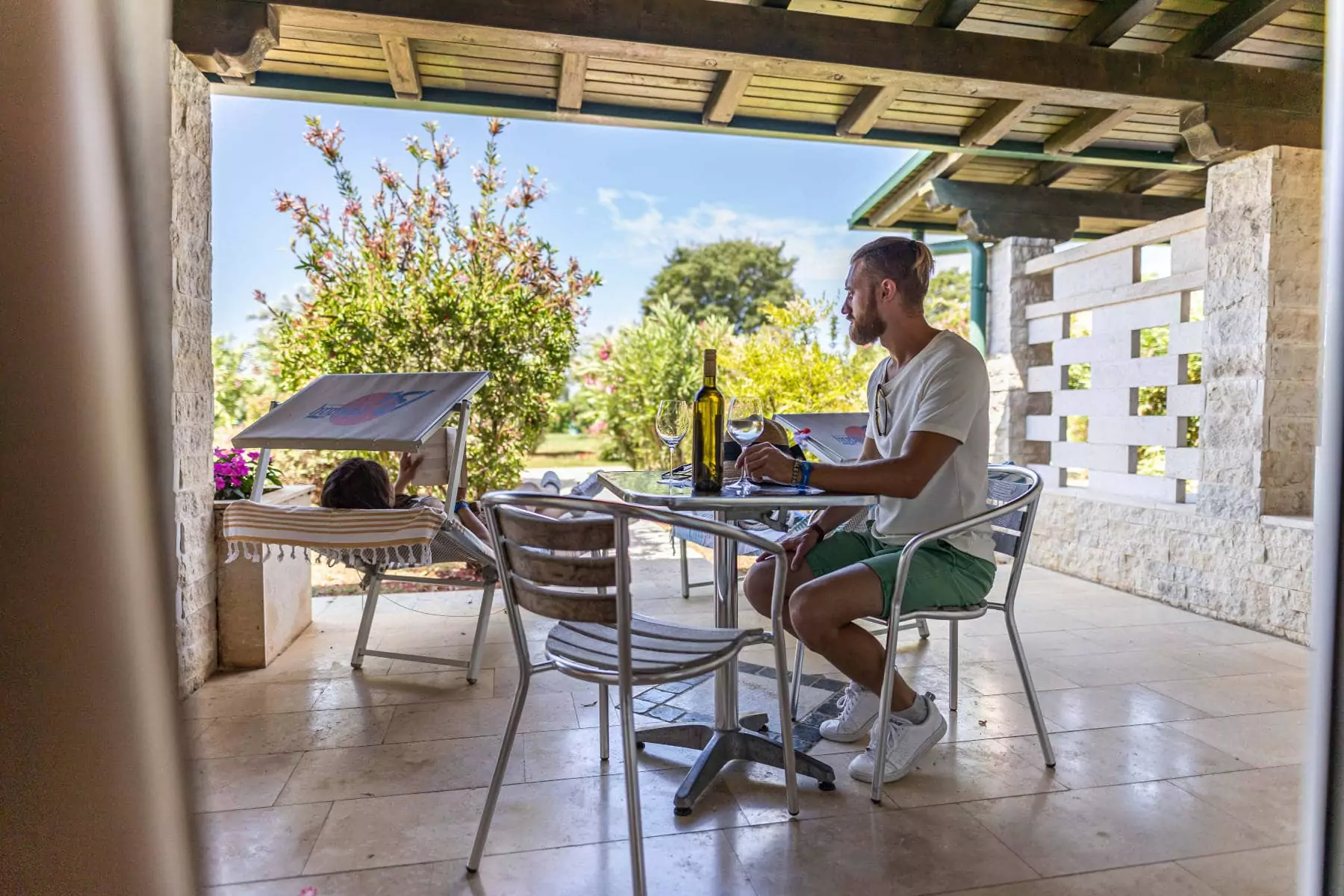 Enjoy relaxing moments on the terraces of our beautiful accommodations. Have you already chosen your favourite?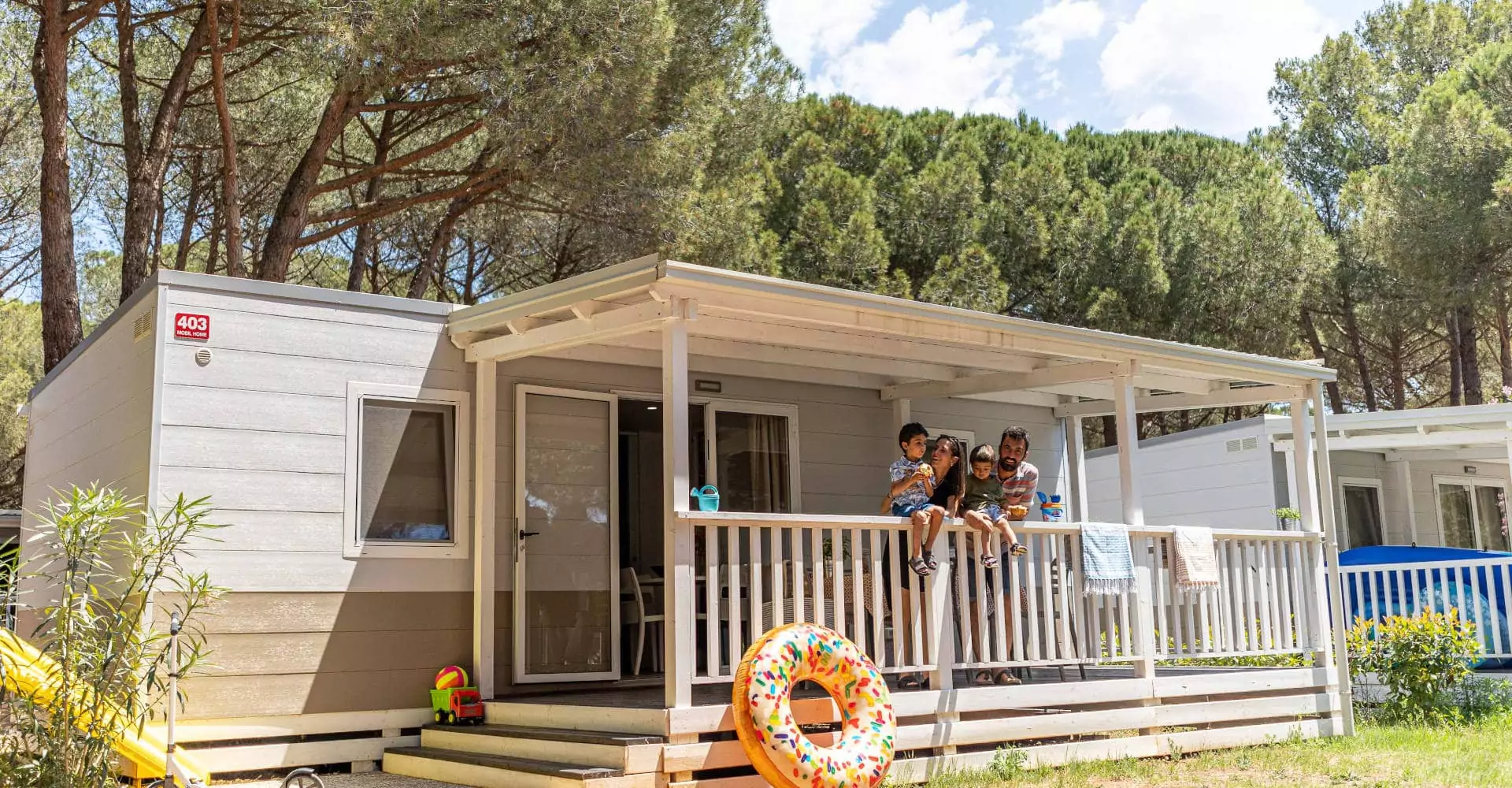 Treat yourself to a relaxing family holiday in our mobile homes... you can also find them by the sea!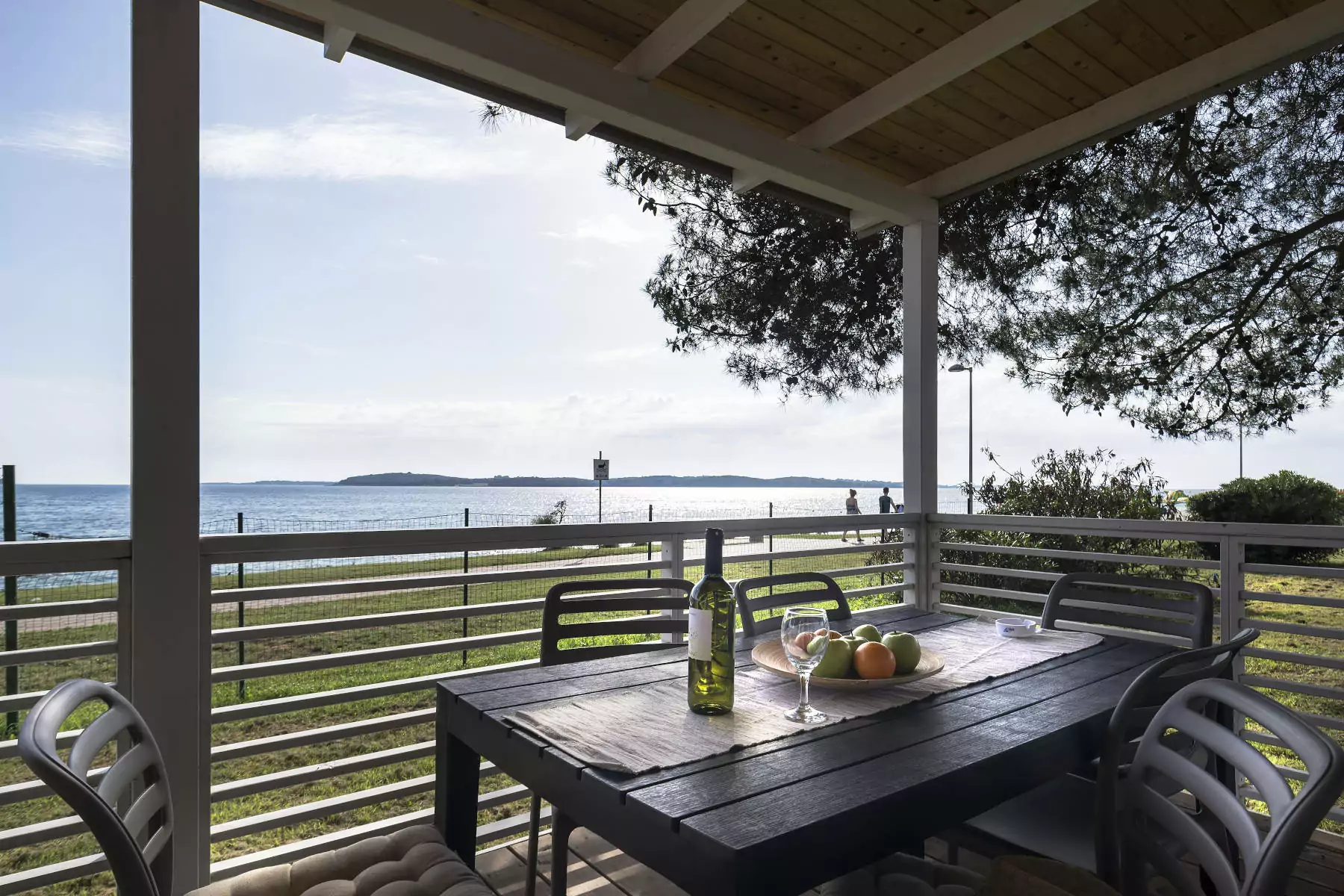 Waking up in the morning and finding the sea in front of you is a priceless sight! And it's not a dream... you can experience it too by choosing our accommodation!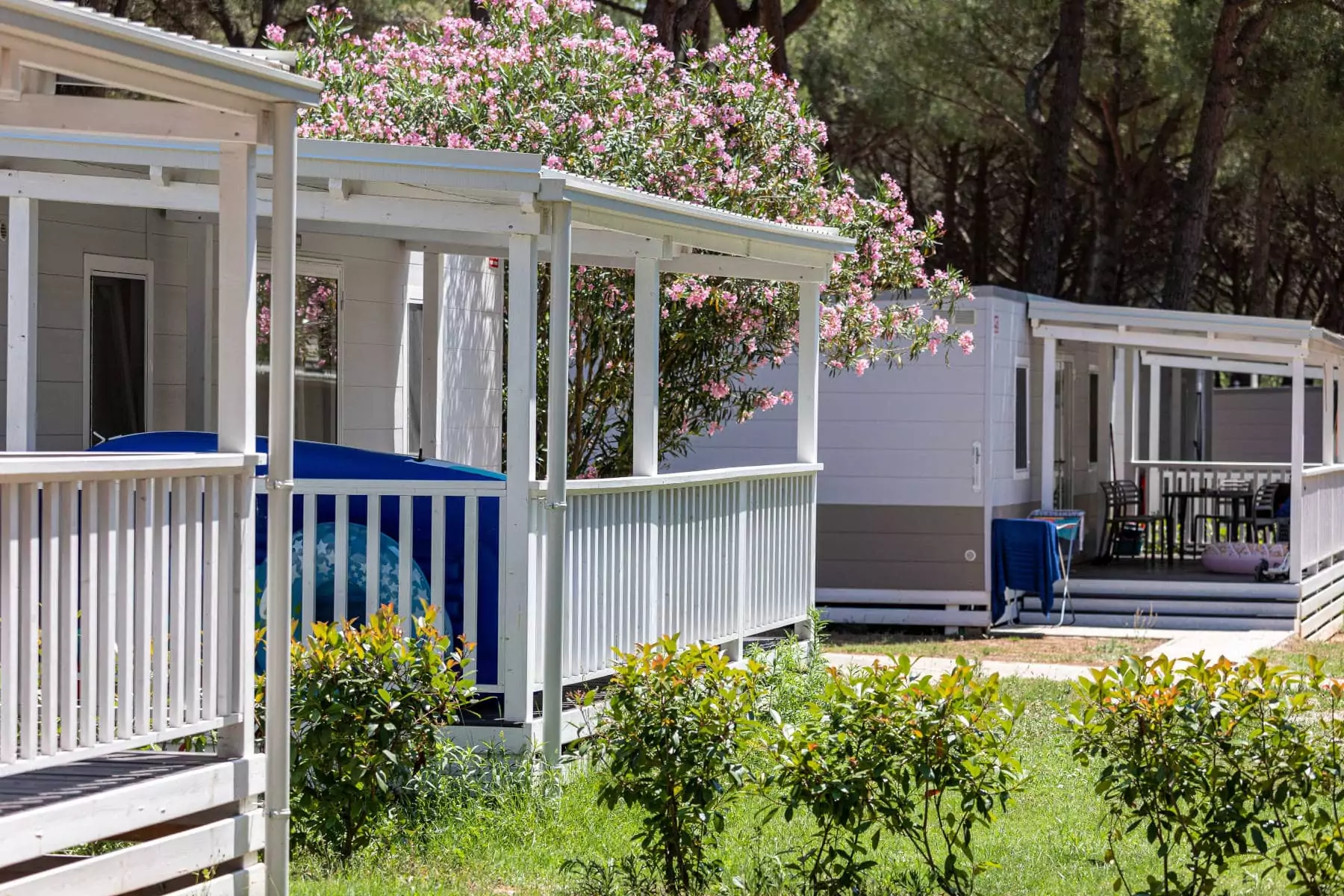 Surrounded by greenery or by the sea... our mobile homes are designed to make your stay as comfortable as possible.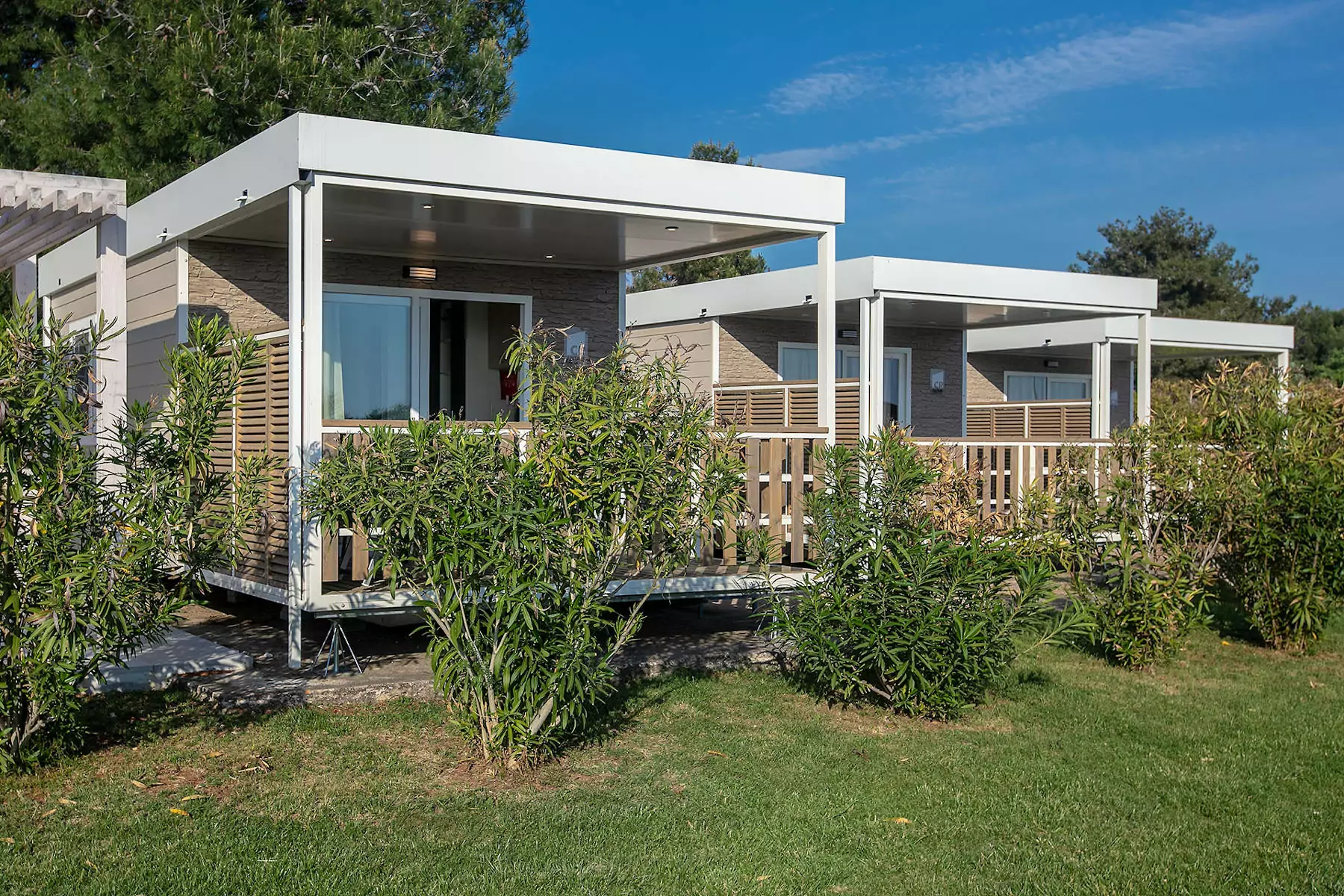 Brioni mobile homes: in a privileged location, facing the sea but pampered by the shade of the pine forest.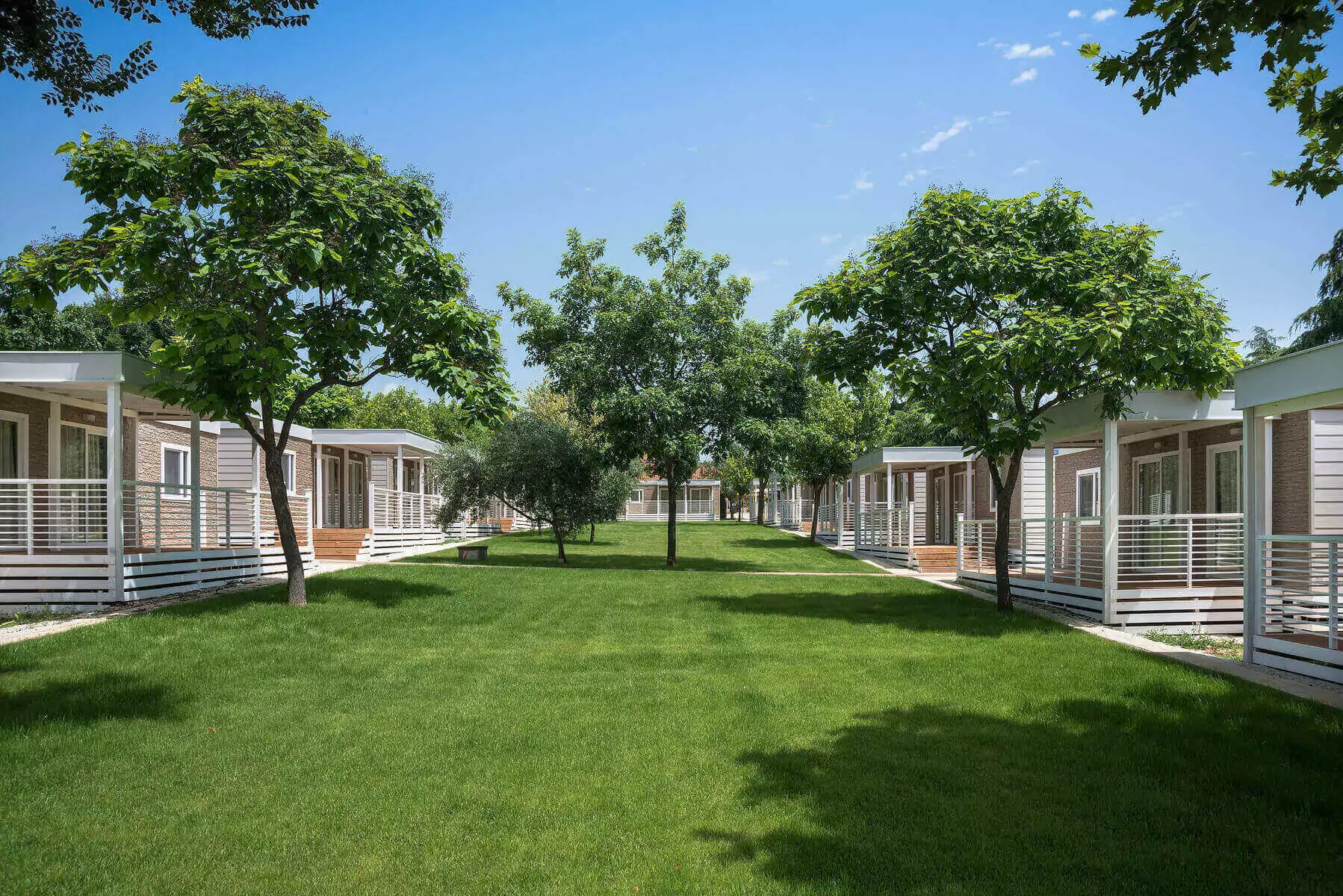 Surrounded by Mediterranean vegetation, our mobile homes the perfect choice for those seeking an oasis of peace and quiet.
Beach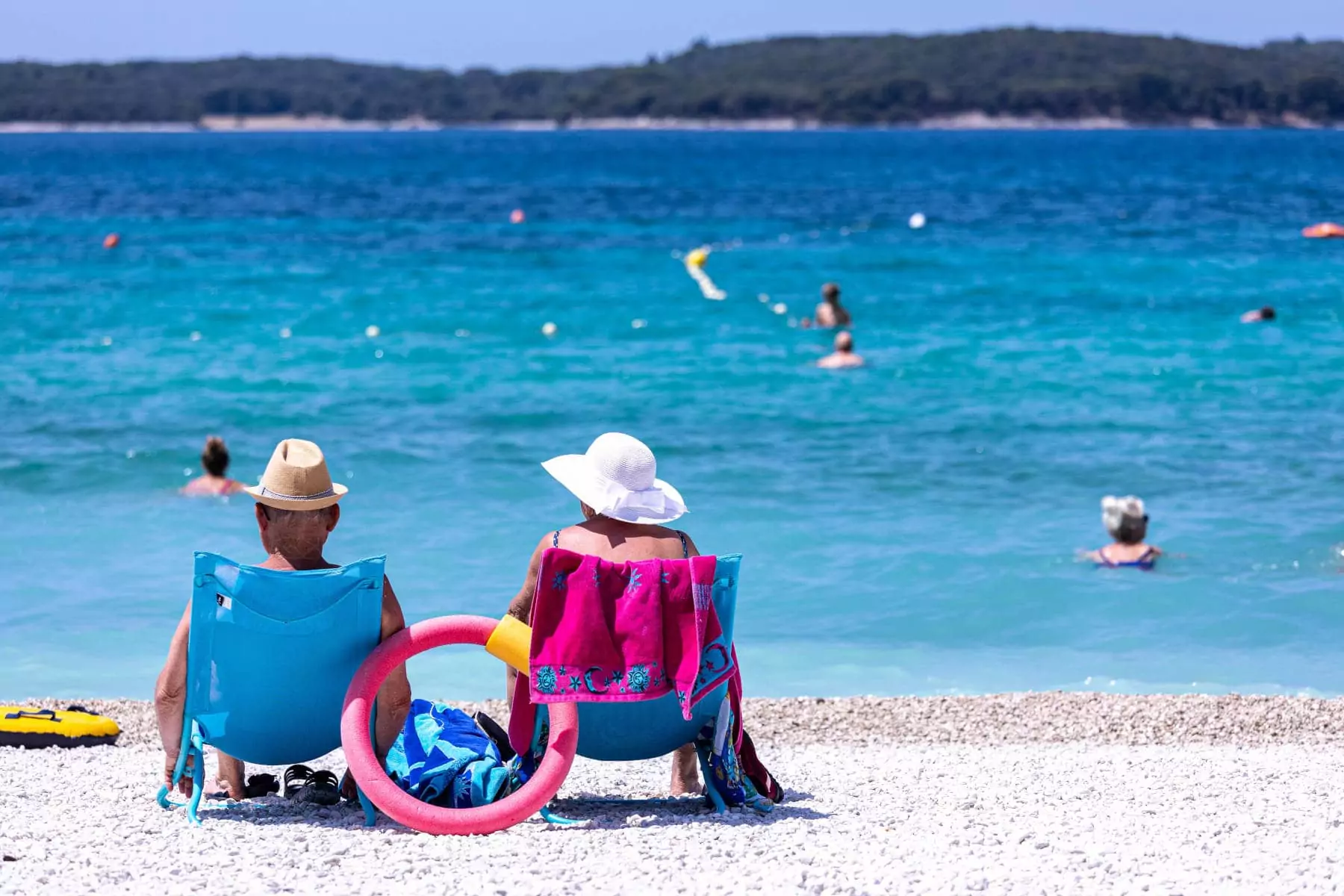 At the BiVillage the beach meets all your needs...Surrounded by a spectacular crystal-clear sea!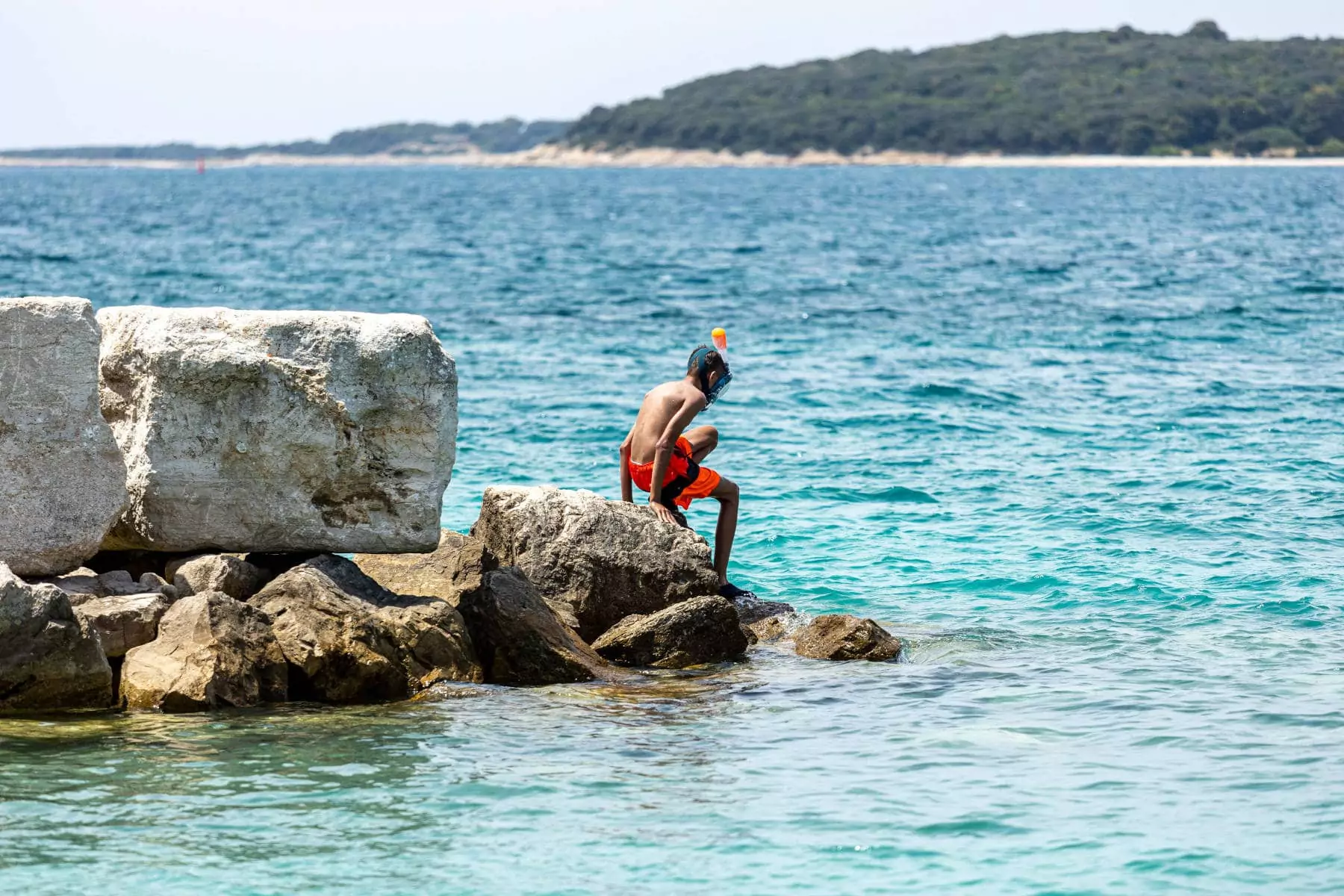 The beach consists of small white pebbles, which contrast with the intense blue of the sea, which has been awarded the Blue Flag for years.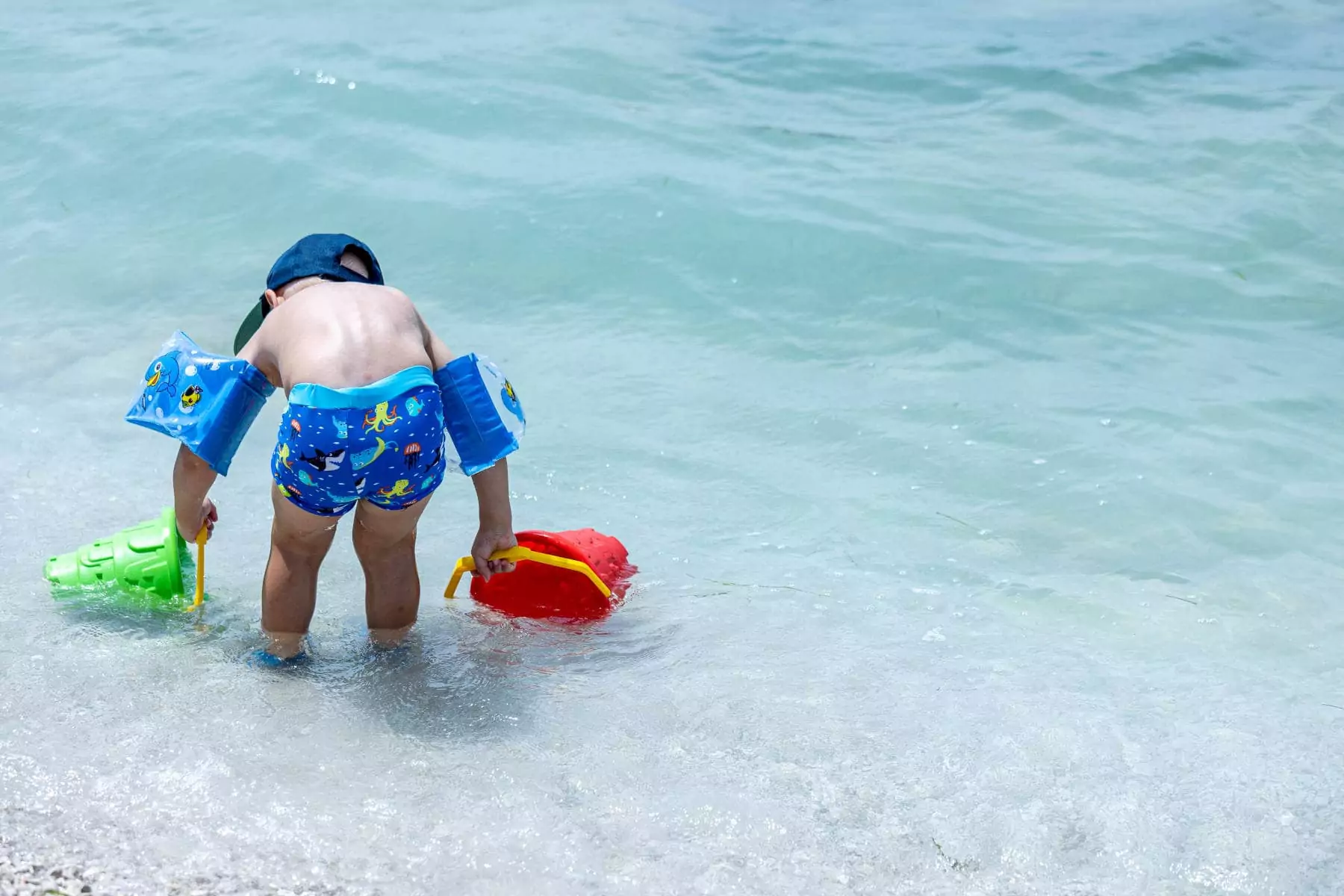 At the BiVillage you will always find a calm, wave-free sea for the safety of your children!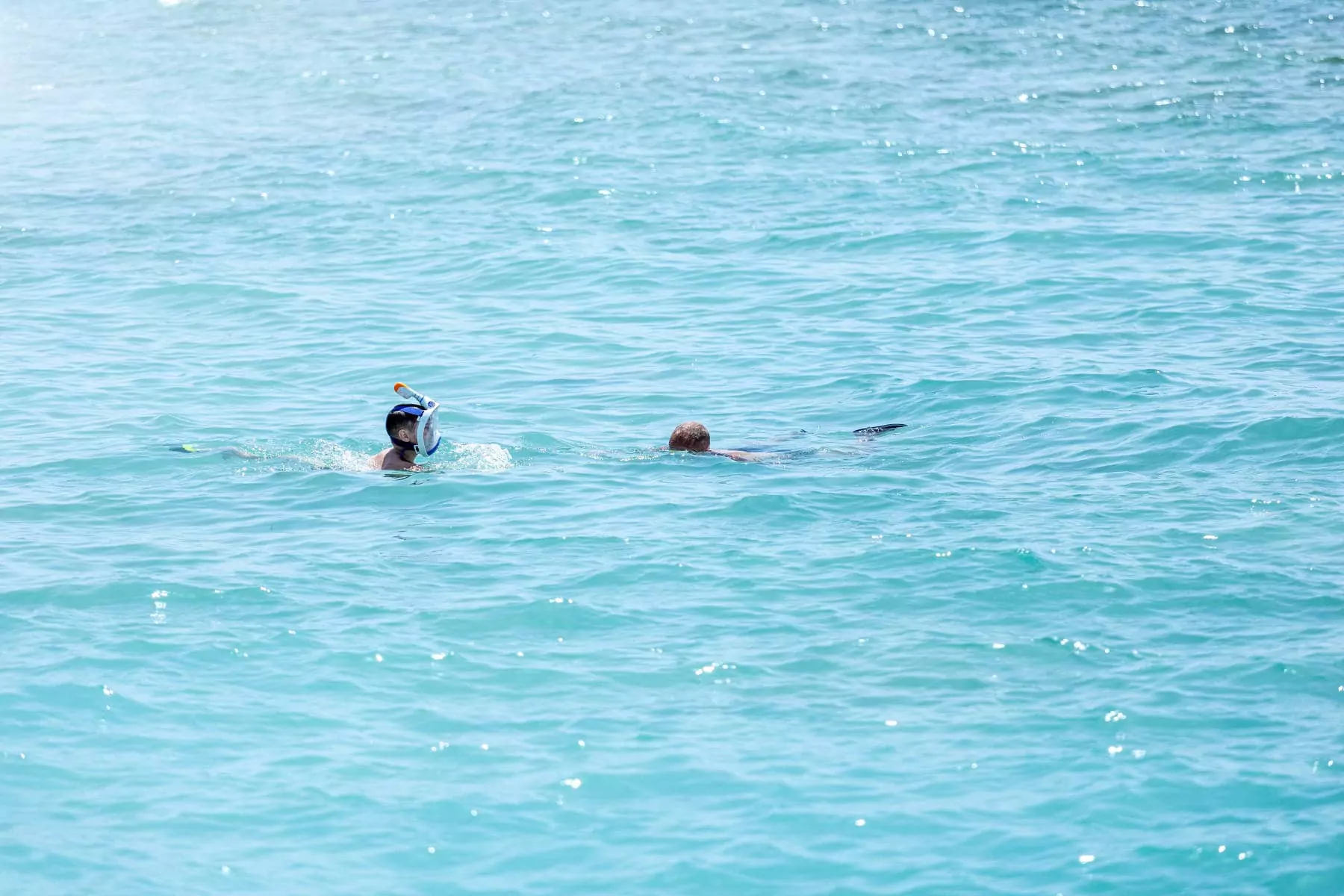 A spectacular crystal-clear sea in which to practice many water sports... from windsurfing to sailing to jet skiing.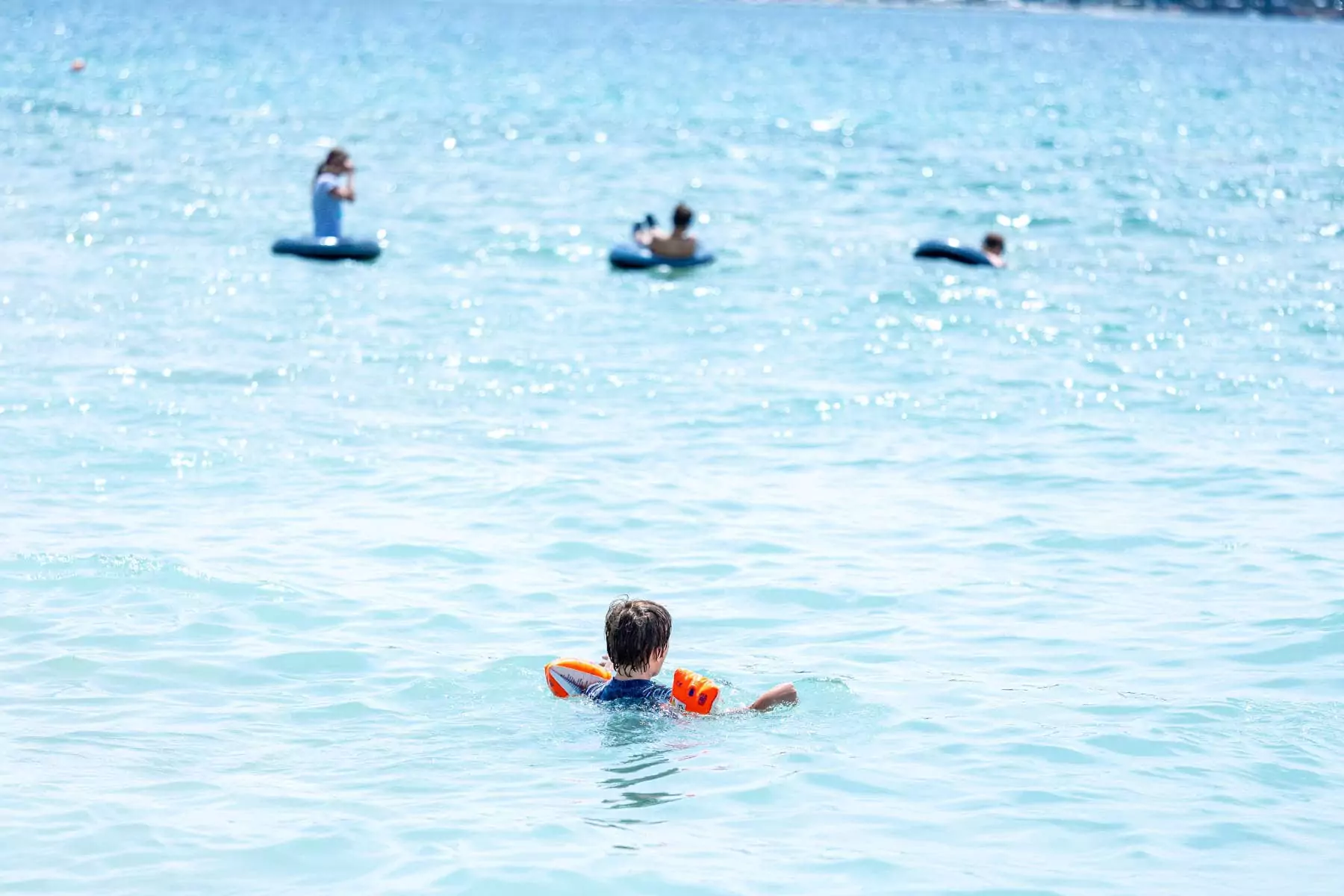 Istria's unspoilt nature and clean sea. We have been able to boast the Blue Flag award for several years now!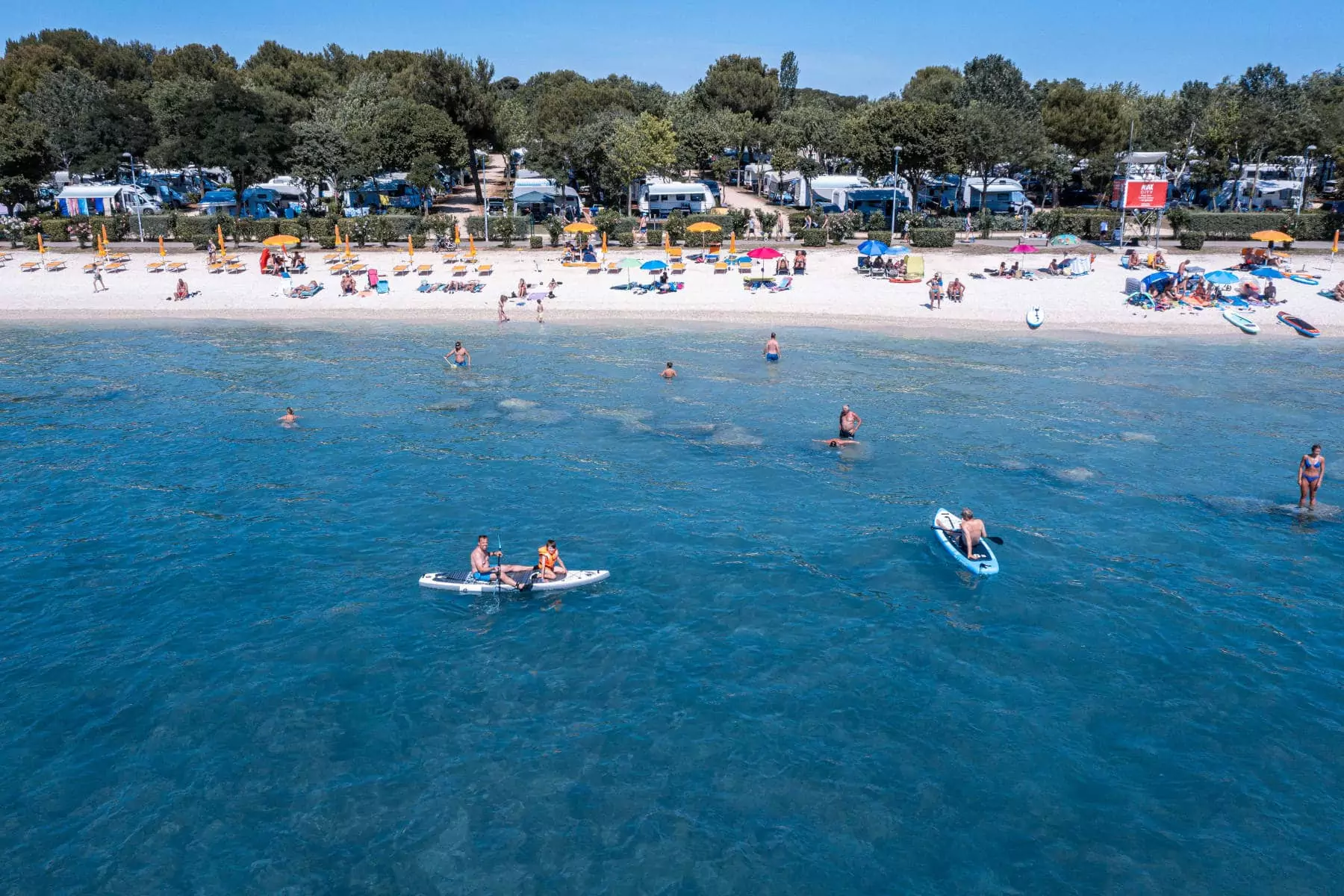 Explore the beautiful nature of the Istrian coast with a kayak tour departing from our village.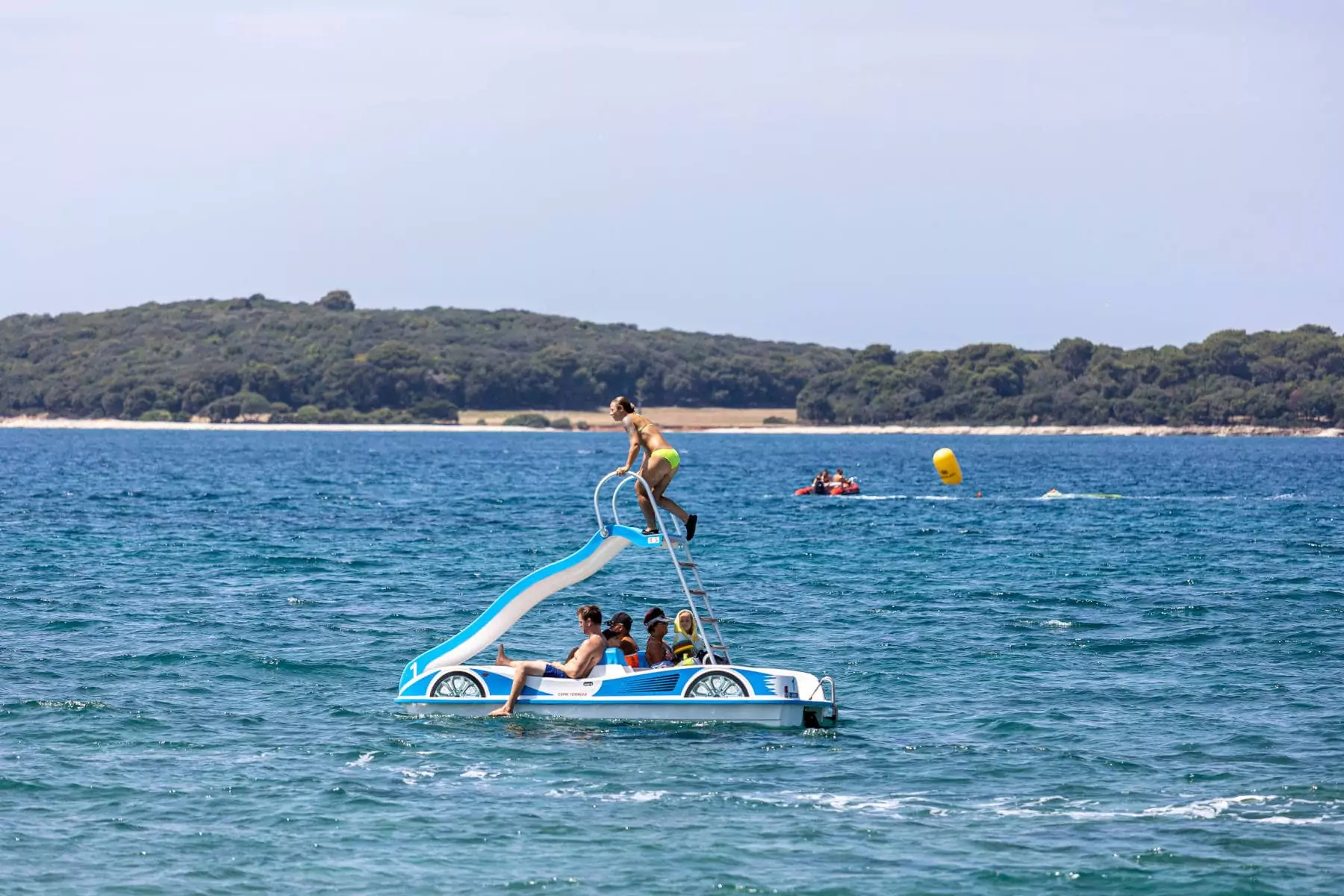 If you love water sports, BiVillage is just right for you... an ideal holiday for the whole family!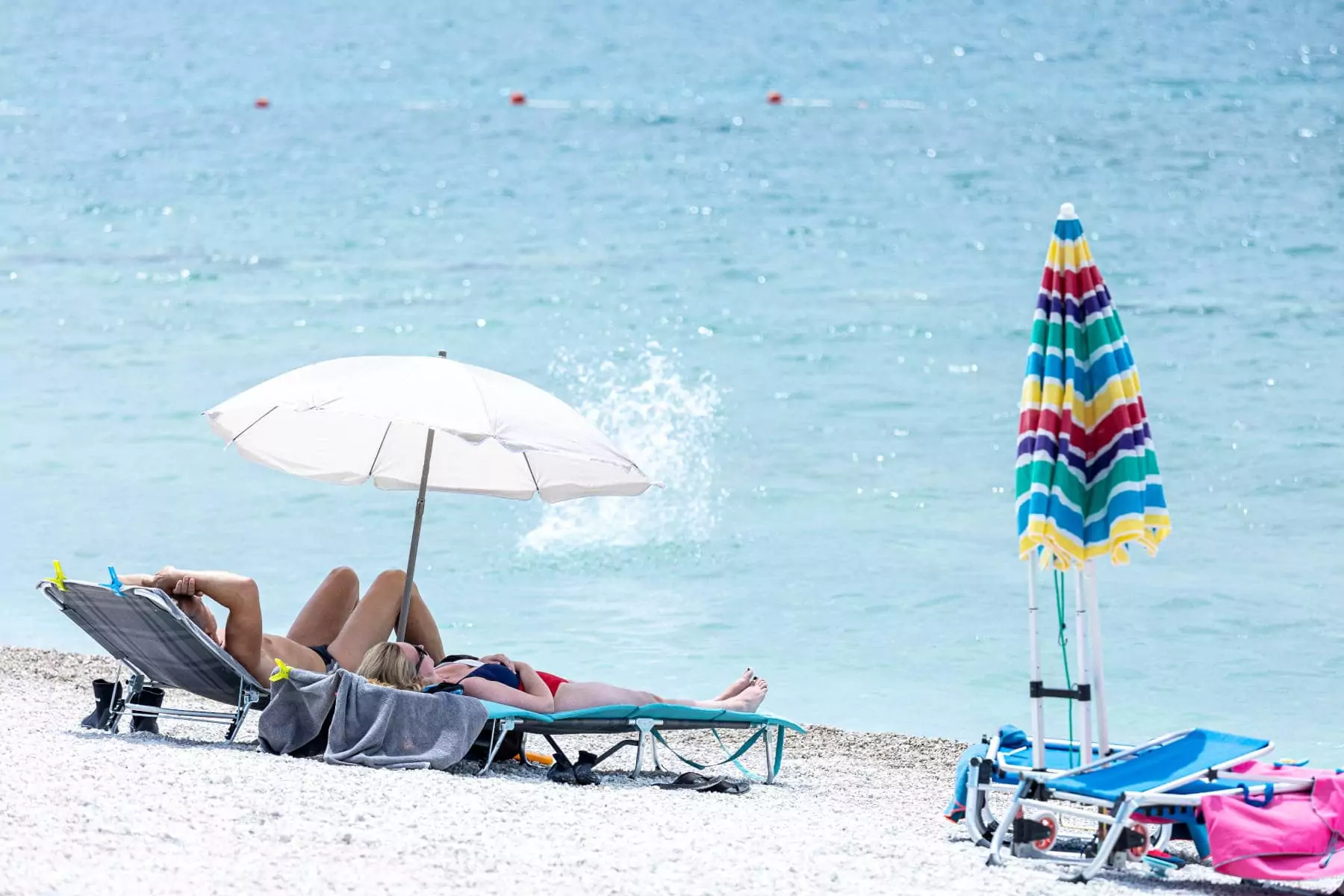 Choose between the equipped beach, the free beach, the beach for your four-legged friend or the children's beach!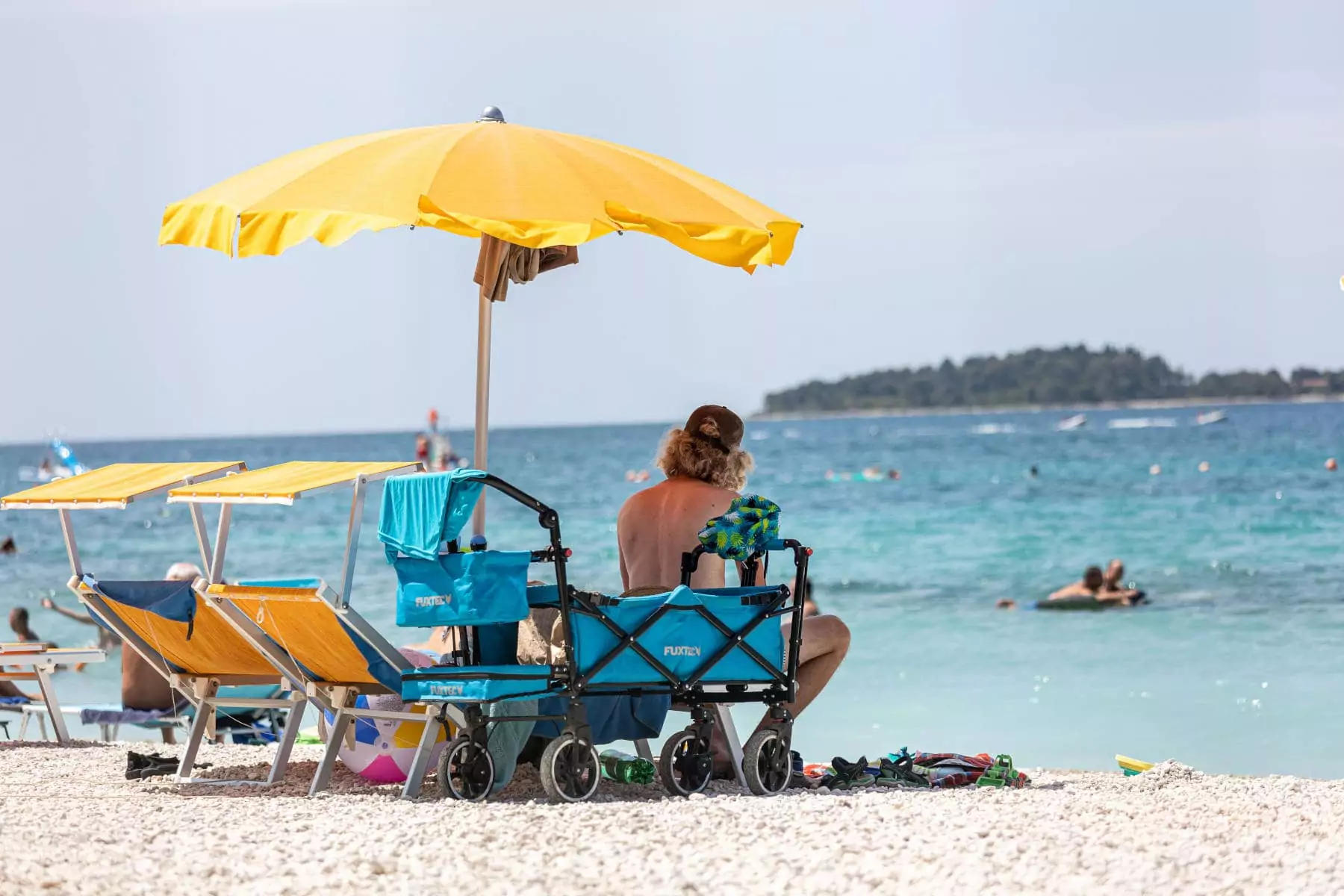 For those who enjoy comfort, the beach equipped with parasols and sun loungers is an ideal option!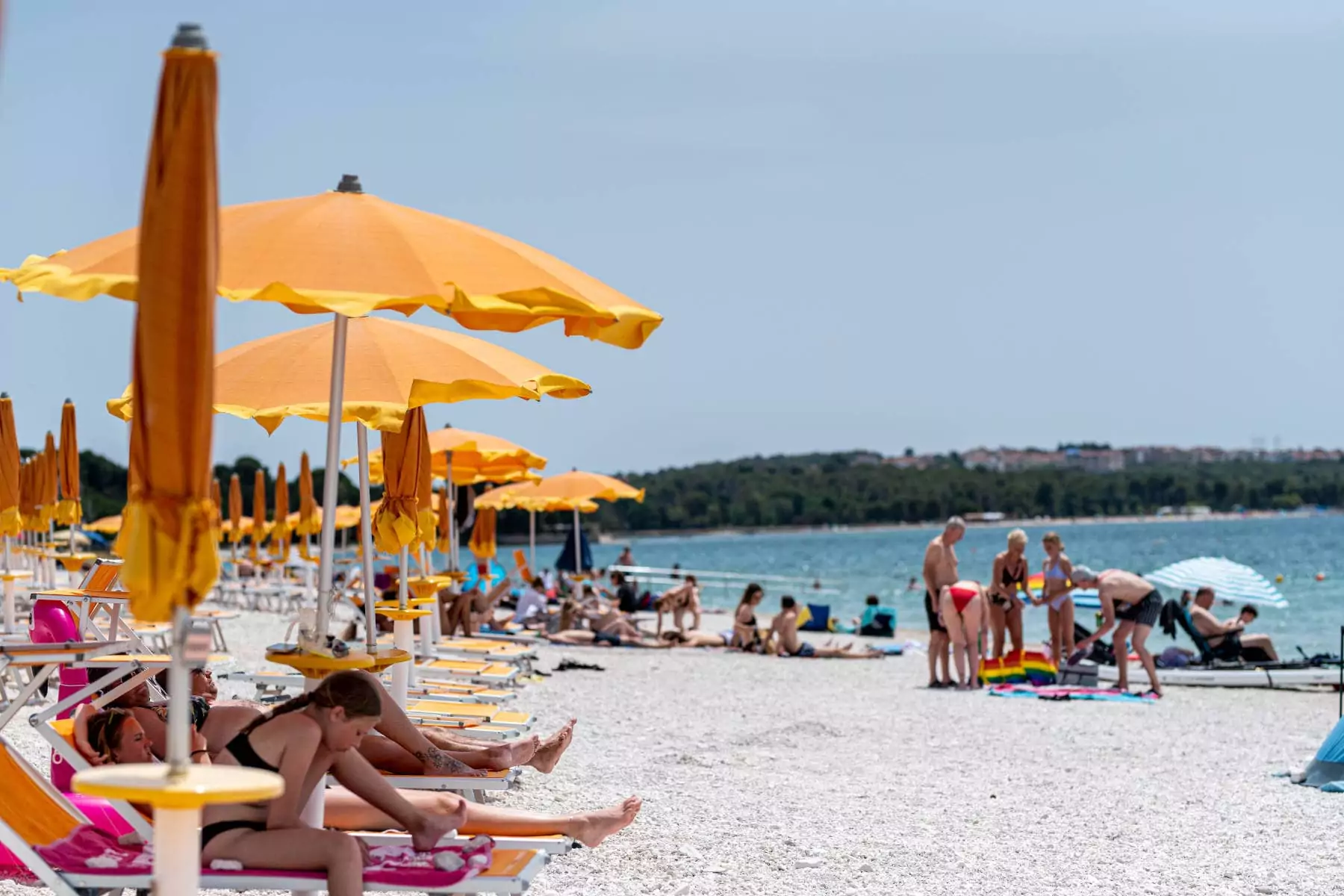 Do you love peace and space around you when you are on holiday? Our village's equipped beach is just right for you.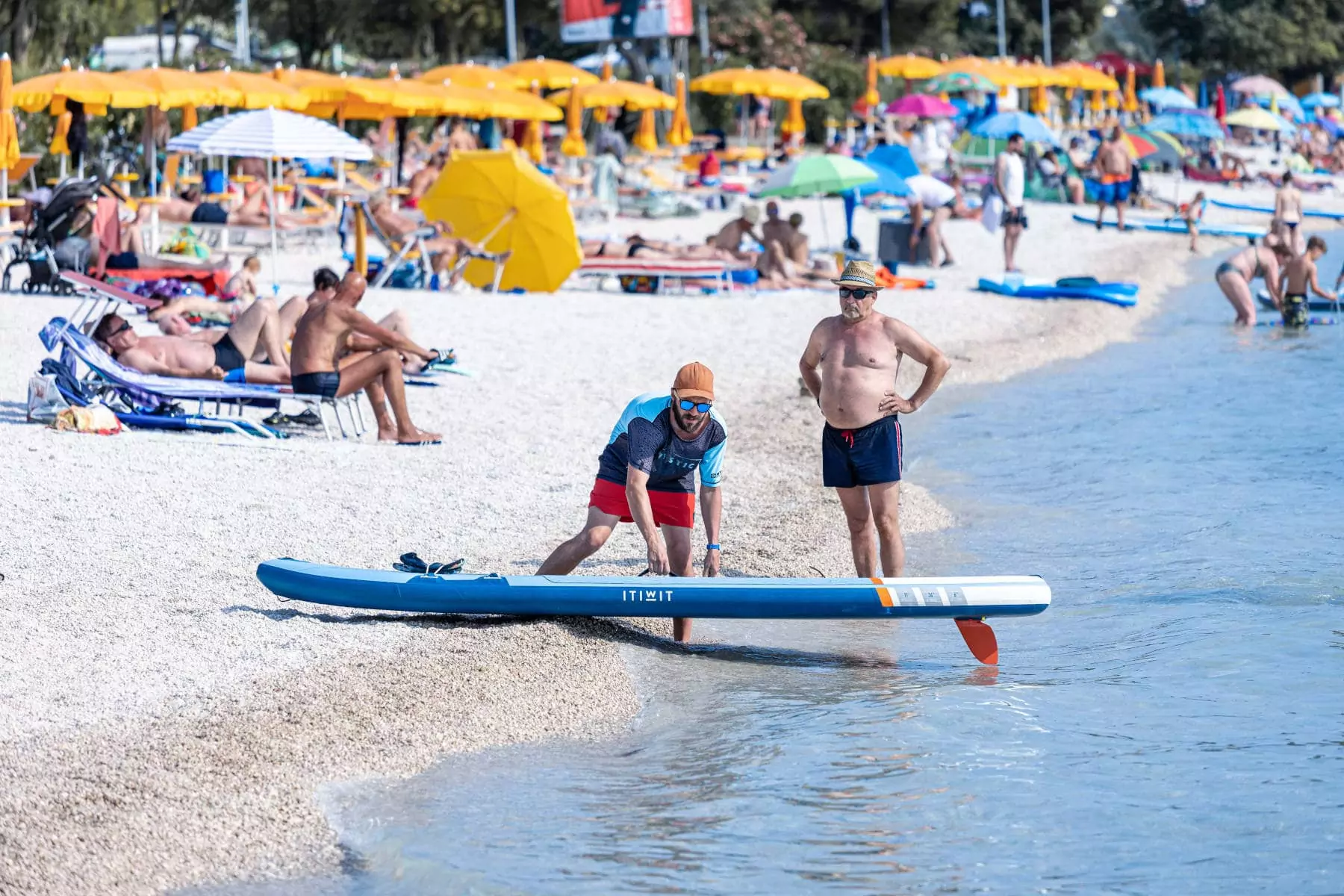 Have you ever tried paddle boarding? There are plenty of water sports you can try at the BiVillage.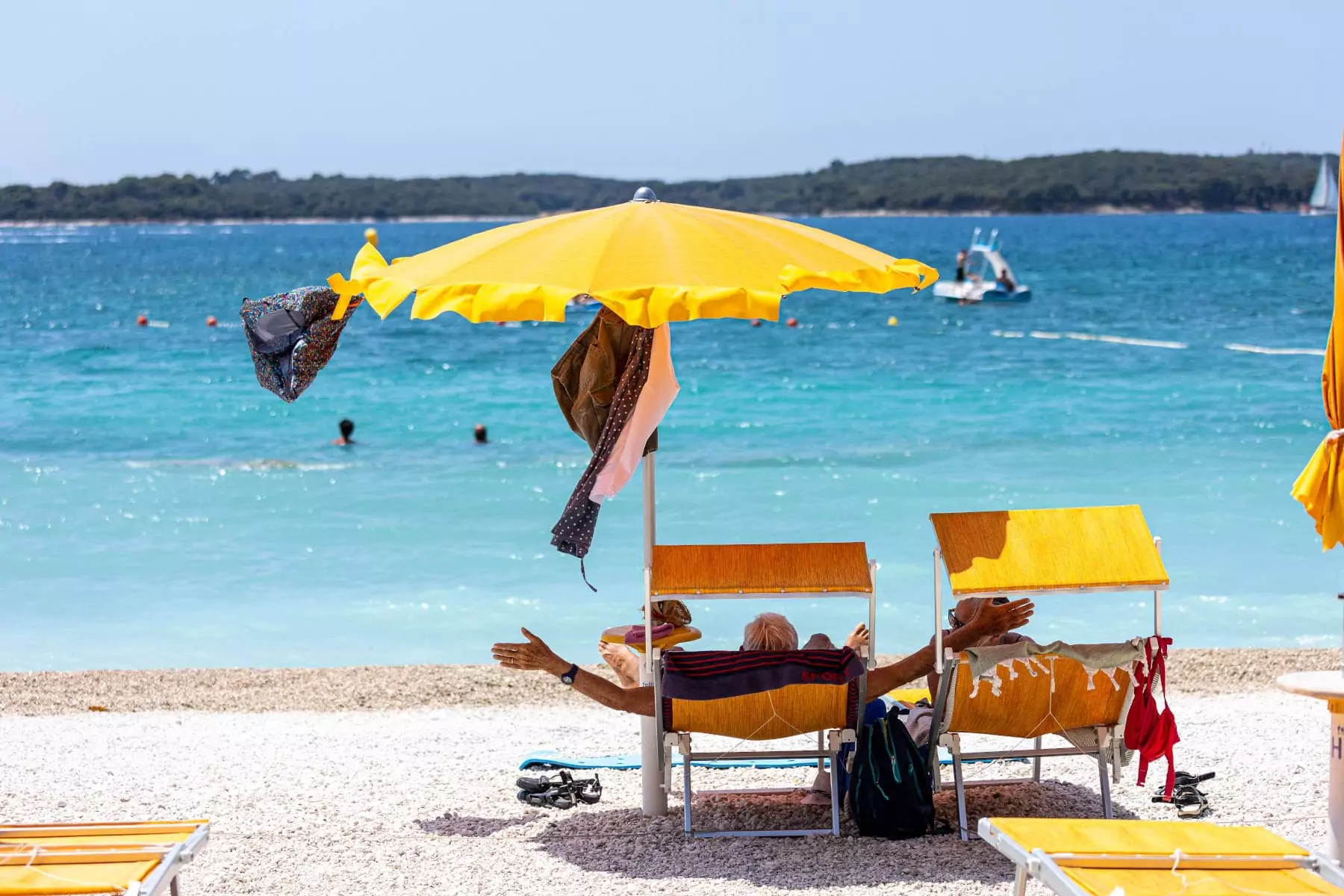 You can book your favourite spot on the beach with a simple email!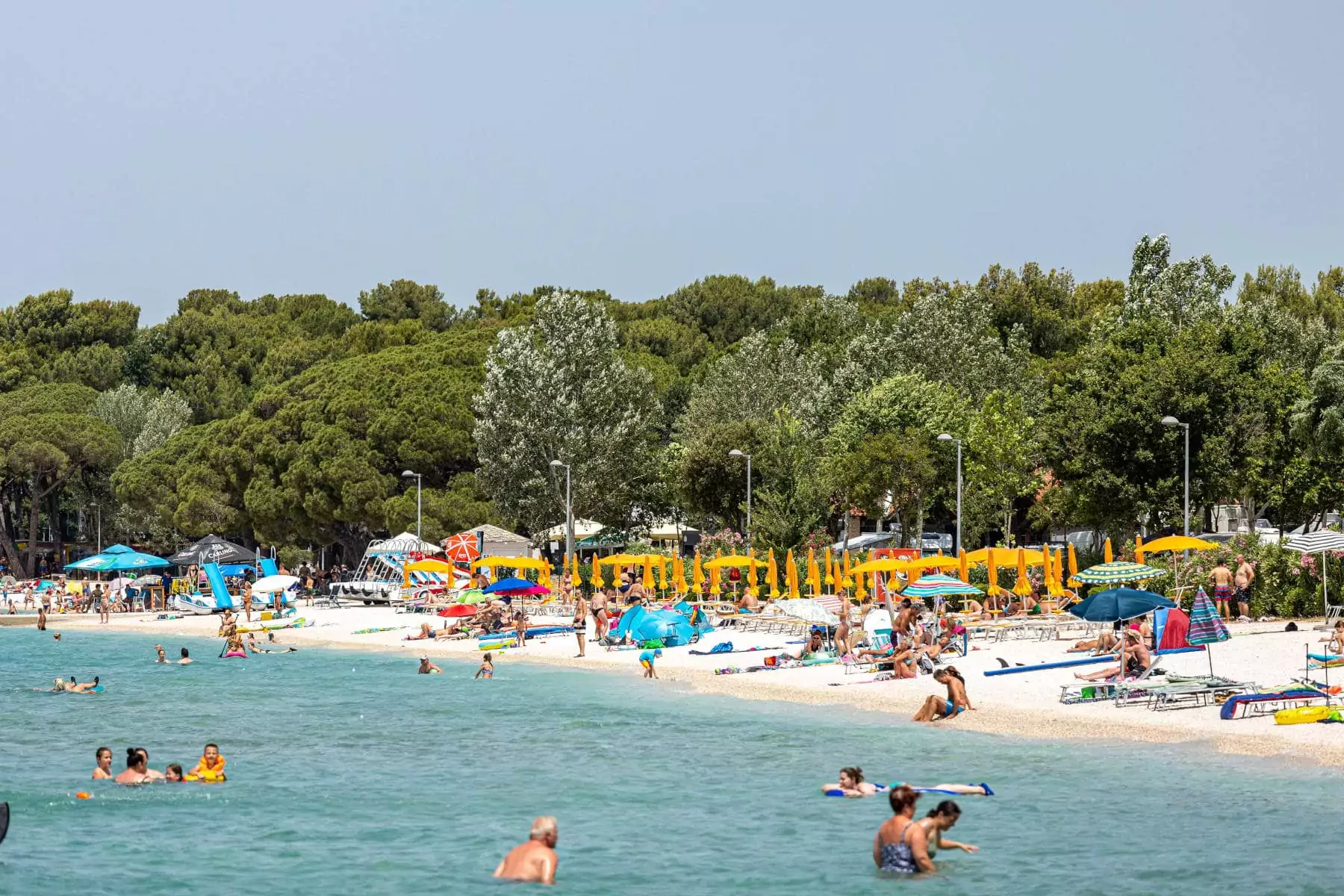 1 km of beach in front of the Brijuni Islands National Park... an incredible paradise!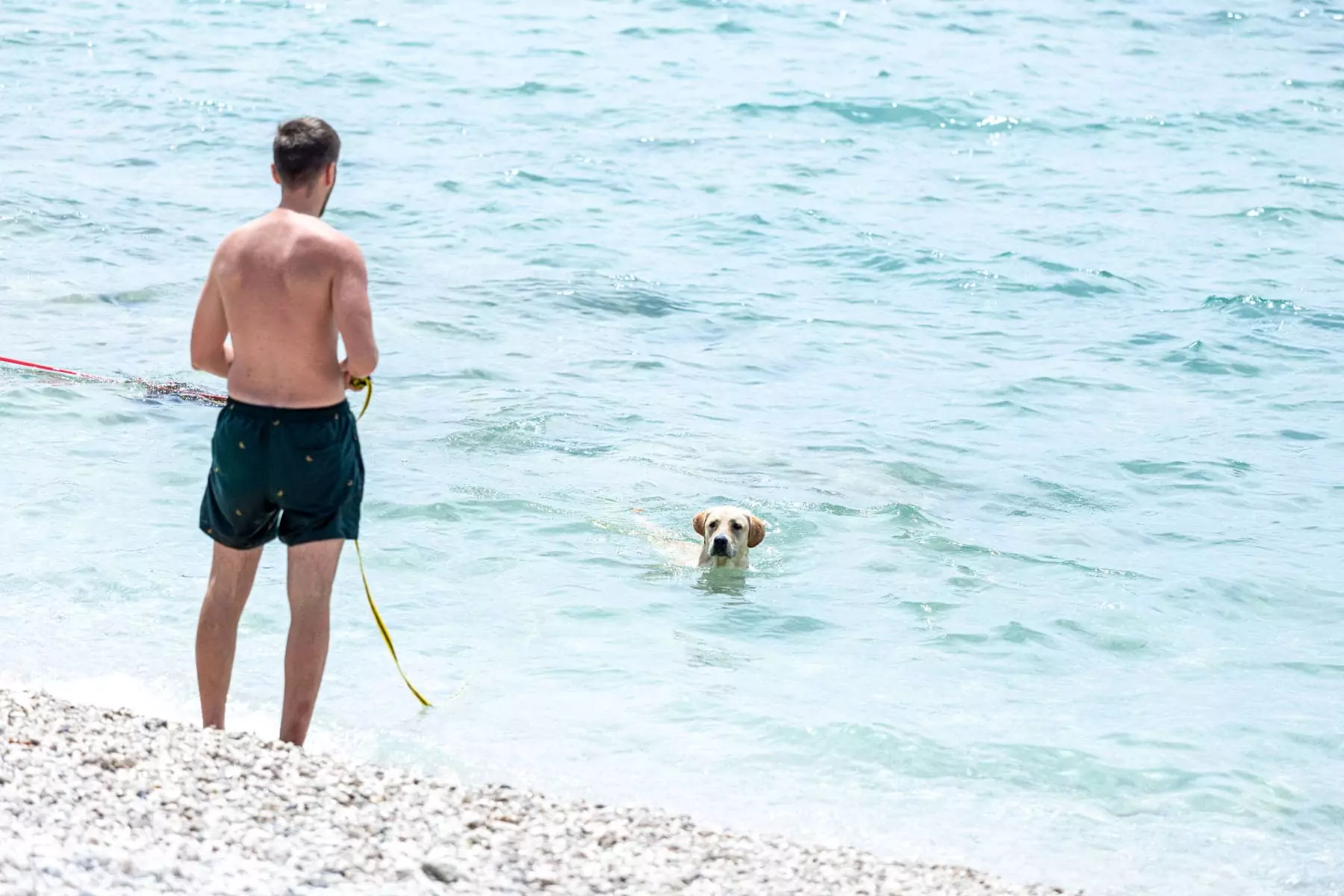 At the BiVillage you can find a beach dedicated to your four-legged friends, totally designed for them and their needs.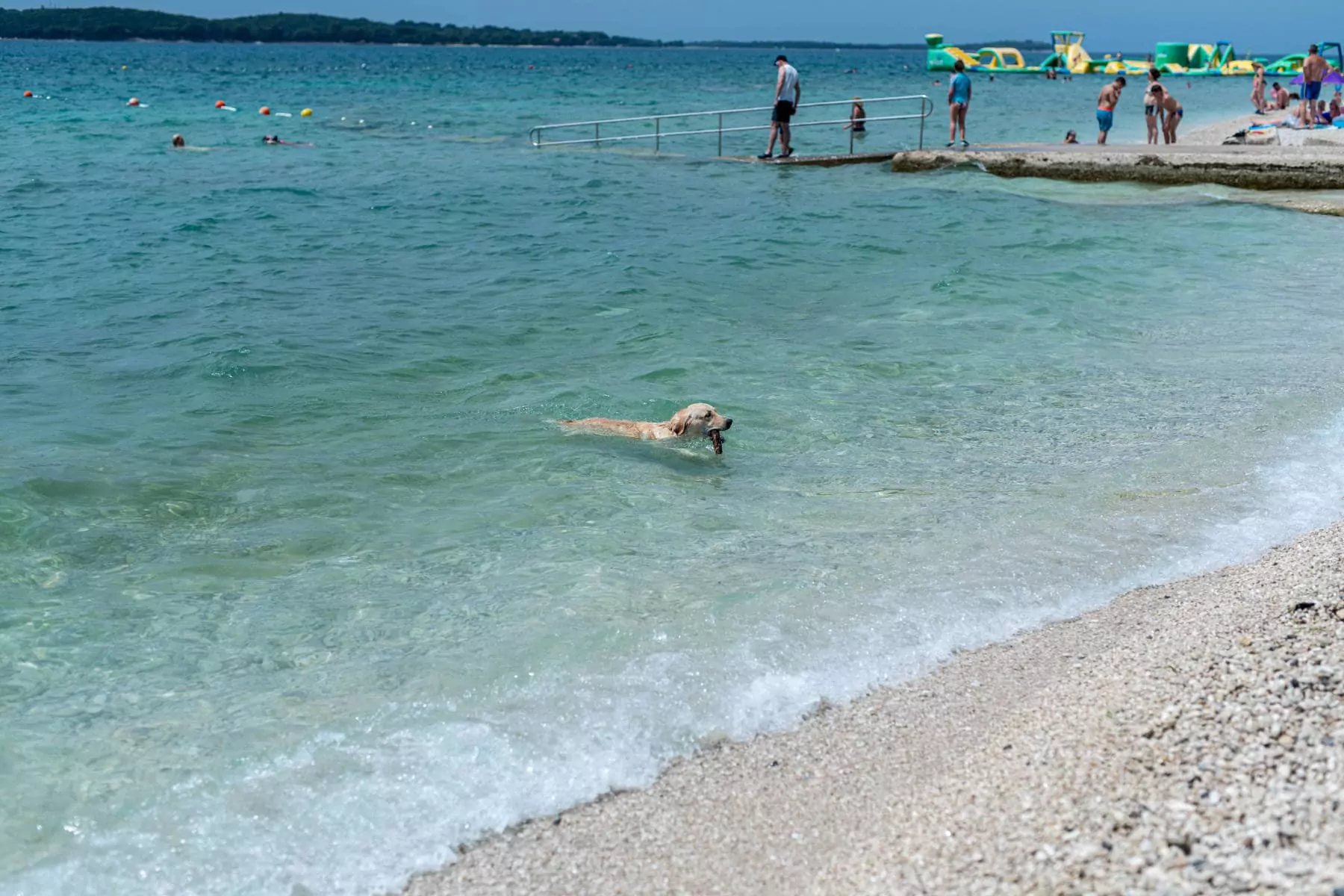 The sea water is also a paradise for our furry friends!
Sport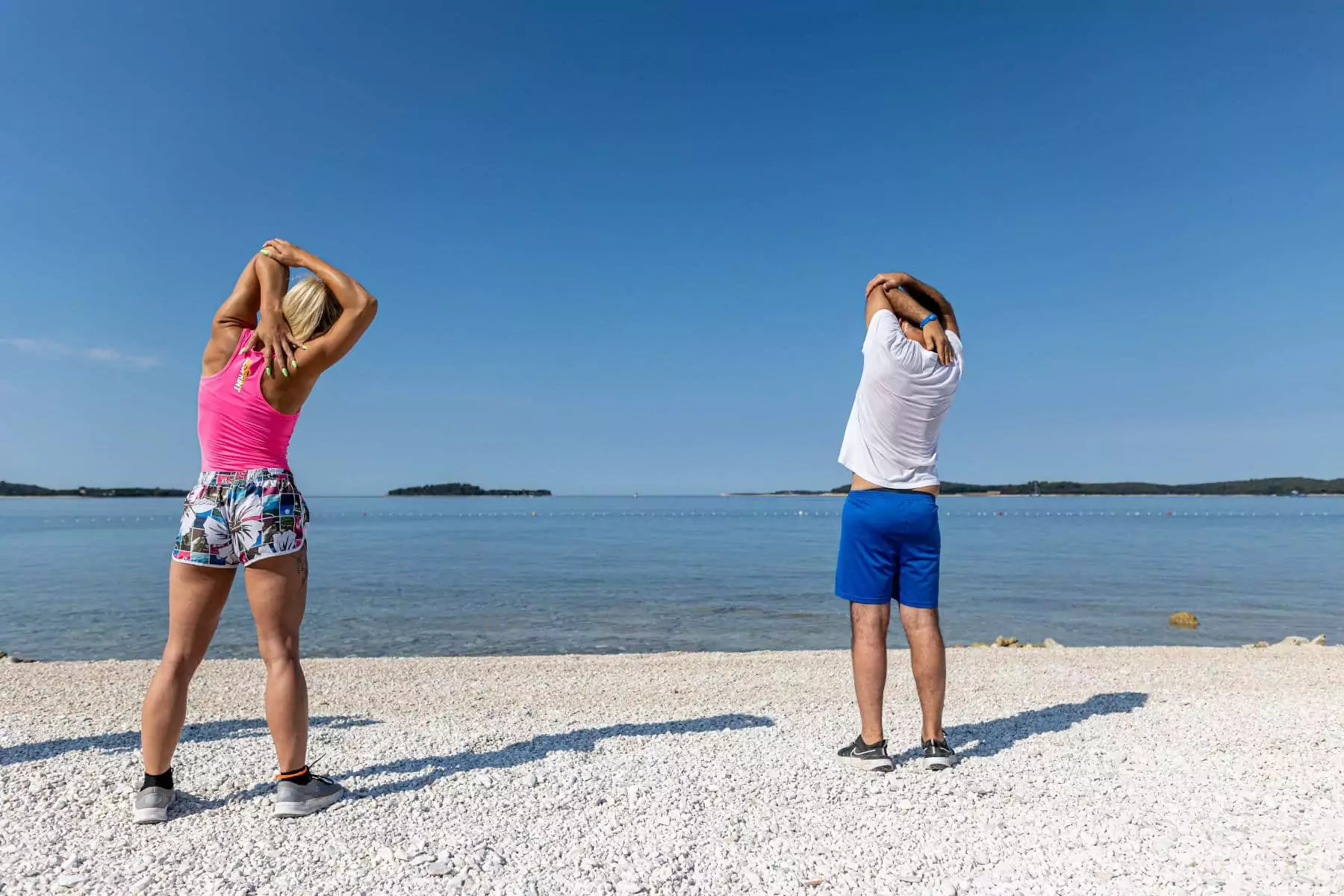 Are you looking for a holiday centre with sports activities? At the BiVillage in Fažana you will find everything you need to train in an unspoilt natural environment.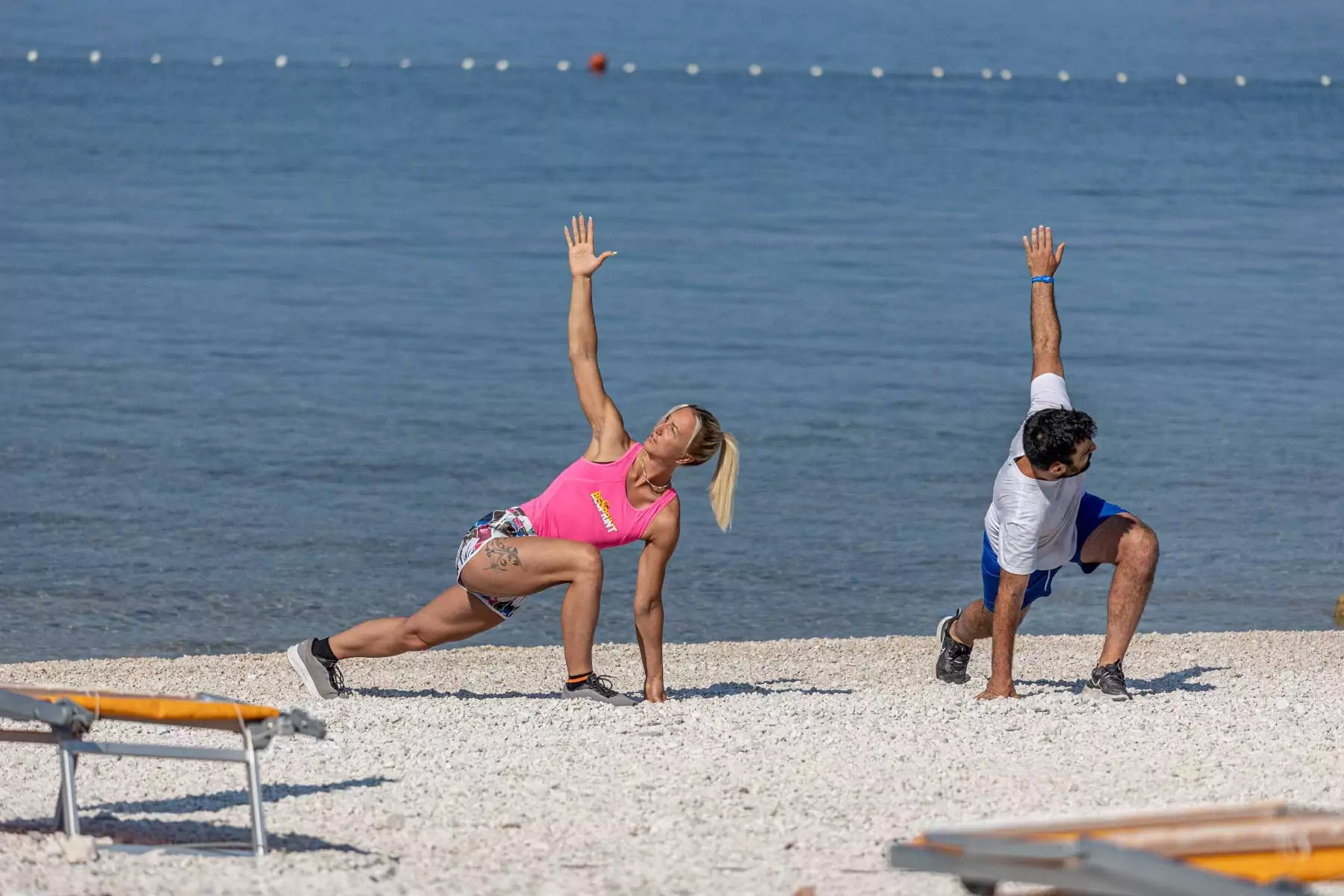 The beach is the perfect environment for sports, but also for walking, running, cycling and yoga.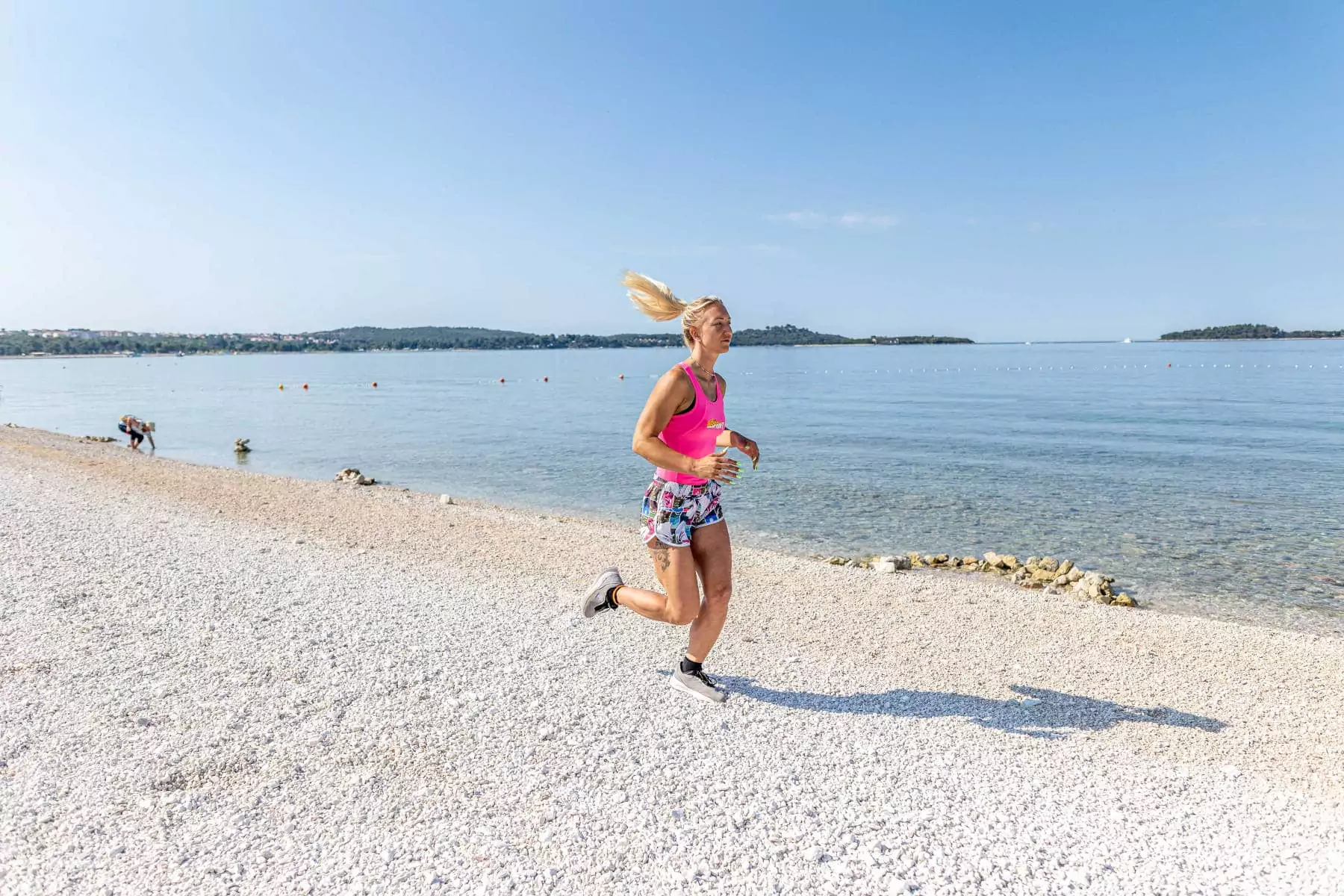 A nice, rejuvenating run along our coastline while breathing in the sea area at the top of your lungs... what else can you wish for?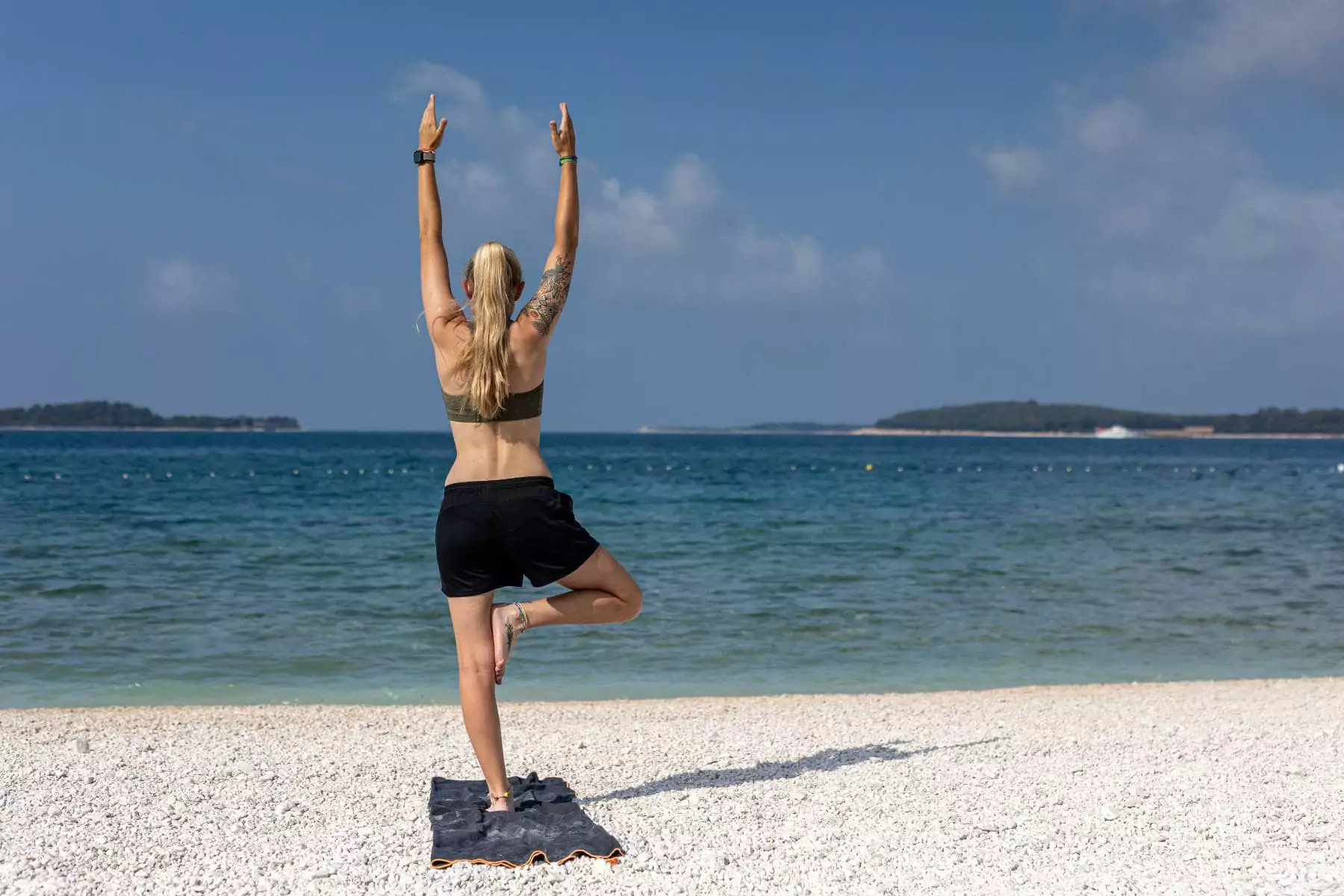 Yoga by the sea or in our HIIT Arena followed by professionals, the choice is yours!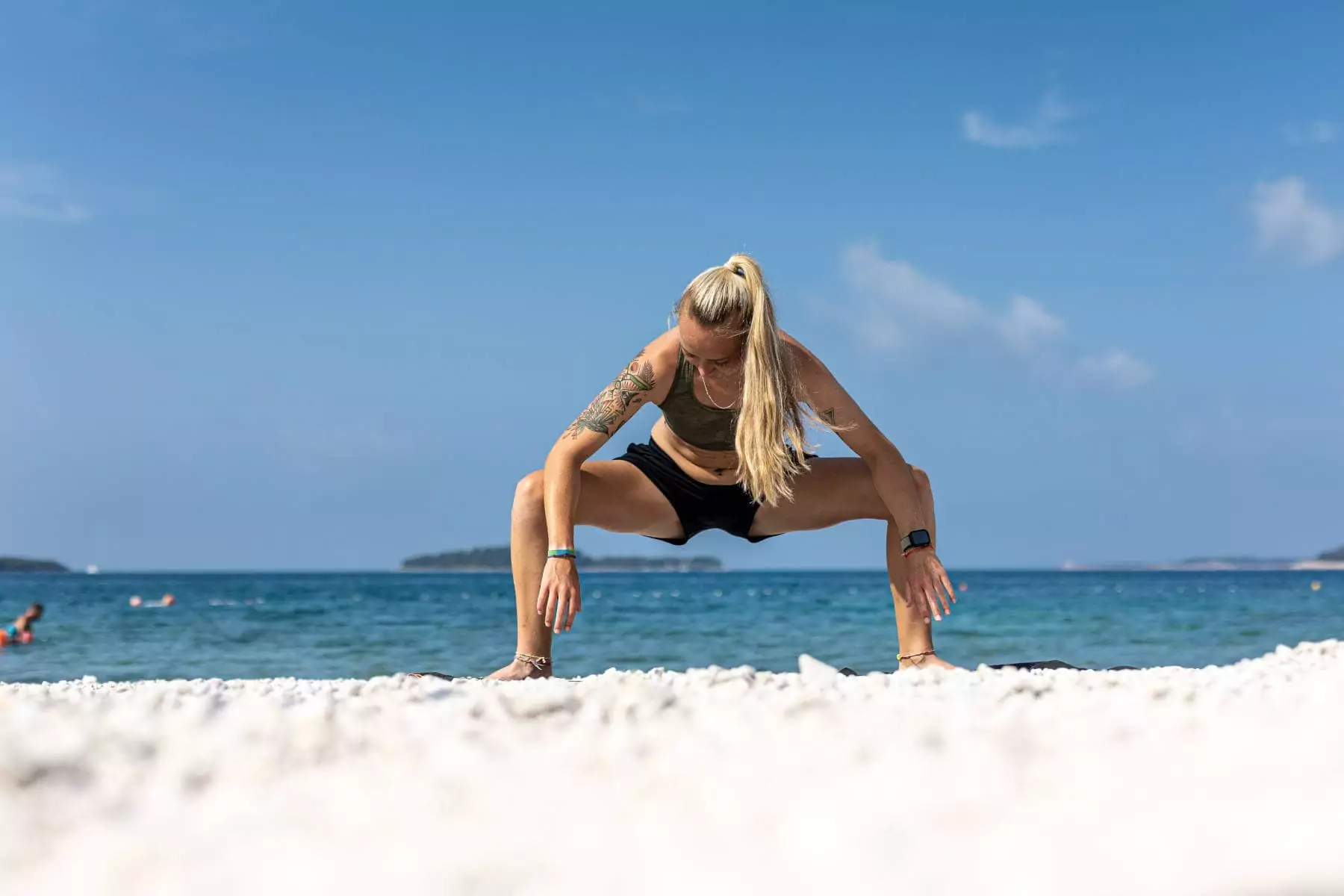 For a fitness holiday, special sports packages are also available. Contact us to learn more!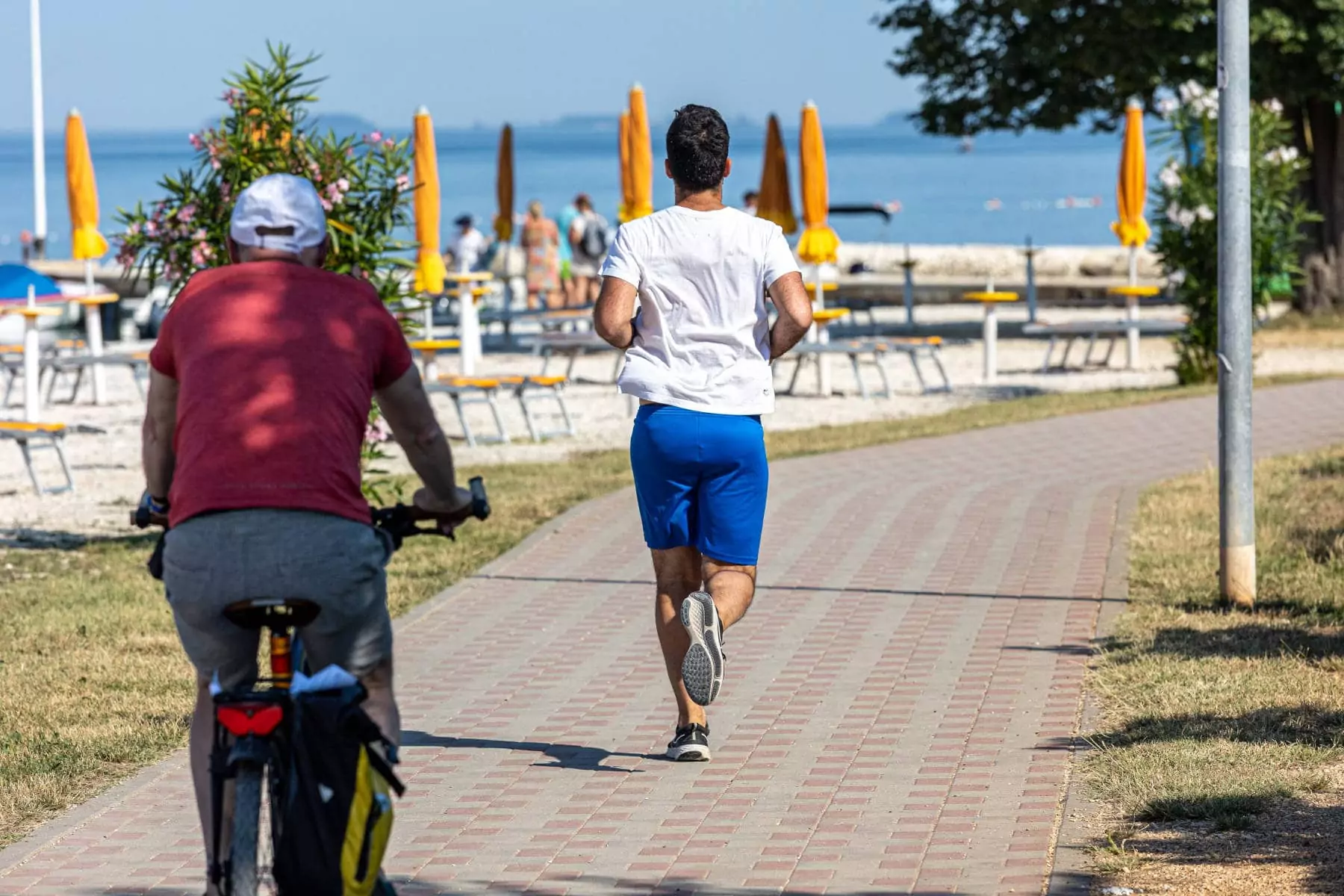 The beach, the sea and the pine forest are ideal environments for outdoor sports... walk along the promenade early in the morning with a regenerating run!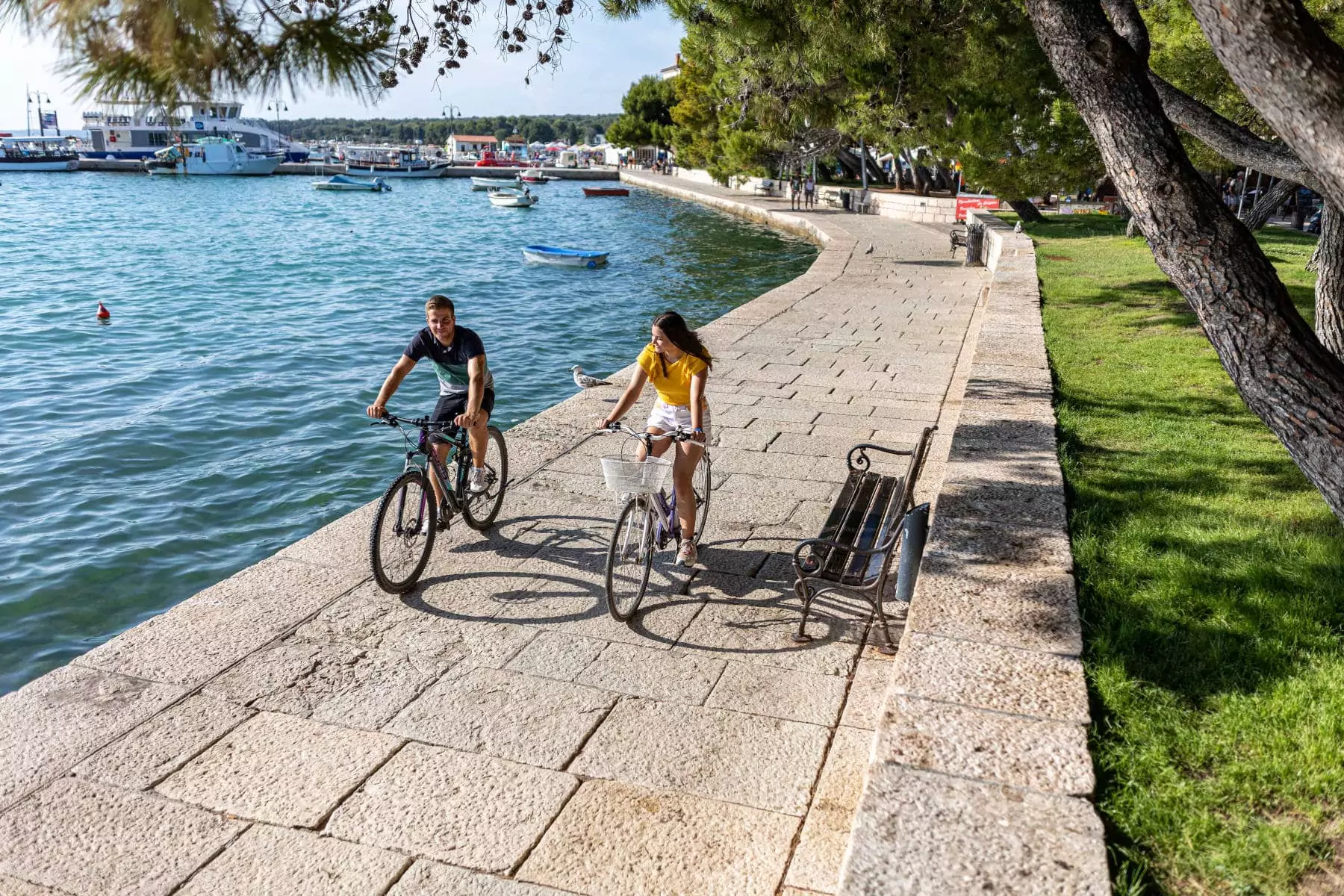 Set out to explore Istria by bicycle. Customise your BiVillage holiday by making it bike friendly.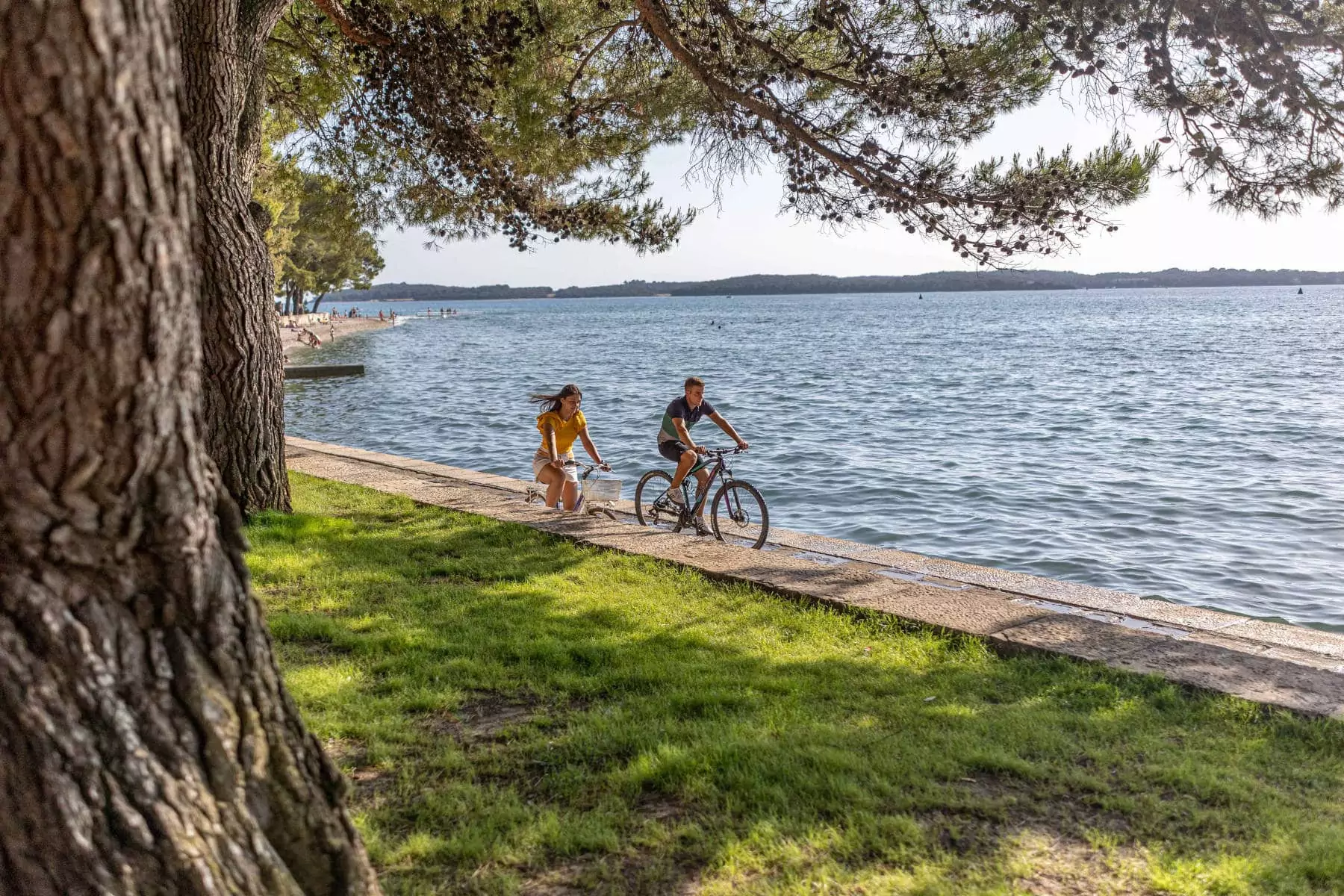 For bike and mountain bike enthusiasts, there are numerous paths and routes on and off the road... a true paradise for cyclists!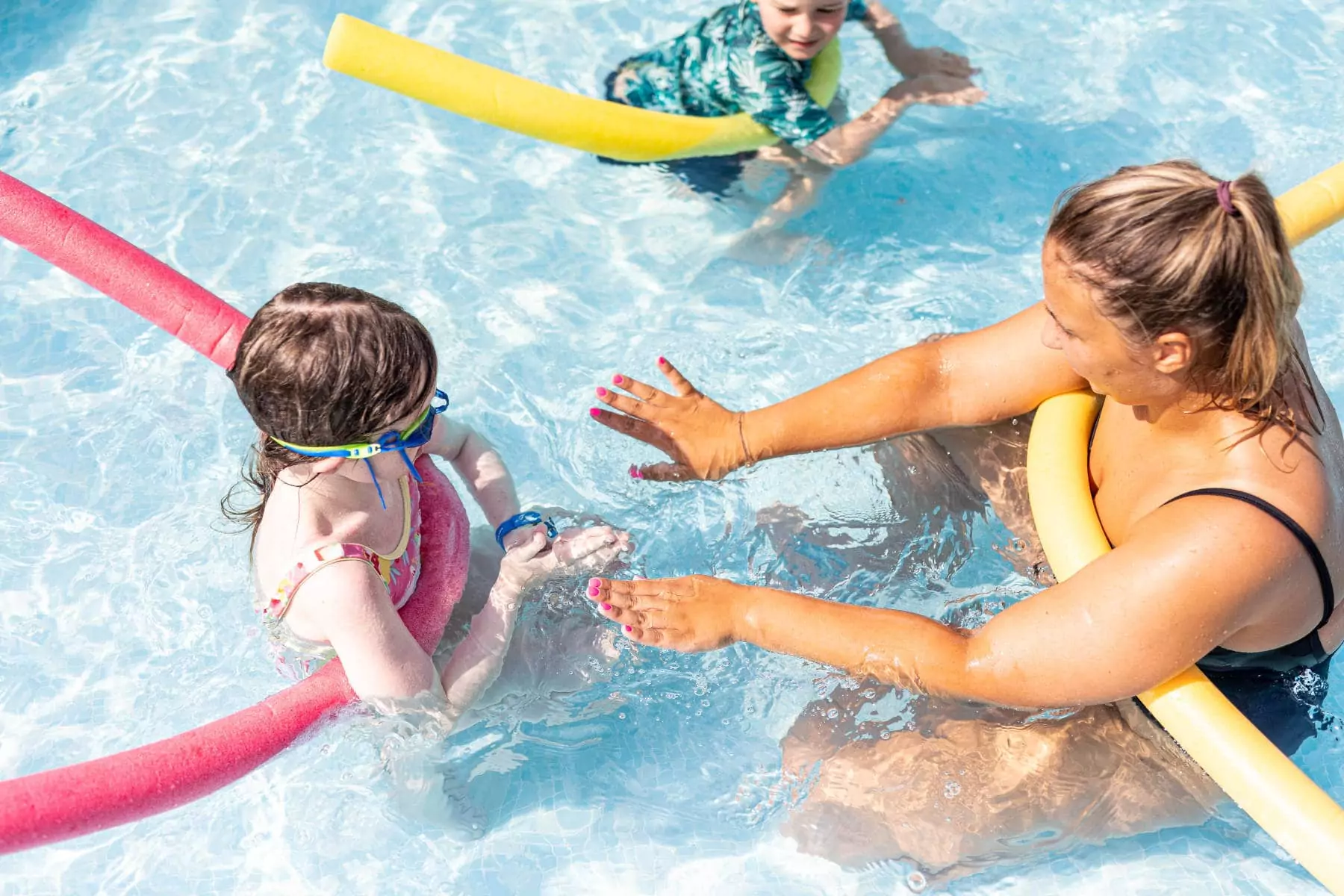 For the little ones we organise swimming lessons during your holiday!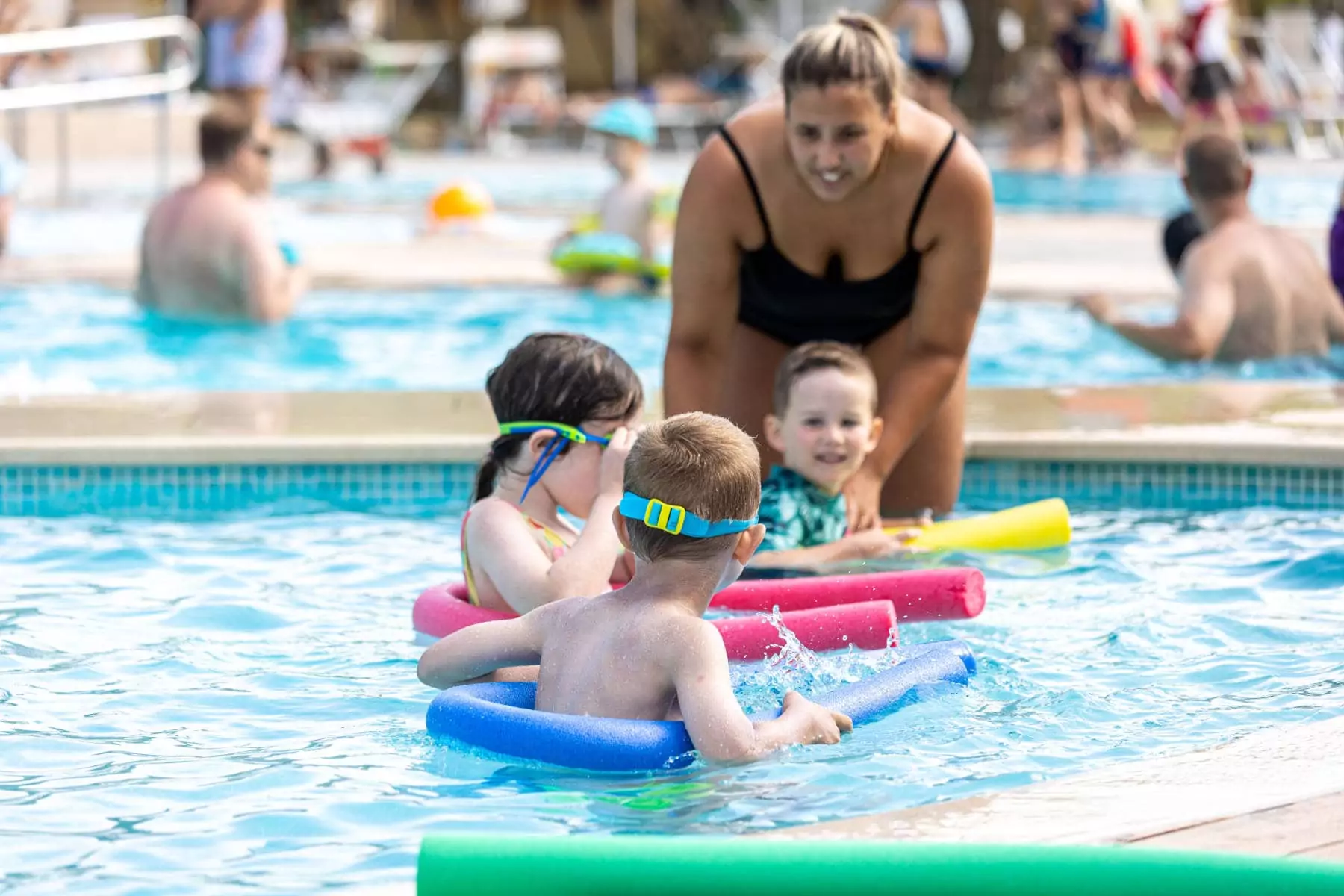 For the little ones we organise swimming lessons during your holiday!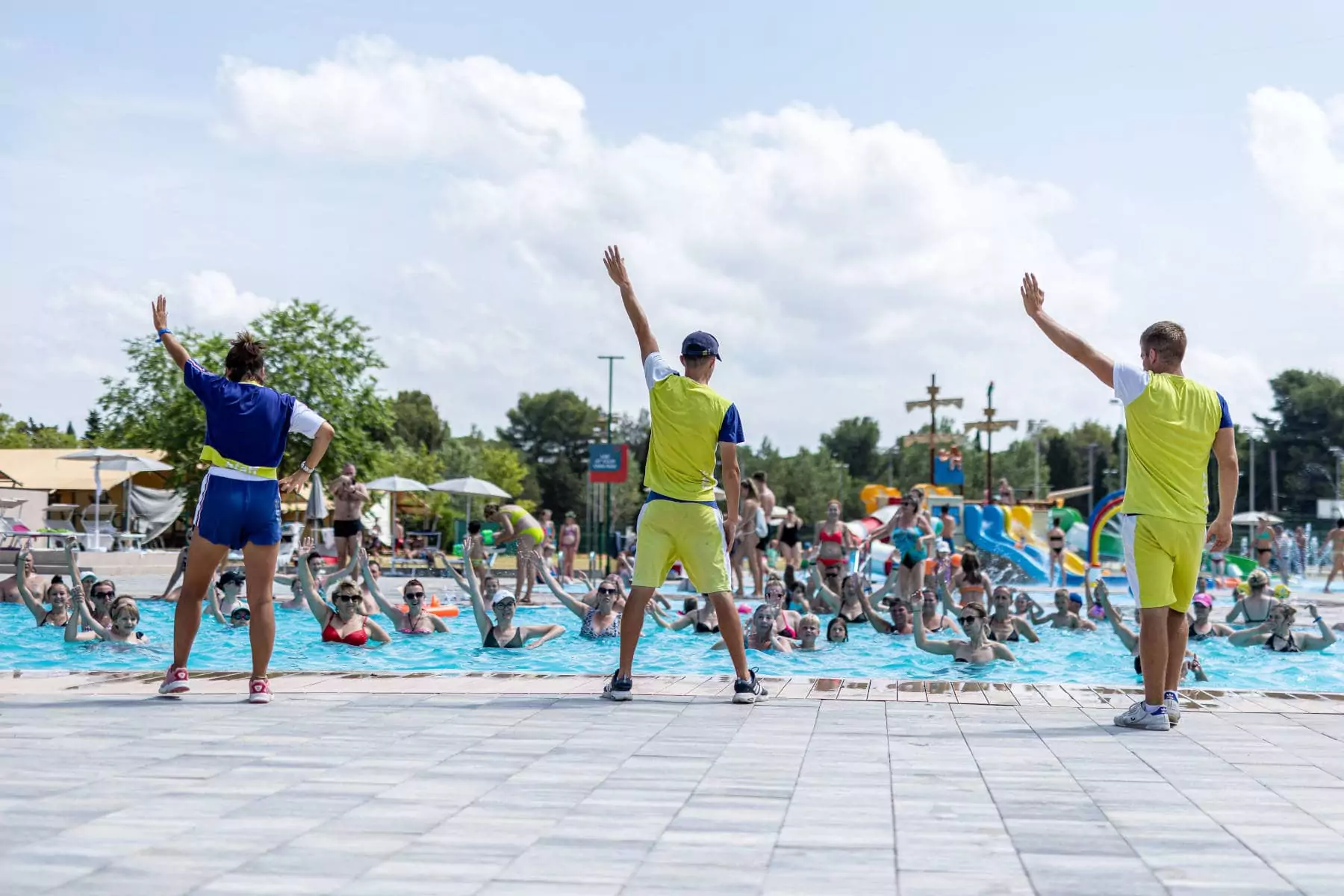 Do you enjoy water aerobics? At the BiVillage you can take part in numerous courses organised during your holiday!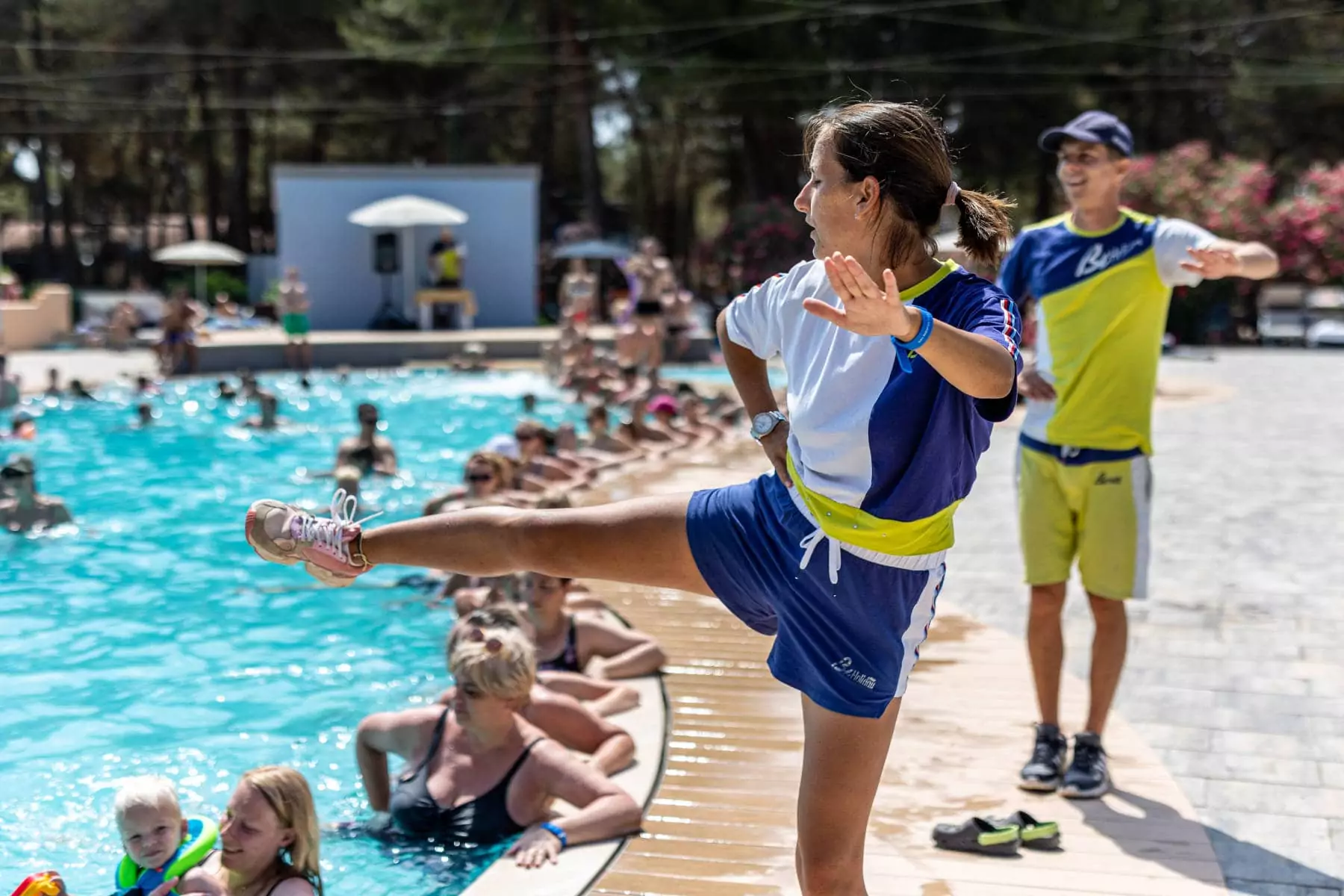 Feel like working out even on holiday but having fun? Then join the numerous courses organised by the village... in or out of the water, it's sure to be fun!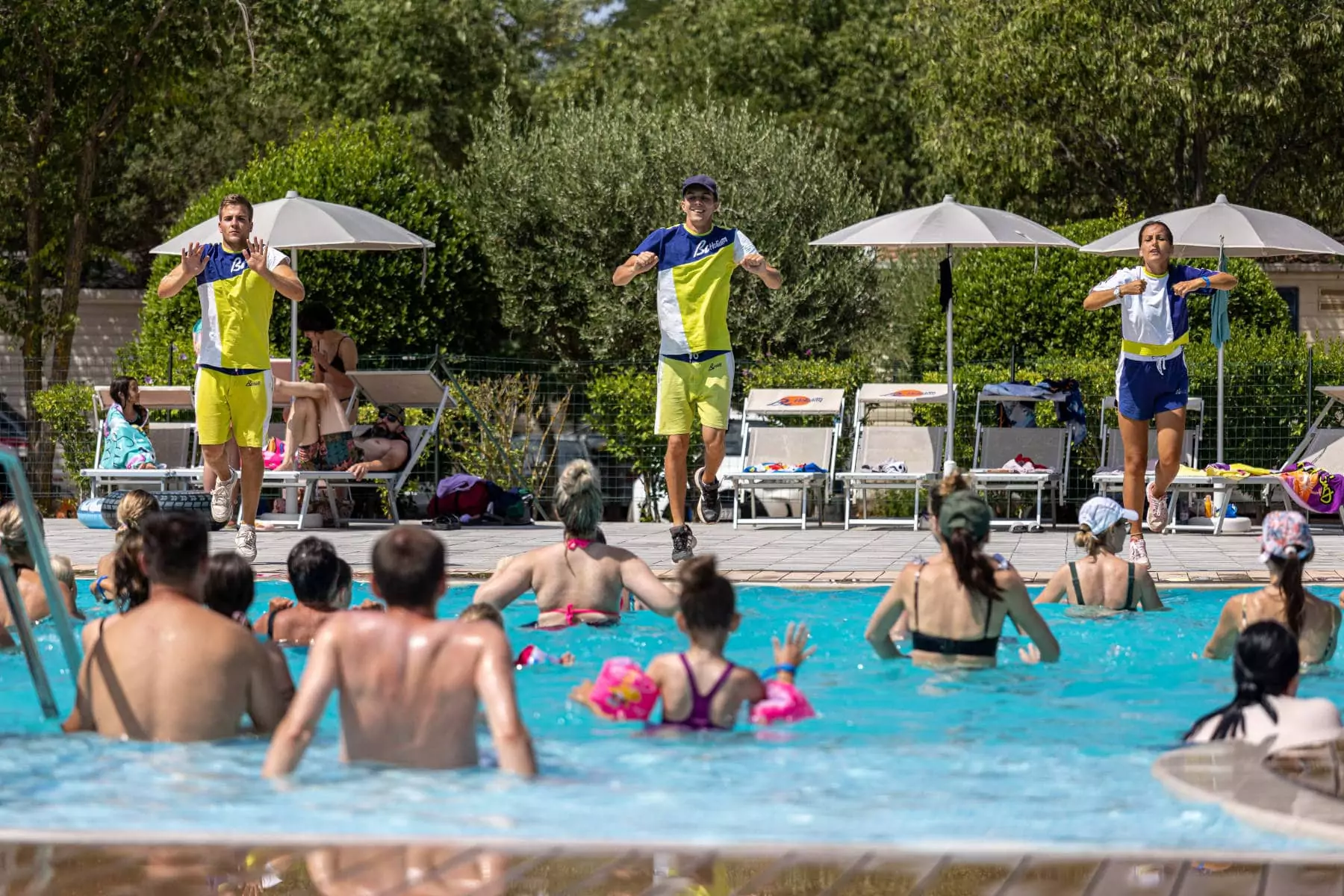 Are you looking for a holiday centre with sports activities? The BiVillage certainly has plenty of them!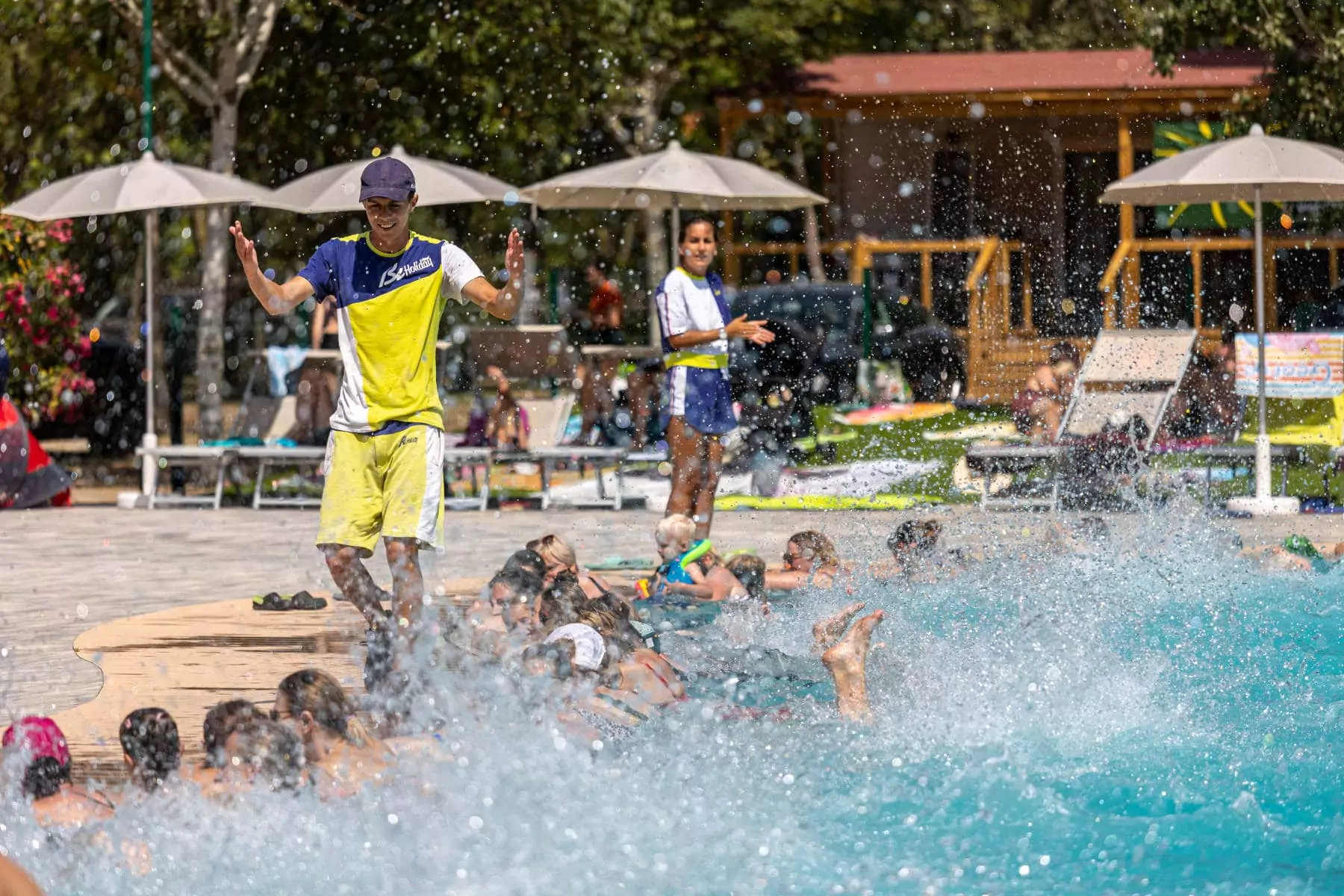 Sport and activities for everyone... from courses in the swimming pool to those in our fully equipped gym to diving and windsurfing in our blue sea... there's something for everyone at the BiVillage!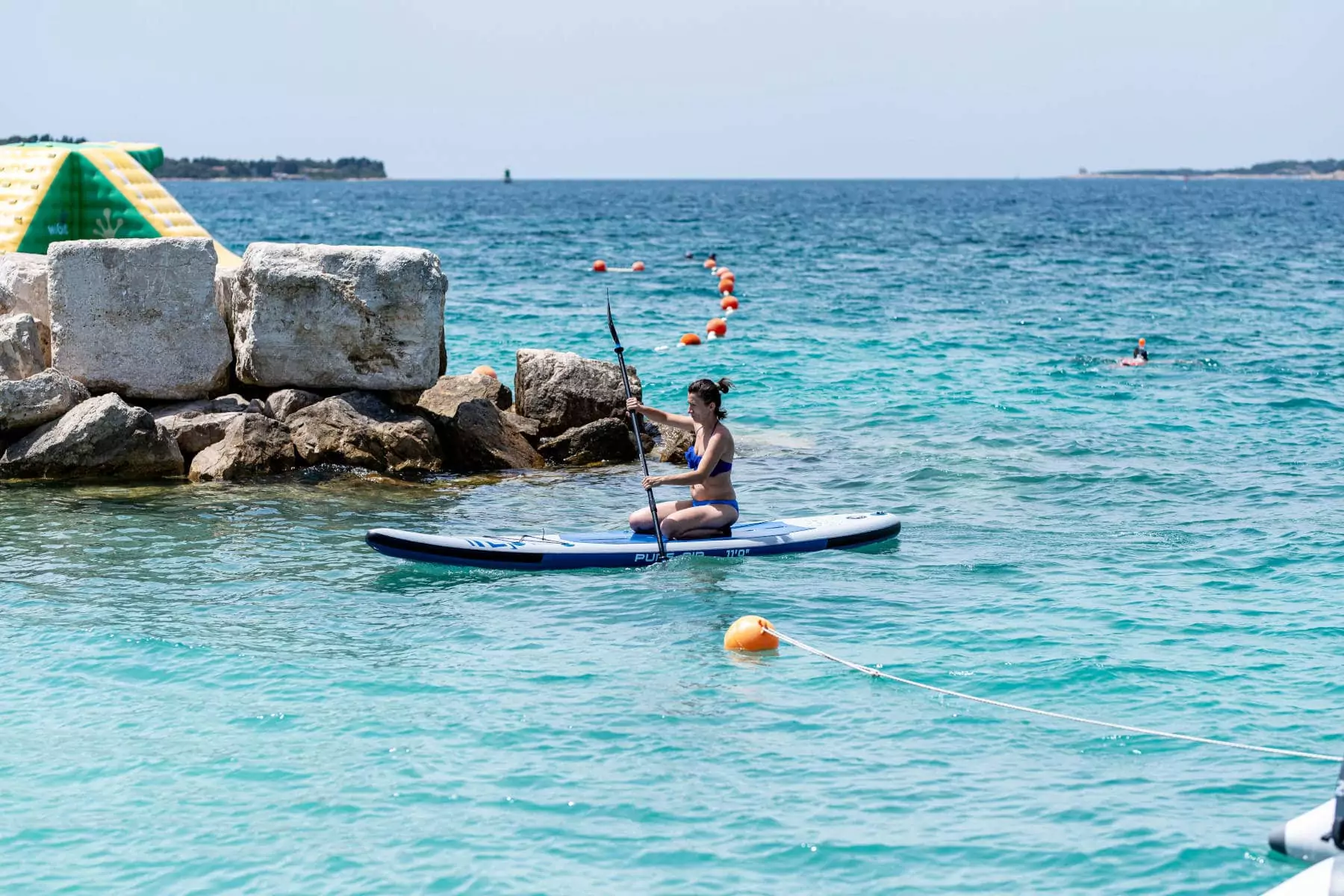 A totally relaxing holiday by the sea between a dip in our beautiful waters and a cocktail by the sea.
Game Room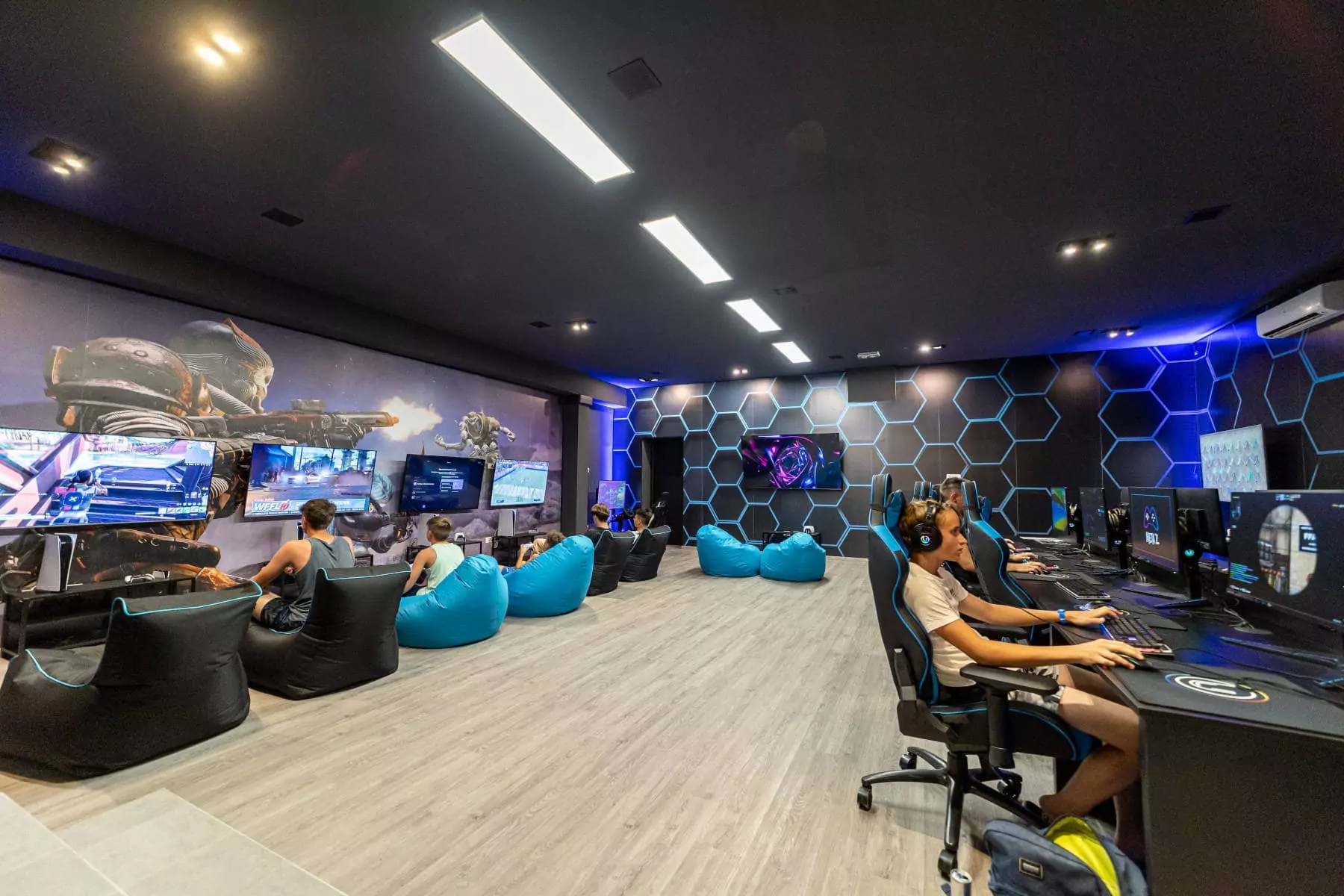 Game Room Meta Z: the brand new game room for your kids within the village, check it out now!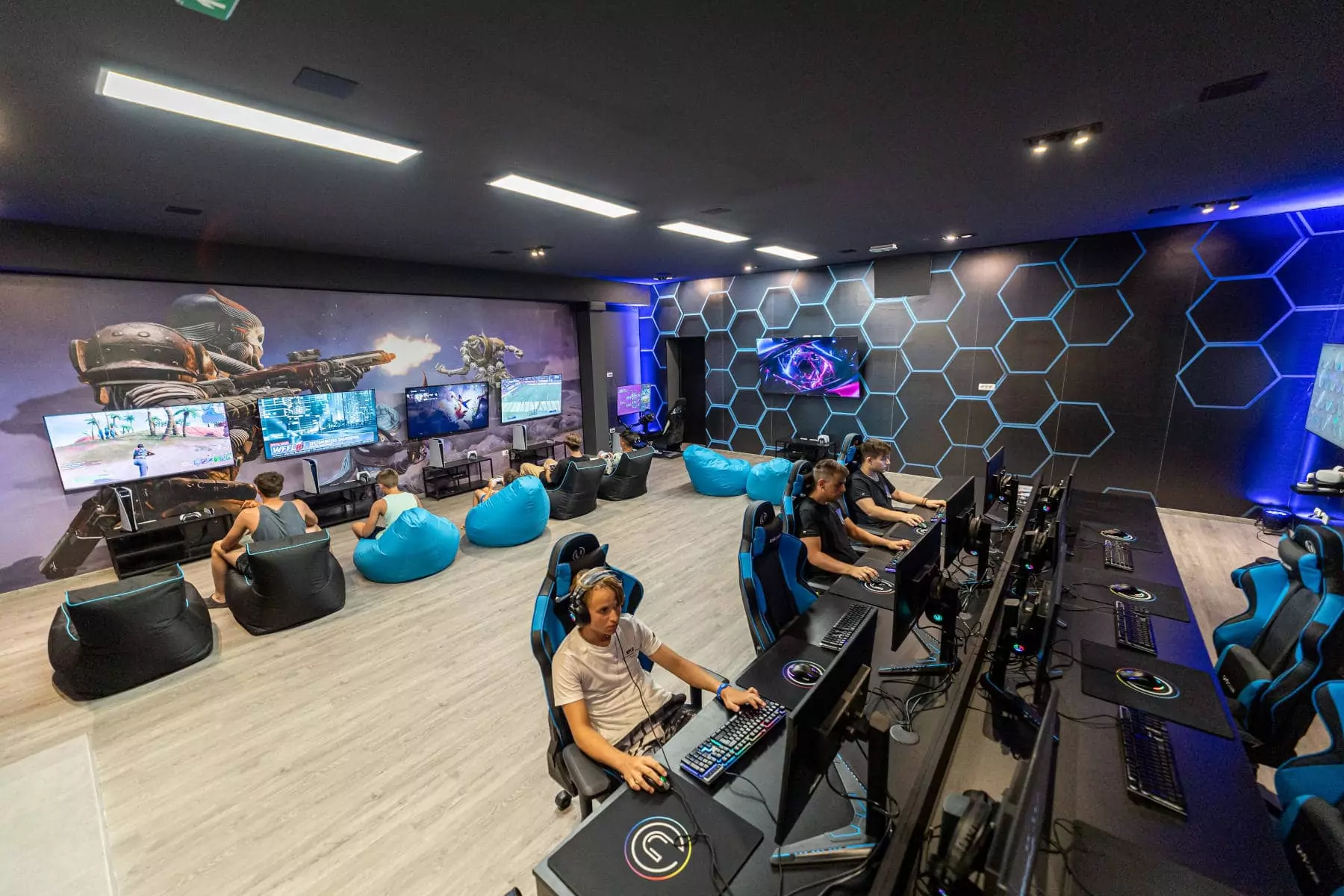 Video games, viewers and VR systems to entertain your kids even on holiday. Check out Meta Z!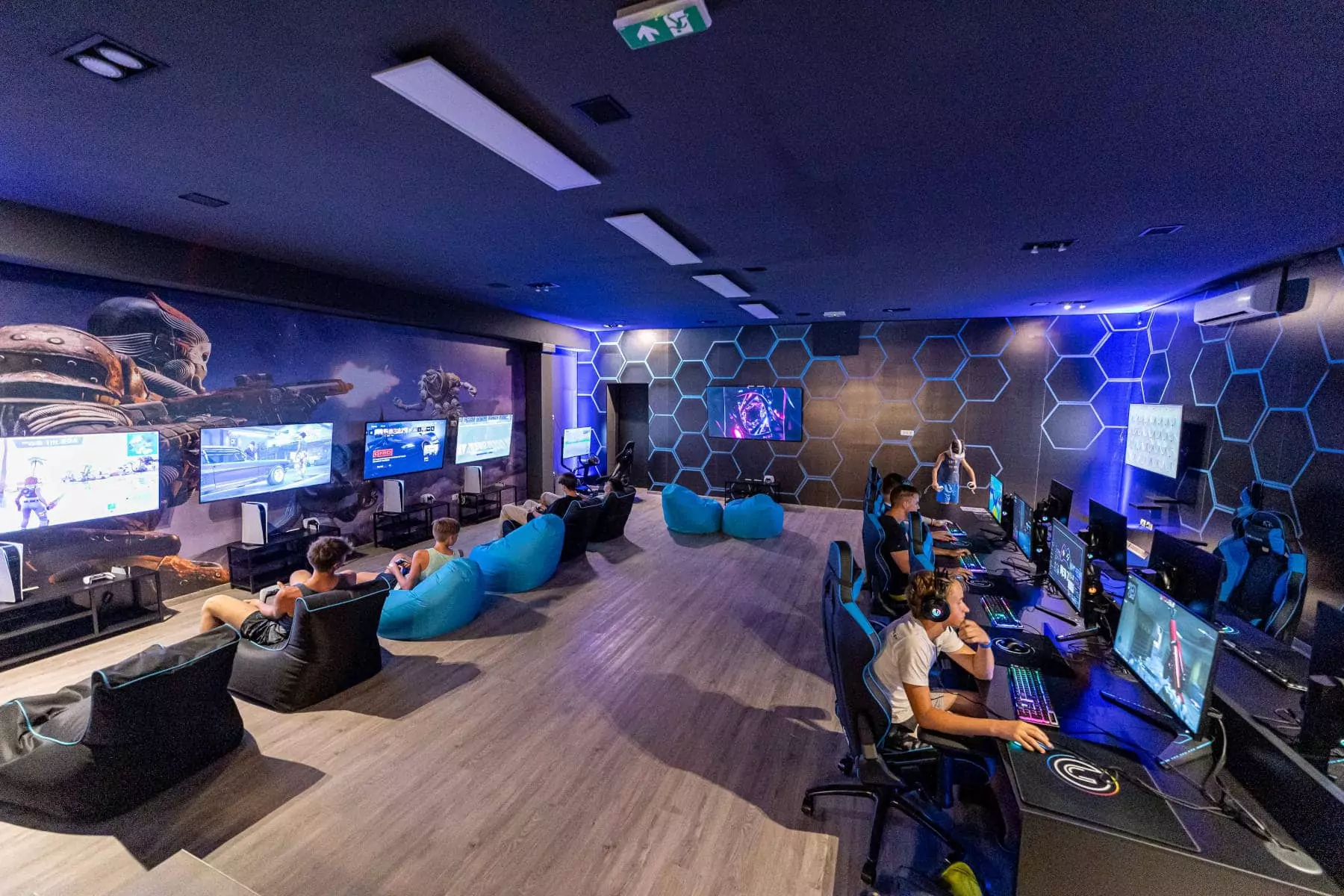 Meta Z is located inside Loft 52, near the Jangalooz Area.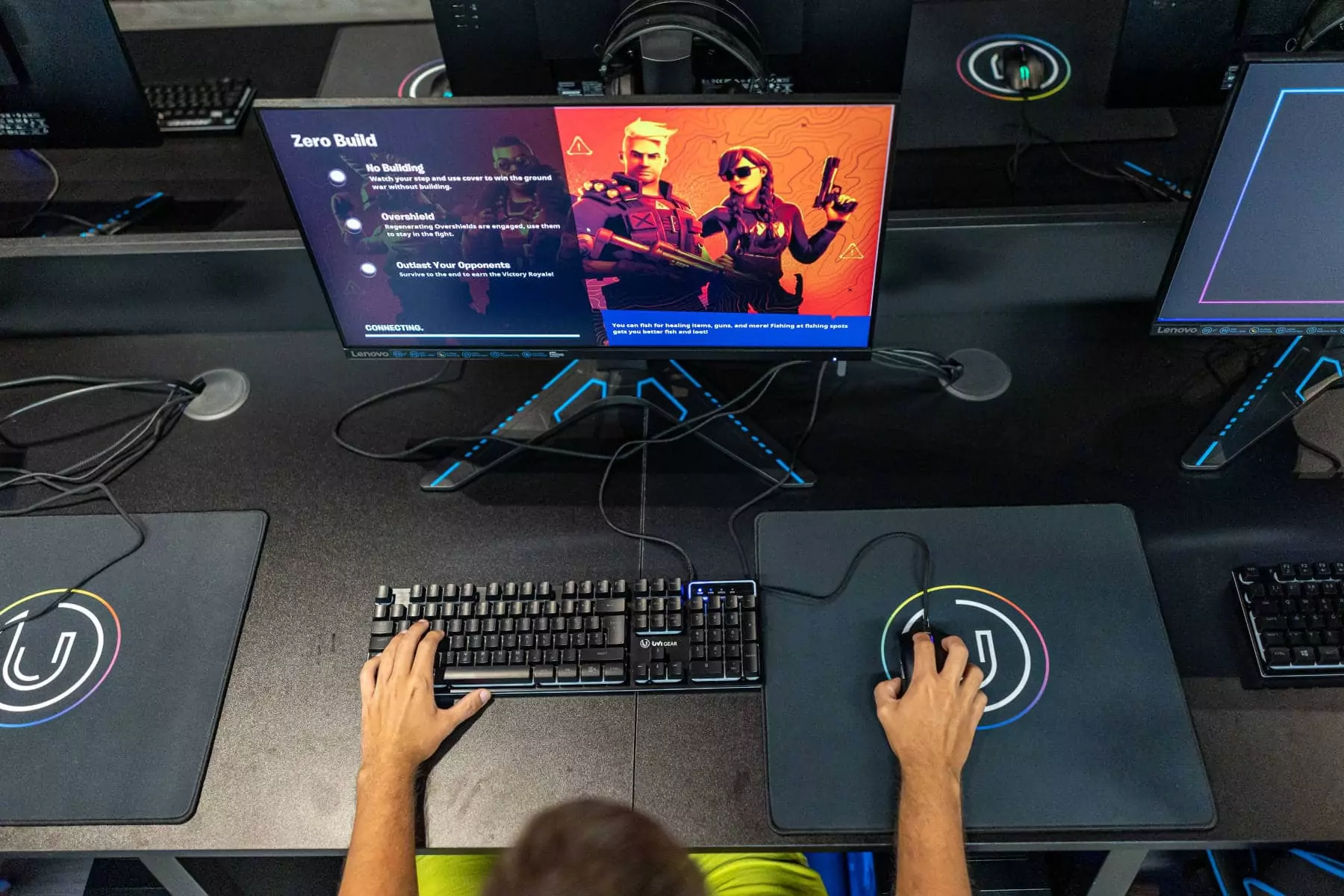 At the BiVillage Resort you can find all the newest video games.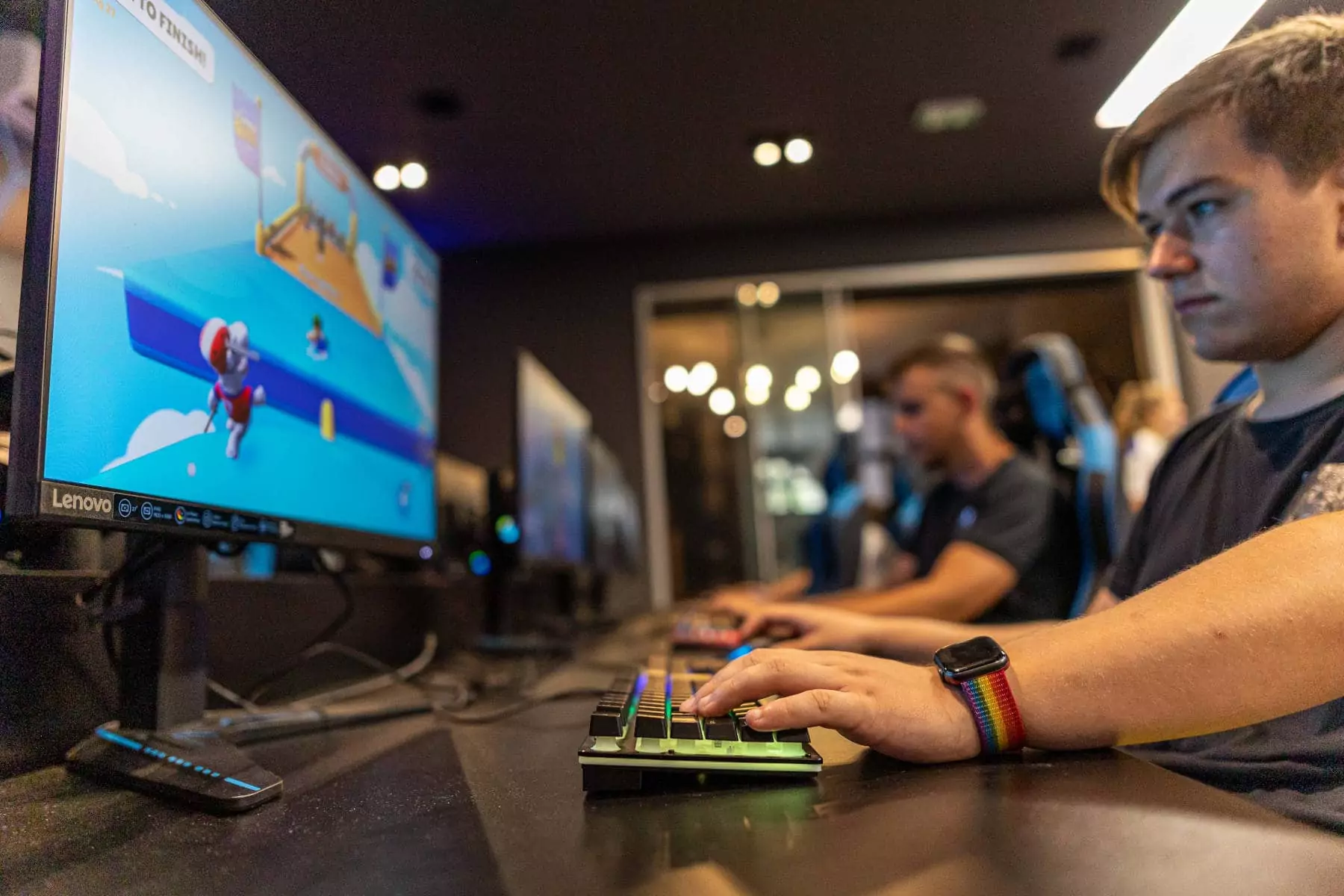 5 play stations, virtual reality, 8 gaming PCs and all the latest video games!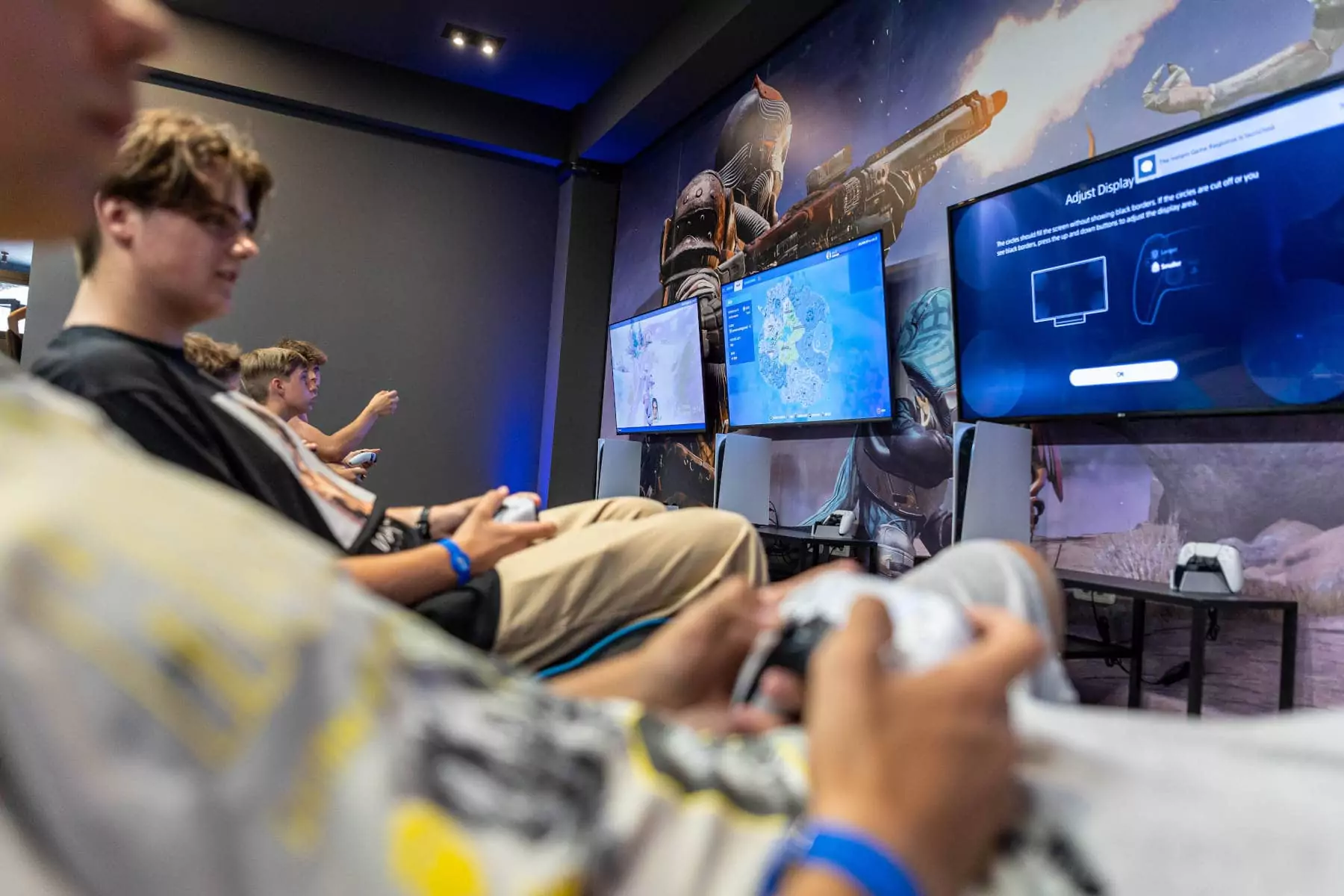 Some games you will find? FIFA 22, Madden NFL 2022, F1 2021, Knockout City, Mass Effect Legendary Edition and many more.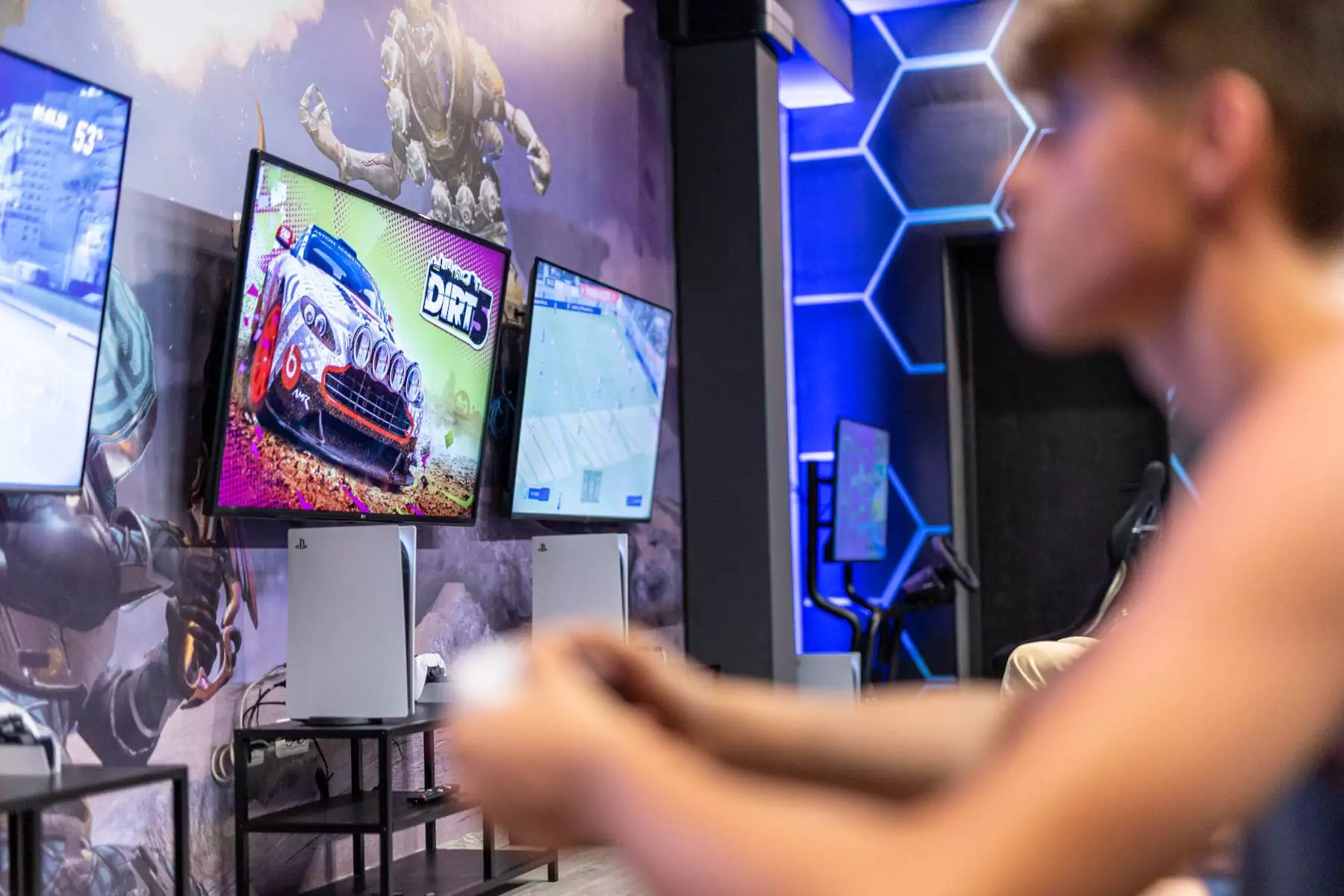 The games room is open daily from 11 AM to 11 PM. Remember that reservations are required to gain access.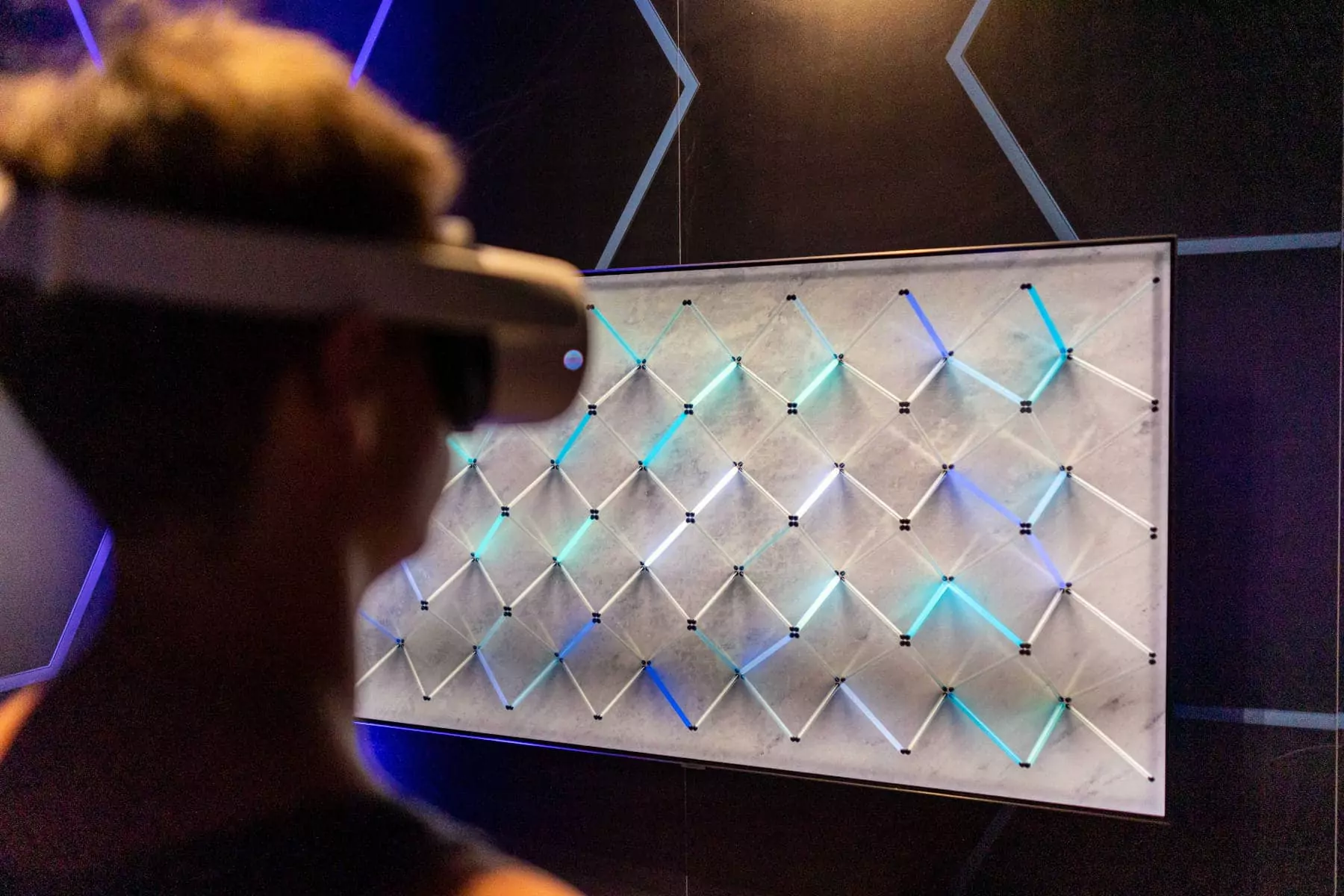 Have you ever tried virtual reality? You can do this in our Meta Z play area within the village.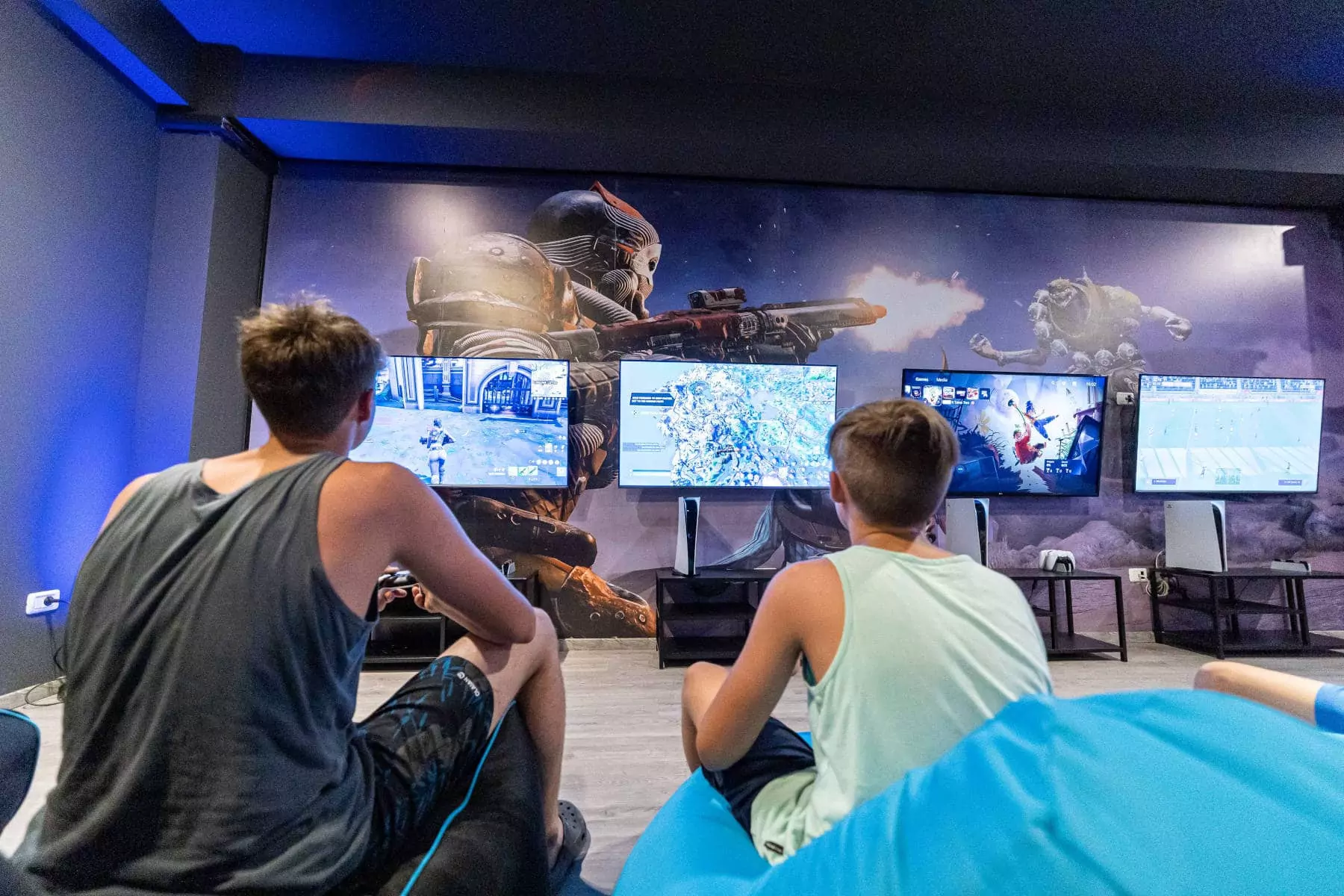 Have fun challenging your friends with your favourite video games! On PC or PS5 on 4k 55" 75" screens.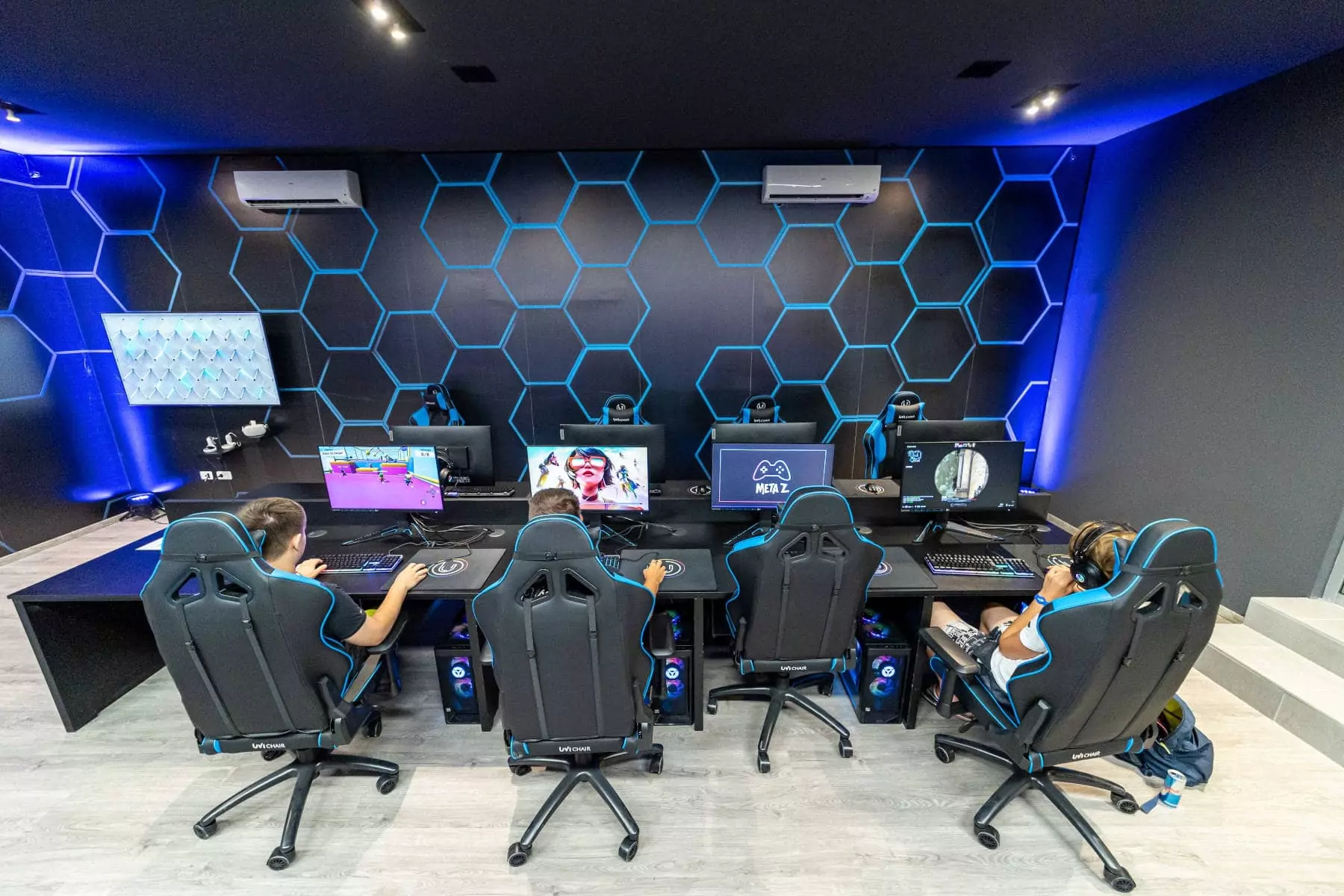 What can you do at the game room? Challenge your friends, play alone, experience the thrill of Virtual Reality and participate in tournaments.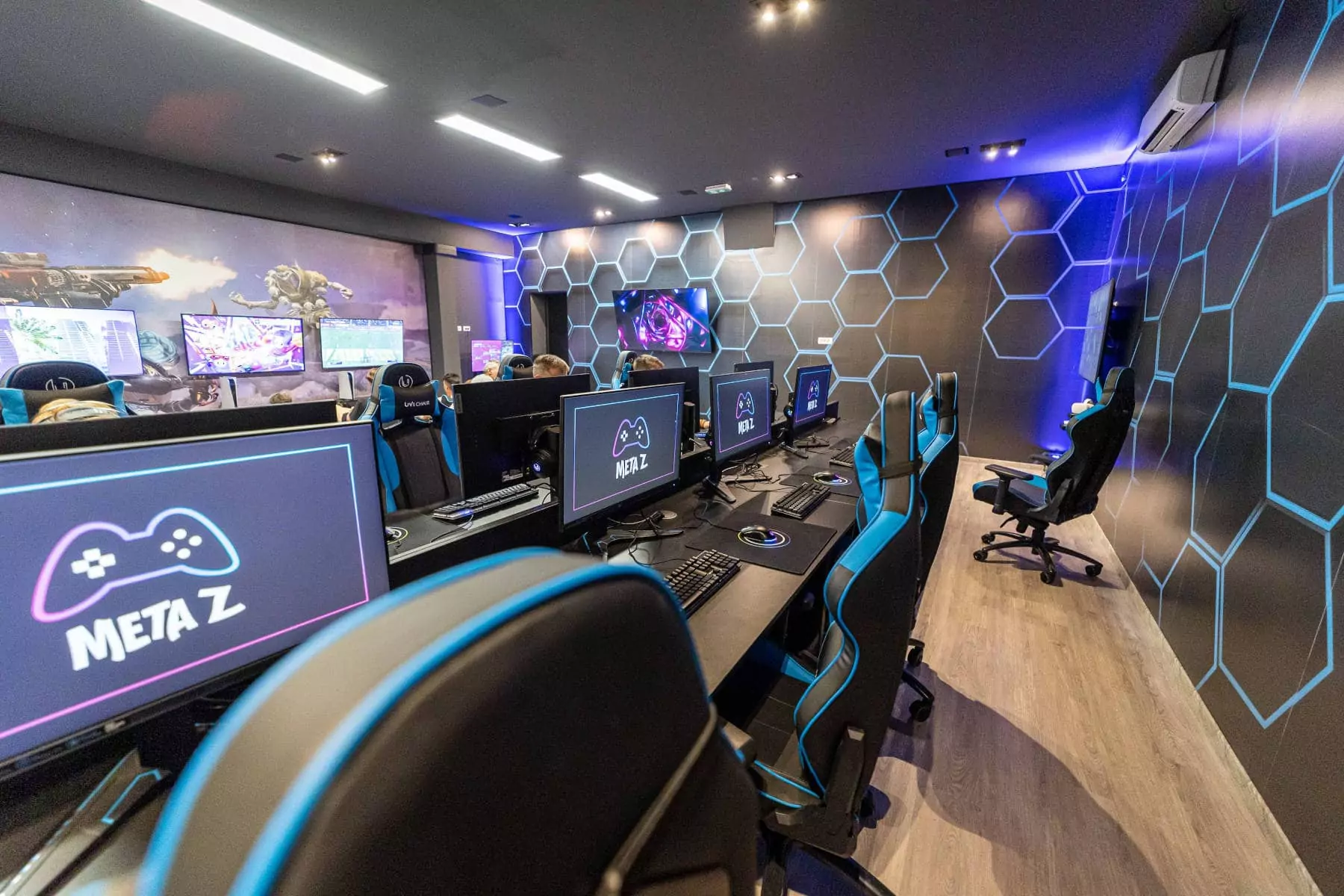 5 Playstation 5, impossible to find on the market, 8 PCs and all the latest games released!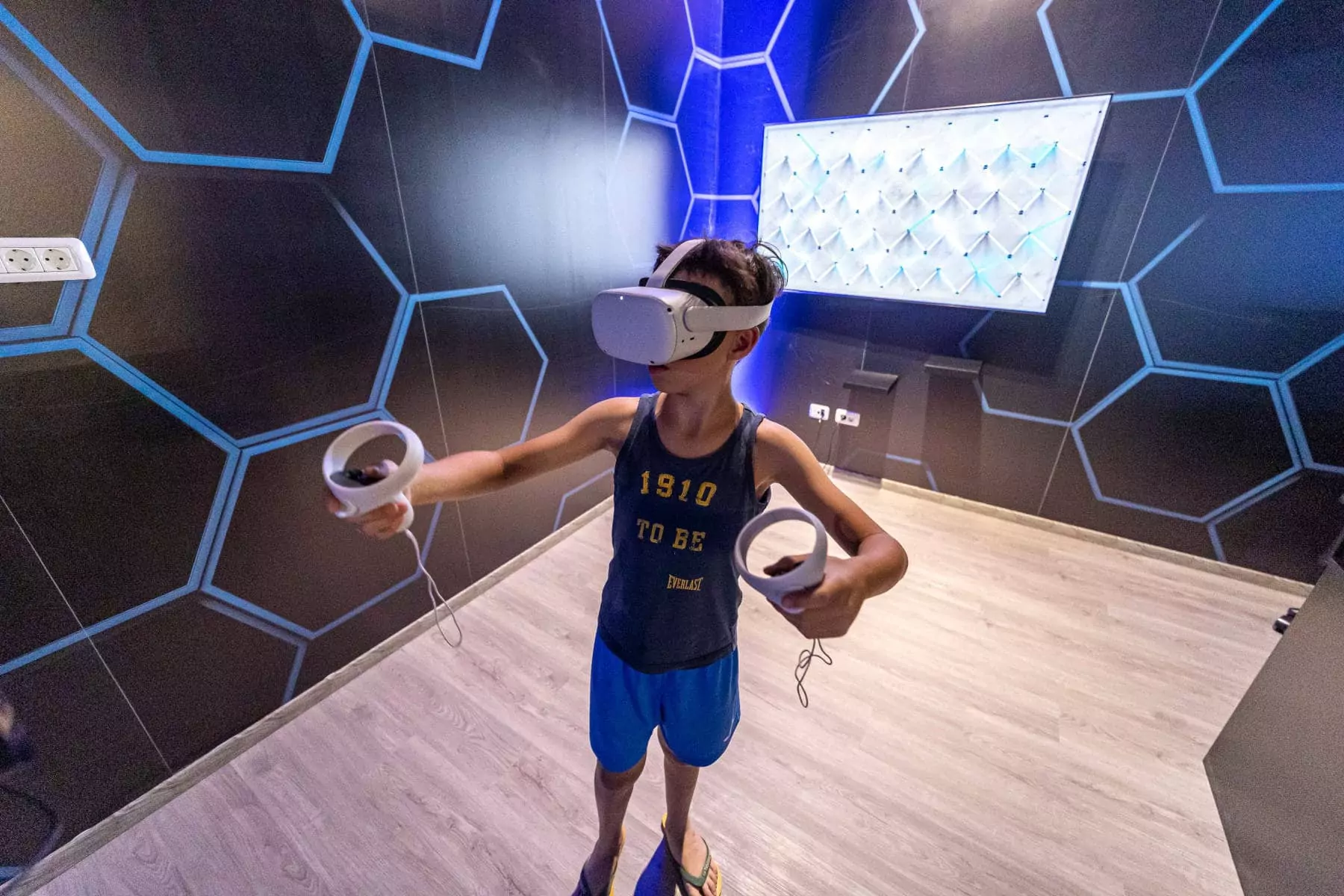 Explore the virtual world in the brand new Meta Z play area within the village.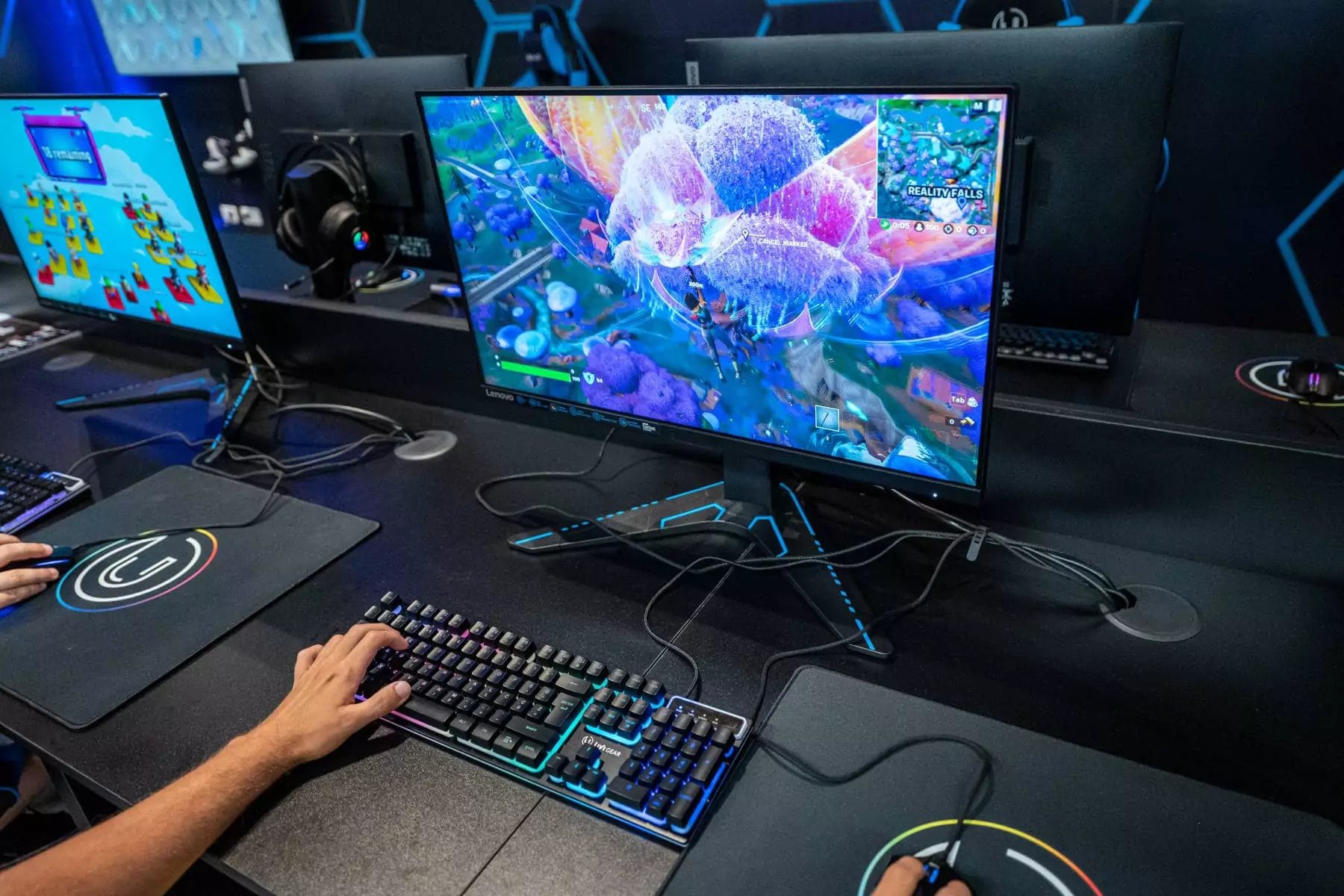 Lots of video games, visors and VR systems will project you into unexplored places... you will have unique experiences within the Meta Z area.
Gaming and virtual reality inside Meta Z. Your kids will love this area!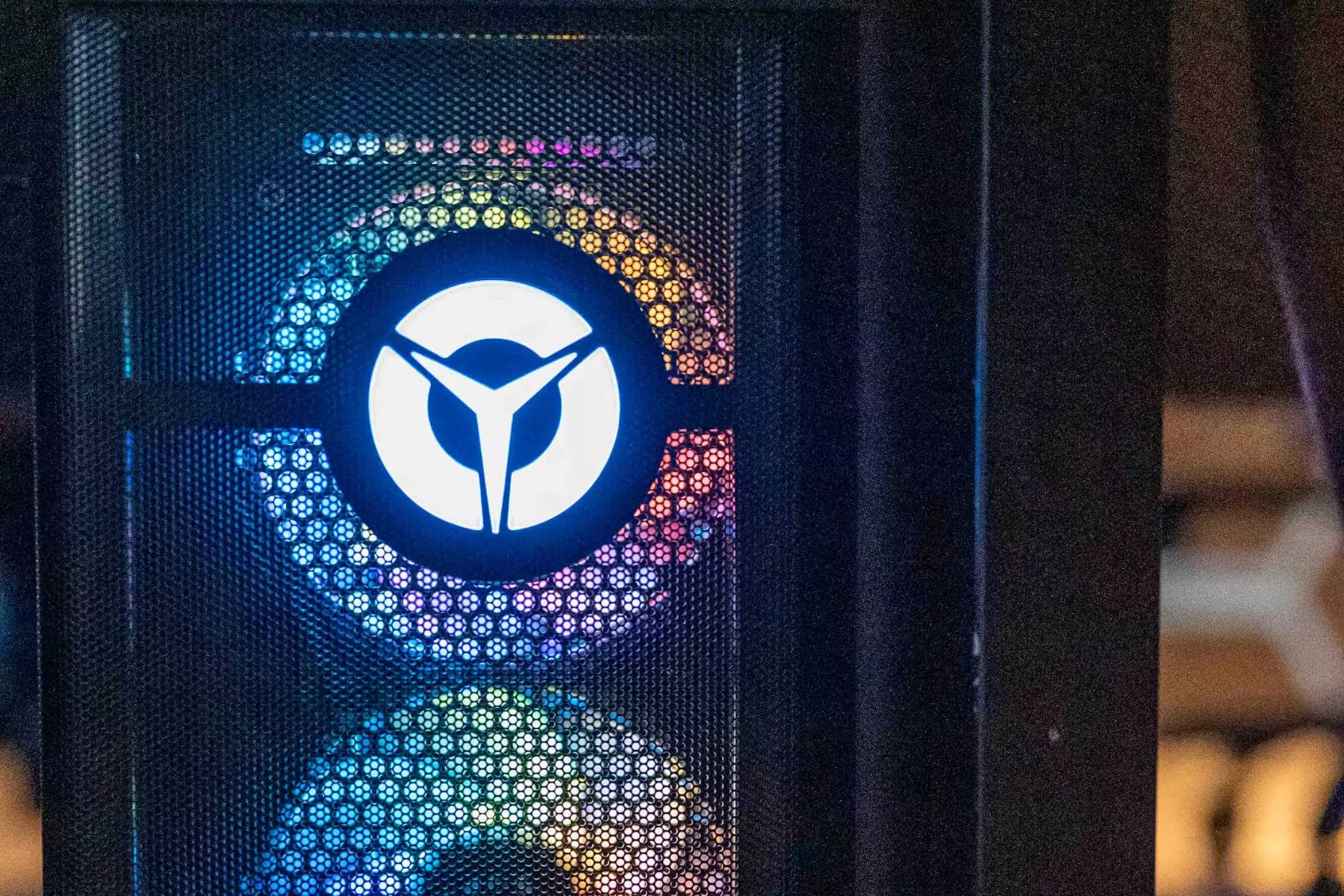 Immersed in an interactive, lifelike setting, in the Meta Z area, you will have experiences that will leave their mark on you.
Jangalooz Area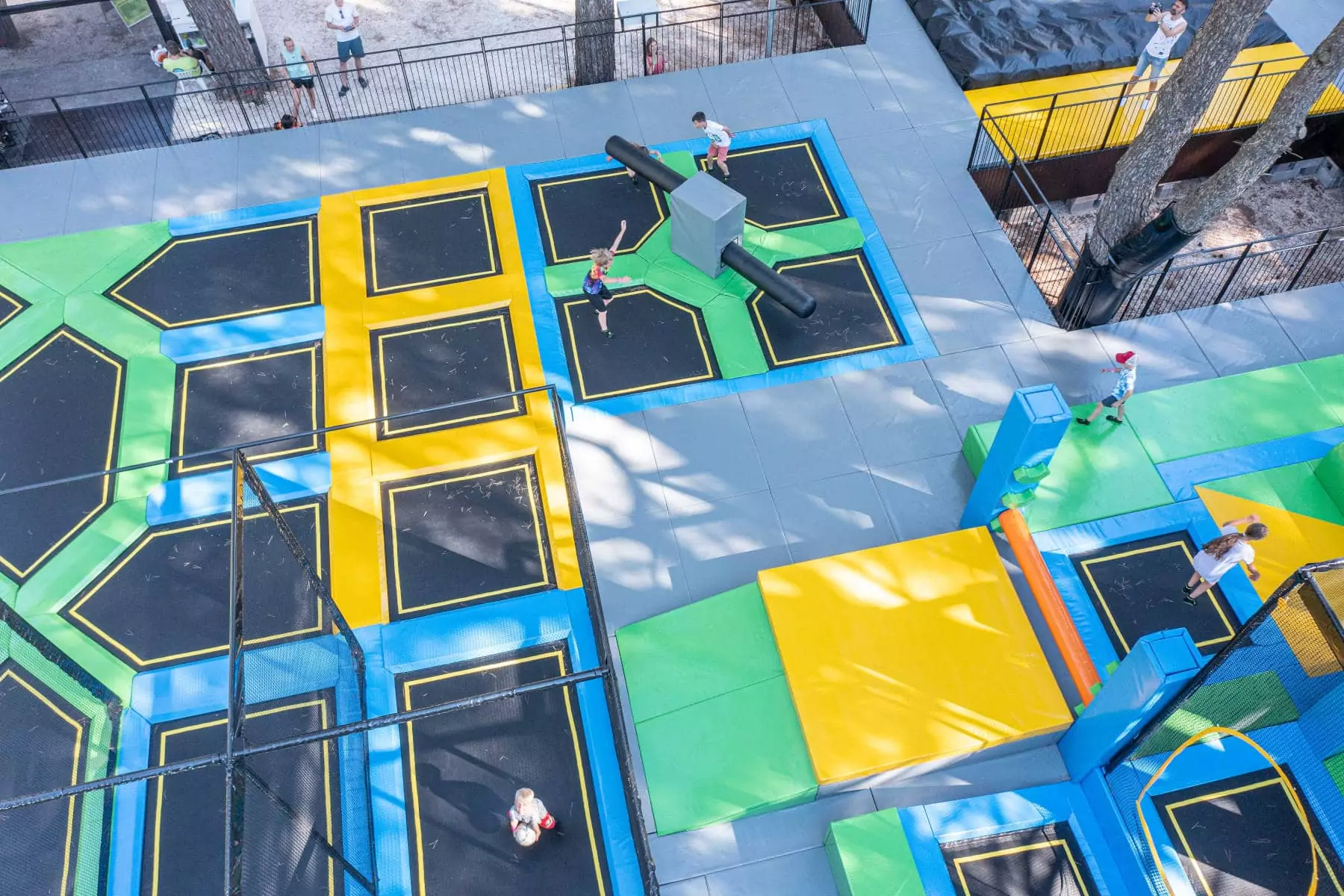 Are you a fan of amusement parks? At the BiVillage you will find two amusement parks: the Trampoline Park and the Jangalooz Park.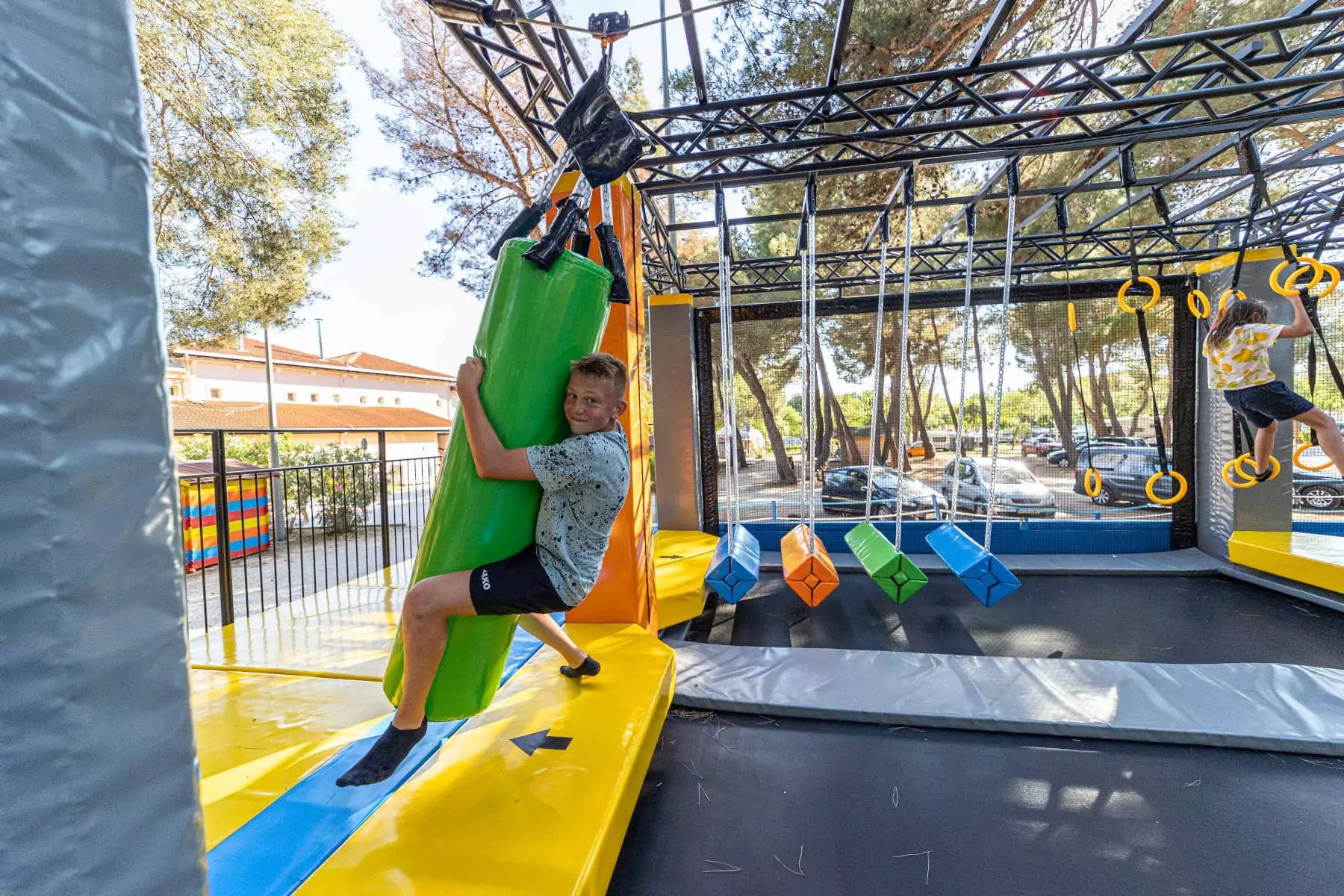 The Jangalooz Trampoline Park consists of different trampolines, climbing areas, rotating beams, a multi-level tower with net and rubber components from which you exit via a slide.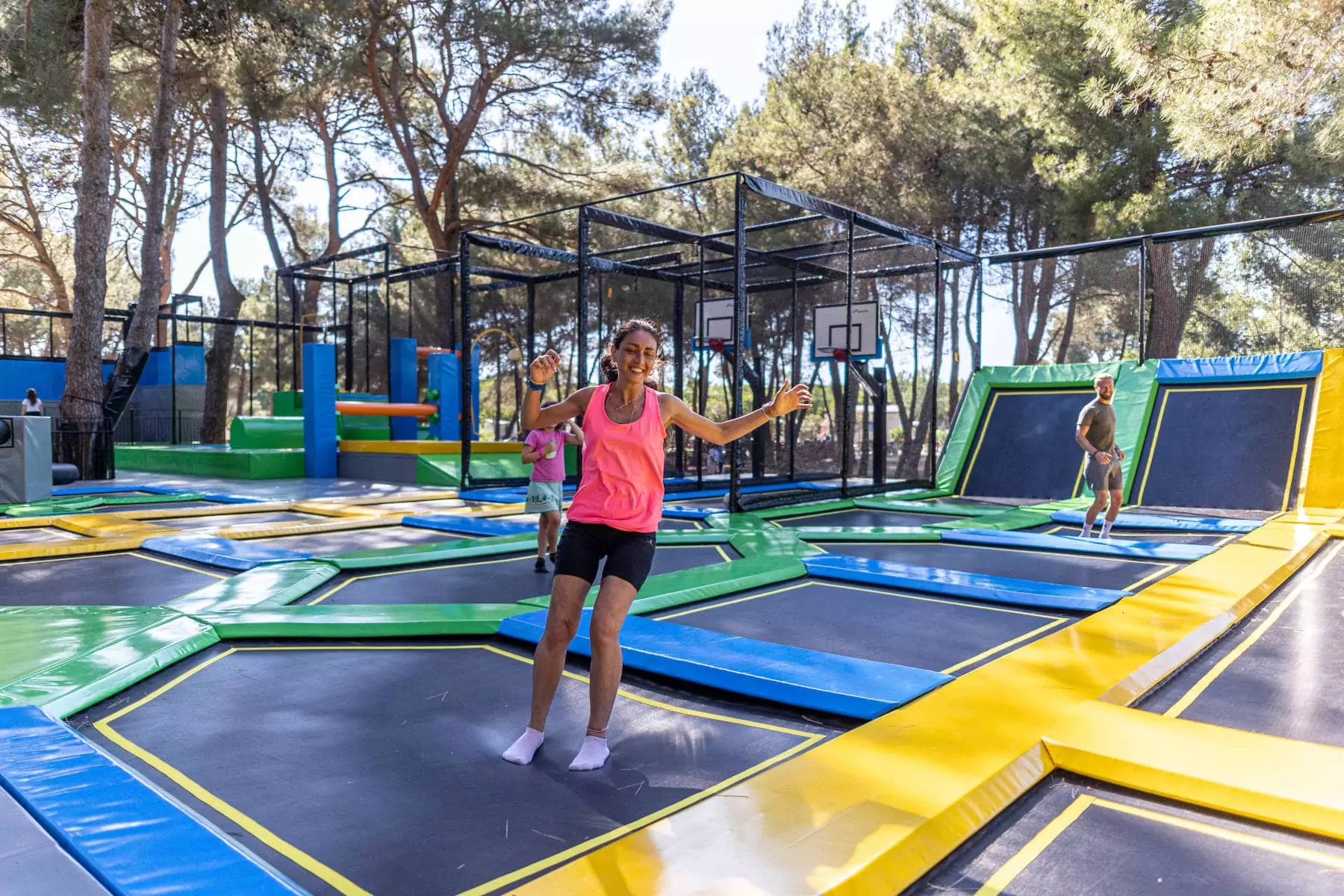 the Trampoline Park provides the perfect space to soar on our trampolines, do flips and somersaults, climb safely and play dodgeball.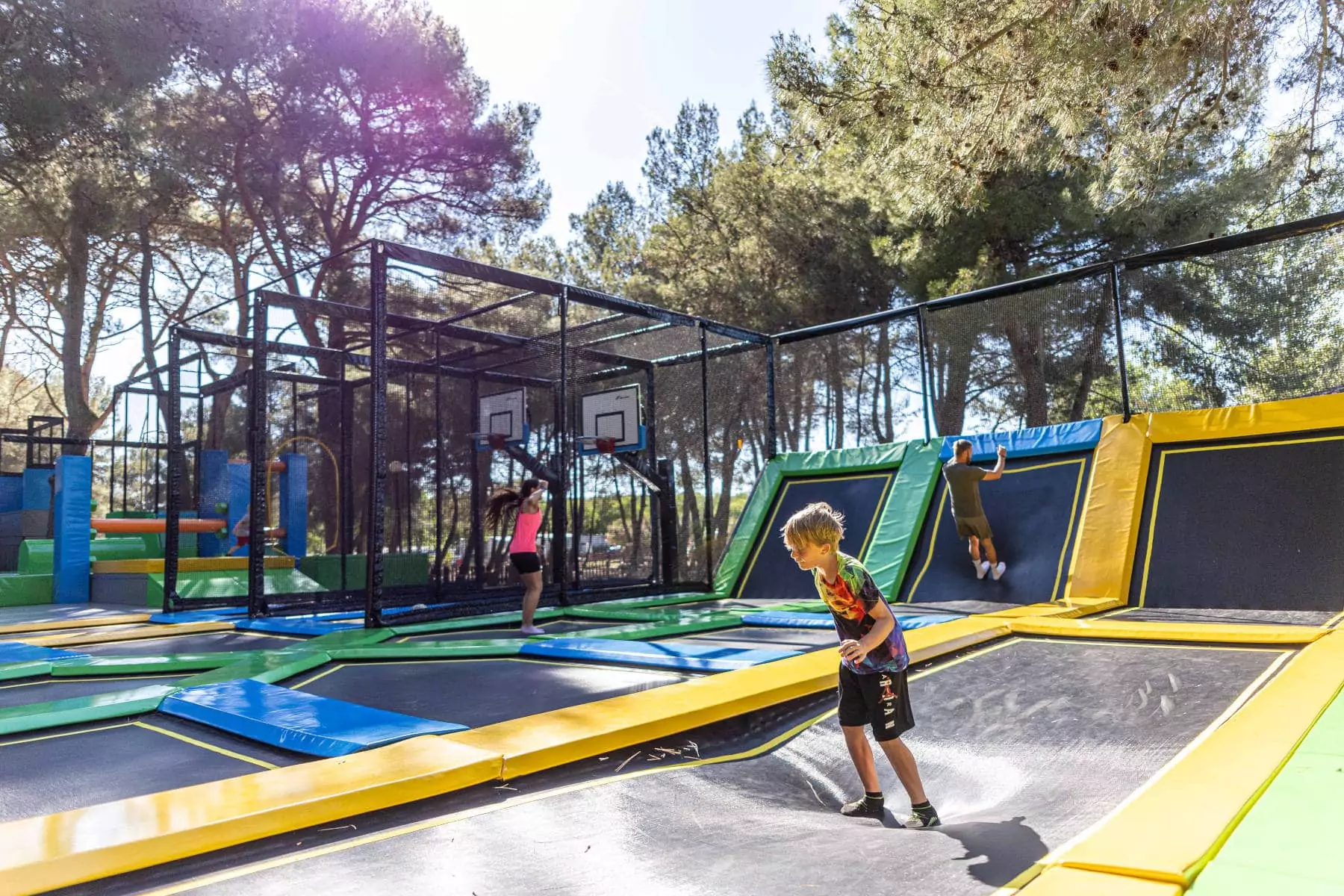 In July and August, the Jangalooz Trampoline Park is open from 9 AM to 11 PM!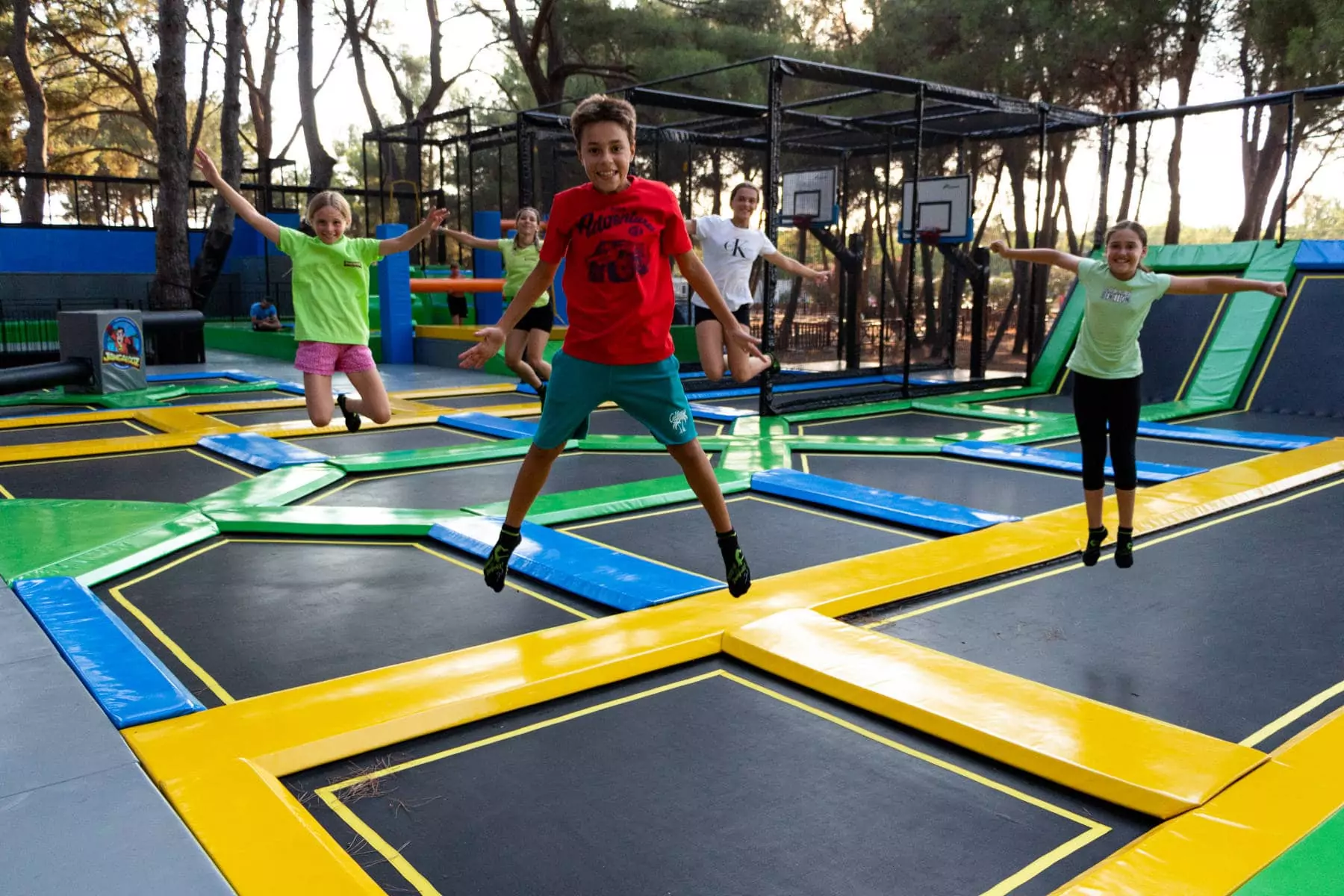 Go wild on the trampolines at Jangalooz Trampoline Park... fun not only for kids!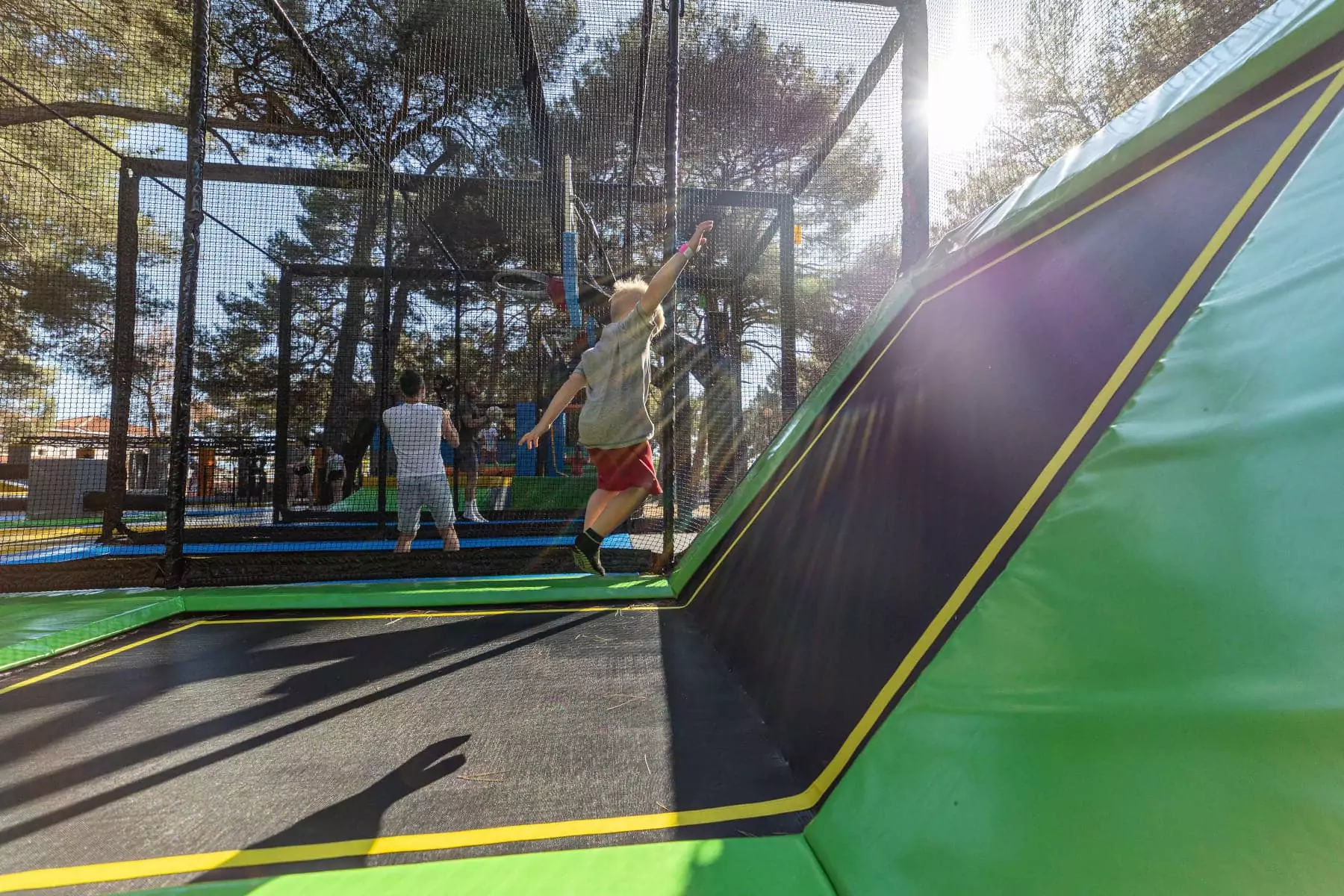 Free to soar! Our Jangalooz Trampoline Park is free... come and have fun with the whole family!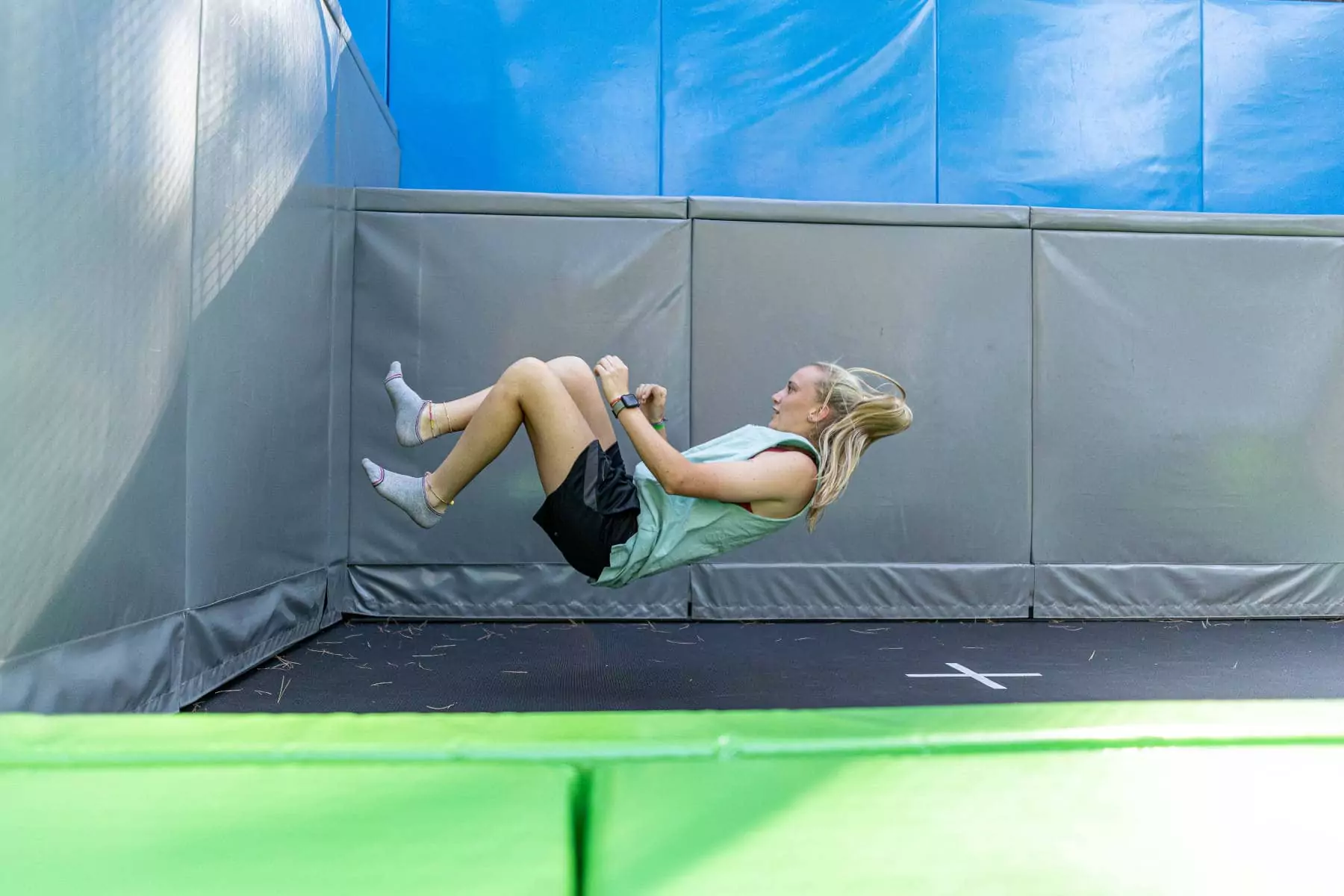 No matter your age or skill level: the nets in our Trampoline Park offer you the chance to jump and play in complete freedom!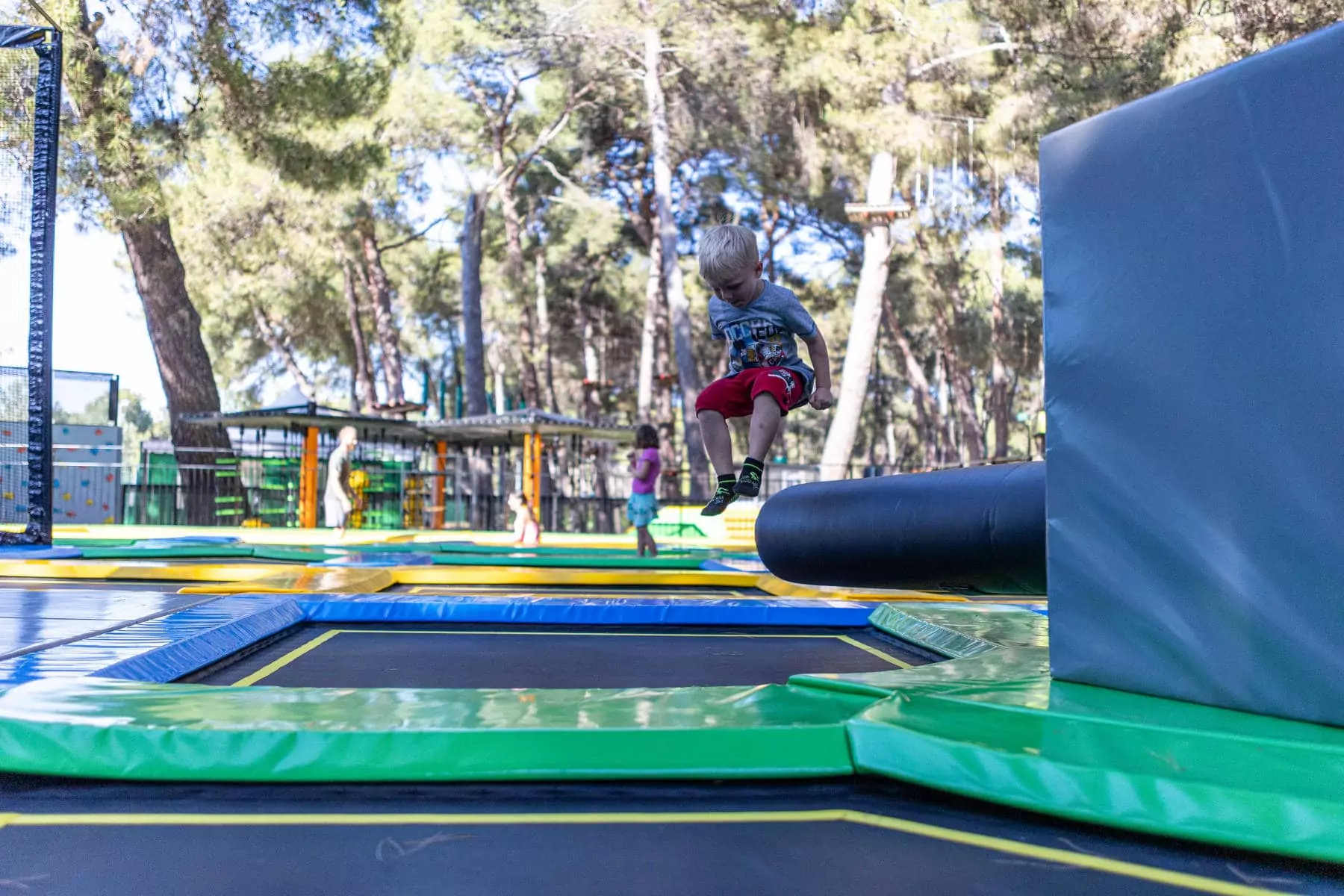 We look forward to seeing you at the Jangalooz Trampoline Park from May to October. Check out the opening hours on our website and don't miss out on this pure fun experience!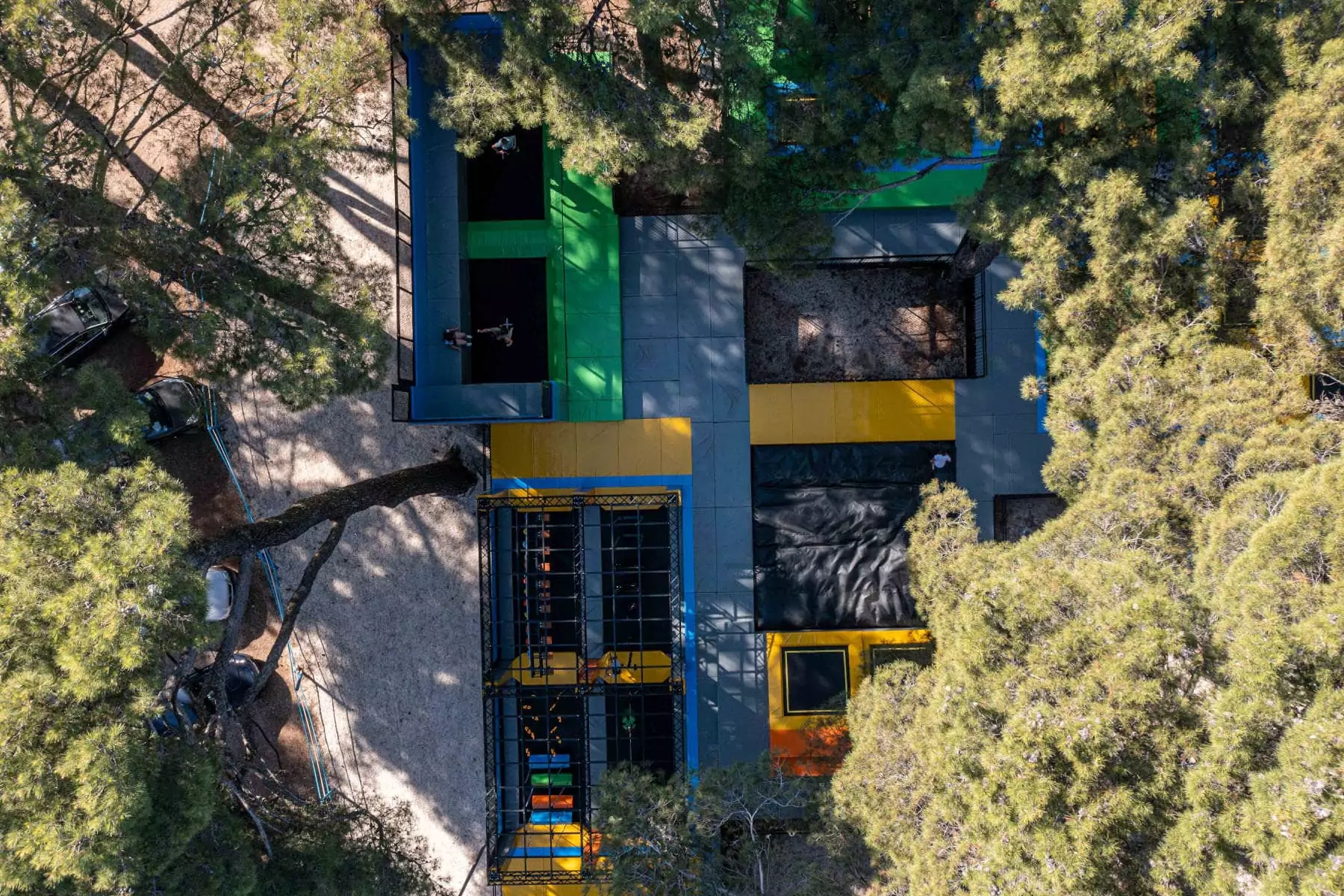 Are you ready to get wild on trampolines, climb safely and play with your friends? Check out the Jangalooz Trampoline Park inside the village.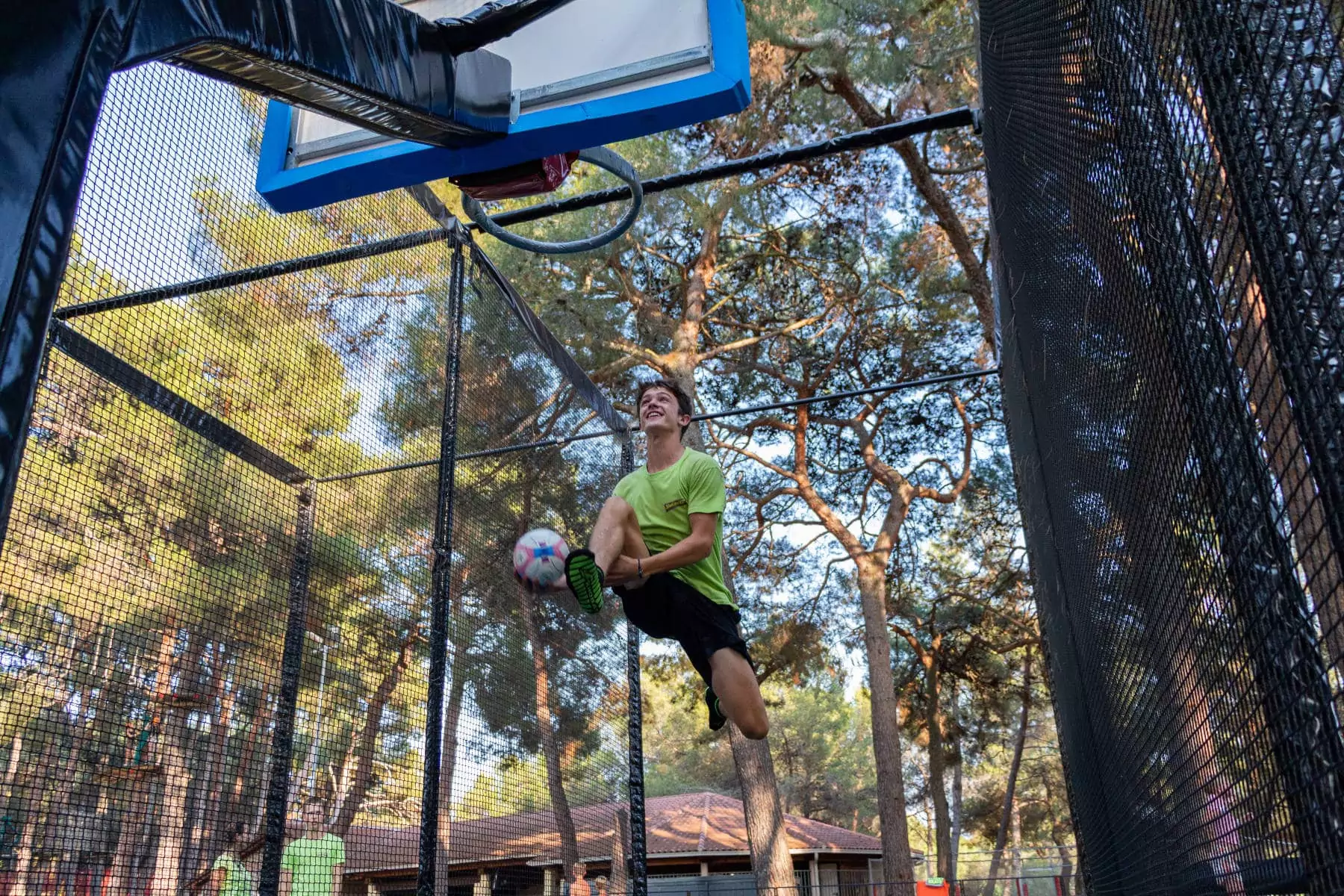 Within the Trampoline Park you will also find trampolines, rotating beams, and you can even play dodgeball and slamball!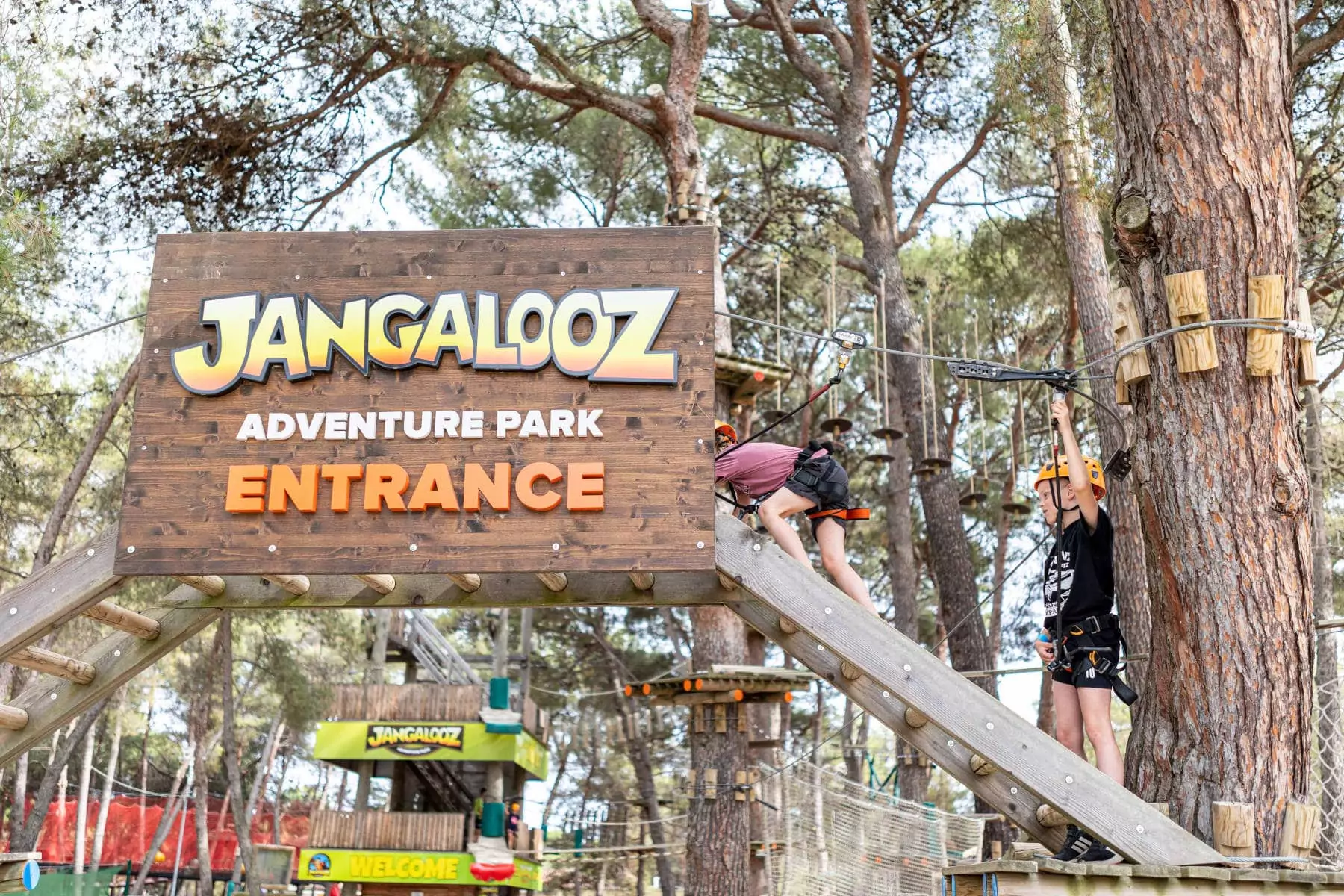 Pure adrenaline at the Jangalooz Adventure Park... freedom and adrenaline in safety at the BiVillage!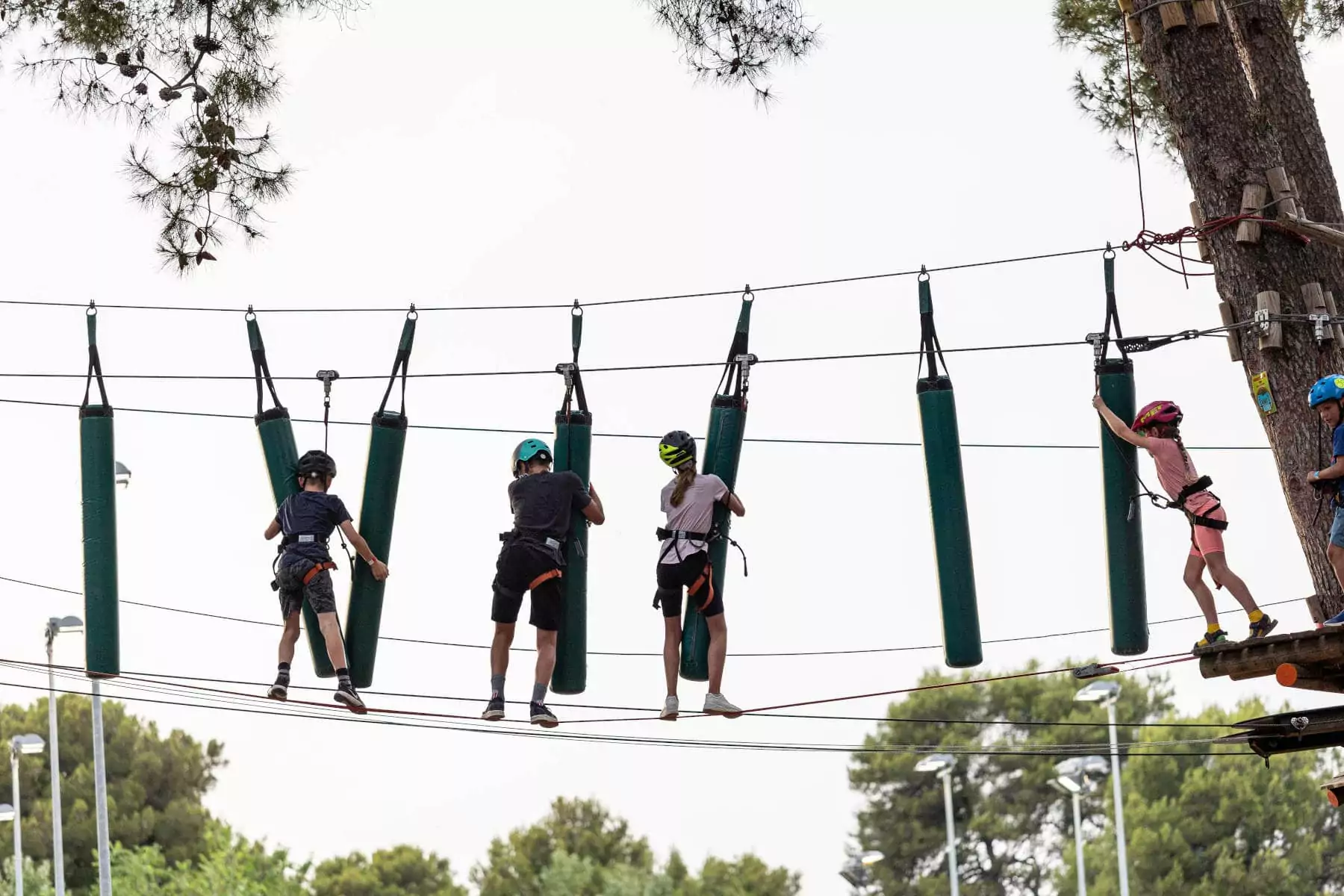 The Jangalooz adventure park is developed on five levels from 1.5m to 10m high. Our instructors are always there!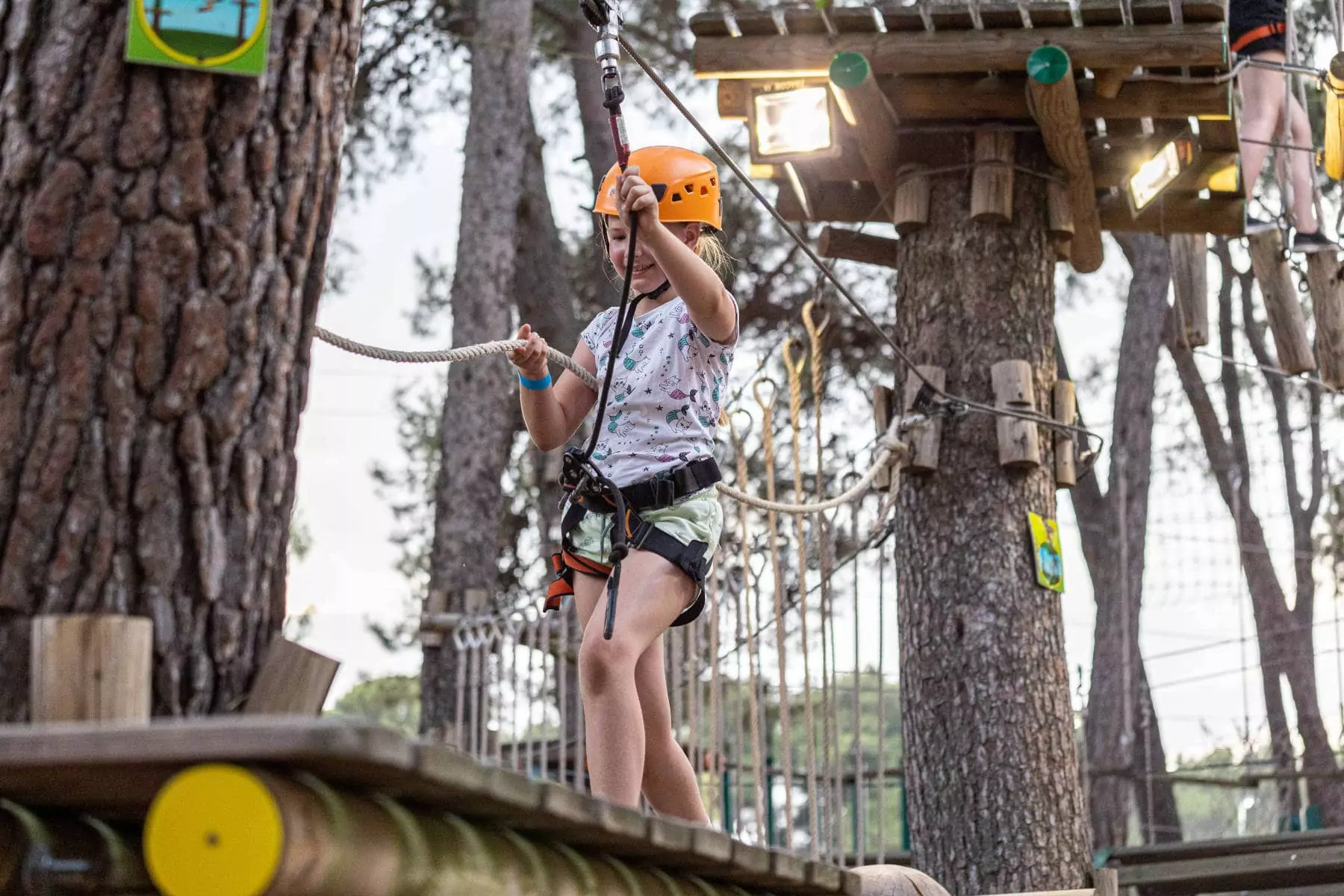 More than 400 metres of Janga zip through the trees of the Fažana pine forest.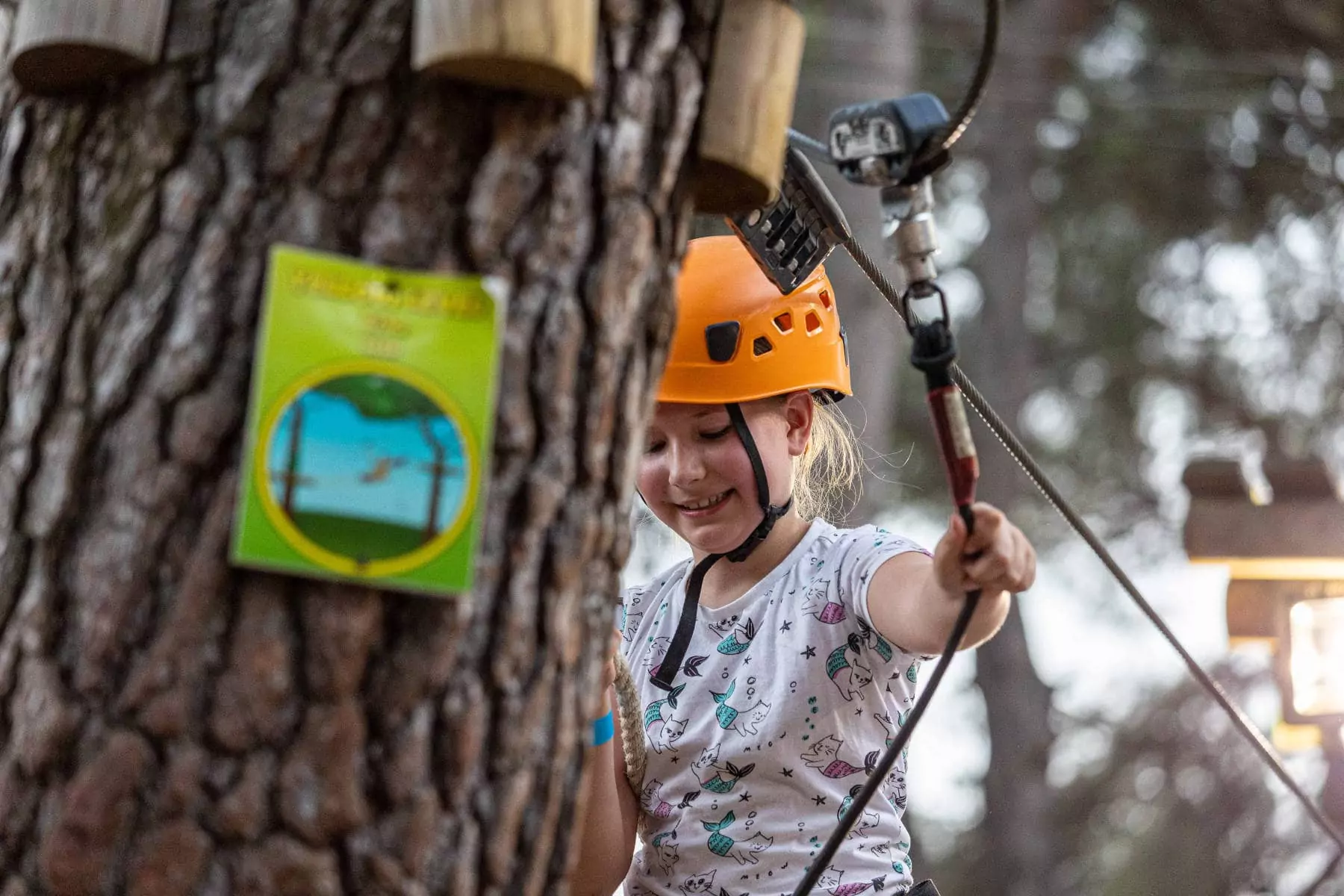 The park is suitable for children over the age of 3... a true oasis of fun for adults and children.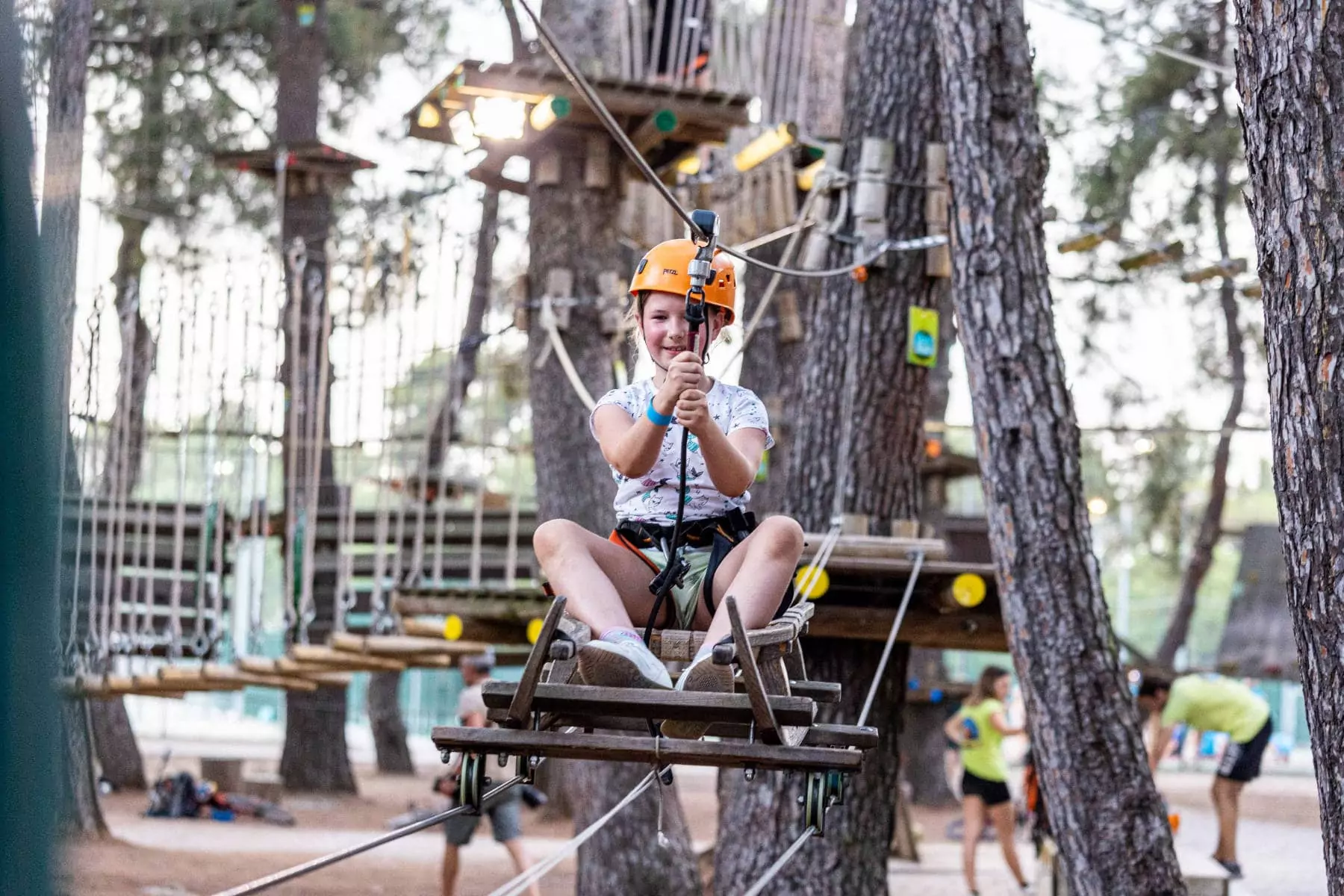 The Adventure Park is open daily from 9AM to 10PM... Have fun with your friends or the whole family!
Pet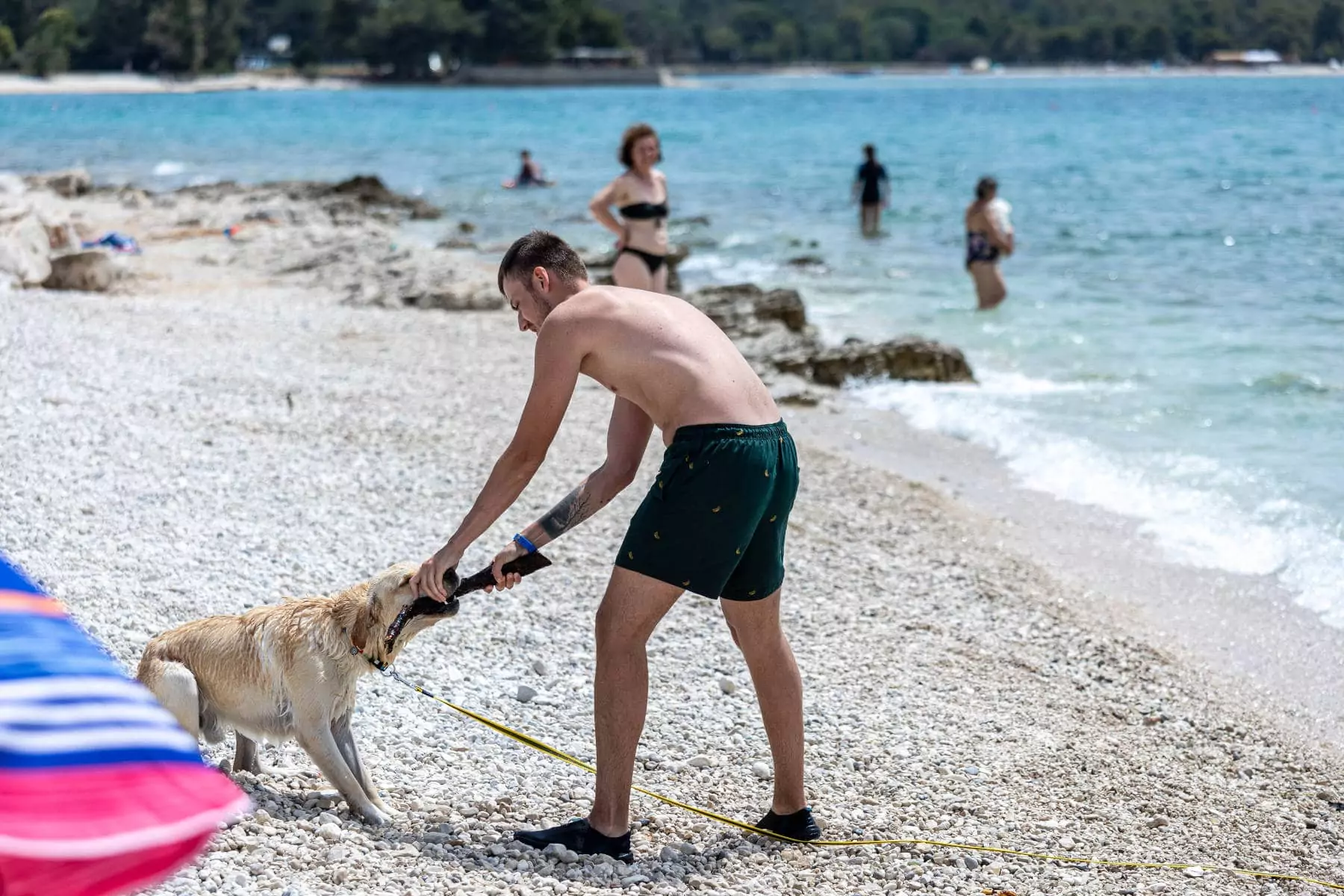 The BiVillage holiday centre with its dog-friendly beach is a dog-friendly village, the perfect place to relax with your four-legged friend.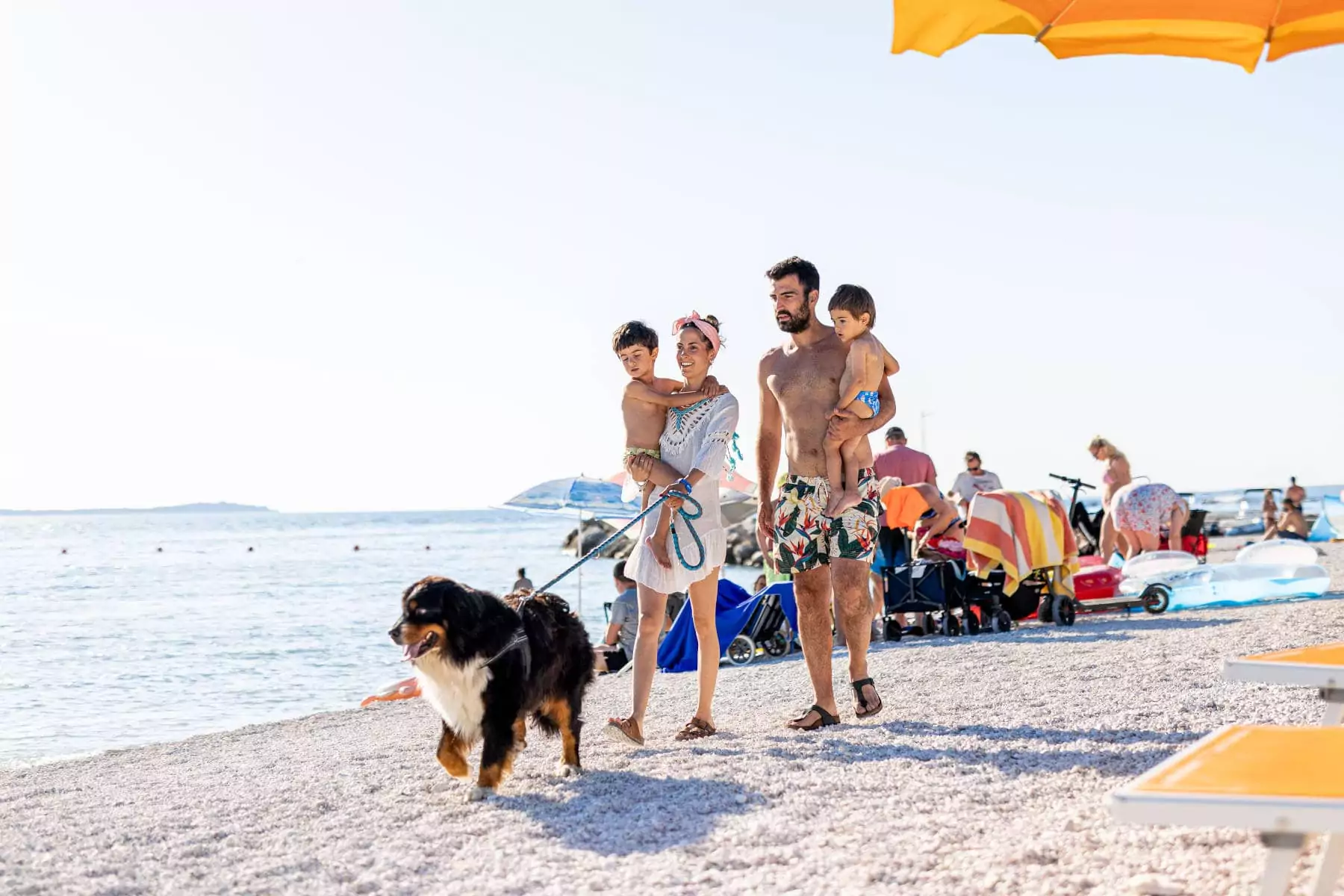 The Bi Dog Beach is located on the left-hand side of our village, easily accessible and free to access, with no restrictions on when one's pets can swim in the water.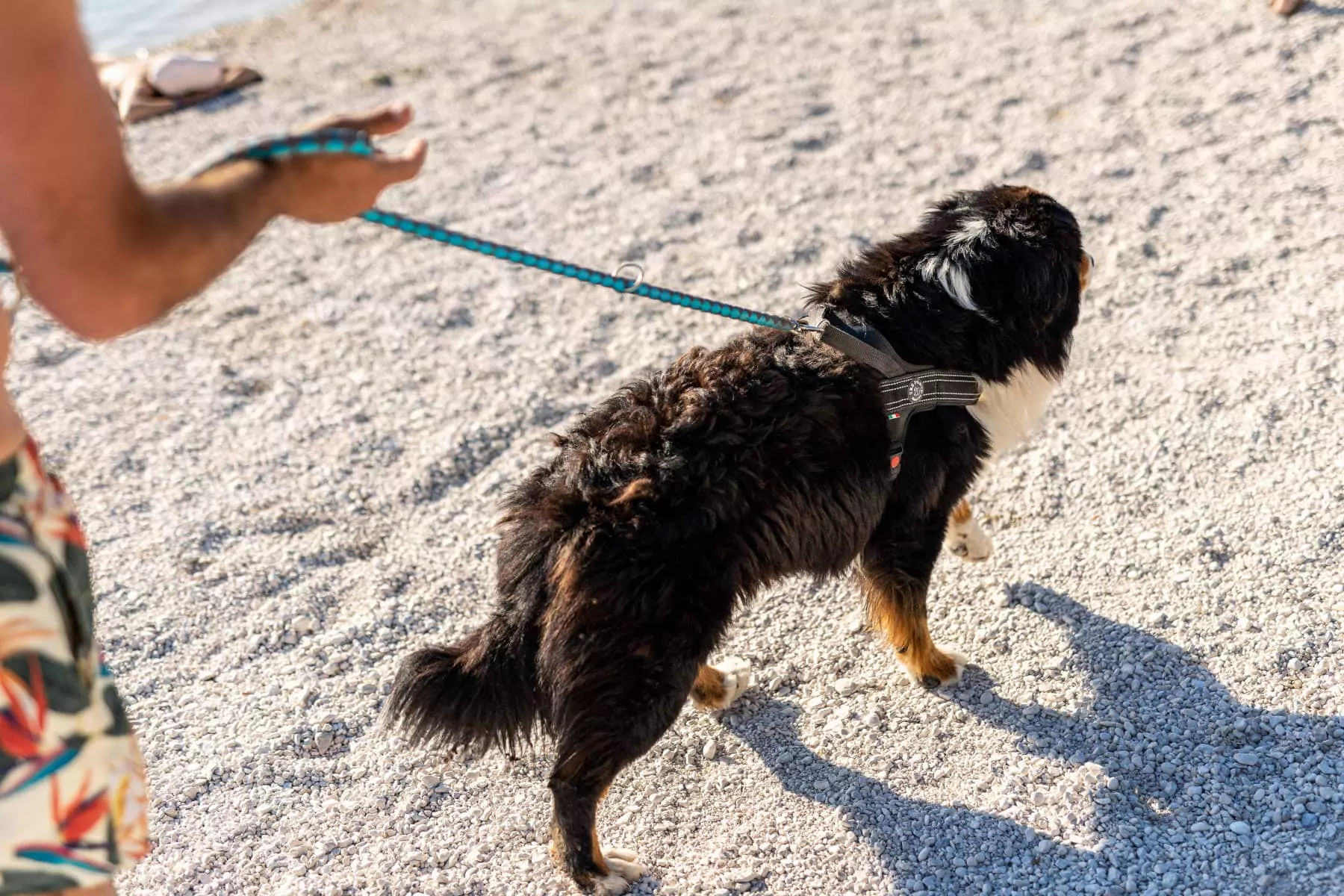 Take your four-legged friend with you on holiday! Accommodation and beach dedicated to your every need.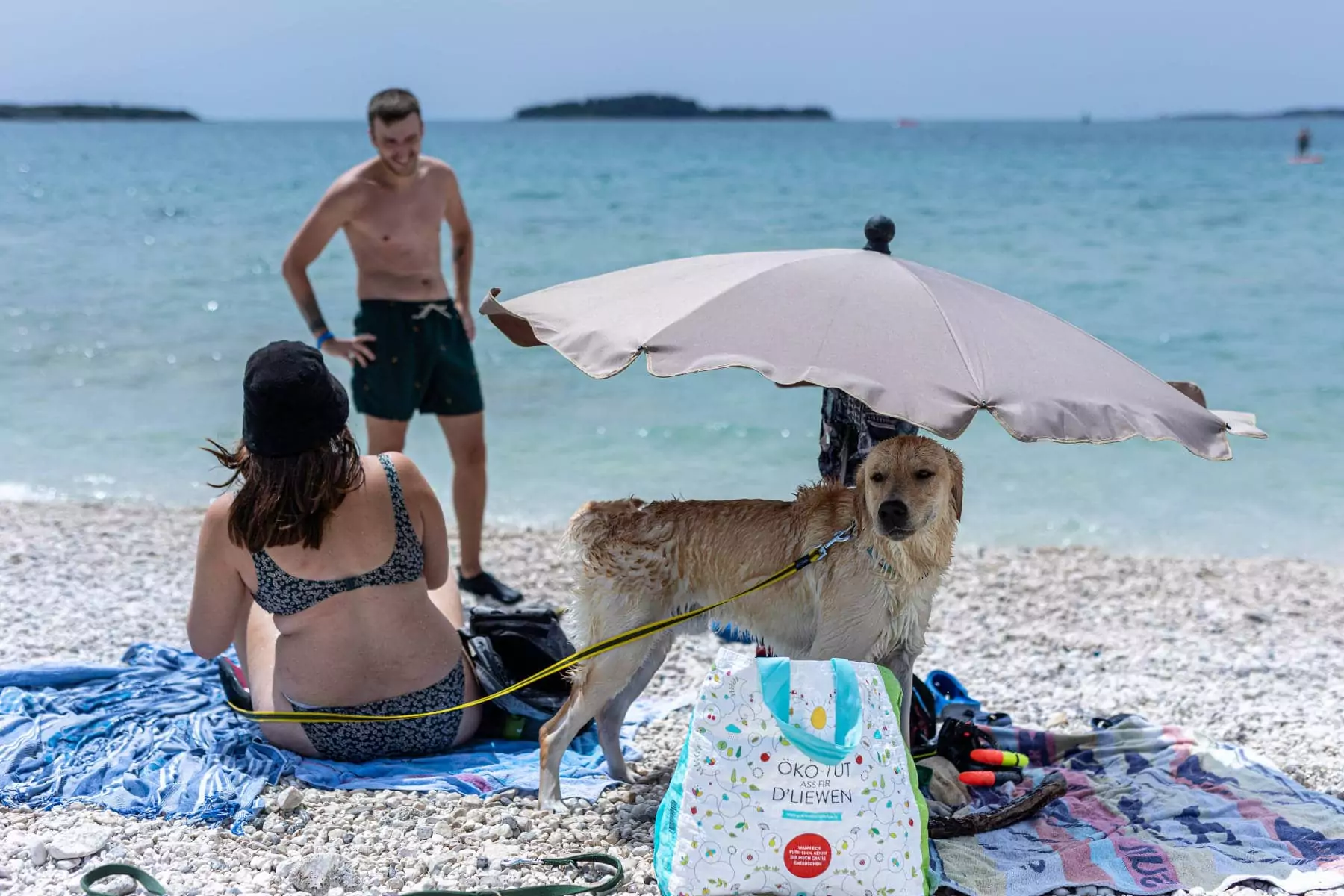 Our beach dedicated to you and your puppy allows you to fully enjoy the sea in his company.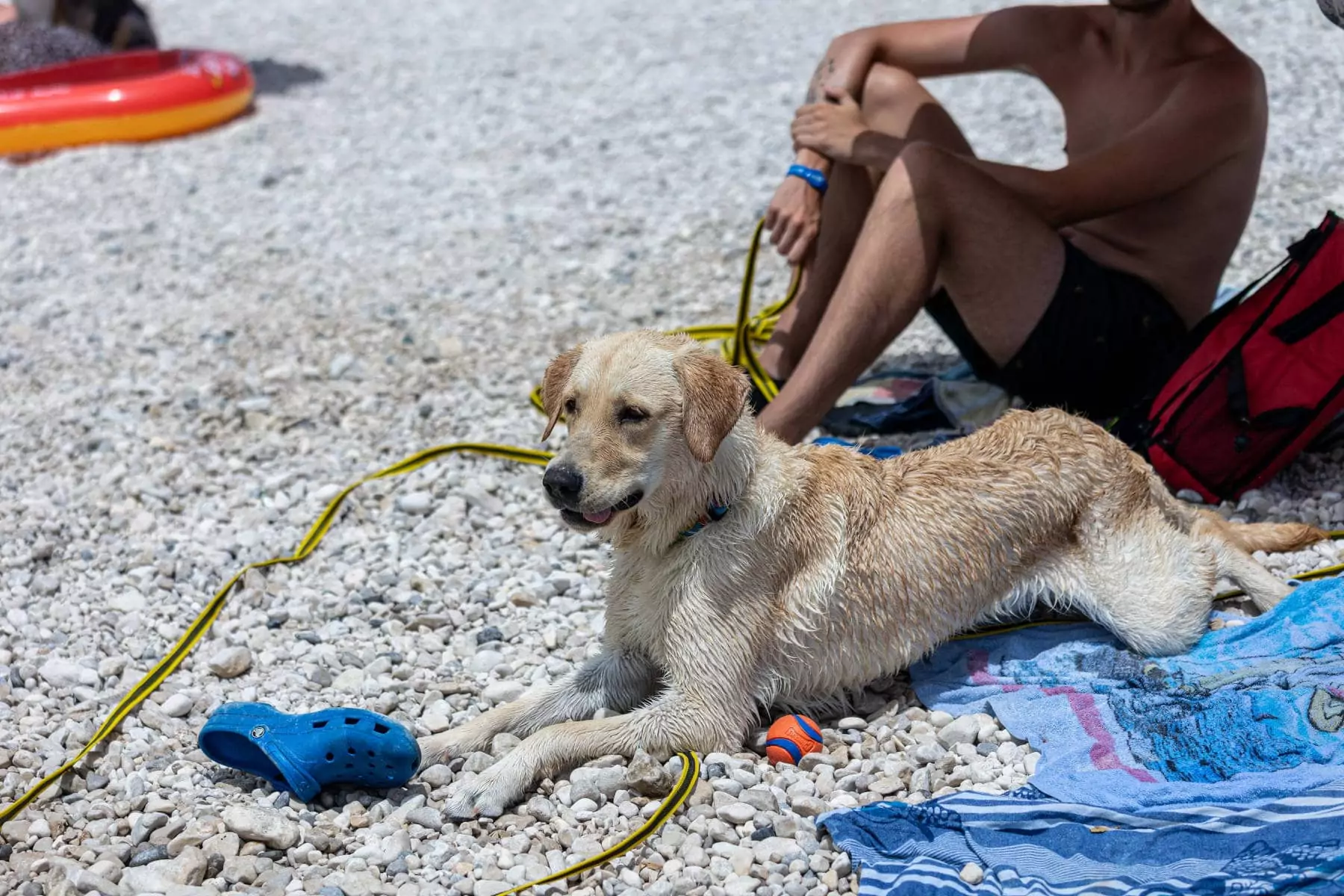 At the Bidog beach, you can relax beside him in peace and quiet in an area exclusively dedicated to animal lovers.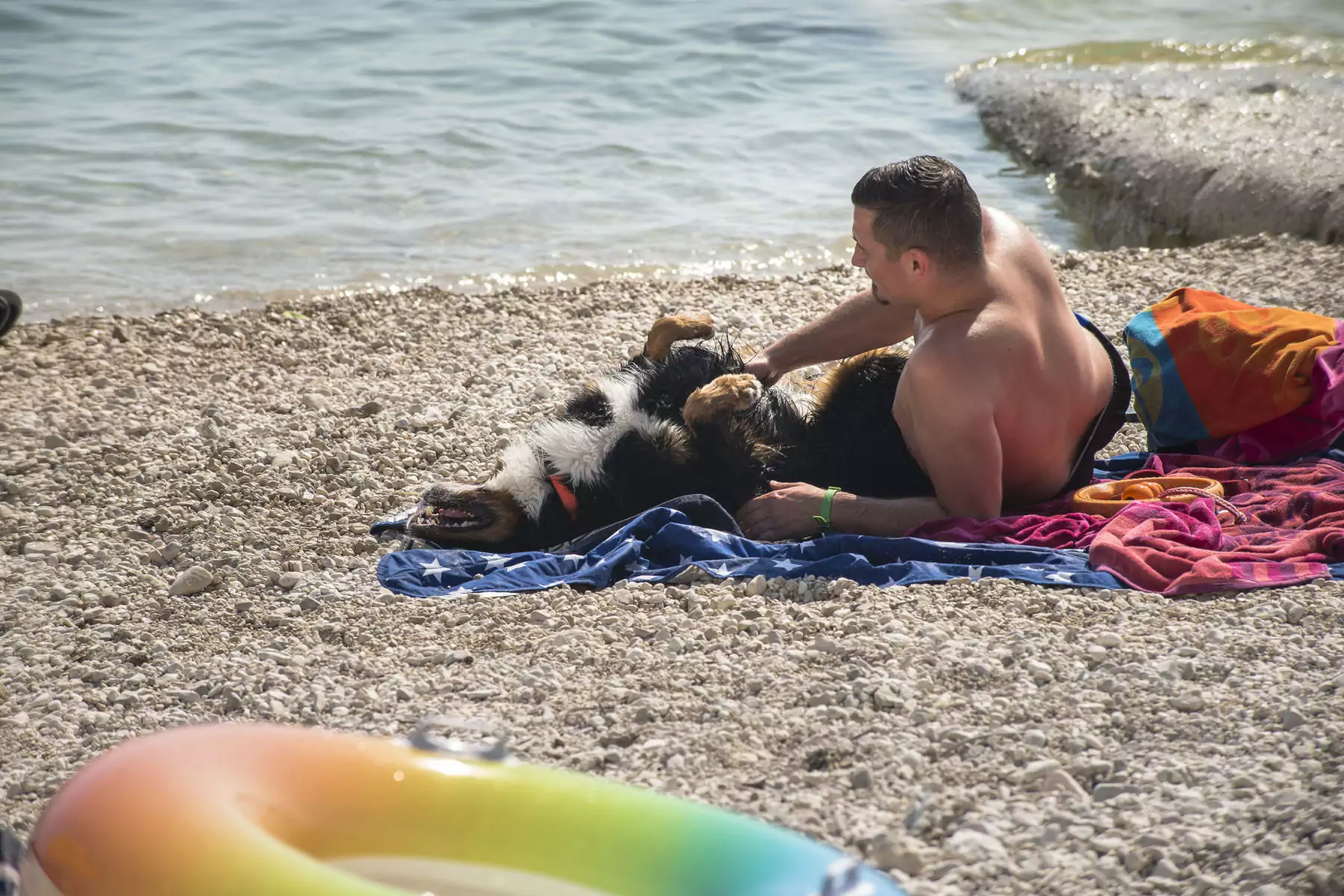 The BiDog Beach is a free-access beach... bring a parasol if you are looking for some shade especially for your furry friend!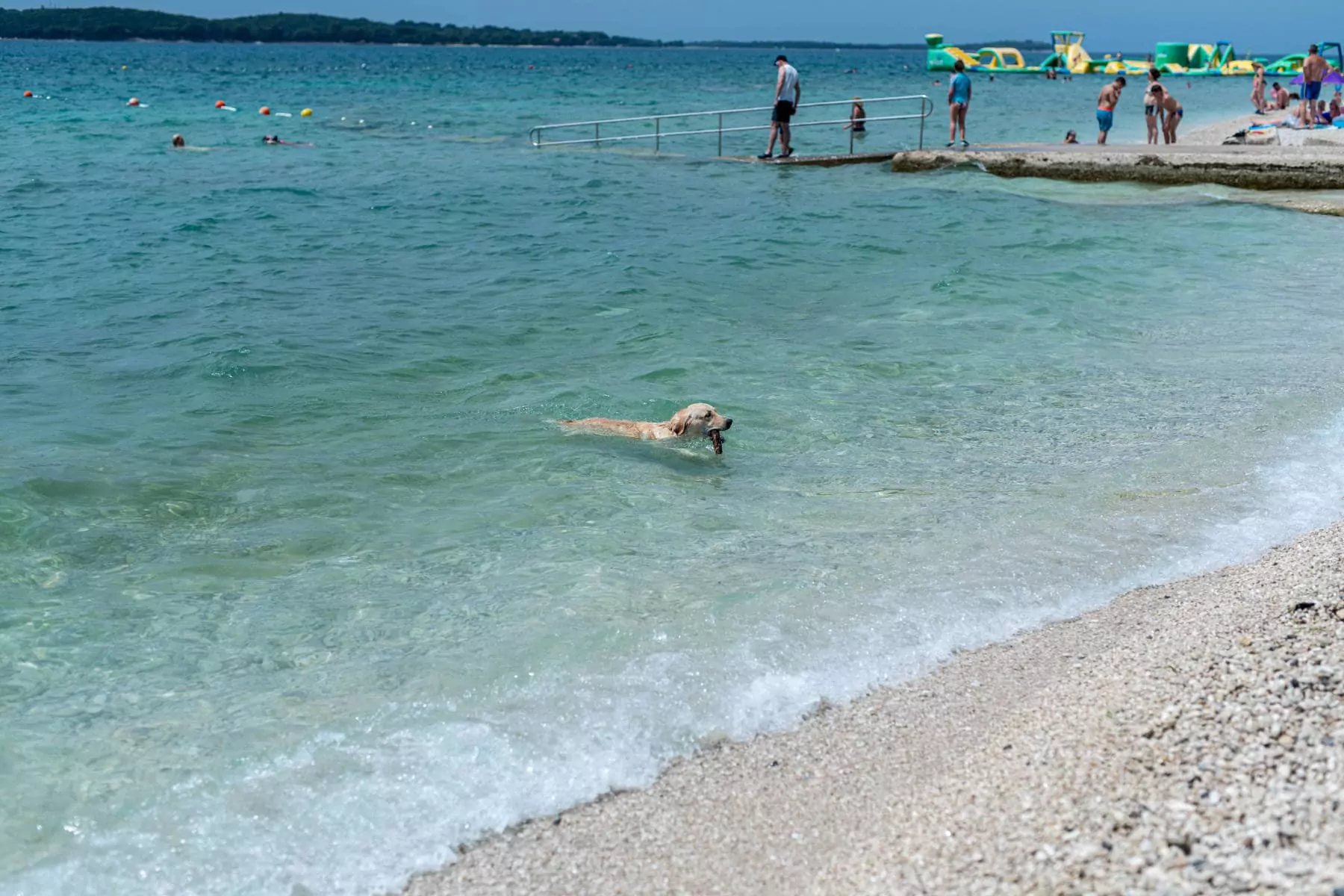 The sea water is also a paradise for our furry friends!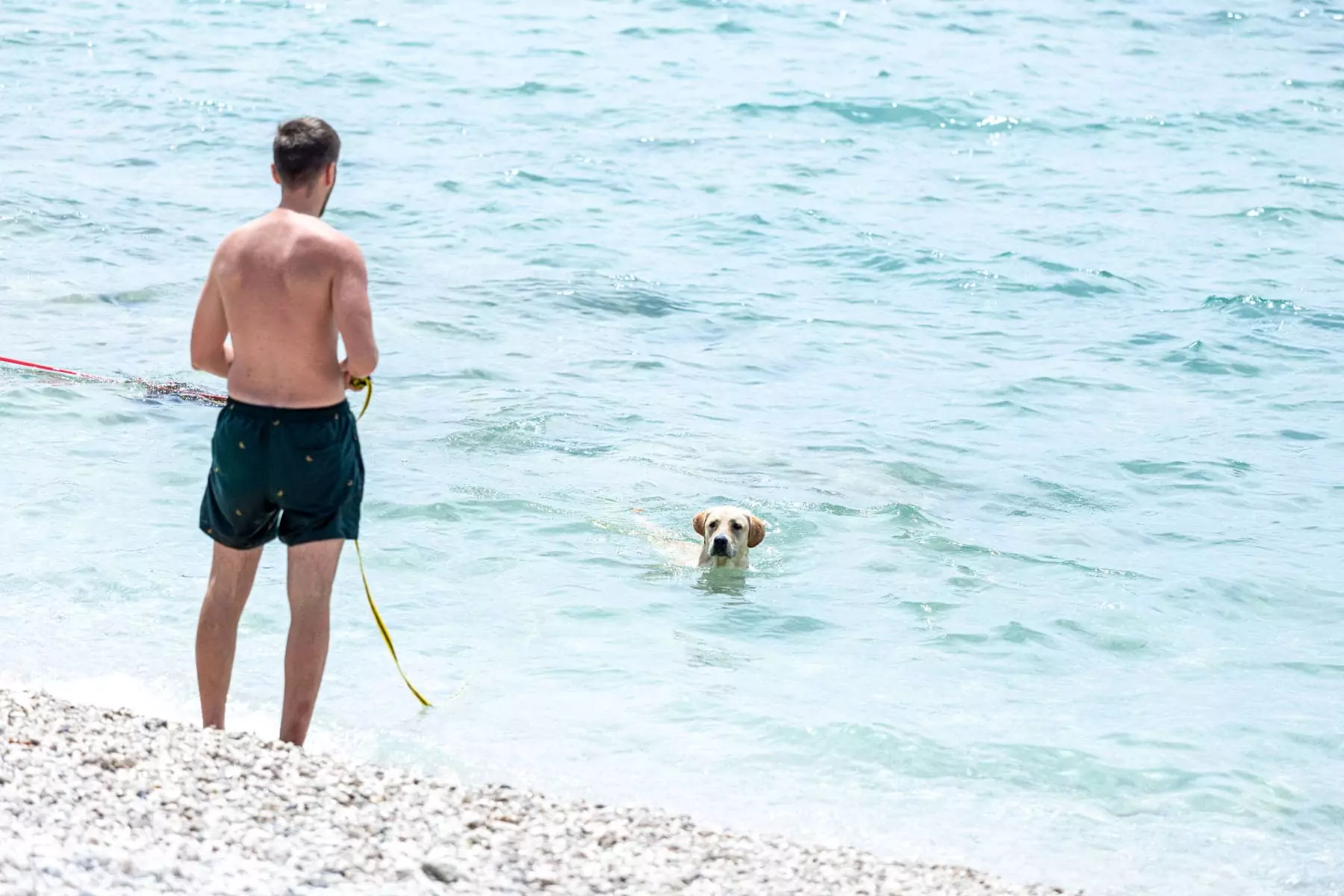 At the BiVillage you can find a beach dedicated to your four-legged friends, totally designed for them and their needs.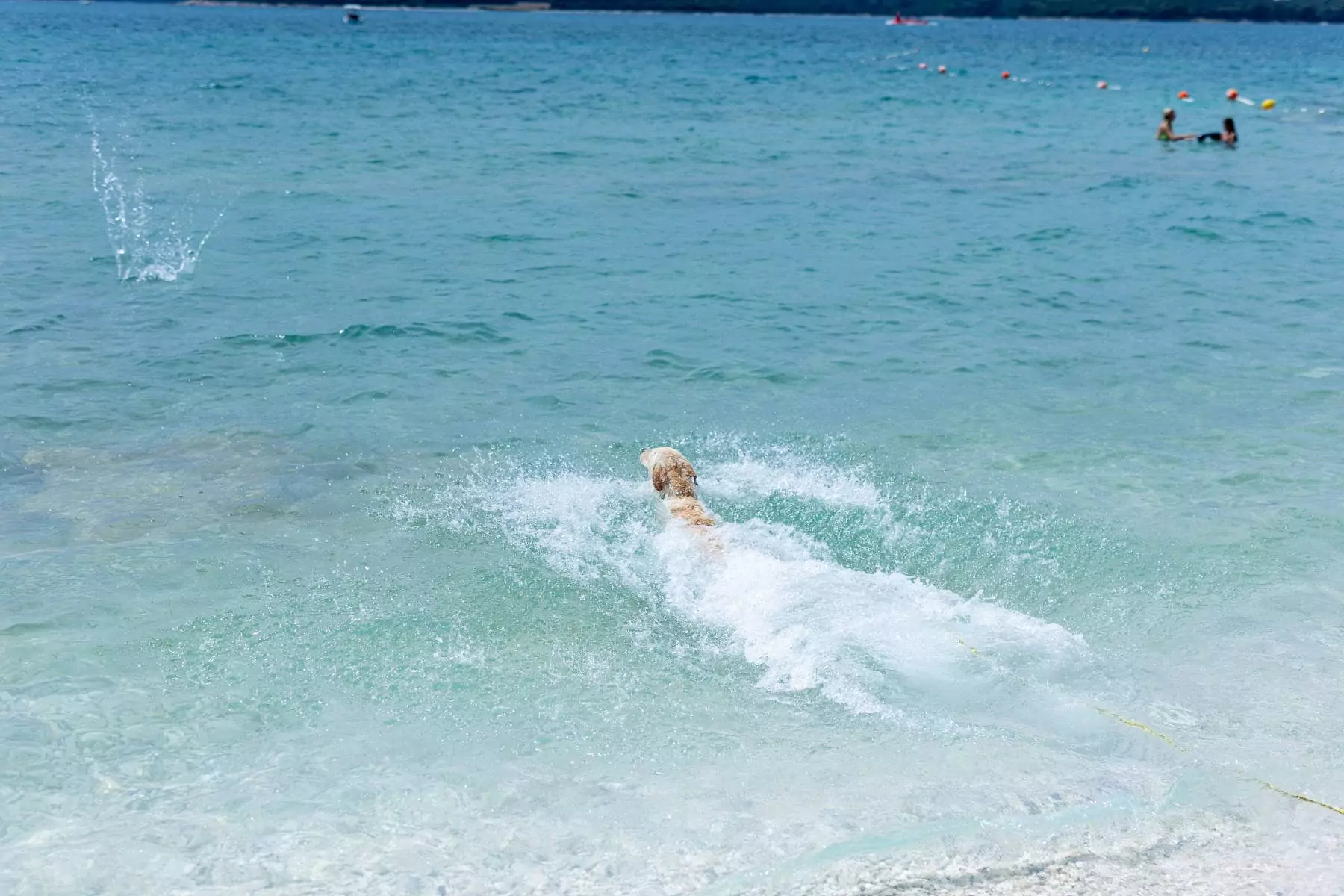 Dive into the blue water of the Istrian sea with your dog... it will surely be one of the highlights of your holiday!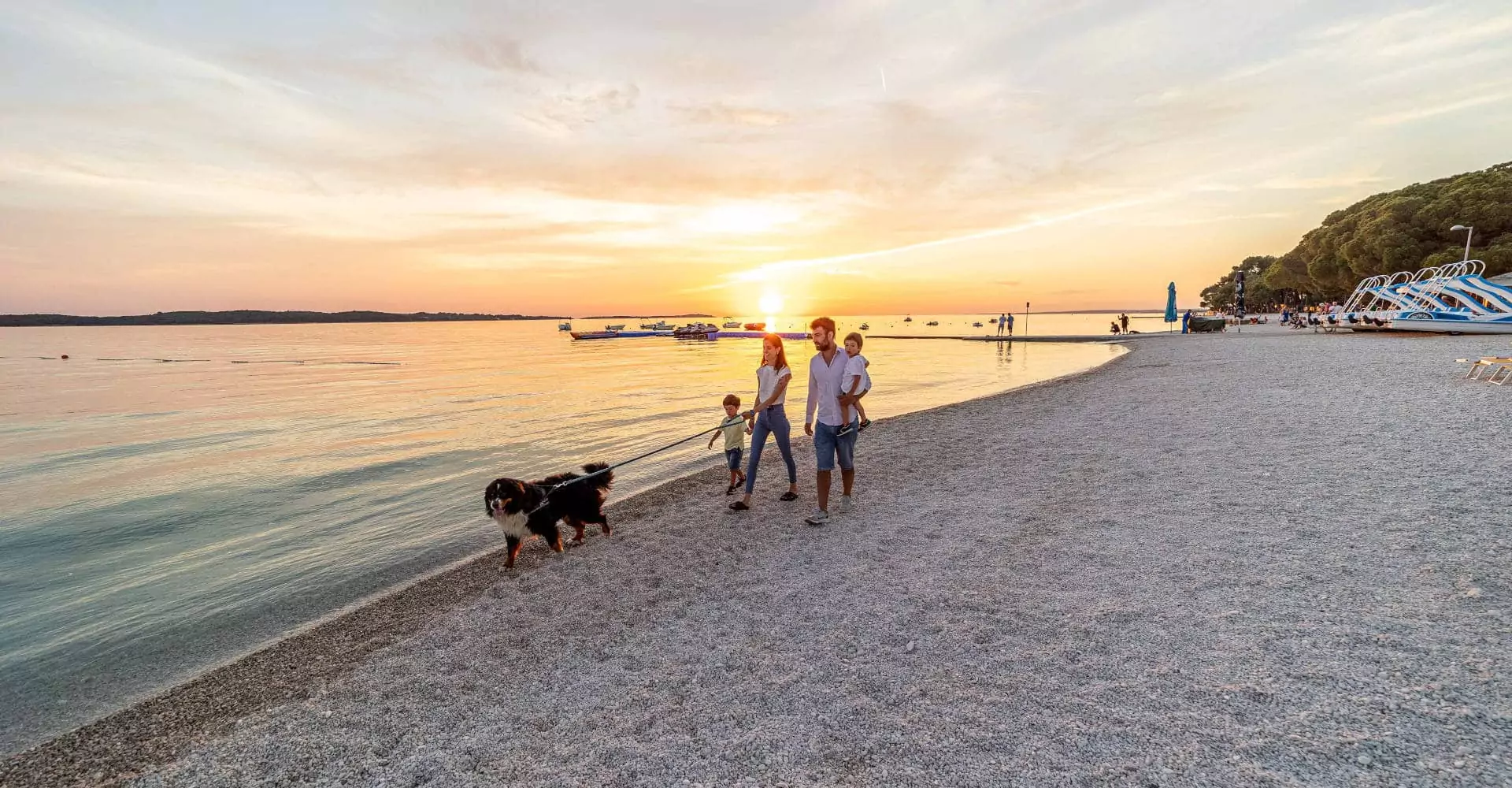 A family holiday also includes your four-legged friend. Dogs are welcome at the BiVillage with a beach dedicated to them!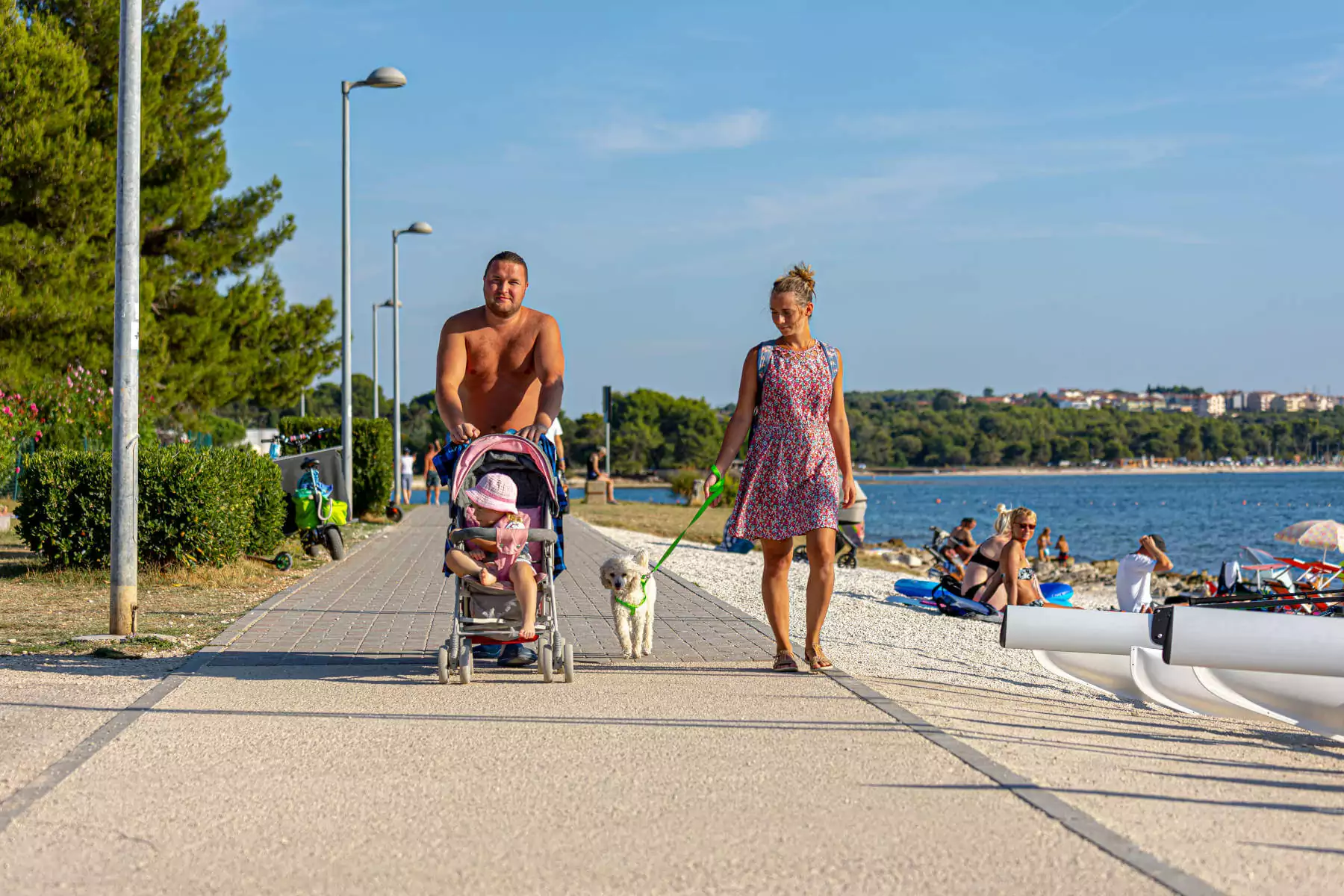 A panorama promenade to stroll along with your whole family! On one side the green pine forest and on the other our blue sea.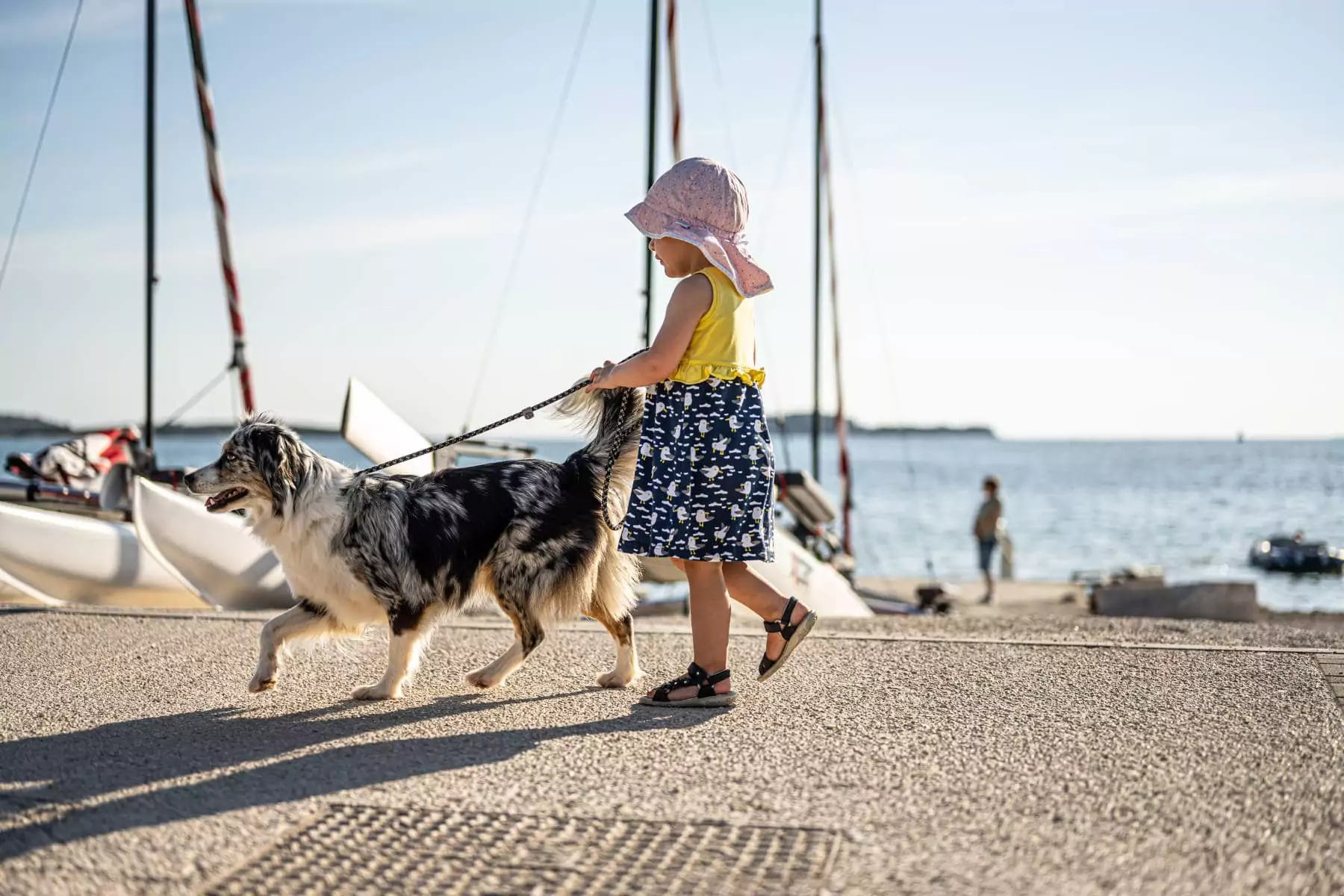 A perfect match... at the BiVillage there are plenty of services for both children and animals!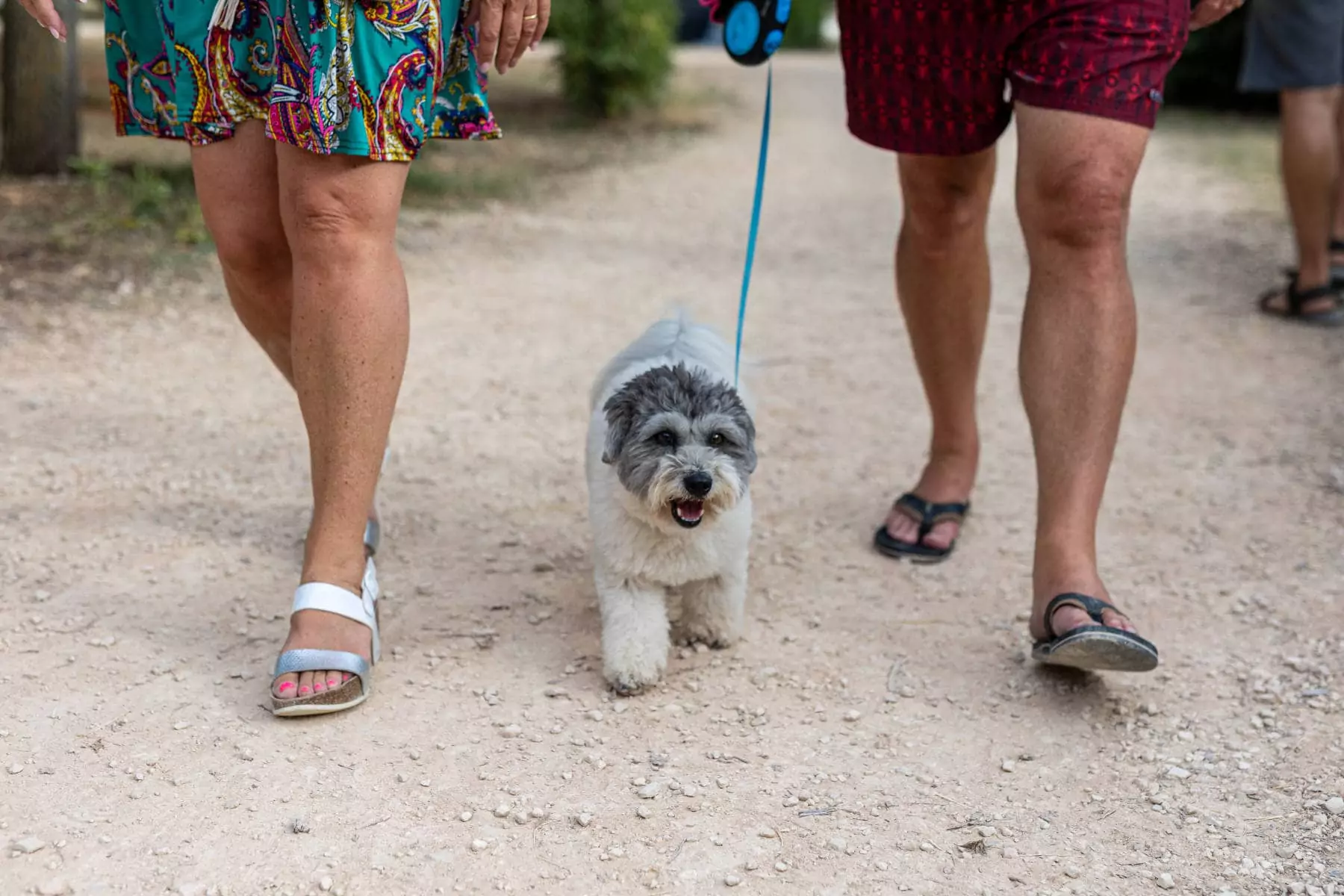 If you are looking for a pet-friendly holiday in Fažana, you have come to the right place! Your four-legged friends are always welcome!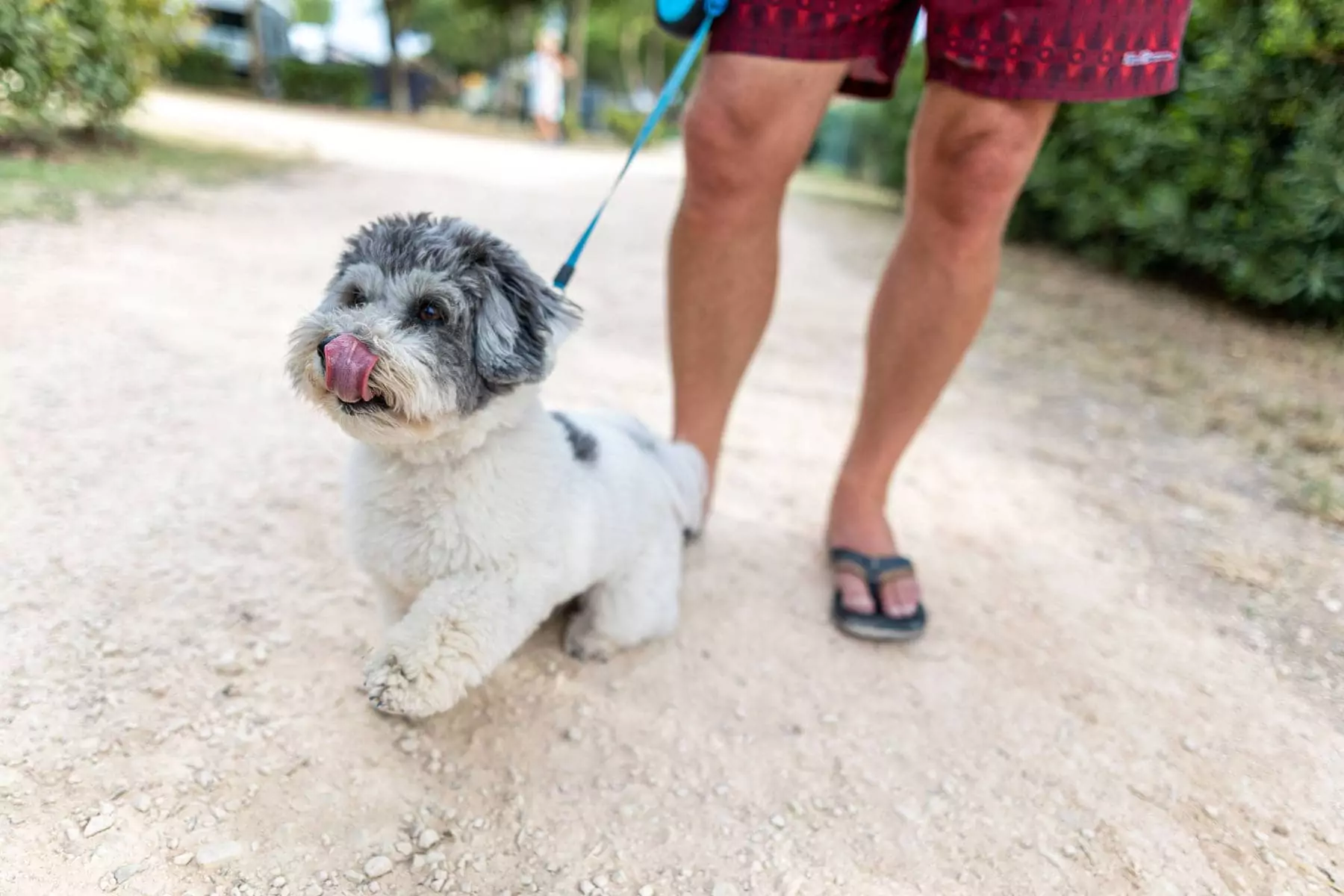 Every dog is the responsibility of its owner at the BiVillage!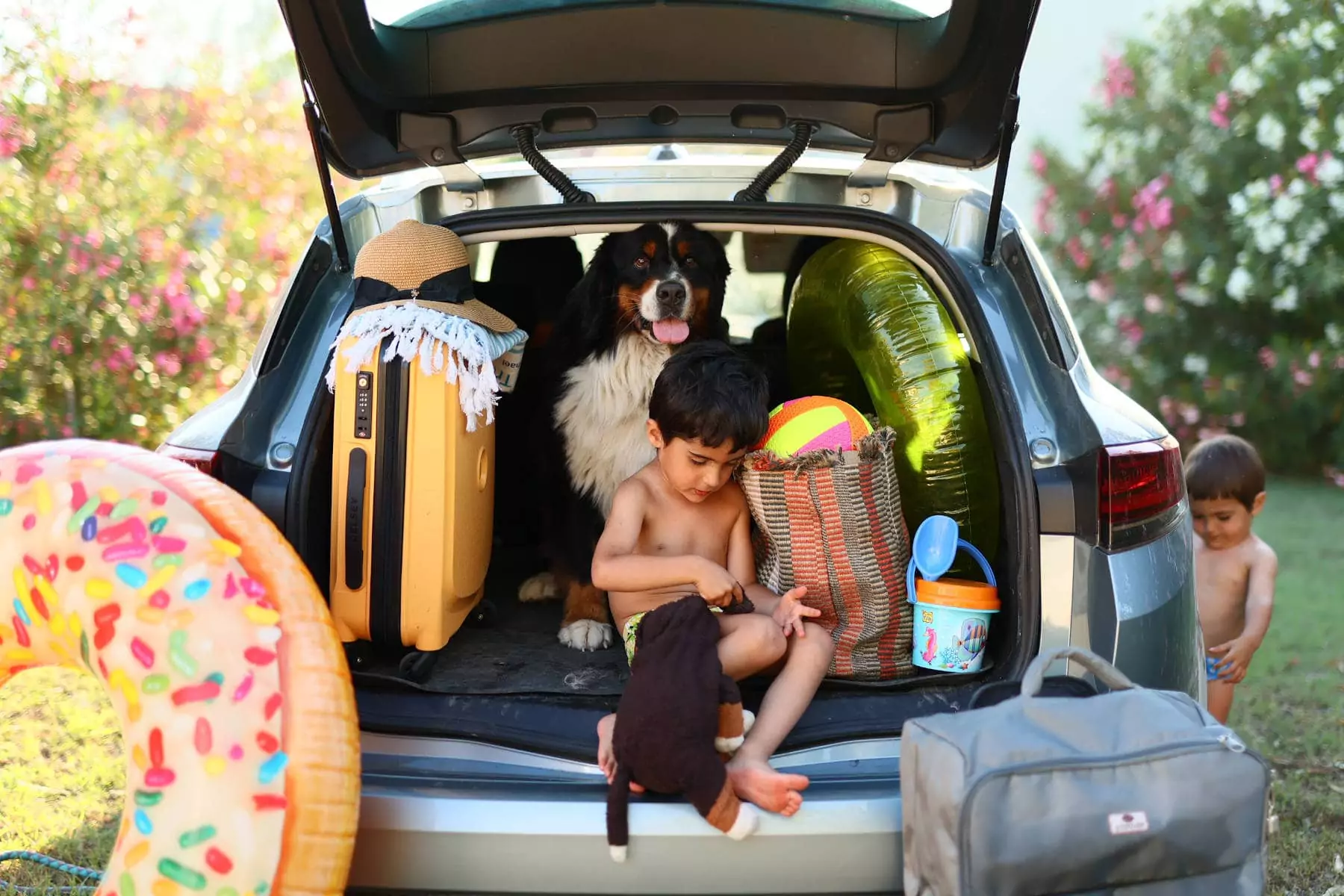 Your child will have a lot of fun while on holiday at the BiVillage. Our BiHoliday animation team has in store plenty of activities.
Pools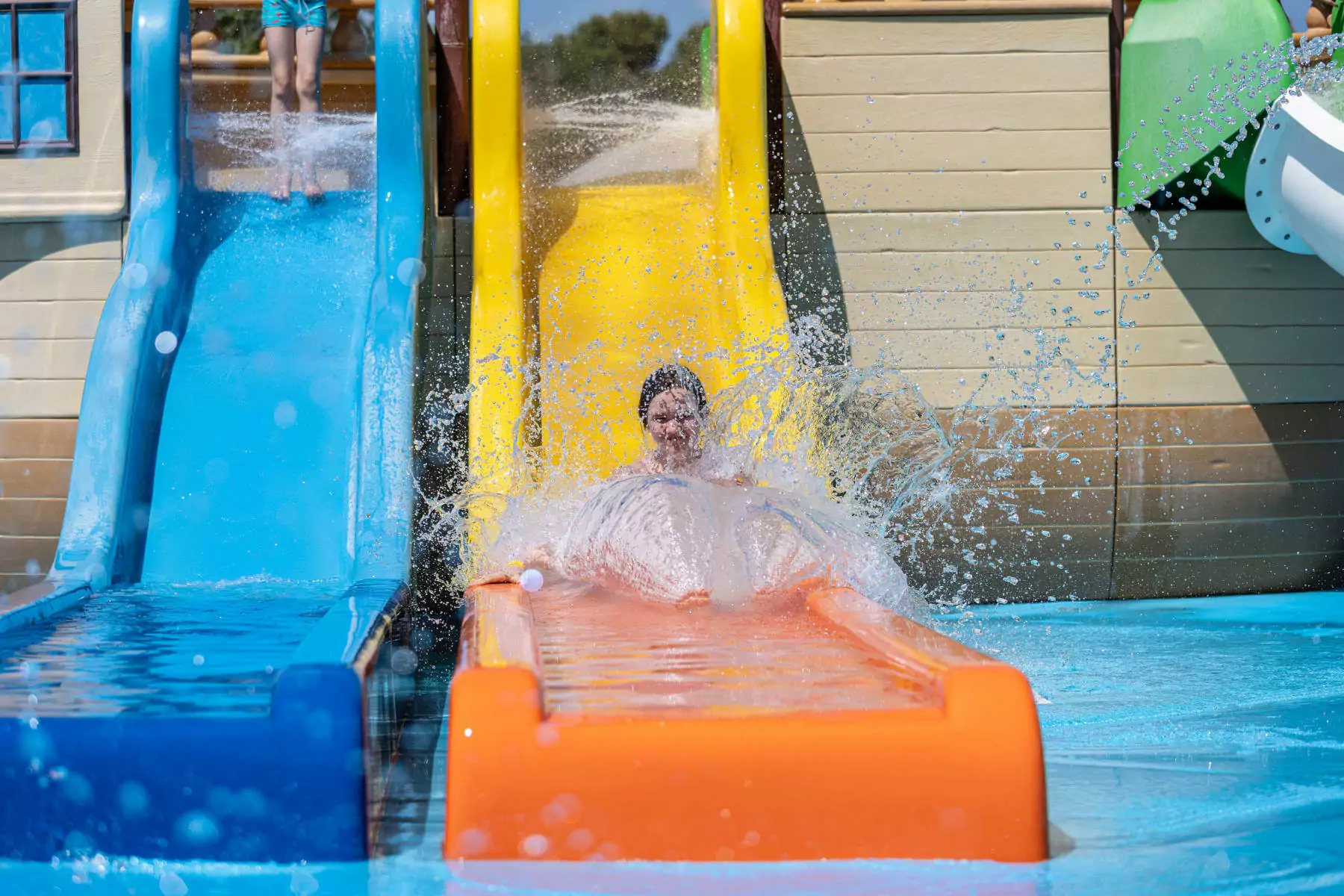 Swimming pools, slides and water games for adults and children! Free entry to our Garden Pool.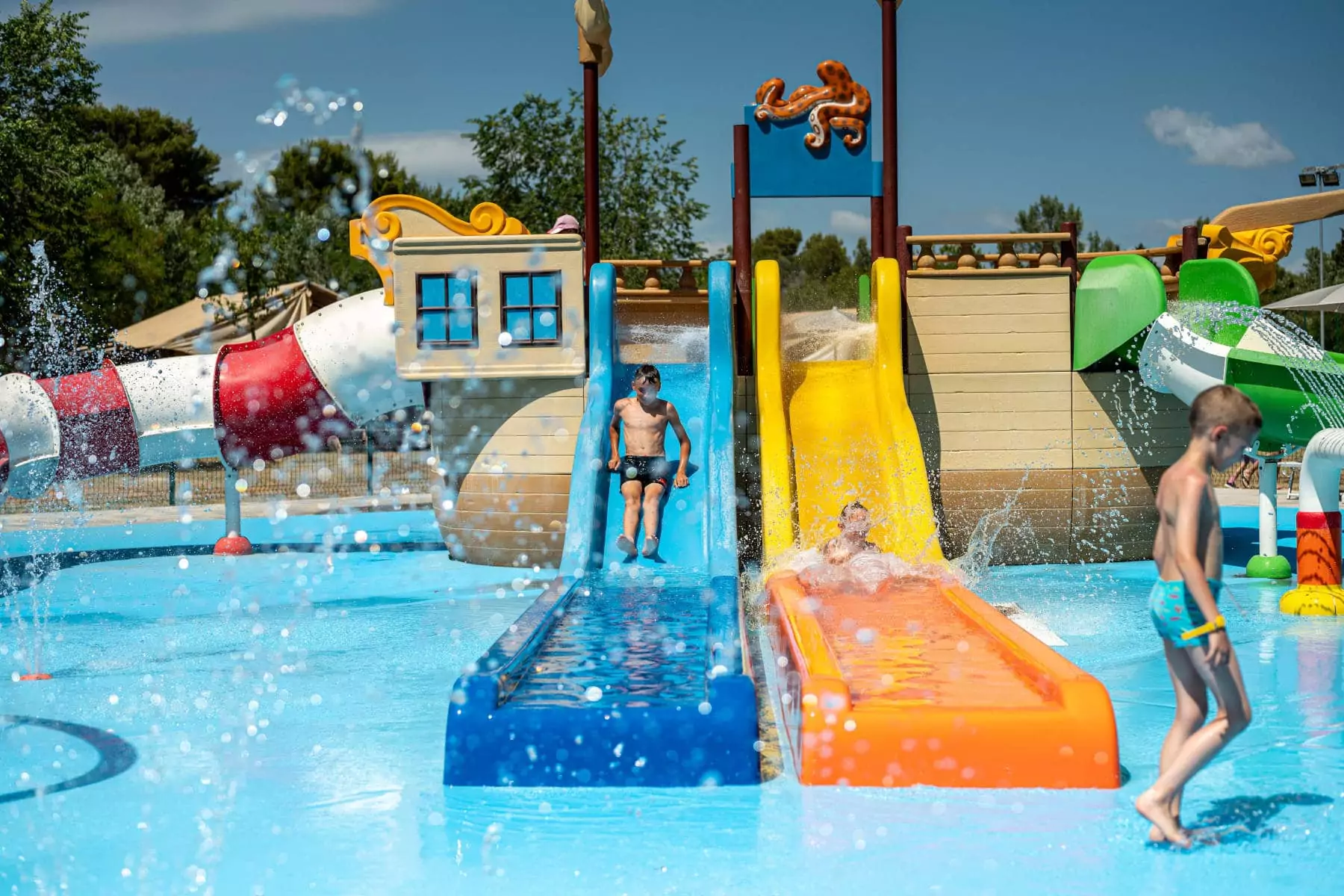 3 swimming pools, 2 slides, hydro massage, games for children, gym and a disco pub. Everything you need to spend your summer holiday in Croatia.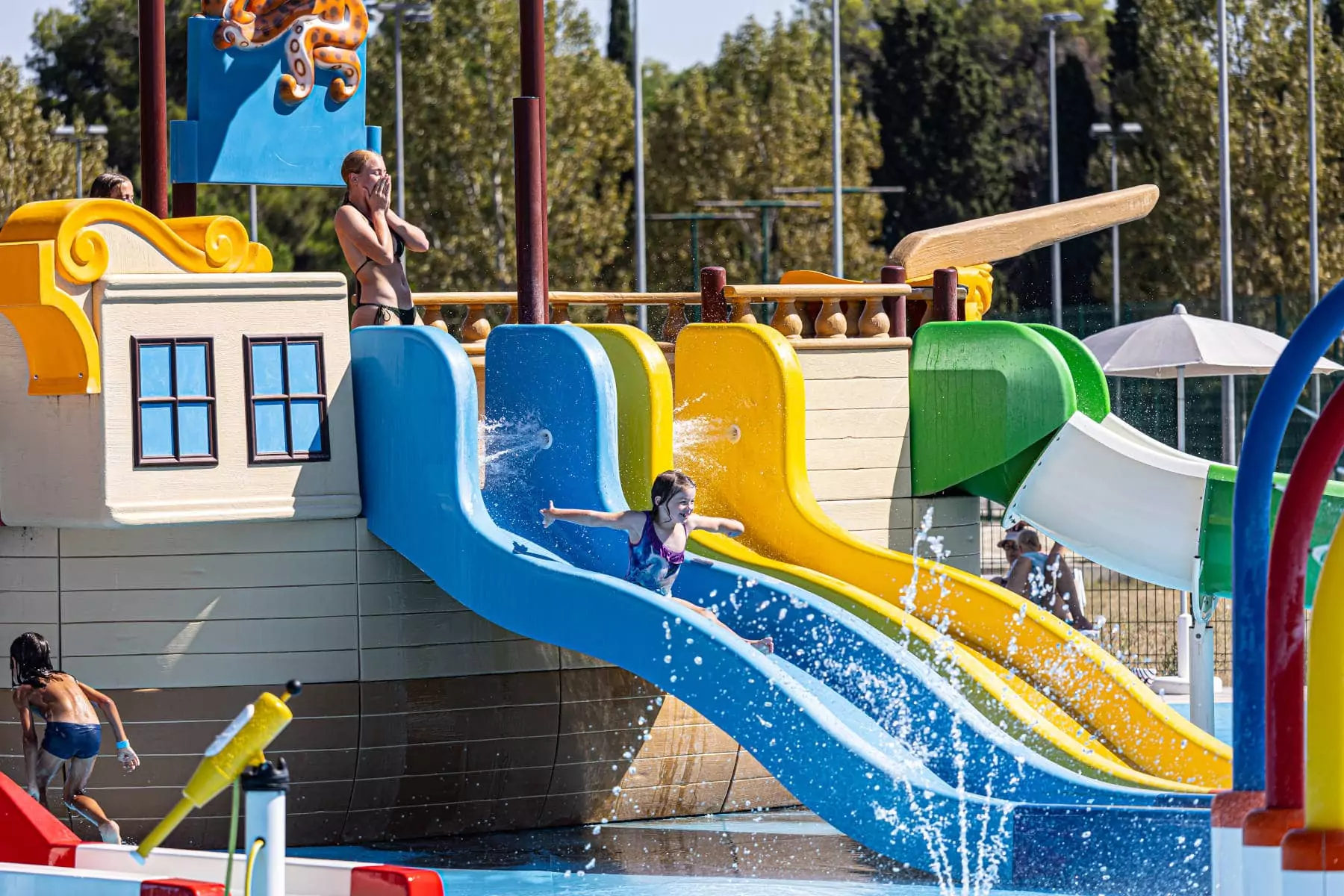 In the Garden Pool of the BiVillage, you will also find the fun Spray Park!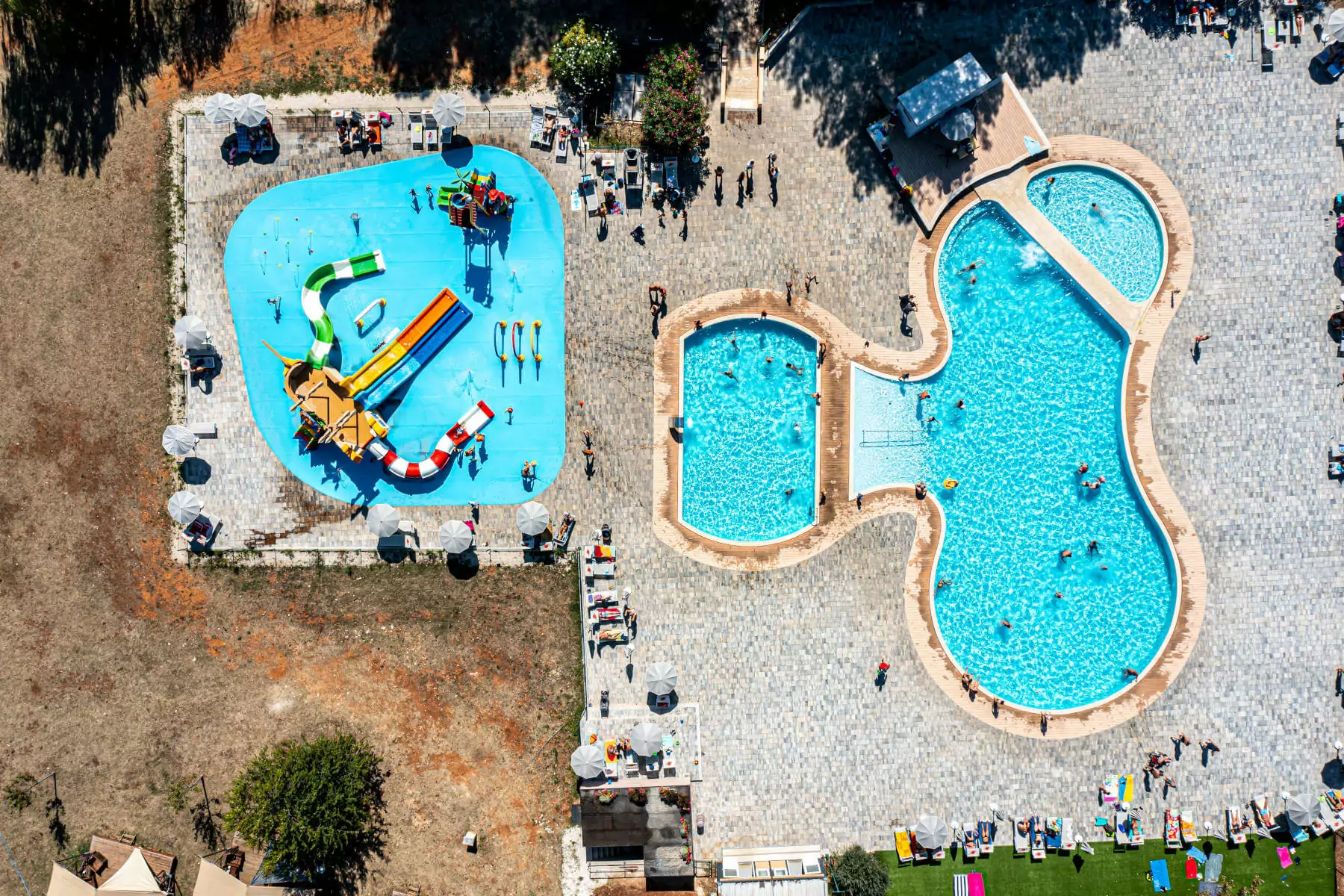 Swimming pools are open daily from 9.30 AM to 1 PM and from 3 PM to 7 PM.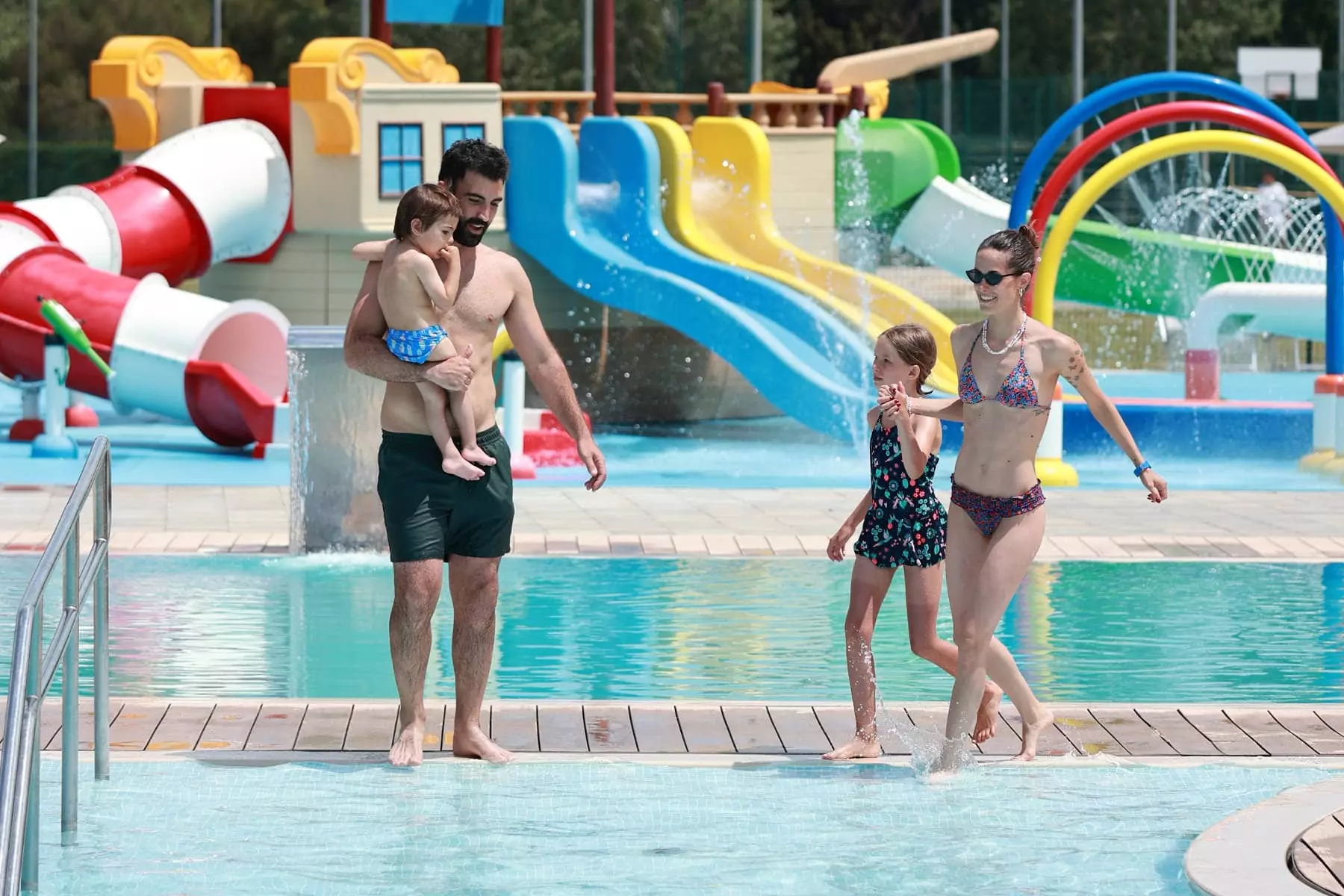 Residence, Garden or Fun Pool? Which pool is most suitable for you?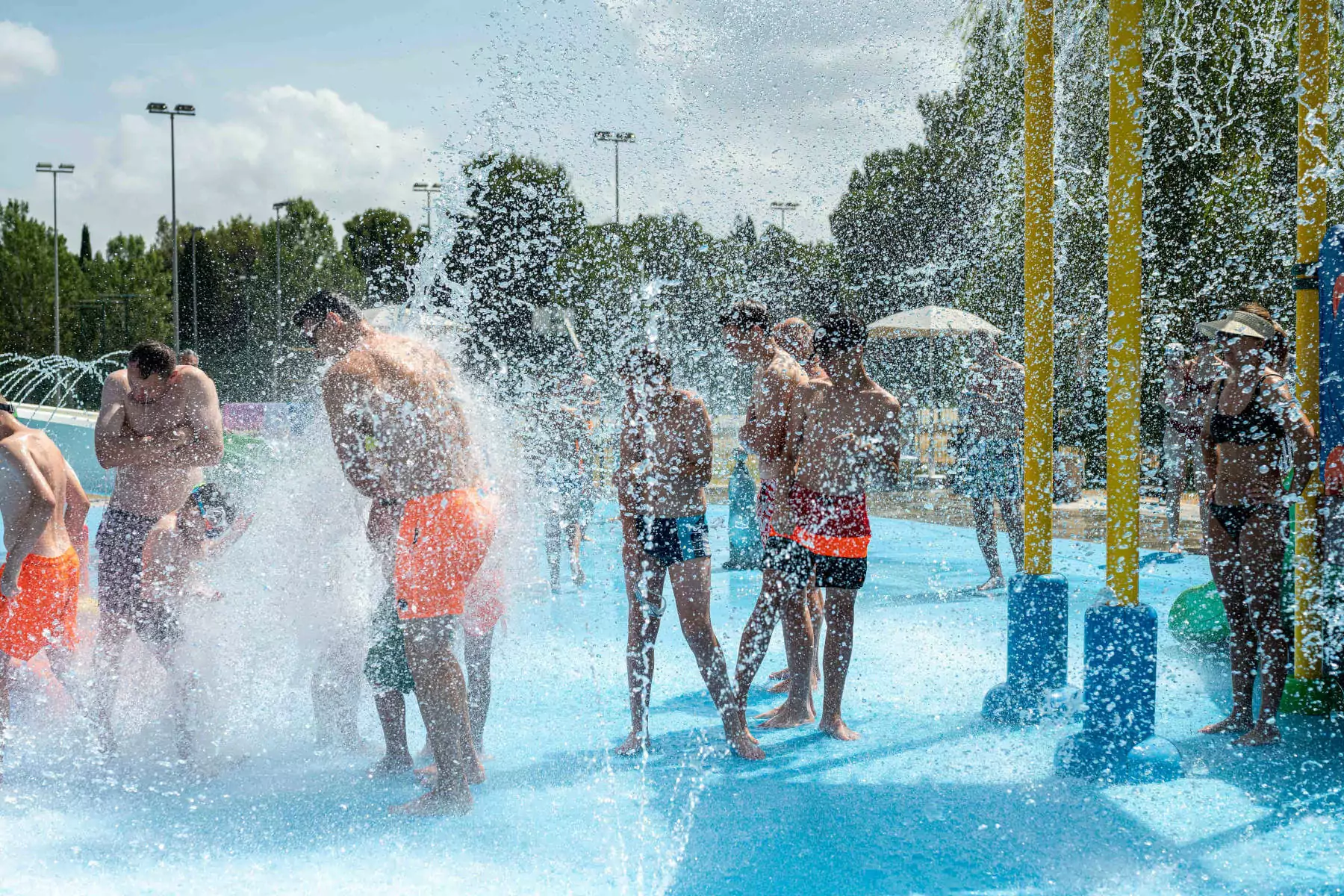 Our Garden Pool has a pool and a fun area with splashing and water games, the Spray Park.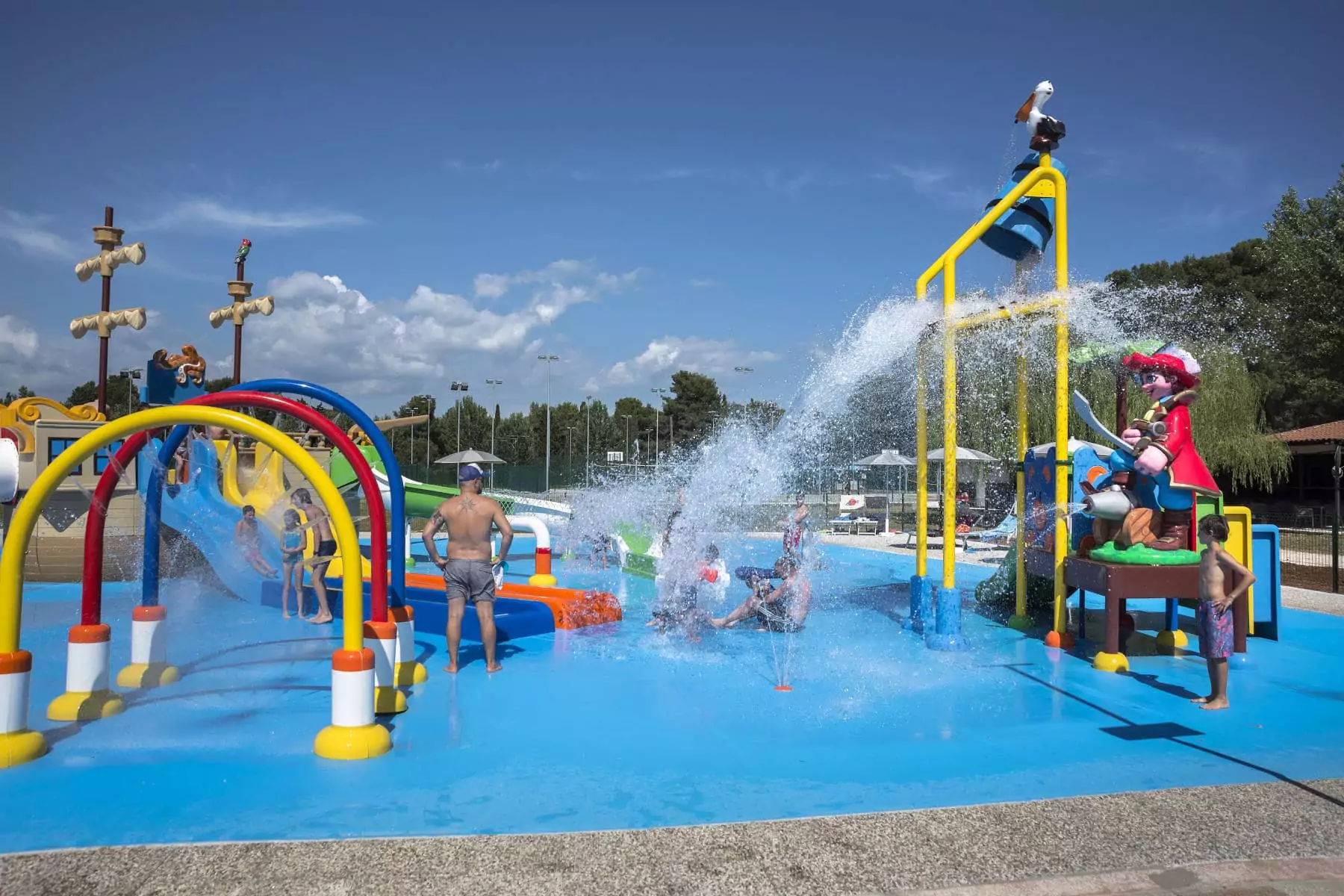 Garden Pool: a space to relax, sunbathe and play with children.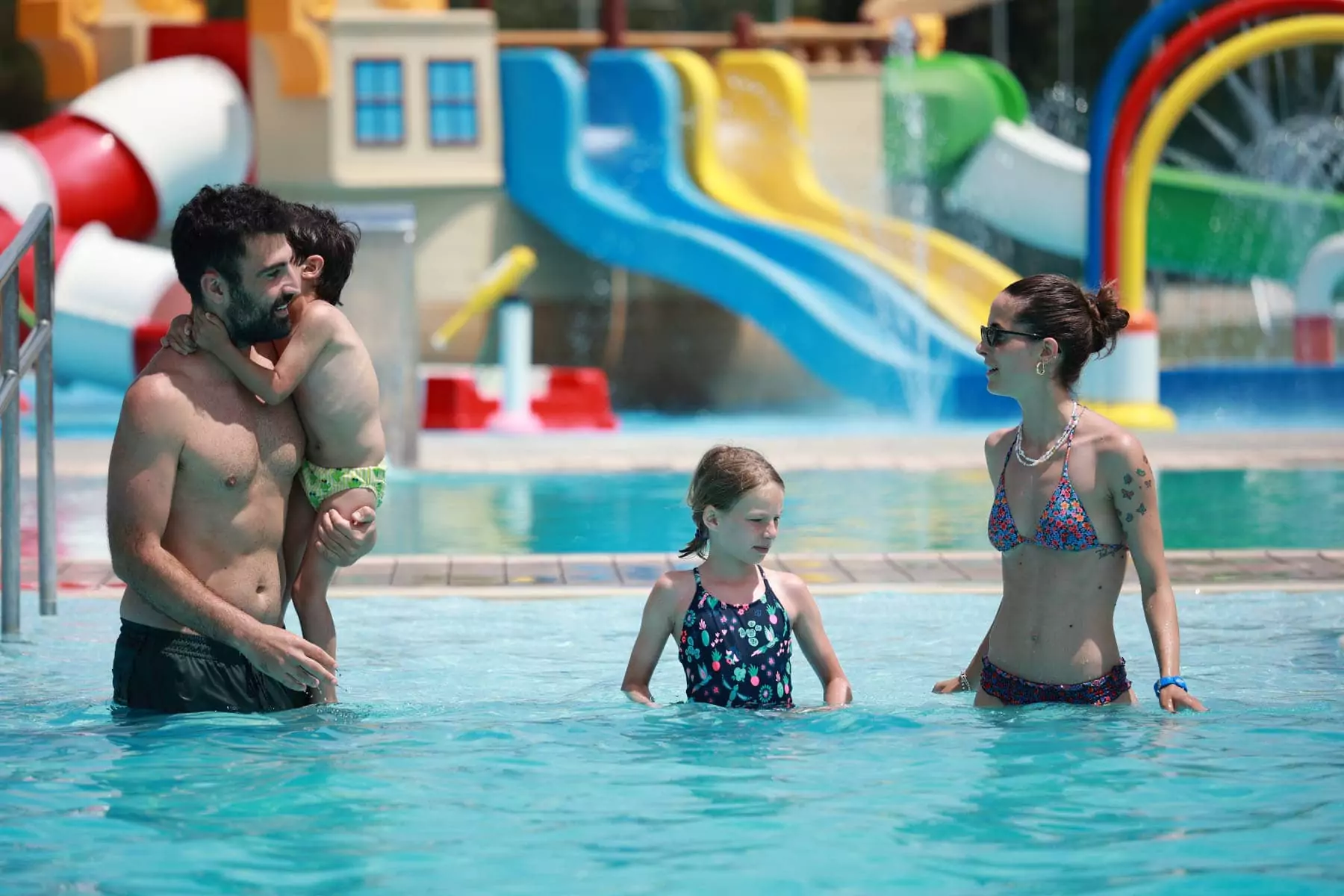 The swimming pool has always been a space that combines fun for adults and children... and at the BiVillage you have three to choose from!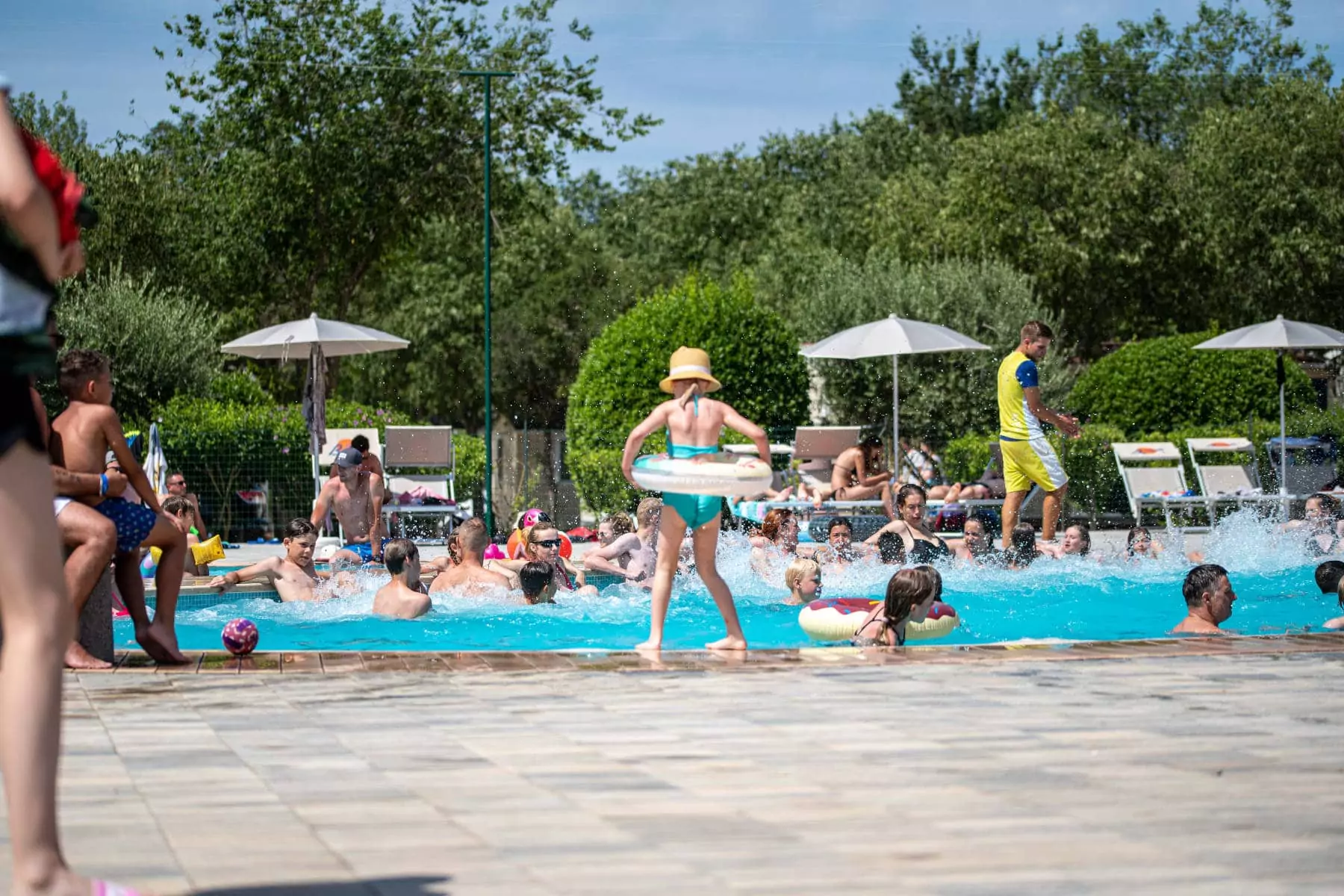 Swimming classes and lessons throughout the summer season. Book your spot!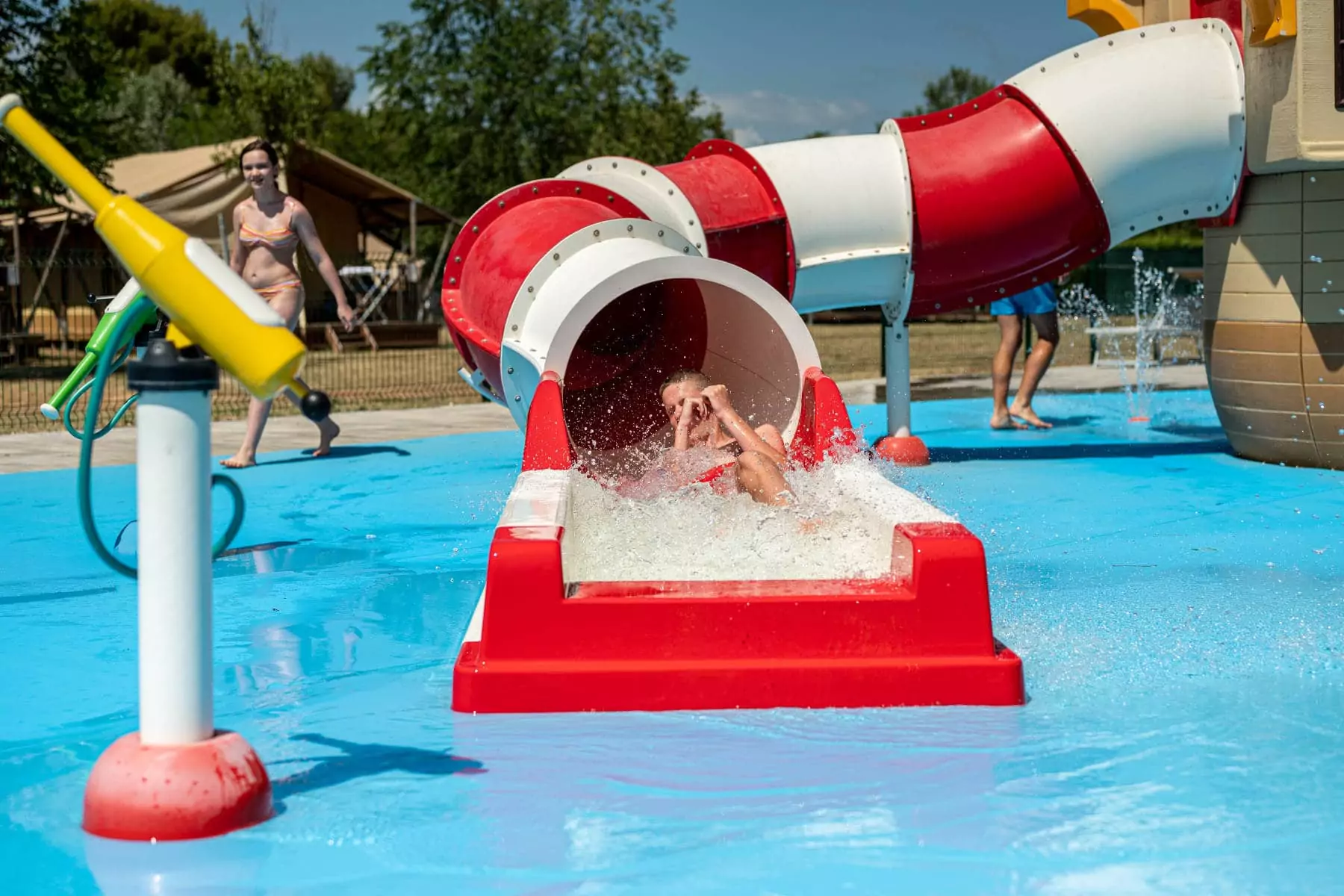 Slides, water games and lots of fun await you at the BiVillage. You can spend unforgettable moments in our 3 large pools.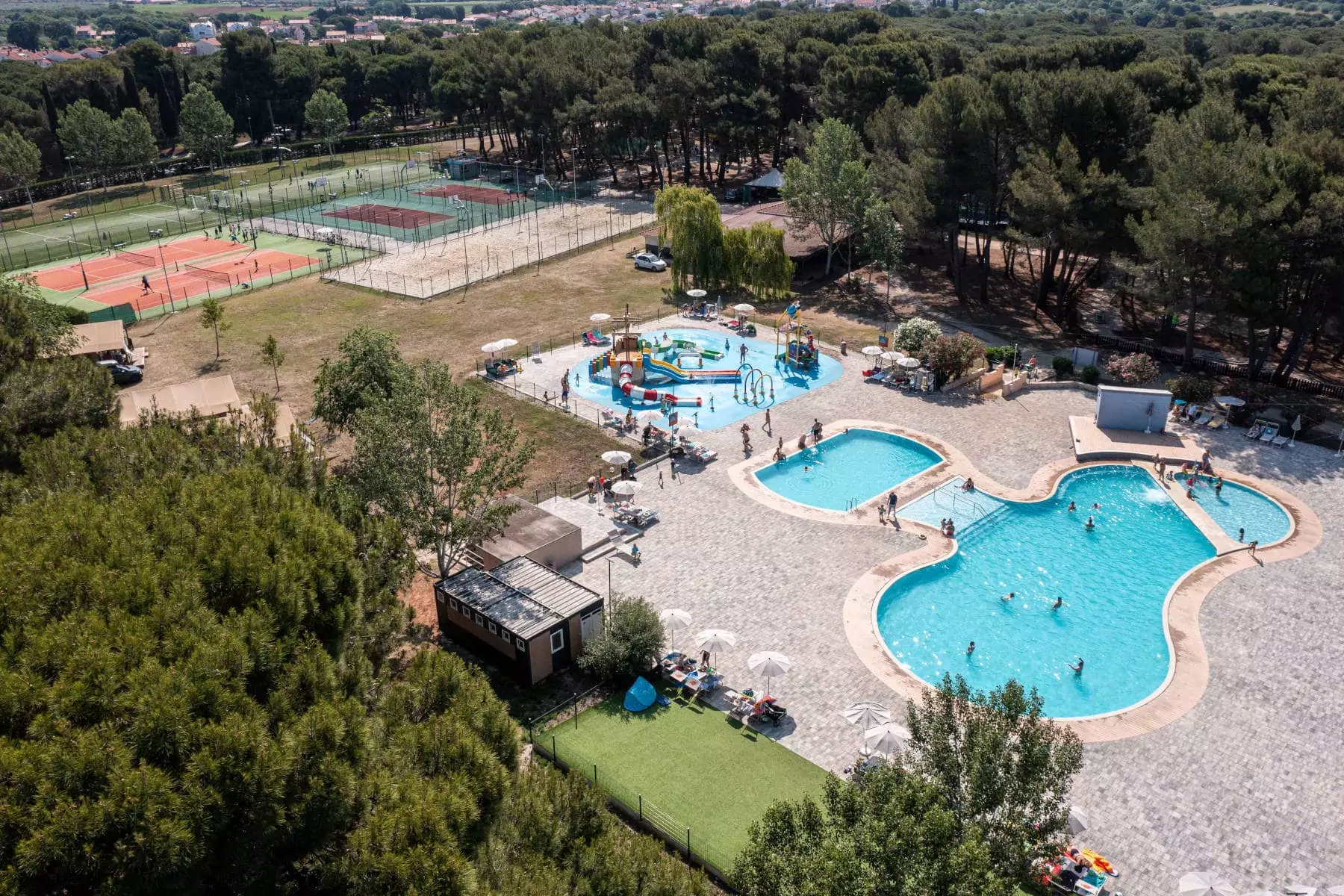 Not only crystal clear sea but also three large outdoor pools filled with fresh water, surrounded by green vegetation.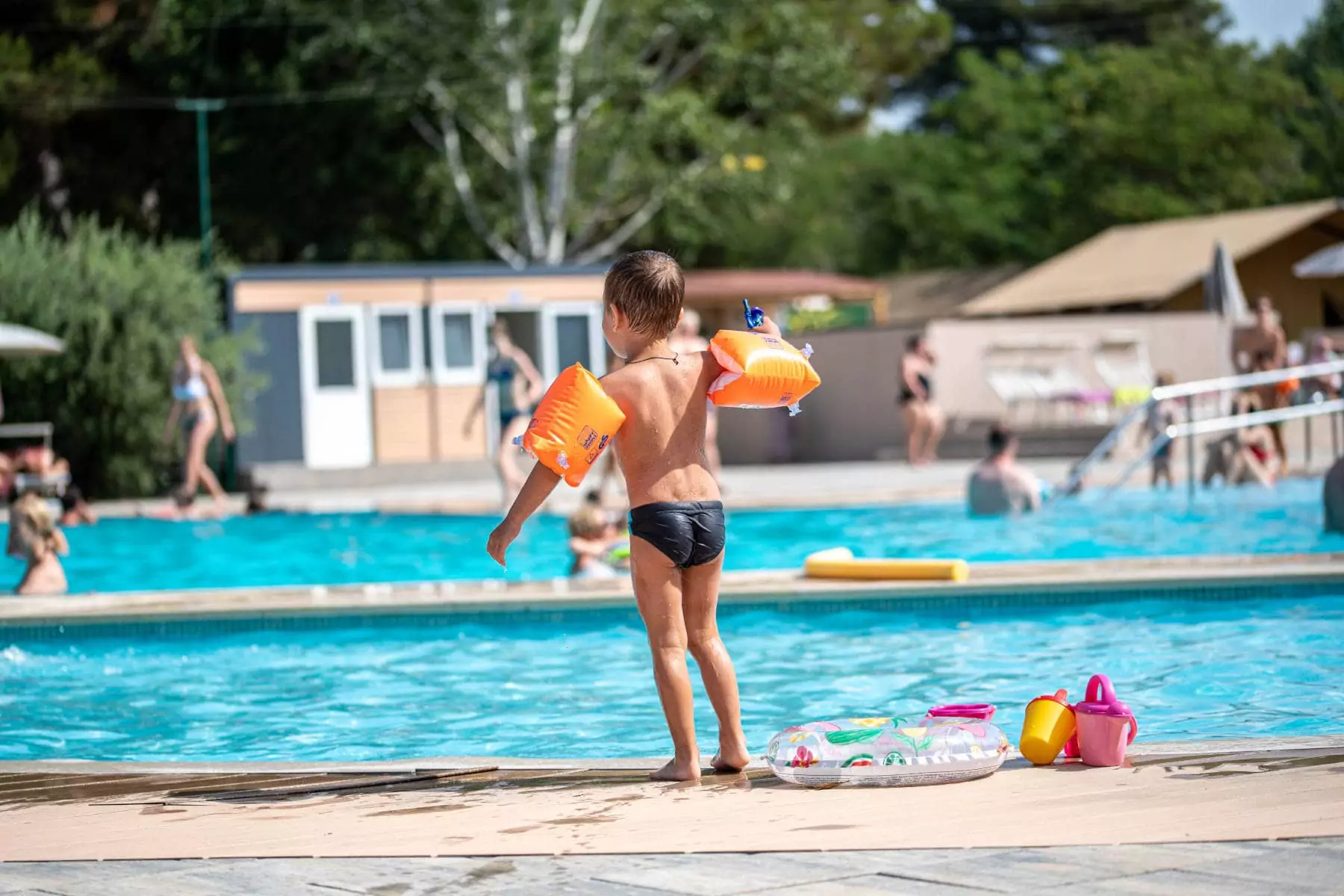 Would you like to learn how to swim? At the BIVillage we organise swimming classes in the pool for the whole family.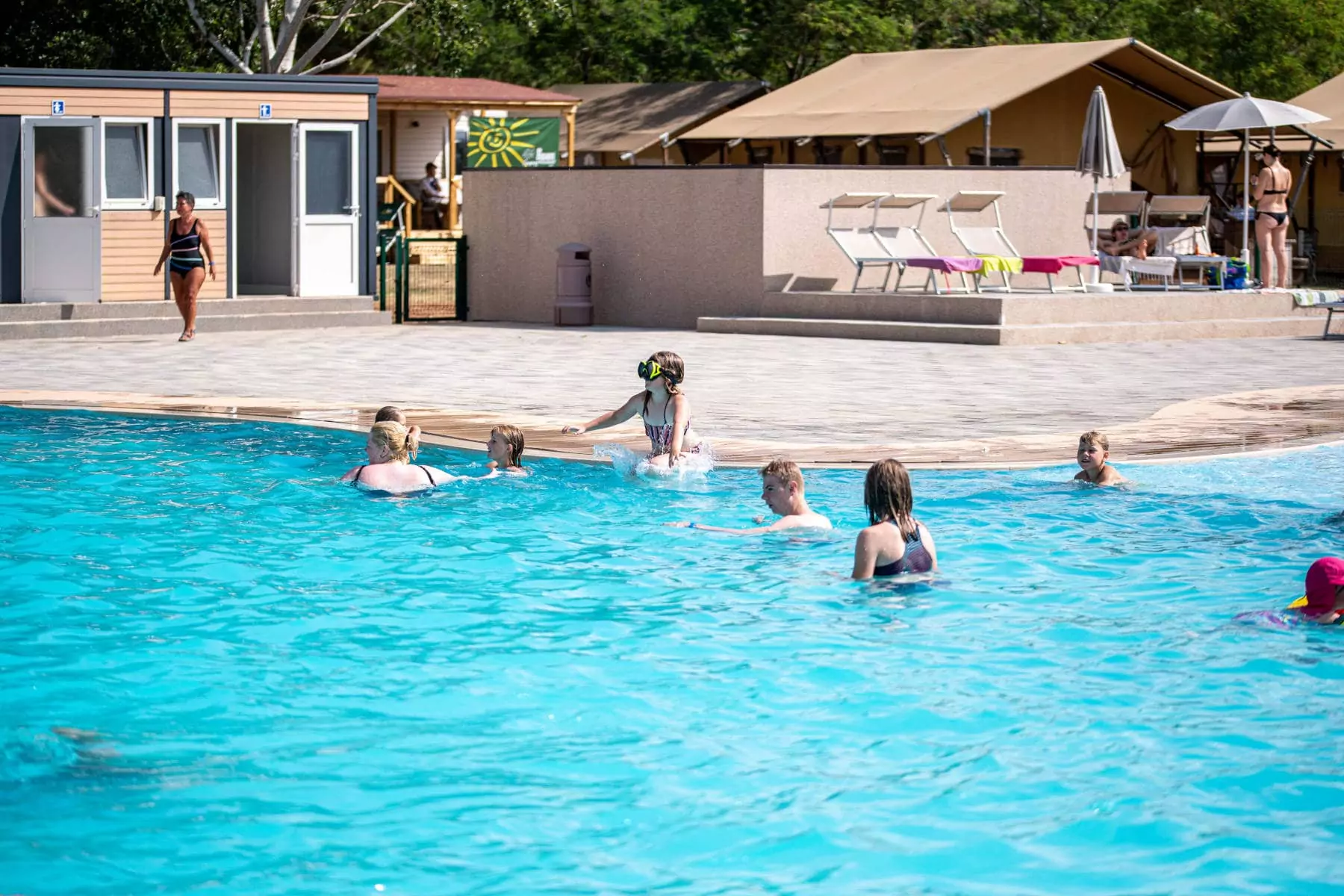 Fun for the little ones, relaxation for the grown-ups. Our Residence Pool has two pools with two depth levels, perfect for both children and adults.
The perfect ingredients for a holiday? Crystal clear sea, sunshine and a holiday village where you can spend moments of pure relaxation.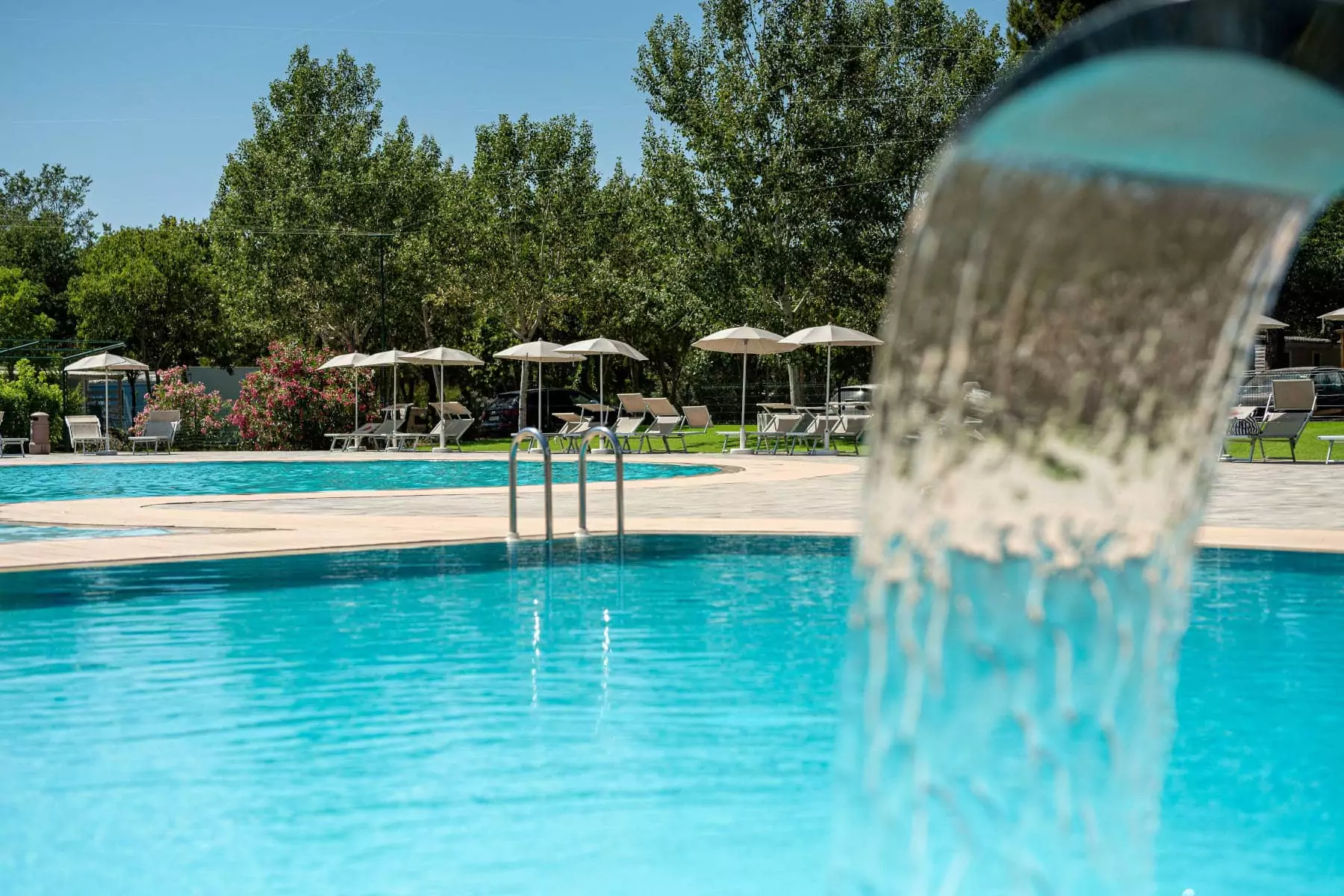 Hydromassage, water jets and relaxation areas to please both adults and children.