Prices and availability
Before choosing dates,
check the booking terms and conditions
regarding the minimum stay 2023.
Period
Min number of nights
VILLA BEACH and MOBILE HOME BRIONI BEACH
from 17/06 to 09/09
7 nights*
from 09/09 to 16/10
5 nights
5 nights
till 15/06/2024 and from 07/09/2024
5 nights
from 15/06/2024 to 07/09/2024
7 nights*
B&B ROOMS, MOBILE HOMES and HOLIDAY HOMES
from 15/07 to 26/08
from 26/08 to 09/09
3 nights
from 17/06 to 15/07
2 nights
7 nights*
5 nights
from 09/09 to 16/10
2 nights
MINIMUM STAY 2024
from 25/04 to 18/05 & 14/09 to 14/10
2 nights
from 18/05 to 15/06
3 nights
from 15/06 to 13/07 & 31/08 to 14/09
5 nights
from 13/07 to 31/08
7 nights*
A Camping Resort by the Sea
Free beach, equipped beach and BiDog Beach
Our beach, almost 1 km long, is located in front of the Brijuni Islands National Park and just a few steps away from a lush vegetation of maritime pines.

At the BiVillage the beach meets all your needs. You can use the beach equipped with parasols and sun loungers, find your place on the free beach our guests or, if you are in the company of your four-legged friend, take advantage of the special BiDog Beach area.
Surrounded by a spectacular crystal-clear sea!
For guests safety the beach is fenced, please use the your bracelet in order to enter or exit the beach

Always remember to bring your wristband with you to open the gate!
The beach at our Holiday village in Istria is equipped with sunbeds and umbrellas and also offers the possibility of surfing, boating or pedalos, to explore the crystal-clear waters of this area.

The beach is made up of small white pebbles, which contrast with the intense blue of the sea, which for years has been awarded the title of 'Blue Flag', an environmental label given to 3,200 beaches worldwide.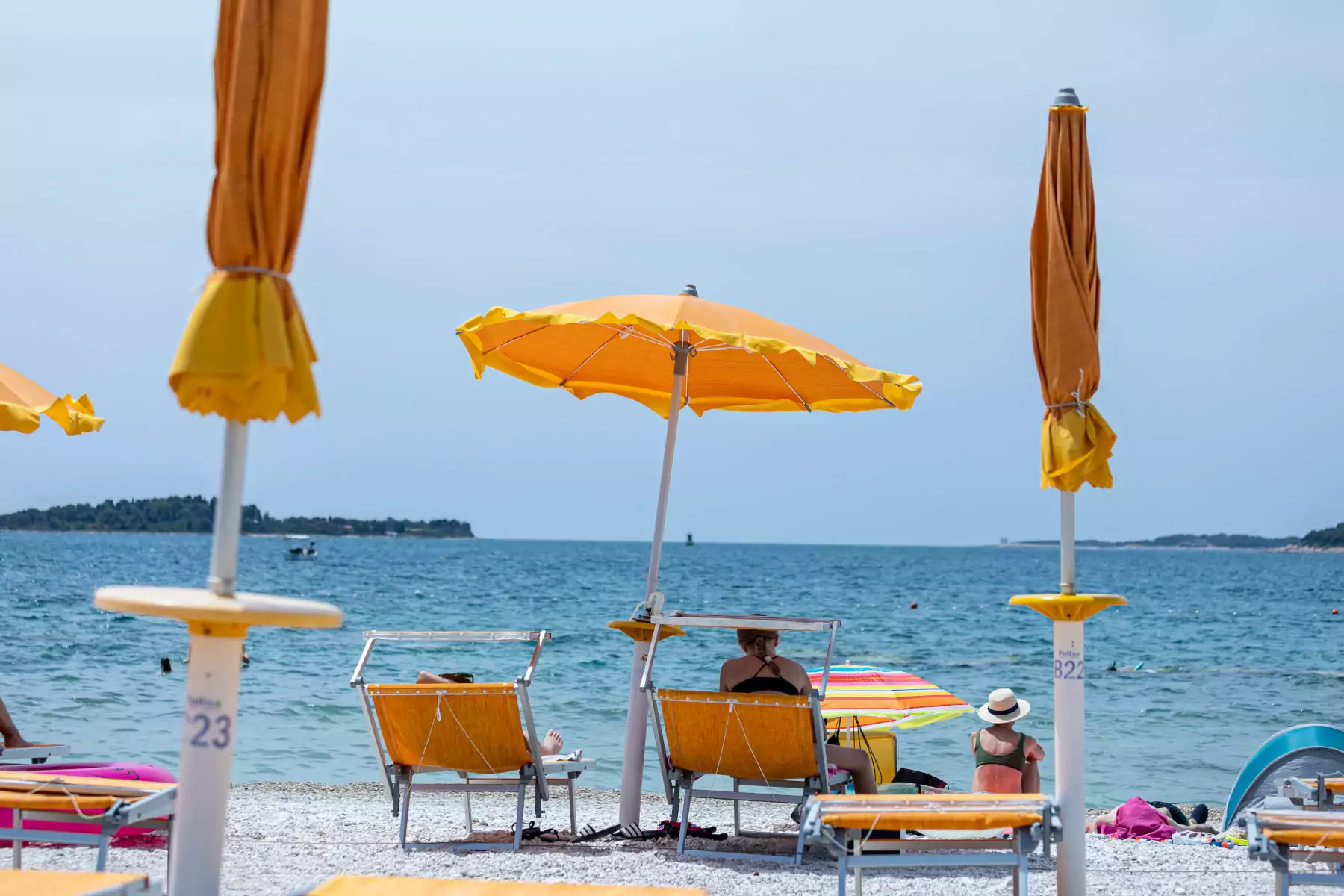 Equipped beach
BY RESERVATION
For those who like comfort and a relaxed atmosphere, we have thought of everything! The beach equipped with parasols and sunbeds is perfect for those who want to enjoy the Croatian sun without worrying about an overcrowded beach.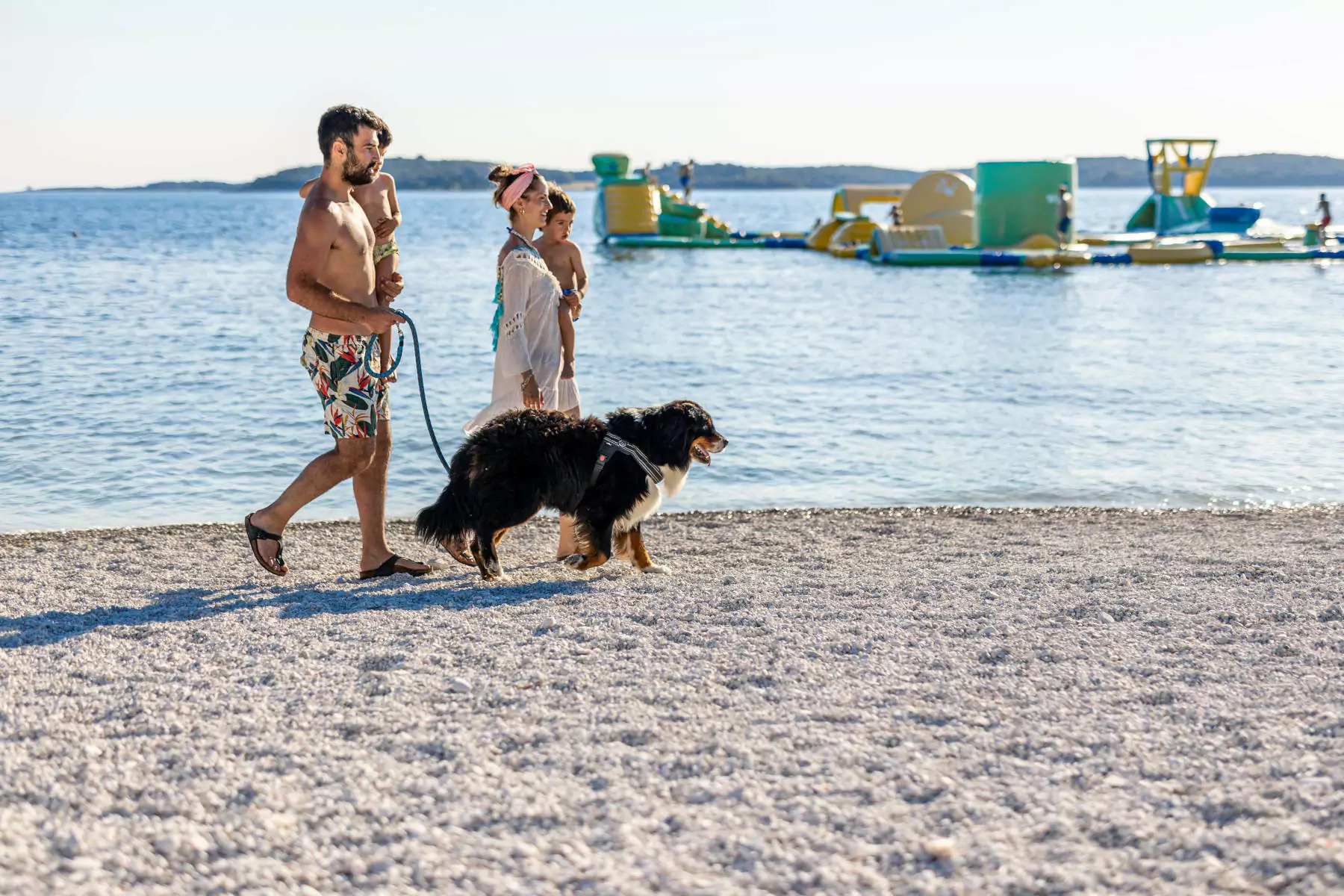 BiDog Beach
BEACH FOR DOGS
Are you on holiday with your four-legged friend? BiVillage has a pet-friendly beach: a true paradise for furry friends who will find a beach completely designed for pets.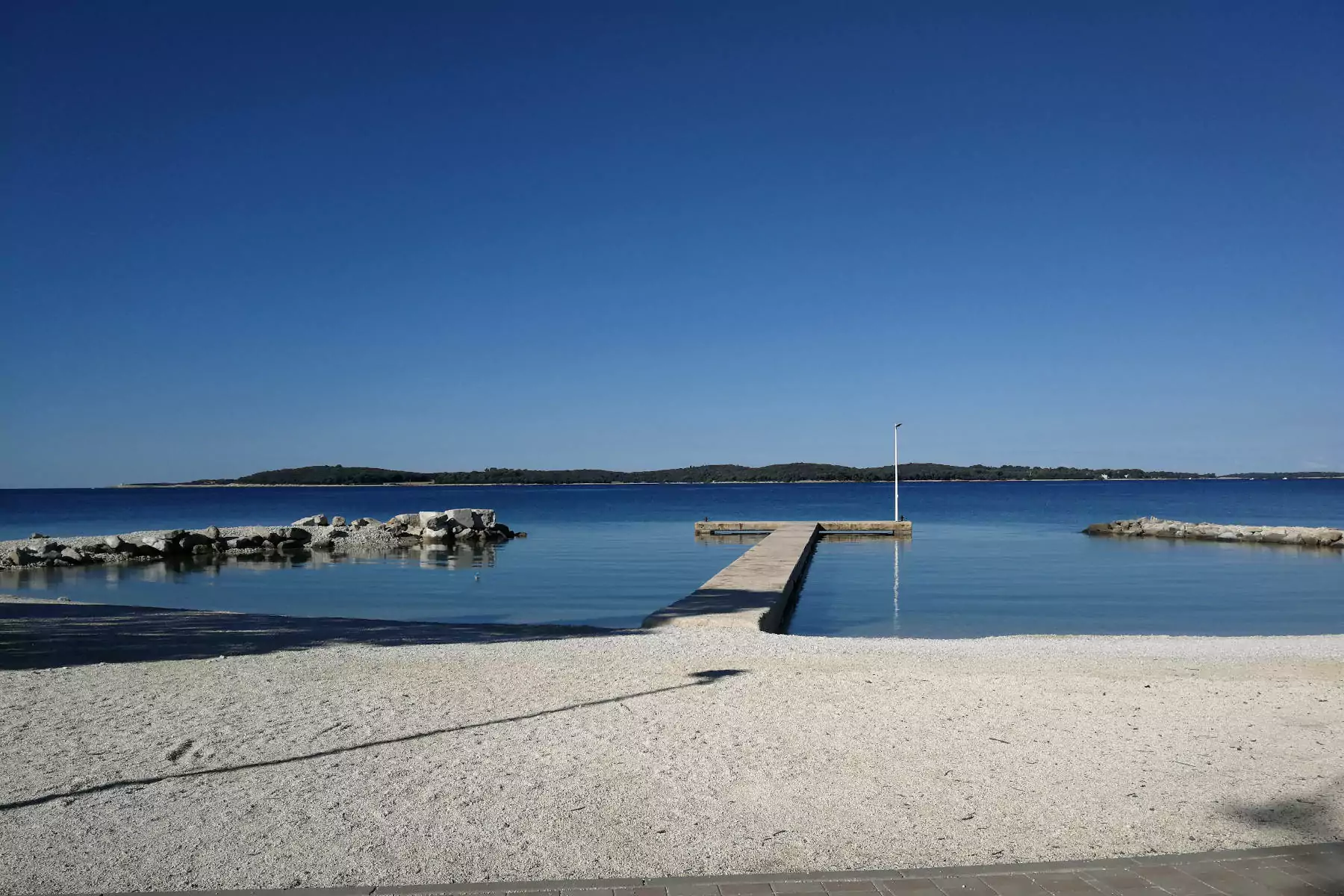 Children's area
AREA DEDICATED TO CHILDREN
Nestled between two cliffs, this area of our beach is all about children! Here you will always find a calm sea, without waves, for a safe dive.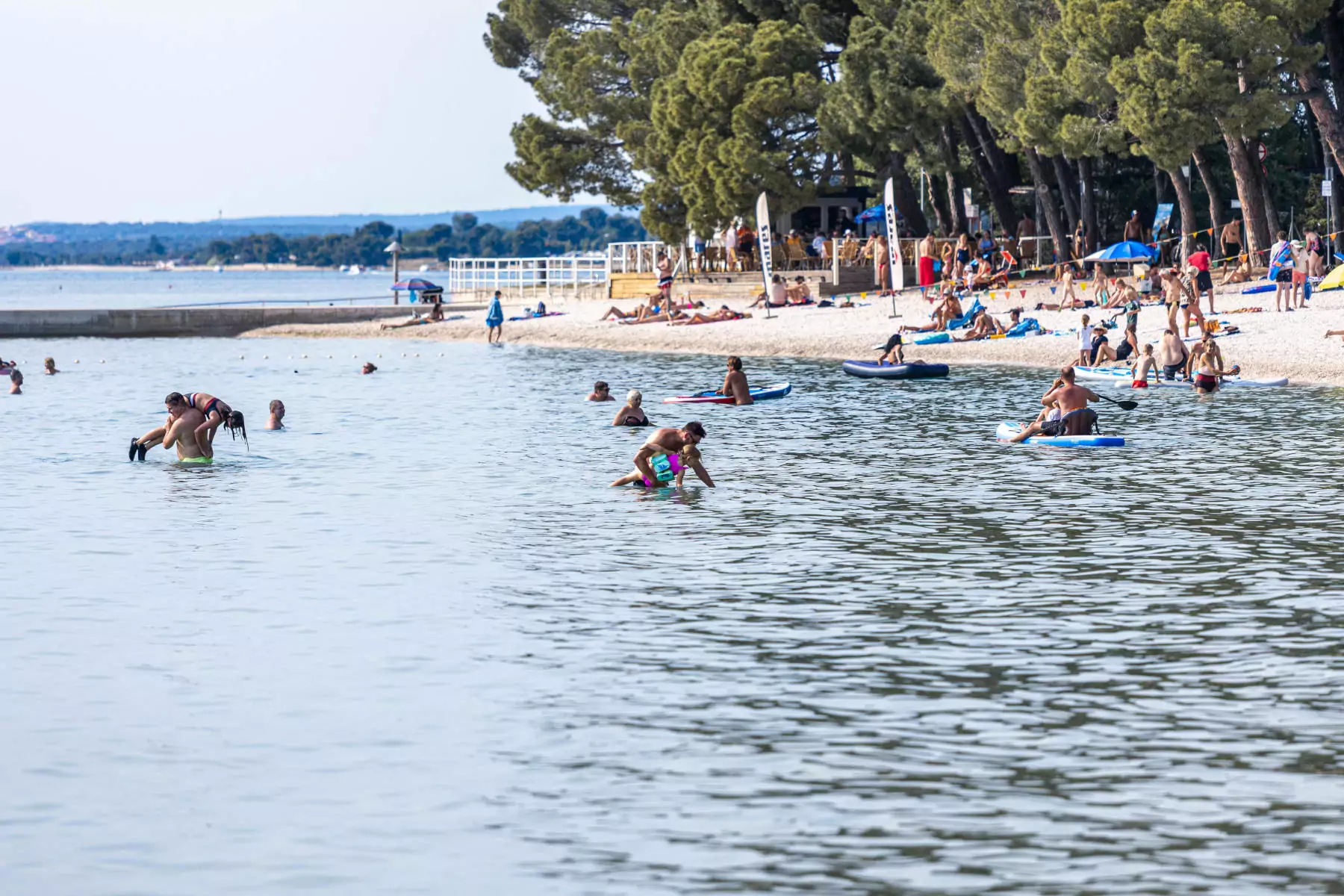 Free beach
WHITE GRAVEL AND A CRYSTAL-CLEAR SEA
A white sandy beach and a topaz-coloured sea await you! The BiVillage Holiday Centre is the ideal place to enjoy the sun and blue waters of Istria.
Book your place on the beach
Send an e-mail to felix.2002@pu.t-com.hr with the following data:
First and last name
Reservation number
Period of stay
The service has to be paid directly on the spot.
For those travelling with their four-legged friend
BiDog Beach
Visit the dedicated page to discover all the services and advantages of BiDog Beach.
Discover the BiDog Beach
Istria's unspoilt nature and clean sea
Blue Flag
The Blue Flag is an international award given to seaside resorts that meet quality criteria relating to the cleanliness of beaches, bathing water and services offered.
For several years now, we have been able to boast of awarding this distinction to beaches managed by BiHoliday.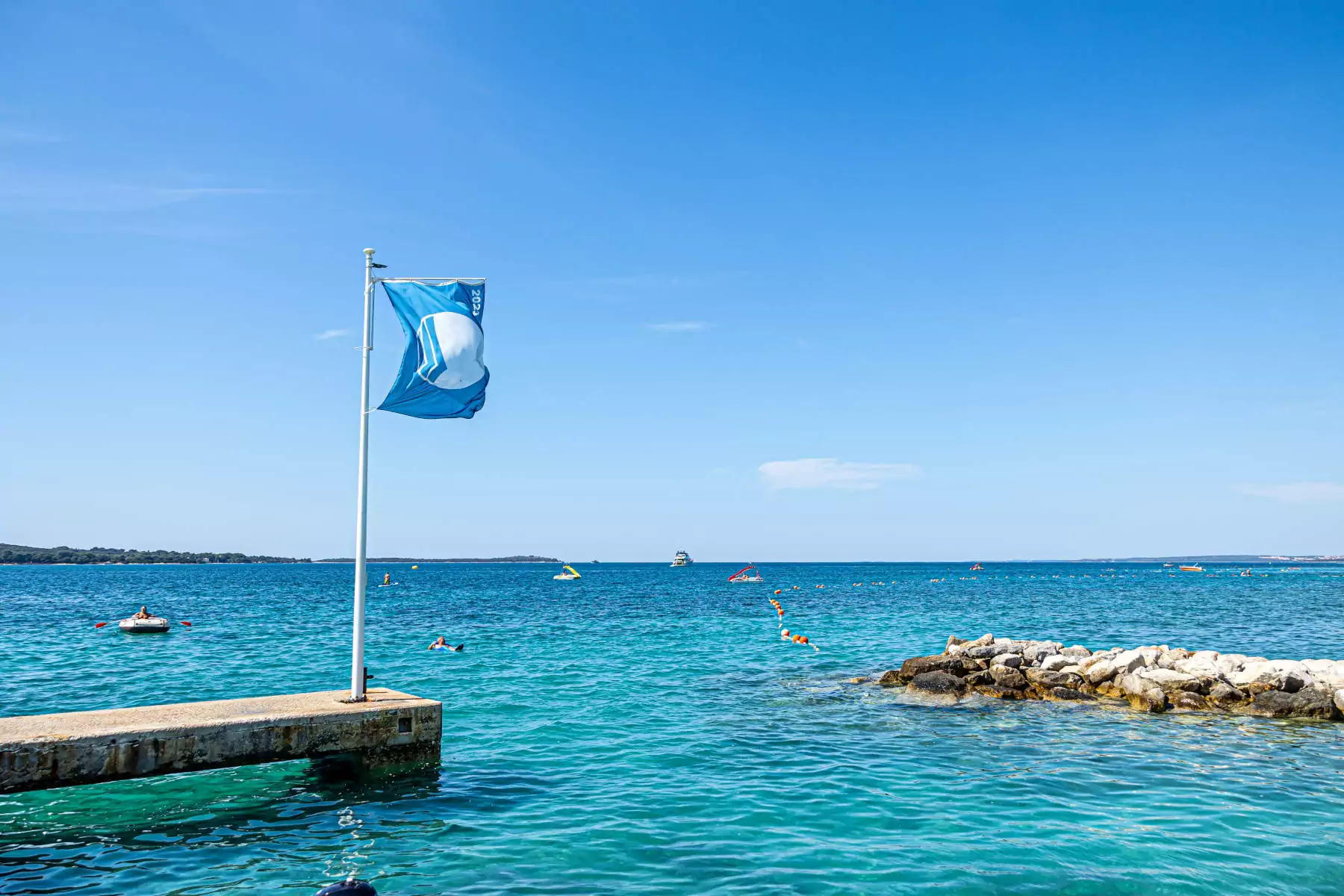 BLUE FLAG
THE NATURE PARK
The Brijuni Islands
BiVillage is located within a nature park.
The Brijuni National Park is a protected nature area in Croatia established in 1983. Its territory includes the islands of the same name and the surrounding waters.
The Brijuni are the most interesting, largest and most scattered group of islands along the west coast.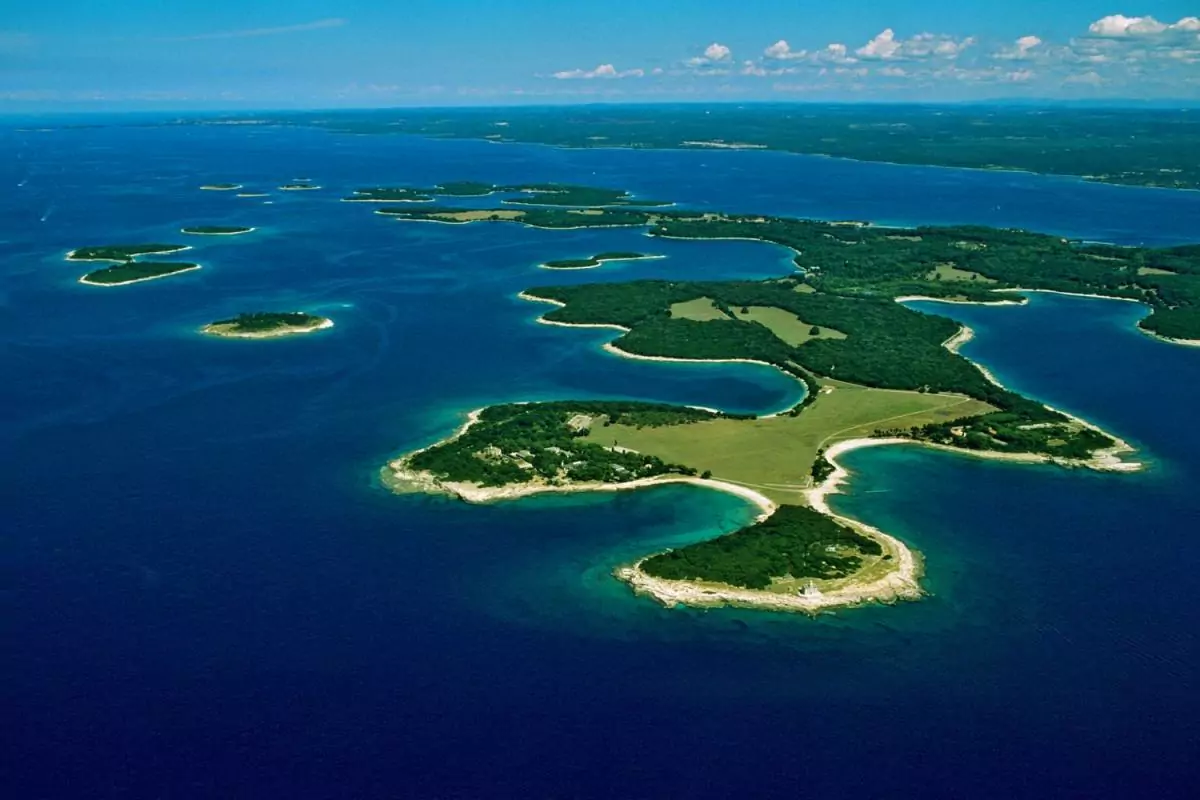 Brijuni Islands
Holiday village with water sports
If you love water sports and want to spend your holiday in Croatia, the BiVillage holiday centre is the place for you! The Istrian sea is known for its beautiful beaches and crystal-clear waters, and our resort has everything you need: equipment rental and windsurfing courses, diving courses, sailing courses for young and old, and a kayak rental service.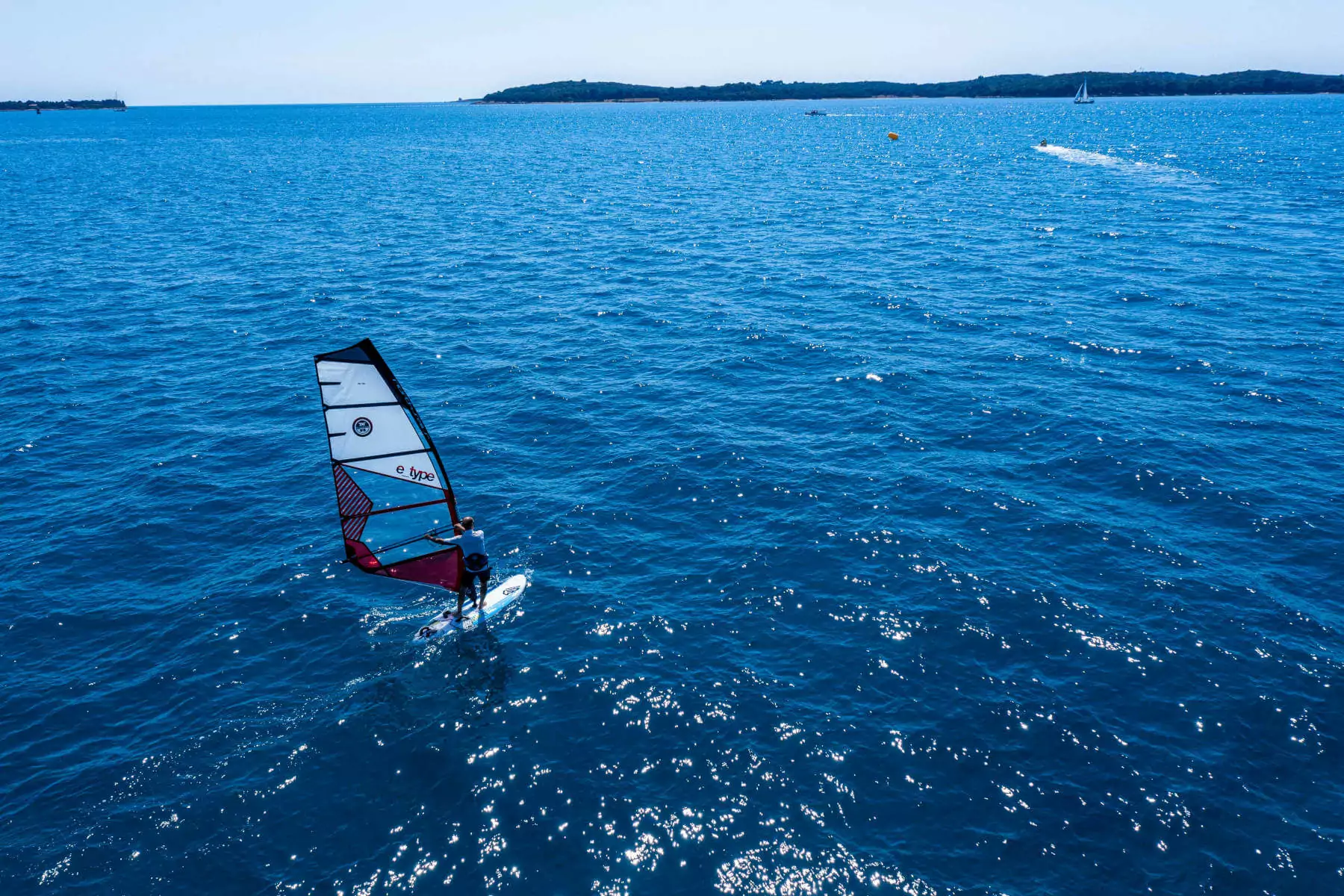 Windsurfing
RENTAL EQUIPMENT AND SCHOOL
We are proud to offer the best equipment for and lessons in windsurfing for all levels of experience: from beginners to experts.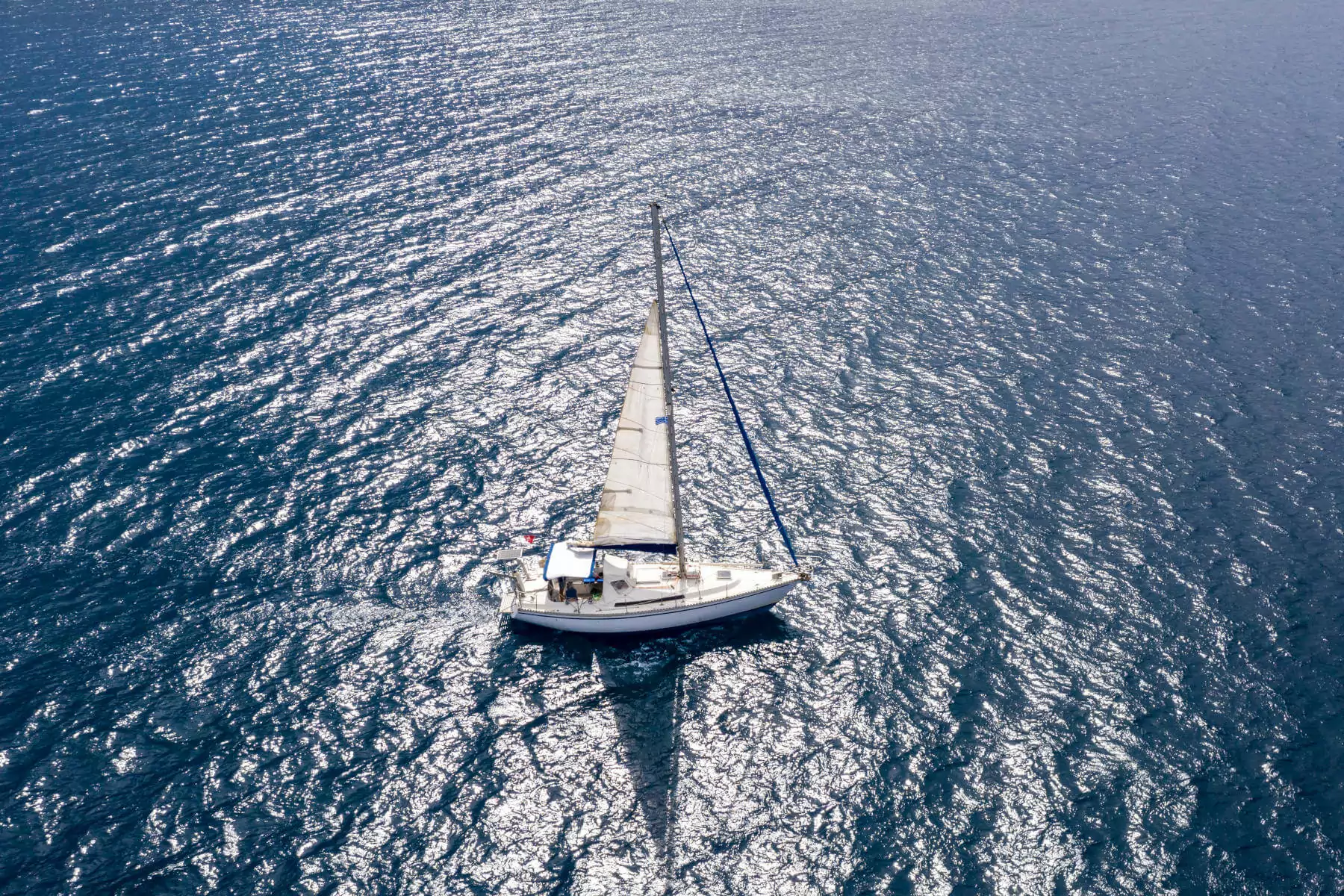 Sailing school and chartering
SCHOOL FOR YOUNG AND OLD
Sign up for one of our sailing courses. We have excellent instructors who will help you learn to navigate in no time!
A licence is required for renting.
Kayak rental
ACCOMPANIED CHILDREN ONLY
Explore the natural beauty and fascinating coastline of Istria on a kayak tour.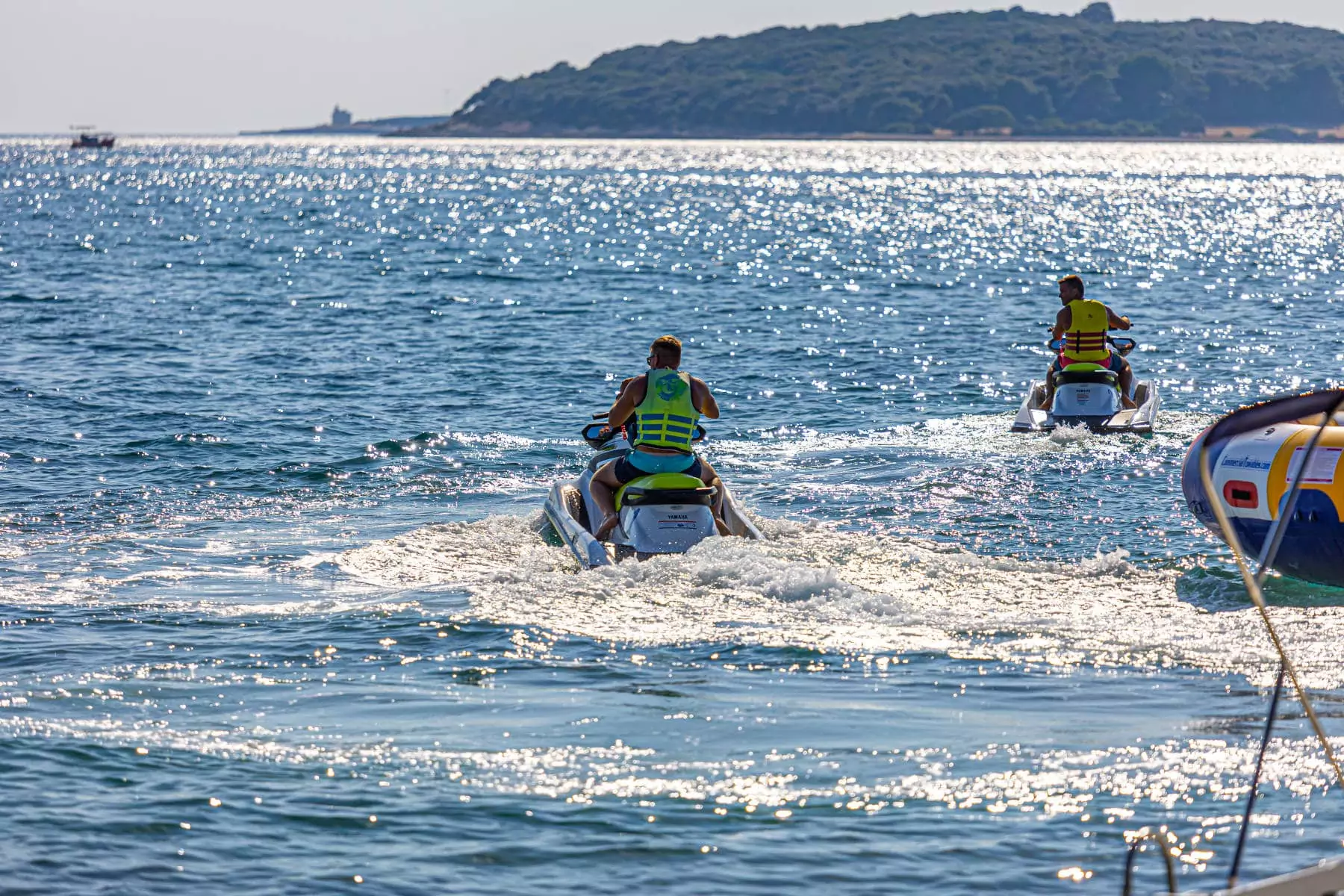 Jet ski
ADRENALIN AND PANORAMA
Fly over the water: aboard our jet skis for hire you will discover the most beautiful views of our sea!
FOR EXPERTS AND BEGINNERS
For your sports holiday
Windsurfing & Diving Center
On the beach at the holiday centre, the windsurfing school and the Caretta Diving Centre are at your disposal. Both rent the best equipment.
Find out more
A totally relaxing holiday by the sea
We are waiting for you at the BiVillage in Fazana to enjoy a relaxing holiday in our Camping Resort by the sea!