Prices and availability
Before choosing dates,
check the booking terms and conditions
regarding the minimum stay 2024.
Period
Min number of nights
VILLA BEACH and MOBILE HOME BRIONI BEACH
from 24/04 to 14/06/2024
5 nights
from 15/06 to 09/09/2024
7 nights*
from 09/09 to 14/10/2024
5 nights
B&B ROOMS, MOBILE HOMES and HOLIDAY HOMES
from 24/04 to 18/05/2024
2 nights
from 18/05 to 15/06/2024
3 nights
from 15/06 to 13/07/2024
5 nights
from 13/07 to 31/08/2024
7 nights*
from 31/08 to 14/09/2024
5 nights
from 14/09 to 14/10/2024
2 nights
Our Village
Welcome to BiVillage, camping resort in Fažana
The BiVillage, a 4-star campsite nestled in a beautiful natural area facing the crystal-clear sea of Istria, offers a unique atmosphere where you can spend a dream holiday.
There are 40 hectares of Mediterranean scrubland with pitches, mobile homes, apartments and cottage just waiting to welcome you.
At BiVillage, you will find

Four types of accommodation surrounded by greenery

Reception

900 shaded pitches

3 restaurants, 2 bars, 1 kiosk and 1 ice cream shop

3 large outdoor swimming pools and 1 Spray Park

Grocery stores with fresh produce

Animation and Mini Club

Sea and sports
For your fairytale vacation
Choose the best accommodation for your needs
Pitches, mobile homes, apartments and cottages. Four different types of housing units with all the comforts and pluses for a dream vacation.
Why choose BiVillage for your vacation in Croatia?
The BiVillage has been awarded as a first-class campsite by the Croatian Ministry of Tourism and has boasted the Blue Flag award for years, for the purity of the sea and the cleanliness of the beach.
Among the strengths of the camping resort is its location: it stretches about 1 km facing the Brijuni Islands National Park and is close to places and towns rich in history and culture, all waiting to be discovered. At BiVillage you will find more than 12,000 perennials and over 8,000 trees.
Camping resort with 3 swimming pools and spray park
BiVillage is the ideal place to spend your vacation with your family.
Inside the village and just a few steps from the crystal clear Istrian sea are 3 large outdoor swimming pools in which you can relax and spend long moments of relaxation. The little ones can play and have fun among slides and water games in our spray park.
Your sports vacations at BiVillage
Our camping resort offers a large variety of sports activities, outdoor fitness and gym to have fun and work out even during vacation.
NEW IN SPORTS 2022
New Fitness Program Wiems
A brand new technology to maximize the results of your workouts!
Learn about the WIEM training program in our HIIT Arena.
Learn more
NEW IN SPORTS 2022
Jangalooz Trampolin Park
One of the largest carpet areas in Europe. Guaranteed fun for young and old alike!
Discover the Jangalooz Area: fun and adrenaline for everyone!
Learn more
Vacations with taste
Our Restaurants and Bars
Colazioni, pranzi veloci, snack, cene raffinate o informali. At BiVillage you will find a true oasis of peace where you can enjoy a unique view and choose from our diverse culinary offerings just a few steps from the Istrian sea.
Camping-Resort with animation and Mini Club
Fun for the whole family
For you and your family, a dedicated team of entertainers organizes daily programs for children, youth and adults, with daytime and evening entertainment.
Services and comforts for your vacation
A vacation between relaxation and fun
Animation, swimming pools, adventure park, trampoline park promise a sparkling stay without ever getting bored; supermarket, stores, bars and restaurants, ensure a relaxing and comfortable vacation.
Enter the BiHoliday world: check out the official BiHere magazine
Interviews, news, travel tips, commitment to sustainability: take a look at our digital magazine.
The paperless choice
Our magazine is only available in a digital version.
We care about our planet's resources and limit the use of paper whenever possible.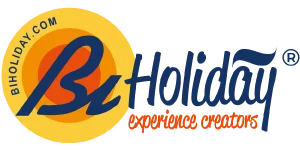 The BiHoliday Group has been a major player in the Italian and Croatian tourism sector for several years now.
It is attentive to the well-being and satisfaction of its guests, as well as to the professional growth of its employees and collaborators by promoting a code of ethics and values that form the basis of its corporate culture.