Prices and availability
Before choosing dates,
check the booking terms and conditions
regarding the minimum stay 2023.
Period
Min number of nights
VILLA BEACH and MOBILE HOME BRIONI BEACH
from 17/06 to 09/09
7 nights*
from 09/09 to 16/10
5 nights
5 nights
till 15/06/2024 and from 07/09/2024
5 nights
from 15/06/2024 to 07/09/2024
7 nights*
B&B ROOMS, MOBILE HOMES and HOLIDAY HOMES
from 15/07 to 26/08
from 26/08 to 09/09
3 nights
from 17/06 to 15/07
2 nights
7 nights*
5 nights
from 09/09 to 16/10
2 nights
MINIMUM STAY 2024
from 25/04 to 18/05 & 14/09 to 14/10
2 nights
from 18/05 to 15/06
3 nights
from 15/06 to 13/07 & 31/08 to 14/09
5 nights
from 13/07 to 31/08
7 nights*
Bike friendly vacations
Camping for cyclists: your cycling vacation
Looking for a bike friendly campsite? BiVillage campsite in Fažana, Croatia, espouses the bike-friendly vacation. For bike and mountain bike enthusiasts, there are numerous trails and routes on roads and dirt roads. A true paradise for cyclists who wish to discover the beauty of Istria on their bikes!
What does the BiVillage offer?

PROXIMITY TO CYCLING TRAILS

PROTECTED BIKE STORAGE

INFORMATION ON MAPS AND ROUTES

MENU HEALTHY

BICYCLE RENTAL SERVICE
TRAILS
Bicycle routes on the coast of Istria
If you are wondering how to spend your next vacation, why not consider a bike friendly campsite?
It's no secret that Istria is one of the regions in Croatia with the most beautiful bike trails.
A new way of experiencing nature, being outdoors and exploring the beauties of the Istrian coast.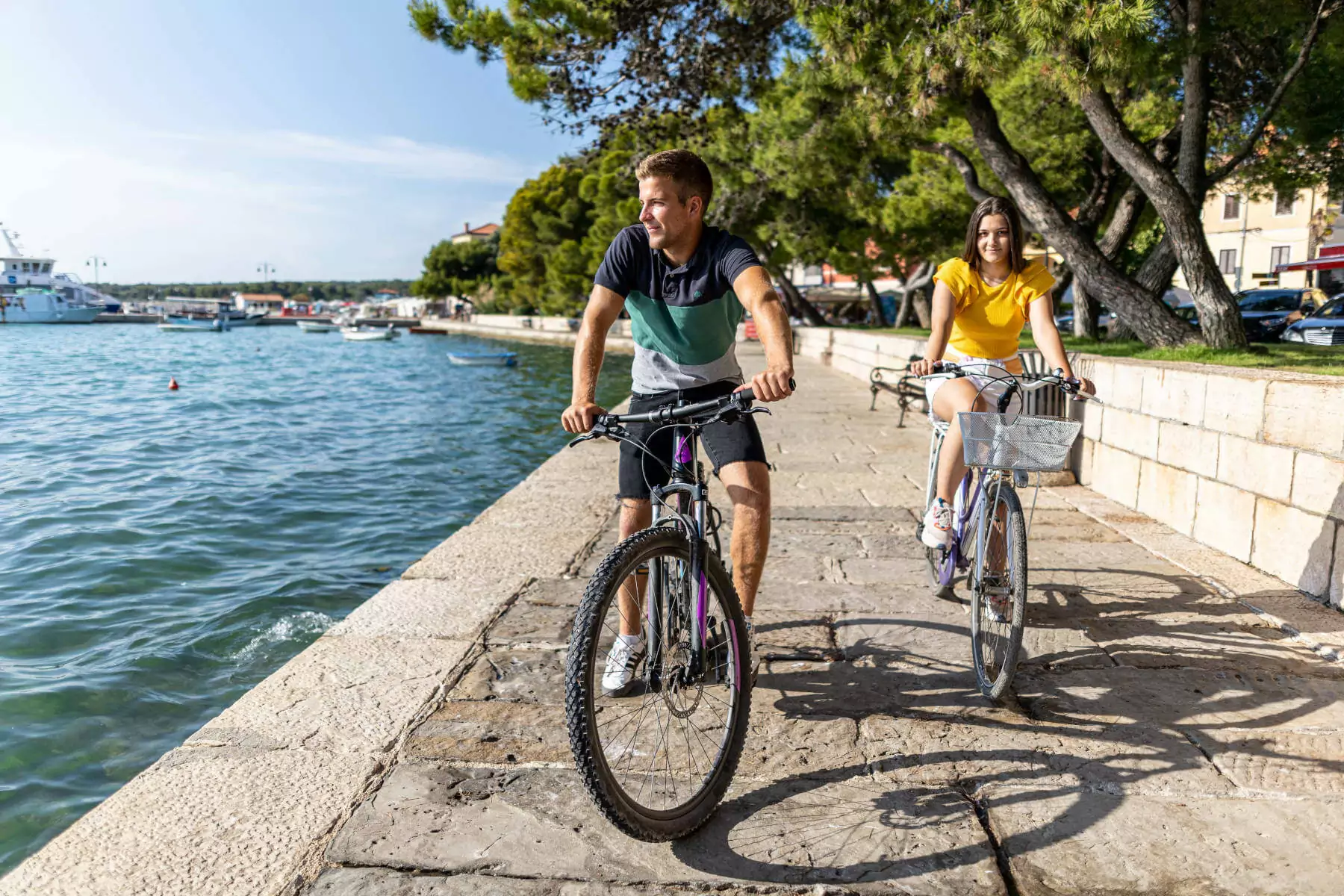 Percorsi ciclabili
Secure bicycle storage
The perfect vacation for cycling enthusiasts! At the BiVillage you will find a secure storage room where you can leave your bike stored.
Ad hoc menu for cyclists
Eating well on vacation
Cycling enthusiasts know how important it is to eat well before and after training. That's why at BiVillage we have designed a menu specifically for the cyclist. Dishes rich in vitamins, minerals, good fats and antioxidants to replenish your energy.