Michela Bonafoni interviews Alessia Crocini, president of the organisation 'Le Famiglie Arcobaleno' (Rainbow Families)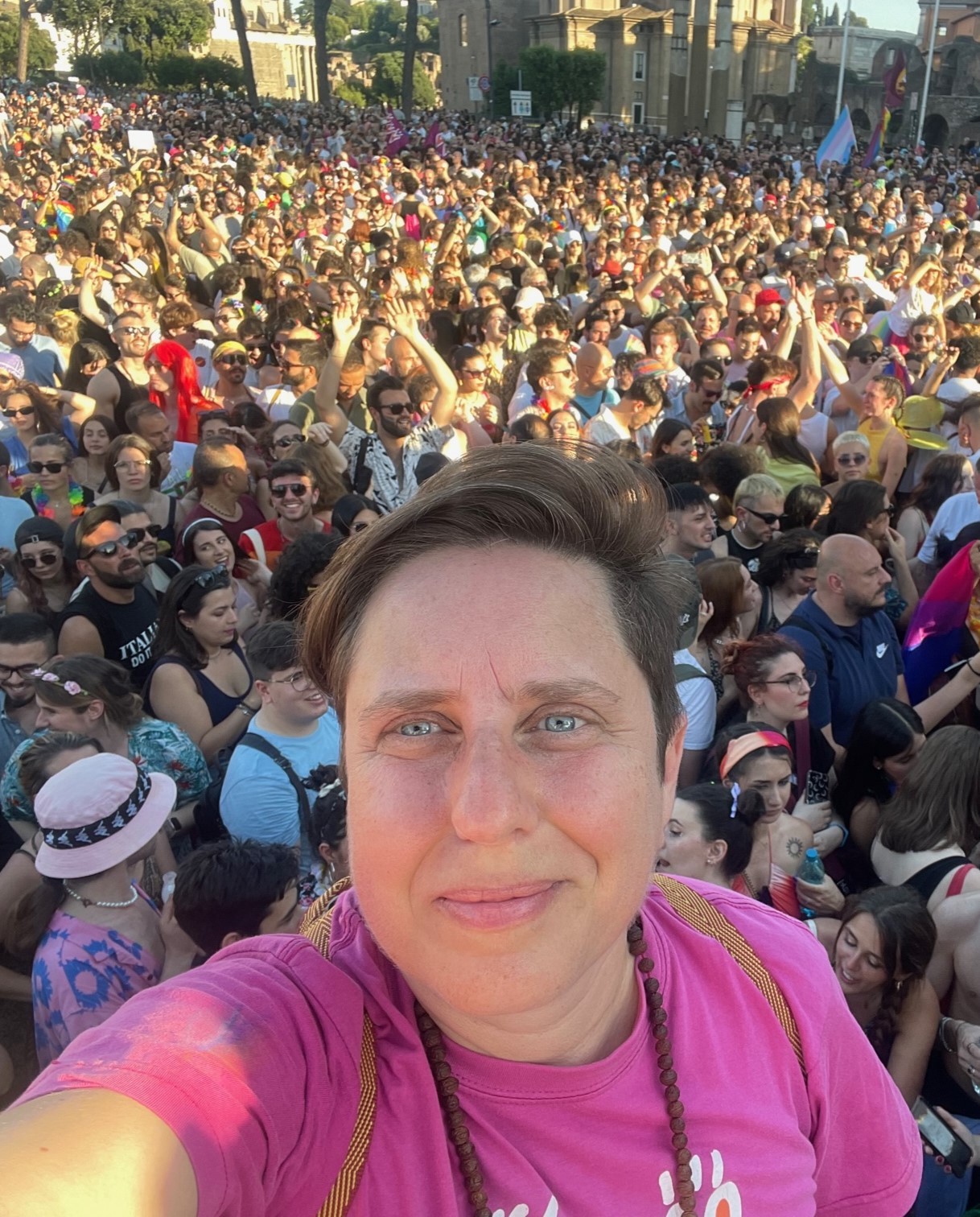 Introduce us to your wonderful family
My name is ​​Alessia Crocini​, I'm 48 and I live in Rome. I work in the fields of communication, writing and teaching, but I am also a civil rights activist and for the past year I have been the president of 'Famiglie Arcobaleno', an association that brings together parents, would-be parents and supporters of the rights of families consisting of two mothers or two fathers or LGBTQI+ single parents.
I am the mother of an eight-and-a-half year old boy born from the relationship with my ex-partner thanks to a ​​MPA​ (medically assisted procreation) done in Spain.
We can say that ​every rainbow family​ begins with a journey​ because there is no law in Italy that allows two parents of the same gender to bring sons and daughters into the world,
so ​​most of us would-be mothers travel to Spain, Denmark, the Netherlands, while fathers go through the process of surrogacy mostly in Canada or the USA. Our families begin on a journey and the hospitality of people working in the transport and tourism sector can really make a difference at such important times in our lives.
Currently, mine is an extended and recomposed family as my partner has three children (!) and when we go on holiday together, we are a team of two women and four children
ranging in age from 8 to 15, with different needs and interests.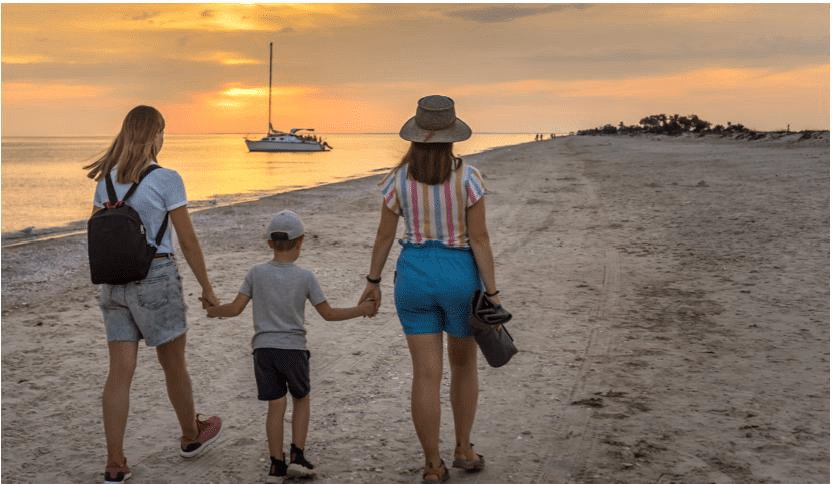 What social constraints do you encounter in your daily lives?
The limitations encountered by a family with same-sex parents are sometimes the same as those encountered by any 'sui generis' family: I am thinking of single parents and adoptive parents, of recomposed, multi-ethnic or immigrant families, of very young or elderly couples. Every bearer of difference provokes in others a reaction of surprise and often inadequacy​, not out of bad faith, but often due to simple lack of knowledge and preparation. It would be enough not to assume that every child has two parents of different genders, that parents and children have the same geographical origin, the same skin colour, the same DNA, the same surname.
For rainbow families, things have ​definitely improved over the years compared to 5 or 10 years ago​​: the law on civil unions, the increase and greater visibility of same-sex couples with children generated a positive change that is still ongoing. ​ The only negative factor remains the legal one​, as there is no law in Italy that allows both parents of a same-sex couple to recognise their sons and daughters at birth. Despite this, in everyday life, society's acceptance and openness towards our families is definitely ahead of the laws.
The ​​lack of legal recognition for both parents can cause practical problems​​ because in my case, for example, only the mother who gave birth is the mother of our child and this obliges me to travel with proxies, photocopies of documents, and permits from the Police Headquarters to fly with a minor. And this can often lead to inappropriate and embarrassing questions for me and my child from the staff at the check-in or reception of a hotel.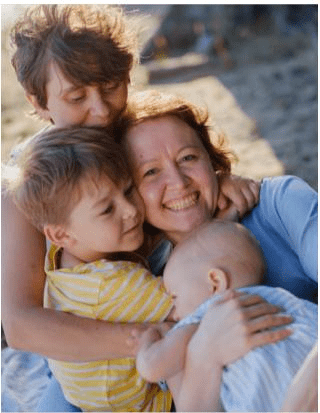 What would you like to find as a mother in a touristic place?
I believe that in tourism, and particularly in an accommodation facility, ​​staff training is an important first step to welcome a rainbow family in the best possible way: not assuming the number and gender of parents, creating inclusive forms for example for mini clubs where instead of 'mum/dad' there is the more inclusive wording 'parent or guardian', welcoming customers by not assuming that a woman has a husband and vice versa.
What are the criteria for choosing your holiday?
A family with same-sex parents chooses a holiday according to their personal tastes (sea/mountain, village/camping) but in the case of a trip abroad they certainly do not neglect the situation regarding the LGBTQI+ rights of the country they are about to visit, with a goal of protecting minors first of all.
It is difficult for a family to know before they leave, except by It is difficult for a family to know before they leave, except byword-of-mouth from other rainbow families, what the level of hospitality and preparation of the staff will be in a particular holiday village or family hotel, and in that case you either rely on luck or end up doing live training within the accommodation facility!
How important do you think inclusive education and appropriate training are for reception and training staff?
As a parent, ​​I would be happy to find staff prepared for every type of family​​, especially those who are in close contact with children and young people, so as not to put them in embarrassing or painful situations.
Do you think there are still many steps to be taken to achieve inclusive tourism?
I think ​something is moving in Italy ​to create more inclusive environments in the tourism sector, but there is still much room for improvement.
The association 'Famiglie Arcobaleno' has always been involved in ​​training for the public administration, schools of all levels, and the health and legal professions, and I am sure it can contribute to improving the level of inclusiveness of tourist facilities. Prejudices usually arise from non-knowledge; instead, encounter and dialogue create virtuous circles that increase the level of well-being by creating open and welcoming environments.
Italy is still at the bottom of the list in Europe for LGBTQI+ rights, but it is also the country where our boys and girls are always warmly welcomed and I can say that when my son calls 'MUM' at the beach and two of us answer, the reactions of the people around are perhaps curious or surprised, but certainly not hostile.
The San Francesco Village in Caorle (Italy) and the BiVillage in Fažana (Croatia) are
excellent destinations for families seeking a relaxing and fun-filled holiday.
Both campsites offer many activities specially designed for children, such as ​​animation​​, ​games​​, ​​creative​​ ​workshops​ and ​water sports​​.
One of the main attractions offered by the villages are their ​swimming pools​​, both for adults and children, with water slides and hydromassage tub areas.
With ​direct access to the beach​, you can enjoy the sun and sea in a safe and controlled environment.
There are also special events organised for families, such as theme evenings and parties, where children can have fun together with their peers under the supervision of the campsite staff.
​For the little ones​, the villages also offer a ​mini-club​​, where they can participate in creative workshops and participating in games with qualified employees. This way, parents can enjoy some free time, knowing that their children are safe while having fun.
There are many dining options, including bars and restaurants, where you can enjoy Italian and international cuisine.
To summarise, the San Francesco Village in Caorle and the BiVillage in Fažana are ​​an excellent choice for those seeking a fun and relaxing holiday​.
With a wide range of activities for all ages, quality services and a welcoming atmosphere, they are able to meet the needs of all the families who choose them as their summer holiday destination.